As humans, we're genetically programmed to love free stuff. Even something as simple as free food samples at Costco can turn someone's day around. So it makes sense that running a contest for a free giveaway is a great way to promote your brand, your product, and your vision.
There are many types of businesses that can benefit from running an online contest, but not enough of them actually do it. That's because business owners often assume that there's too much work involved with a giveaway, and who really wants to put in the extra time?
Whether you're looking for info on starting a contest for your Etsy customers or for the yogis that come into your fitness studio, there's good news. Creating an online giveaway is actually pretty easy, and it doesn't have to take more than ten minutes.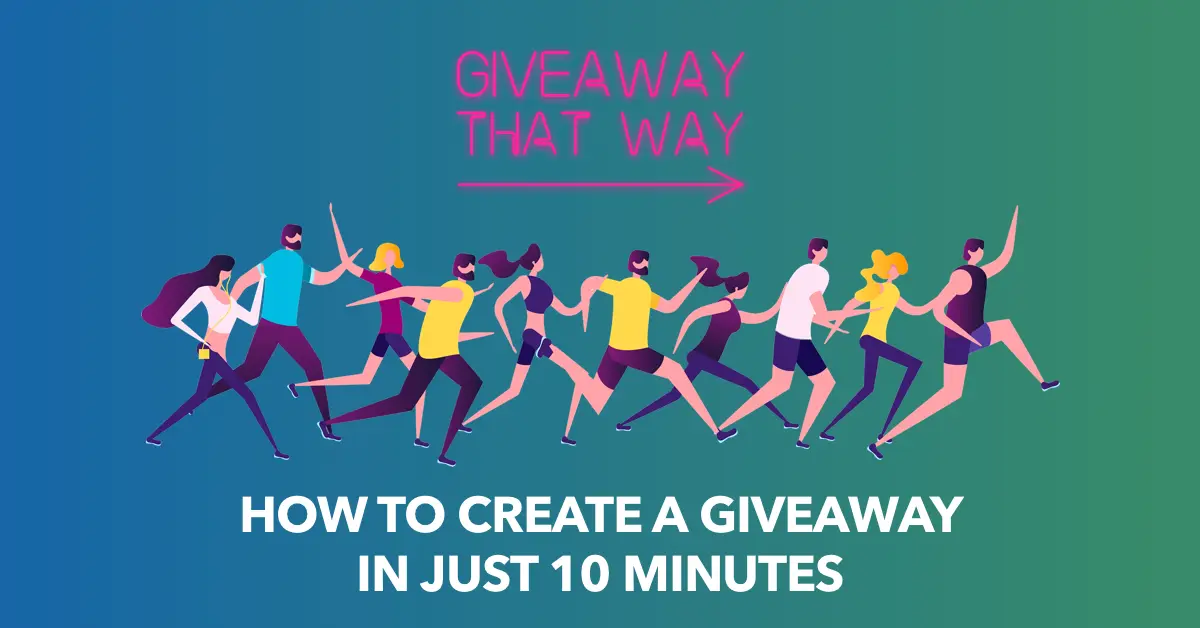 Keep in mind there is some work involved in the steps before and after you create the giveaway landing page, like setting your goals and promoting the contest. We'll cover all of that and more in this step-by-step guide to creating a successful giveaway with KickoffLabs in a matter of minutes.
5 Important Steps for an Effective Giveaway
From start to finish, there are five major steps that you should be focusing on if you want your giveaway to be a success.
Step 1: Set Your Goals
First and foremost, set your goals for what you're looking to get out of the giveaway. Maybe your goal is to generate more sales, maybe it's to boost overall brand awareness, or perhaps you're hoping to get more social media followers out of this.
Whatever your goals are, this step is basically just a way for you to align your objectives with how you create and run the contest. Making the giveaway a success will be much easier if you've established solid goals and objectives beforehand.
Step 2: Decide on the Prize
This should be fairly easy, but we do have a few tips to help you decide on what you'll be giving away to the contest winner. It needs to be relevant to your brand, it needs to be something your target audience will love, and it needs to be worth people's time.
If the prize is so inconsequential that it's not even worth filling out a landing page or tagging a friend in a Facebook comment, chances are you won't generate many leads.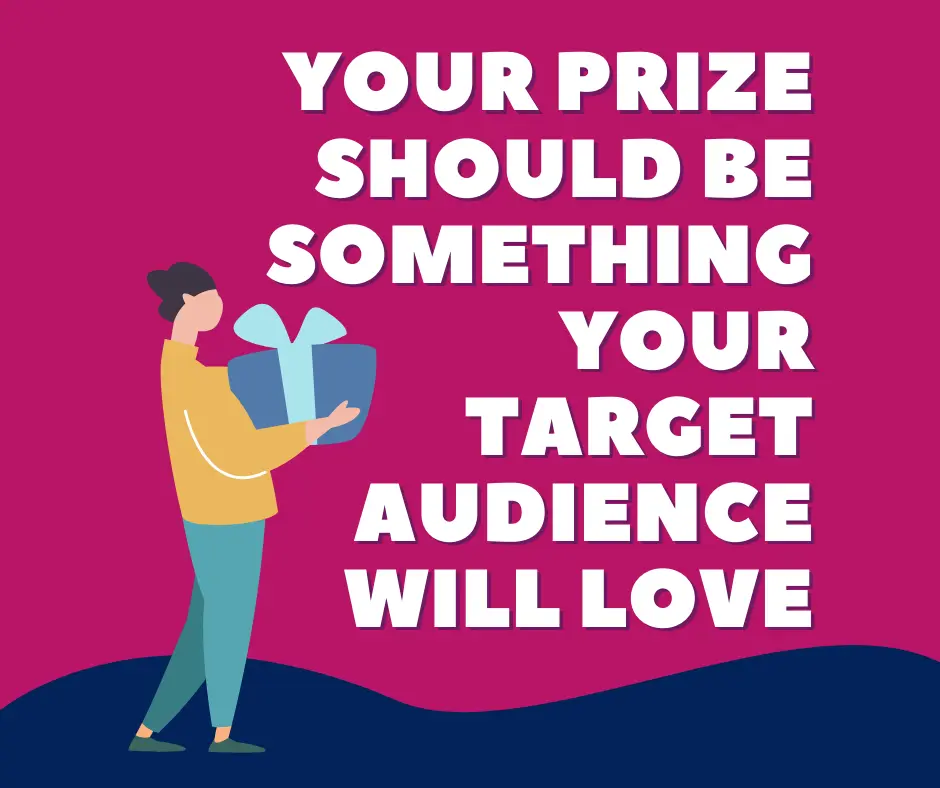 Step 3: Determine the Rules
Every giveaway needs a set of rules, mostly to ensure fairness for everyone involved. The main things to focus on for establishing these rules are who can enter, how to enter, how the winner is picked, and the contest start and end dates.
Step 4: Create the Giveaway with Kickoff Labs
Hold tight, we'll cover all the details on this in just a bit.
Step 5: Promote the Contest and Pick Your Winner
Once the contest is up and running, the next step is to get the word out. It's not likely that there will be many entries if you just sit around and wait for people to come - it's up to you to make them come.
There are plenty of ways to promote a giveaway, but one of the easiest is through social media platforms. Demographics on social media show that the number of users has skyrocketed over the past decade, and they're continuing to go up. Utilize this by promoting your giveaway on Facebook, Insta, Twitter, and Pinterest.
When the first few people enter your giveaway, promoting it becomes a lot easier if you use KickoffLabs. Our viral boost approach will encourage every lead to promote your brand and become an influencer you didn't know existed.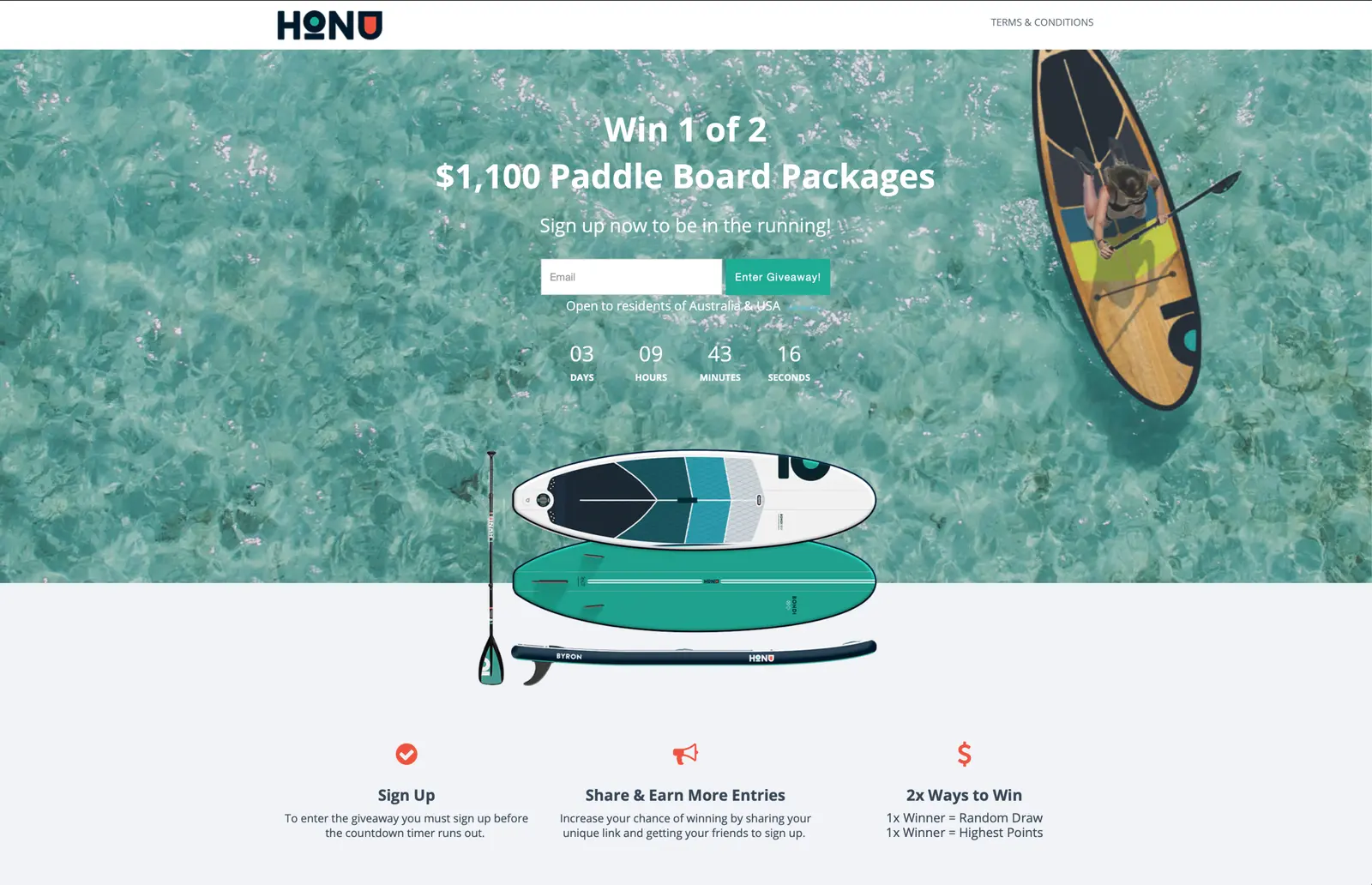 Creating Your Giveaway in 10 Minutes Or Less
We could go on for a while about each of the steps above, but the reason we're here today is to talk about actually creating the giveaway. That's what we'll be focusing on from here on out. Ecommerce stores are constantly giving away free stuff to promote their products and generate interest, so we'll use that as an example. 
Imagine you're opening a Shopify store that specializes in athletic shoes. In this scenario, it's a no-brainer that your free giveaway item should be a fresh pair of kicks.
First, Create the Campaign
After making your KickoffLabs account (don't worry, you won't be charged for your first viral contest unless you choose an upgraded plan), you'll start creating your campaign for giving away a new pair of shoes to one lucky winner.
Then you'll need to input some basic details of what the campaign is all about (in this case, a free pair of shoes). From there, you'll start creating a new landing page or popup.
Note: For running a giveaway we recommend using the "Bonus Entry Sweepstakes" campaign type.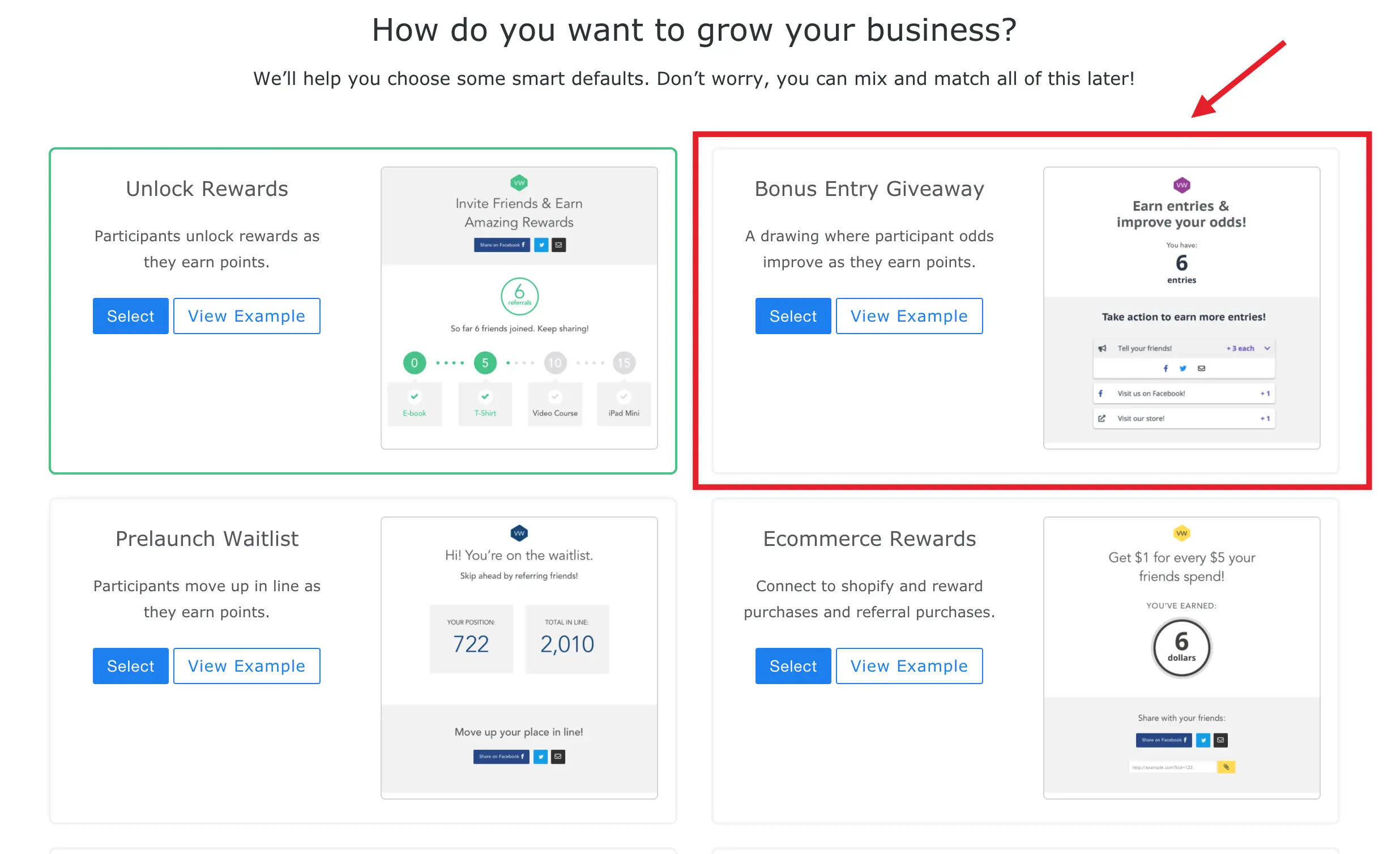 Select the Template and Add a Page Title
We suggest using one of our landing page templates, but you also have the option to connect to AnyForm or Contest Boxif you already have existing pages or your own designs you'd like to use.
Let's assume you chose the "New Landing Page" option. Over 30 templates will show up on the left side of the page. Click one and you'll get to browse through it in more detail on the right-hand side, where you'll also add in your page title - something like Free Shoes Giveaway! or New Shoes to One Lucky Winner!
Click "Add Page", and voila, the template for your new giveaway has been created.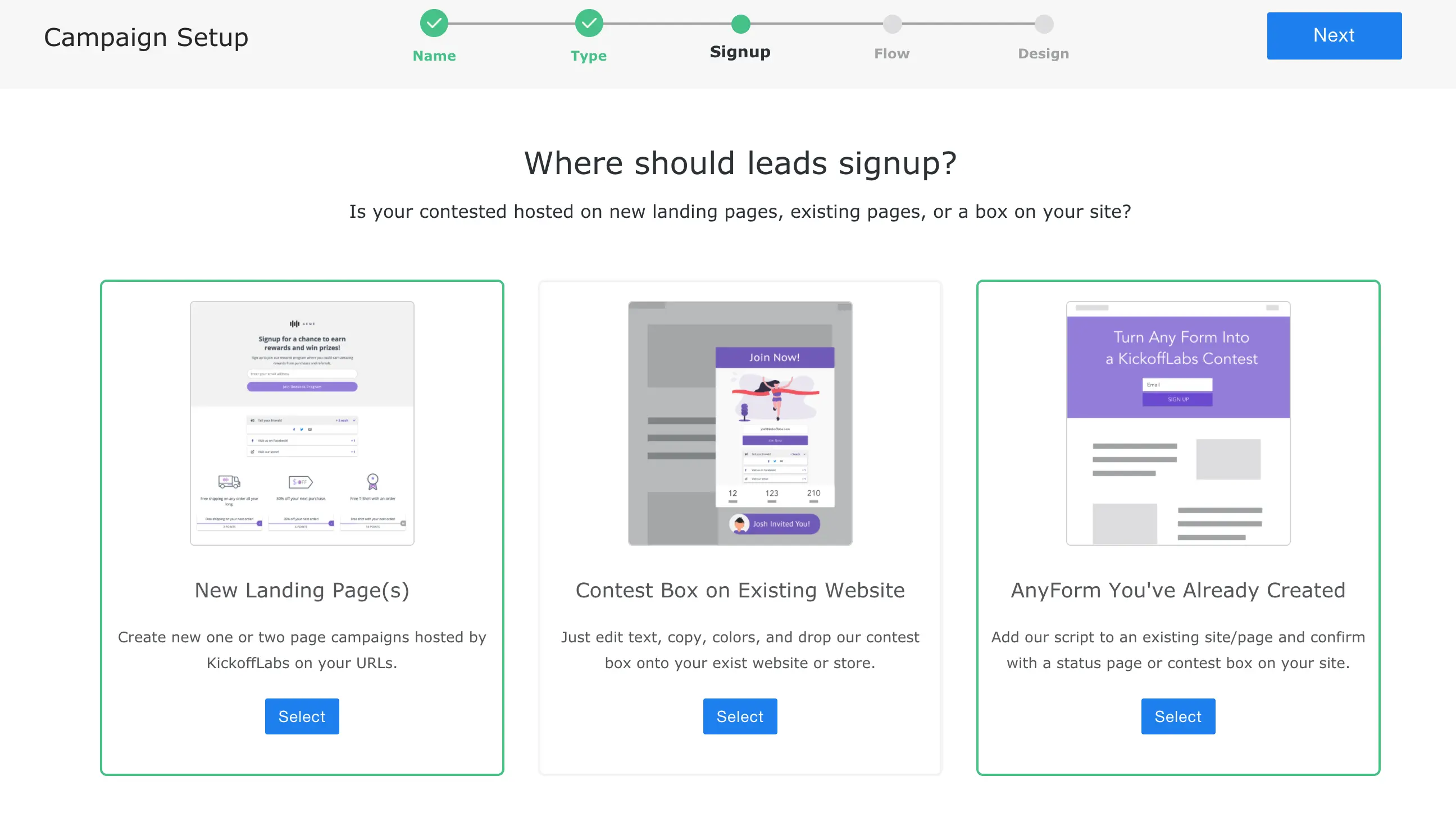 Add in Content and Design
You'll then be taken to the Page Overview. Click the big green button that says "Edit Page" on the right to start adding in all your original content and design features that will make your giveaway stand out and grab the attention of your audience, making them instantly want to be the one wearing those shoes.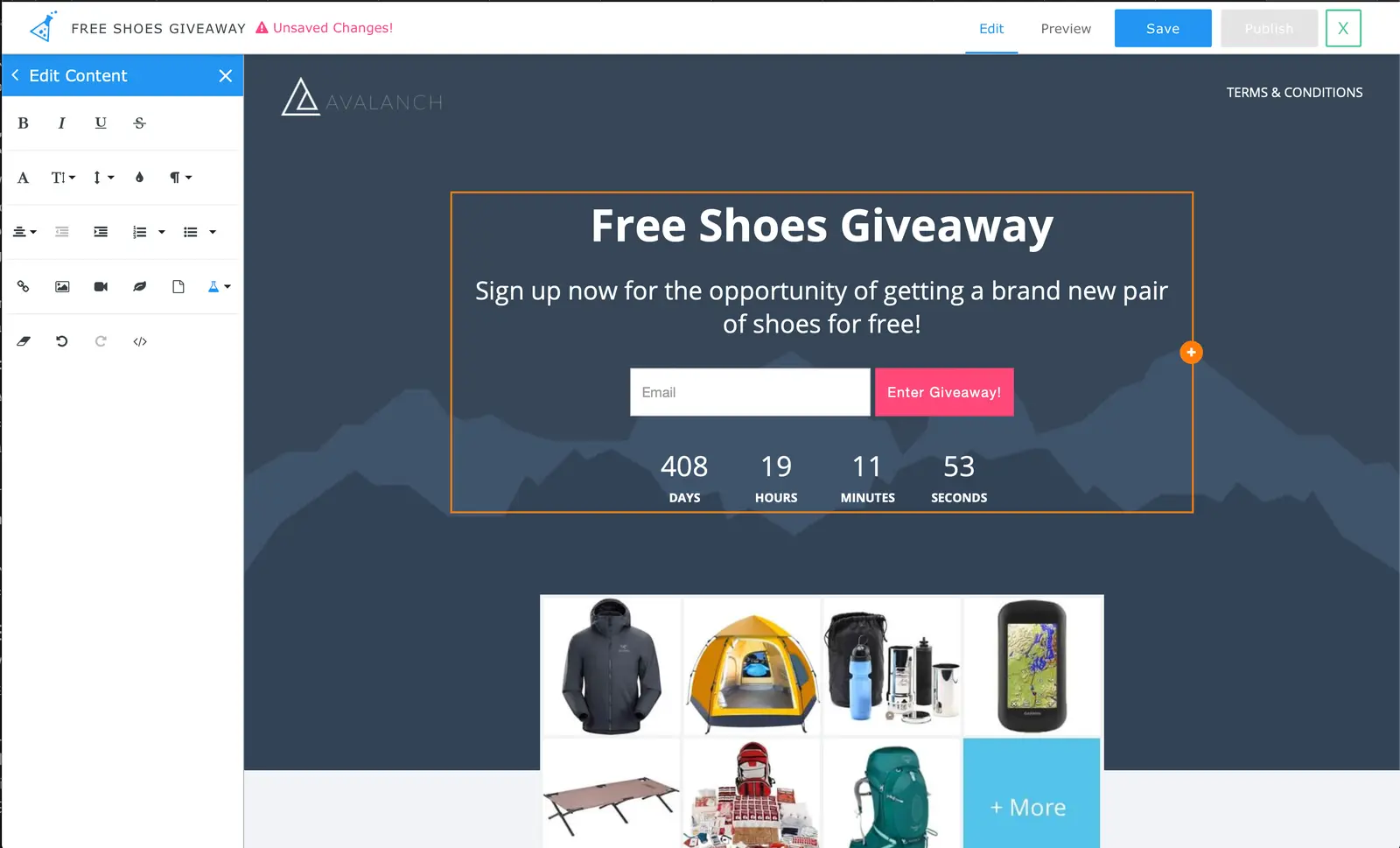 Finish Up With a Thank You
No matter what you're giving away, you should always thank your audience for their time. We give you two different options for this. The first is to add in a short thank you message at the bottom of the landing page, which is the easier choice. The second option is to redirect to a separate status page.
No matter which thank-you method you choose, always try to encourage the reader to share the giveaway and influence others to enter. This is an easy marketing strategy that will help to generate more interest with very little work on your part.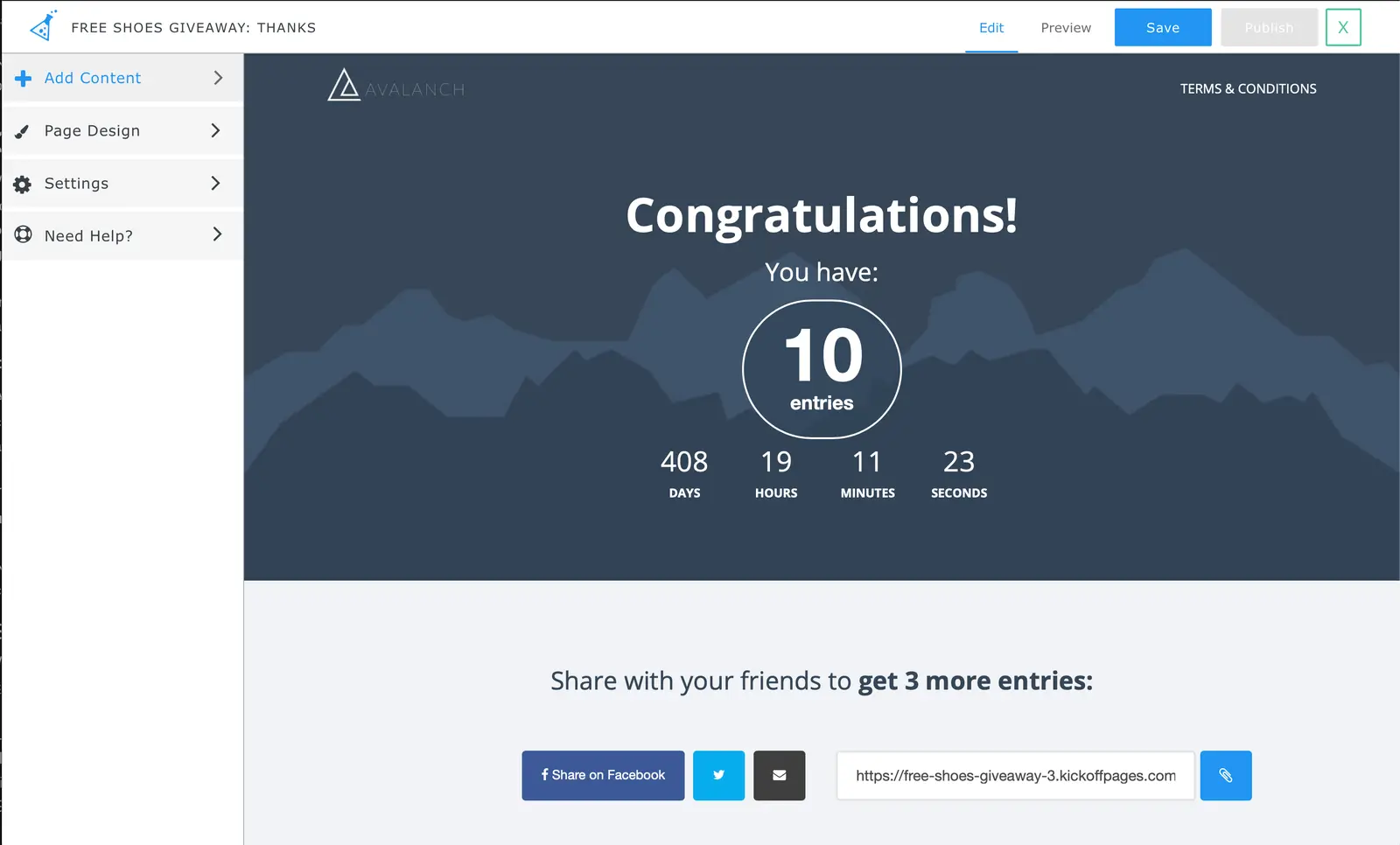 Ask for Help If You Need It
Whether you're struggling through the entire process or stuck on one minor detail, we're here to help. There's a Need Help? button on the left side menu where you can find tons of resources on creating and editing landing pages, writing content, choosing images, etc.
If you can't find what you're looking for in any of the search results, shoot us an email at support@kickofflabs.com and we'll get back to you with all the answers.
Get Started With Your Giveaway at KickoffLabs
Creating an online giveaway or contest can be super complicated - but it doesn't have to be. Keeping things simple while also making sure your giveaway gets you the results you're after is our main goal here at KickoffLabs. And best of all, we offer a free trial for your first campaign to help you get the ball rolling on your next online giveaway.