Running an online giveaway is a great way for your business to boost engagement and attract new leads. Thanks to the large number of giveaway tools and platforms currently available, running a giveaway can be a fairly straightforward process. But with so many options, how do you know which one to use for your giveaway? Before you commit to a giveaway platform, here's what you should look for:
Speed
Support
Scalability
Email integration
Automatic enrollment for current subscribers
Referral tracking
Contest actions
Fraud protection
Website integration
AnyForm compatibility
Automatic winner selection
Let's take an in-depth look at each feature.
How quickly can you get your giveaway up and running?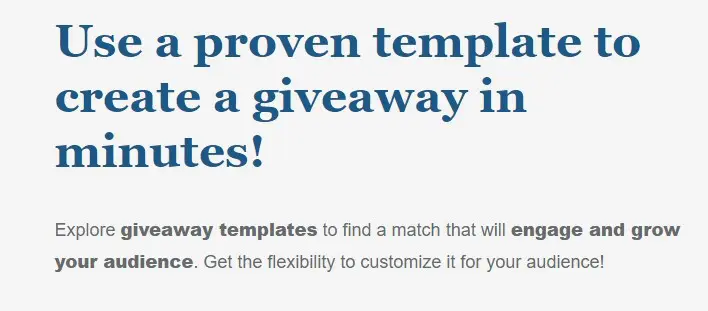 Ease of use is important for both your contestants and you. More time spent trying to set up a giveaway that matches your goals exactly is time you are losing to engage with customers and collect new leads. Look for a giveaway platform that comes with a variety of templates you can quickly and easily customize for your campaign.
KickoffLabs also offers you a setup call to walk you through the process of getting your giveaway page up and running. A one of our team members will be able to answer all your questions and make sure your setup process goes smoothly.
Does the giveaway platform offer customer support?
Especially if this is your first giveaway, you need a platform that can offer you guidance as you set up and run your giveaway. A platform with robust customer support options will make it easier to troubleshoot any issues that may arise and optimize your giveaway's effectiveness. At KickoffLabs, we'll prove you with a free strategy call to get you started in the right direction.
Are contests scalable for cost?
The last thing you want to happen is for the platform to get overwhelmed by too many entries and crash, potentially losing data it was in the process of capturing and preventing new entrants for any amount of time. Think about how many entrants you will expect total, and how many data captures the website might have to process at once. Before choosing a platform, ask about the size of giveaways it has hosted in the past.
Can the giveaway platform send emails for you?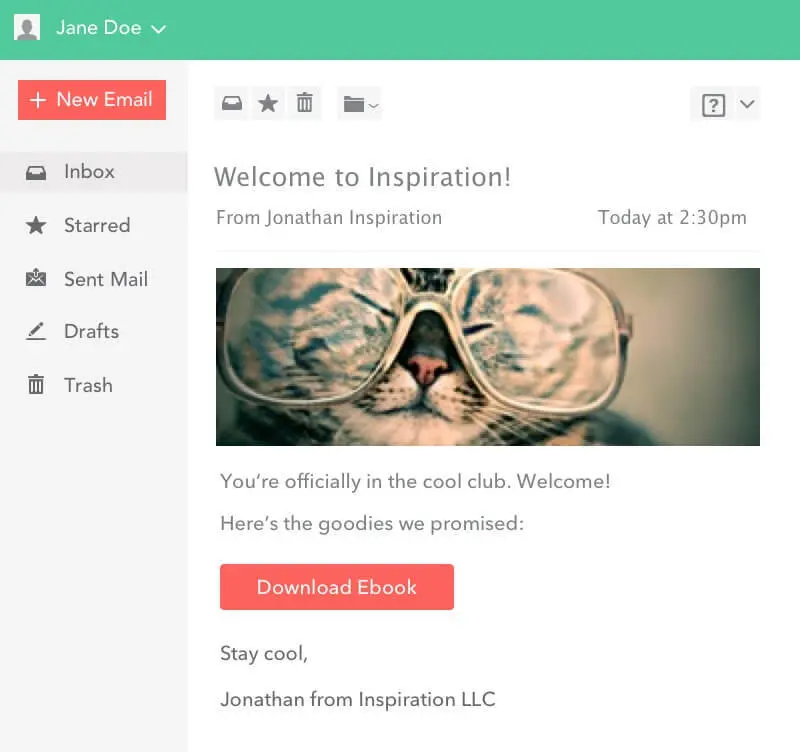 Follow up emails are great for keeping contestants engaged after they've entered. You could keep track of every entrant and send these emails by hand, or you can look for a platform that has some kind of automated messaging function built in. This is especially helpful when you are offering rewards to contestants for referring more entrants. Not only can you instantly deliver those rewards, but you can also provide entrants with a custom referral link to share with their friends and family. Some platforms, like KickoffLabs, will even be able to email you and notify you when you hit certain milestones in your giveaway.
Can the platform automatically enroll your existing email list?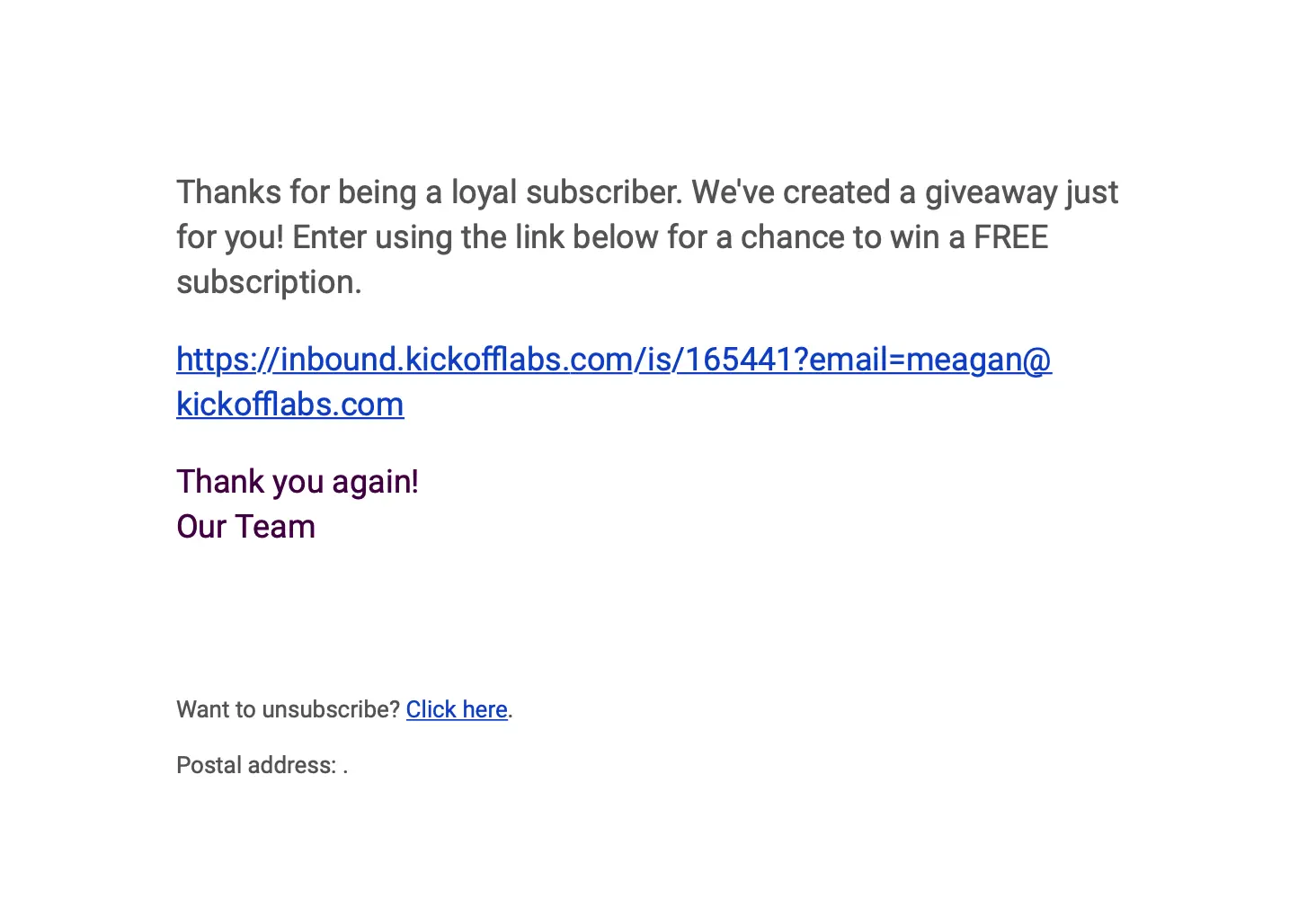 There is nothing people dislike more than having to reenter their information multiple times. You're more likely to engage your current email list—and get them to send referrals to their friends—if they can easily enter themselves into the contest without having to fill out another form with information they have already given you. KickoffLabs makes this process simple–you can build custom links that allow your email list to opt into the campaign and get their own referral link in just a single link.
Can the platform track referrals?

A great way to entice contestants to continue to engage with your brand is to offer them extra entries for sharing the contest with their friends and family. An easy way to do this is to provide everyone who enters with a unique link they can share with their contacts to enter as well. This helps you track who referred who and how much your brand awareness has grown. When selecting a platform, look for one that can automatically generate this link when new users enter.
Does the platform let you set up contest actions?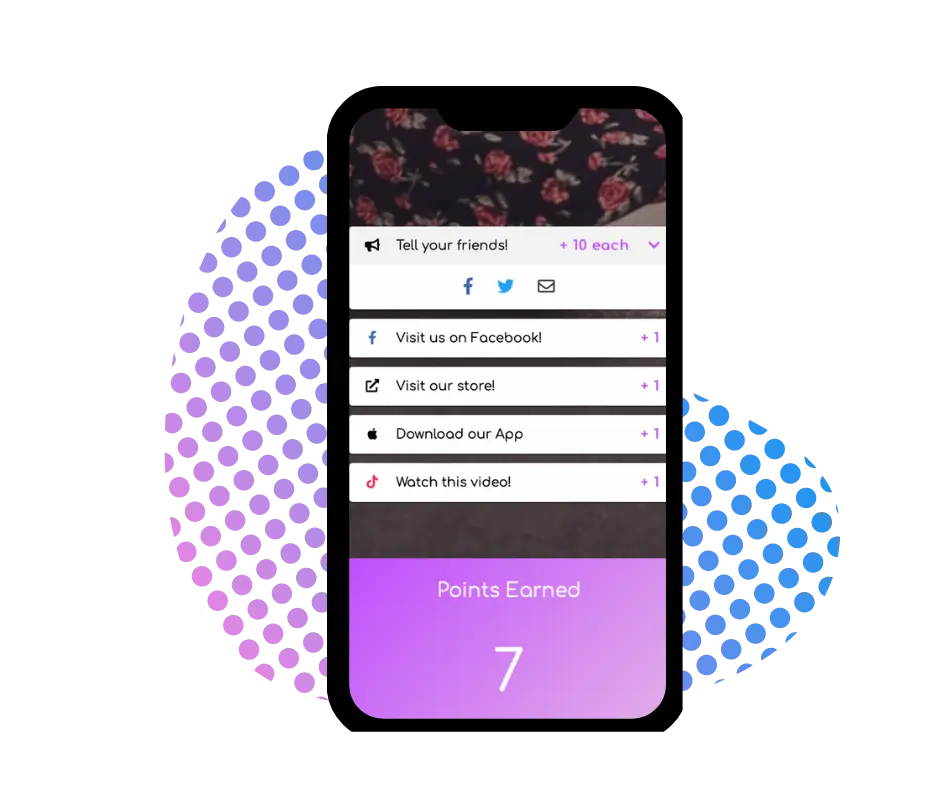 Referral links are not the only way to encourage users to keep engaging with your campaign and earn more entries. You can also award extra entries for interacting with your brand on social media or filling out additional forms on your site. Can the platform you are hosting your giveaway on automatically capture when entrants complete extra actions and award them extra entries?
Will the platform protect you from fraud?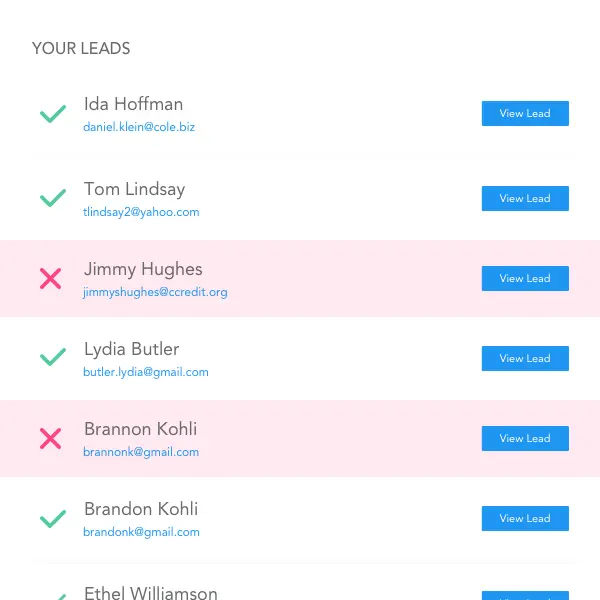 Unfortunately, any time you run a contest online, there is a risk that people will try to cheat. This could be by trying to enter multiple times, using fake email addresses, or using bots. Entries from sweepstakes sites are usually low-quality leads who are not likely to continue engaging with your brand. When shopping around for giveaway platforms, ask about what security features they have to prevent bot and duplicate entries. KickoffLabs can block multiple entries from the same IP address and flag invalid emails and sign ups form Sweepstakes sites. You can set up Captchas to keep bots from entering or require entrants to manually confirm their entries.
Does the platform let you integrate your giveaway into your existing site?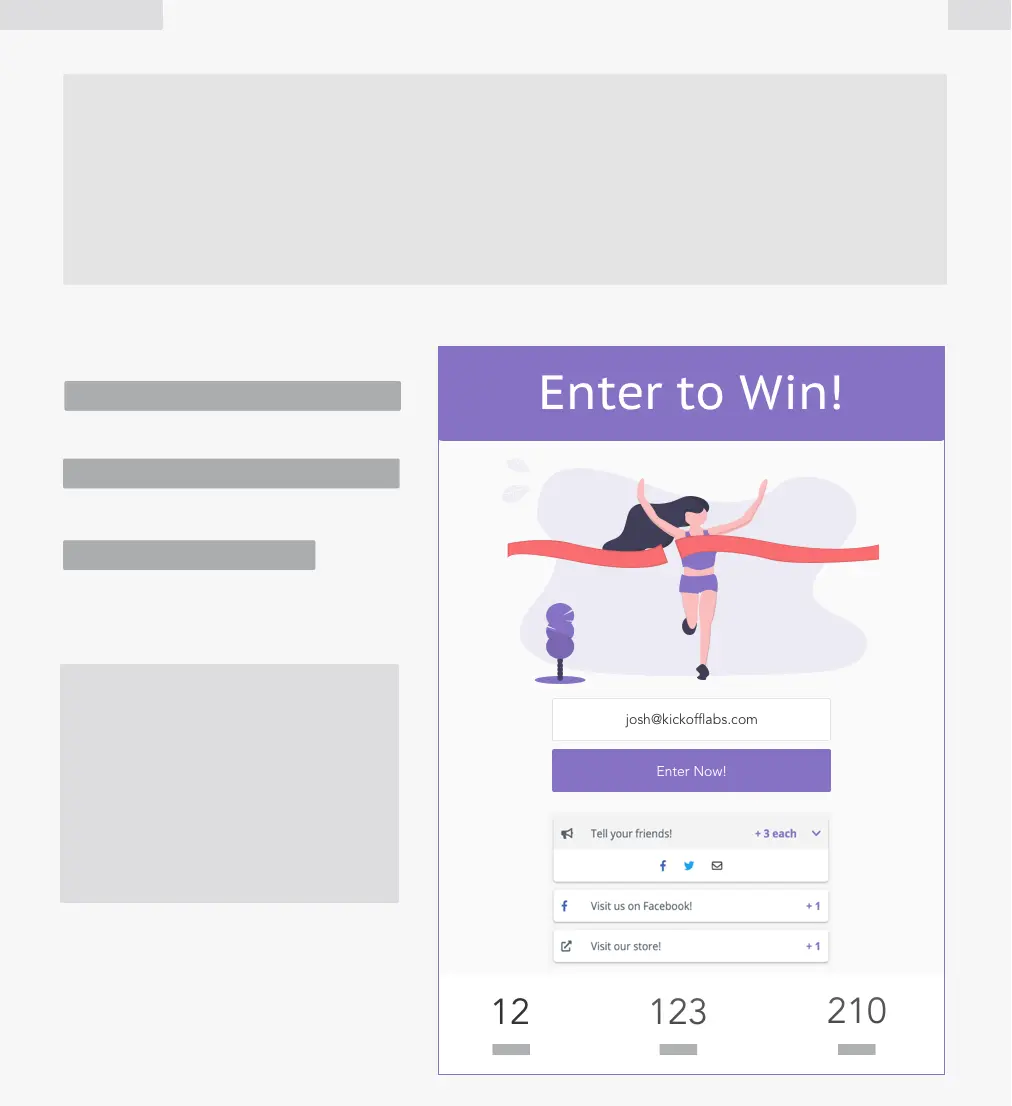 If users have to leave your page and go to a secondary site to enter your contest, less of them will complete the entry form. You can retain the most entrants by using a pop-up built directly into your site. If you don't have the computer knowledge to program it yourself, you need a platform with an easy-to-use extension you can embed into your site.
Does the platform work with AnyForm?
AnyForm is a script you can insert into any page to connect your form to KickoffLabs. This is another way to build the capture form directly onto your website and have the data transfer automatically to the giveaway platform. It can also be integrated with automatic email replies.
Can the platform help you pick a winner?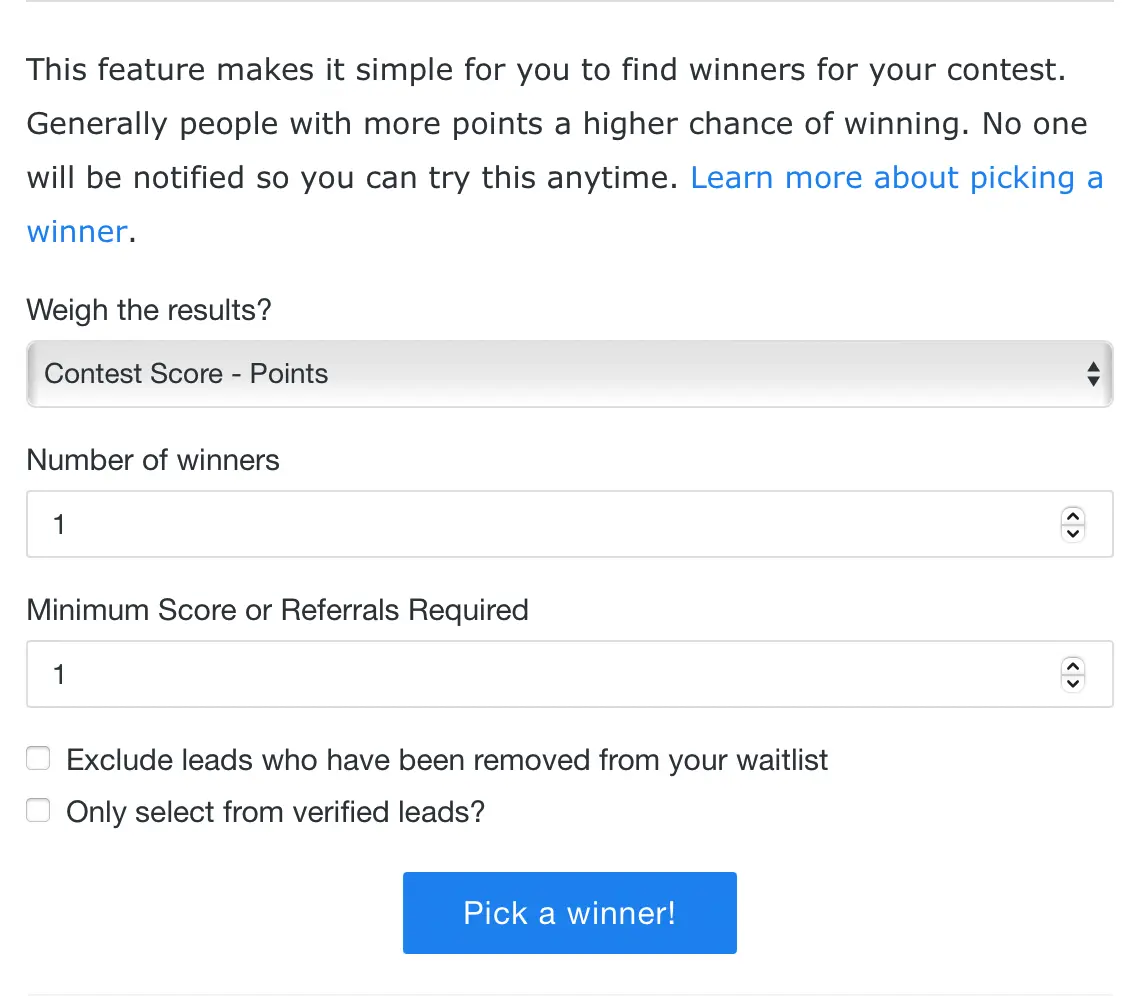 The whole point of running your campaign is for someone to win. If your campaign has worked and you have hundreds or thousands of entries, selecting a winner manually is a time-consuming, tedious process. When you pick a giveaway platform, make sure it can automatically select a winner for you. A platform like KickoffLabs lets you decide how many winners to pick and even gives you the option to weigh the results or set a minimum eligibility score.
Tools to consider:
KickoffLabs has all the features you need to run a successful, hassle-free giveaway that drives results, but there are many great options on the market. Here are some other tools you may consider when building your giveaway:
Woorise—Comes with a variety of easy to customize templates and integrates with most popular campaign tracking services like Mailchimp and Google Analytics.
Gleam—Includes a responsive widget that you can embed into any site and provides great viral sharing features. It can also flag suspicious entries and send entrants automatic notification emails to track their progress.
SweepWidget—Create a giveaway in under five minutes using the drag and drop builder. You can also reward users who generate the most entries through engagements and set milestone-based incentives.
Compare the different features available here.
Ready to boost engagement with a giveaway? KickoffLabs is here to help. Schedule a demo or start your free trial today!