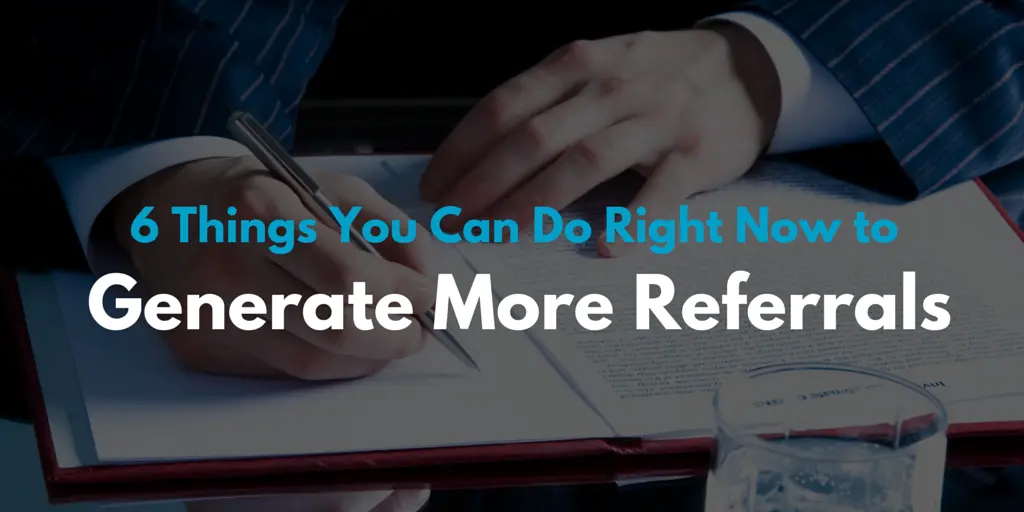 In business, there's really only one way to get leads that are virtually guaranteed to convert to customers without having to lift a finger: receiving a referral.
Like picking up a twenty dollar bill on the street, referrals often come unexpectedly but will very quickly turn into a boon for your bottom line.
In fact, there are plenty of businesses out there that get 100% of their new customers from referrals. These are usually service-oriented companies where a single client can make up a significant percentage of revenue, such as financial planners, law firms, and talent or sports agencies.
But even if you're outside of these industries, referrals can still provide a nice boost to your business. And you don't have to create an elaborate marketing plan or wait six months to start seeing a return.
With these actionable tips, you can start getting more referrals right away. Most of these ideas can be implemented with less than an hour's worth of work, but the additional revenues that you gain can have a positive impact on your marketing efforts that lasts for months, even years.
So let's get to it!
Don't just take our word for it.  See how other brands have succeeded with referrals
1. Create a simple rewards program
A rewards program doesn't have to be a complicated, multi-tiered system with a complex set of rules. In fact, rewarding your customers for sending you referrals could be as simple as regularly tweeting their names, or devoting a section of your website to recognizing people who have brought you business.
You could also use a simple loyalty program that rewards people for every set number of new customers that they bring in. Remember, your program doesn't have to be set in stone. Once you have something in place, you can always go back and beef up your referral rewards system to create even more incentive for people to recommend you to others in their network.
2. Ask a new customer
"Ask for them" is one of the most common answers you'll hear from old school sales managers and trainers when you question them about how to get more referrals. It's a fine answer: you should definitely be engaging your customer base to try to easily gain new business.
But we'd like to make one slight tweak to this old law of referrals: focus on asking your new customers first.
Why them? For one thing, since they just agreed to exchange some of their hard-earned money for your product or offering, it's likely that they still have a positive view of your organization. And since they are new, they probably haven't referred anyone to you in the past. Their network is completely untapped.
Be reasonable about it: you don't want your new customers to receive a referral request immediately after they click the "buy" button. Also, when you reach out to ask them for a referral, check in with them first and see how they like your service or product so far.
Another great idea: after a positive customer service interaction with a new customer, ask them to channel their gratefulness into a referral. When you receive praise from your client about work well done, instead of just saying "you're welcome," ask them to tell a few of their friends or contacts who might need your services. This should become an automatic part of your customer support process.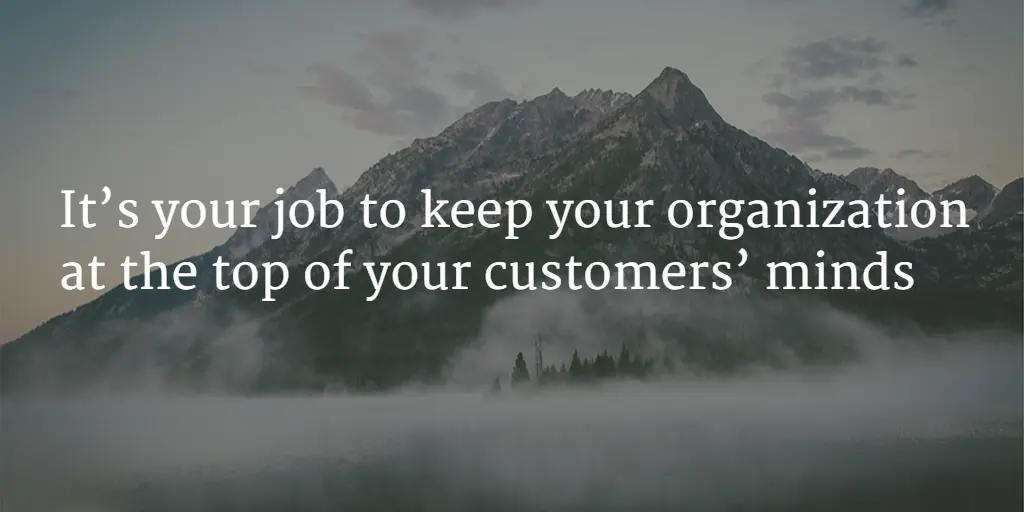 3. Make it easy for customers to refer you
Many companies miss out on referrals simply because their customers aren't even aware that they are looking for them. The odds are good that you've missed out on an opportunity to let your customers know that you are open to referrals.
A few ways to do this:
Add a line to your email signature about your interest in referrals
Mention referrals in the transactional emails you send to customers
Send a personalized greeting card to your customers, thanking them and asking for referrals
Include information about referrals on your business card
Whatever you do, make sure that your customers are aware that you are open to referrals. It's your job to keep your organization at the top of your customers' minds, but don't overdo it by asking for referrals everywhere, in every correspondence. This will make you look desperate.
4. Spread knowledge in your industry's community
Did you know that around the world, consumers are 43% more likely to buy a new product when they learn about it through social media? In today's world of marketing, information is power. If you can provide people with what they want, they are more likely to refer you to their friends, family members and colleagues.
Social media is the perfect forum on which to establish your organization as a thought leader. You can create a strong foundation for gathering referrals on social media by answering questions that your existing customers have, but this is only the beginning.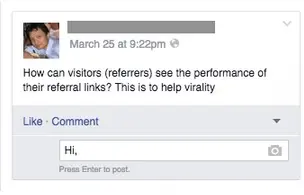 Responding to questions and comments on Facebook is a great way to make you referral-worthy.
Since you're already on these social networks to engage with your own page, why not take it a step further and provide information in other places as well? For example, if there is a LinkedIn group that your customers and prospects frequent quite often, have you thought about answering questions or contributing valuable tips there?
Think about every possible community, online and offline, where you might be able to promote your brand as an authority. Even if you just focus on one or two of these communities, the odds are good that you'll get a couple of referrals at some point by having a strong presence in them.
5. Ask customers for feedback
This might not seem like a direct way to get referral, and compared to these other methods it may not get you referrals instantly.
However, by talking to your current customers about what they like and don't like about your offerings, you can get a sense of what it'll take to get more referrals from those who buy from you. Remember, a customer who is satisfied but not blown away by your service might continue to be a customer, but they probably won't go out of their way to recommend you.
On the other hand, when you can dazzle your customers, you turn them into raving fans that do your marketing for you. Remember the last time you ate at an amazing restaurant? If you're like most people, one of the first things you did after the experience was recommend it to other people. This is part of the reason that friends and family members have proven to be the biggest purchase influencers, time and time again.
By catering to the needs of your existing customers and listening to their feedback, you'll show them that you are a company that cares about its customers. In some industries, this is a rare occurrence, so people will be eager to pass your name on to help their friends and colleagues have a good experience.
6. Run a Fun Referral Contest
Who doesn't like taking part in a contest? Your customers get to enjoy some friendly competition, plus the chance to win a great prize. And when a contest ends up getting you exponentially more referrals, your organization wins as well.
You don't need to make it an elaborate contest. For example, you might have each participant compete to see who can get you the most referrals within the contest's timeframe, whether that is one week or one month. Another idea is to create a sliding discount scale, where the more referrals a contest entrant provides, the more they get rewarded by your business.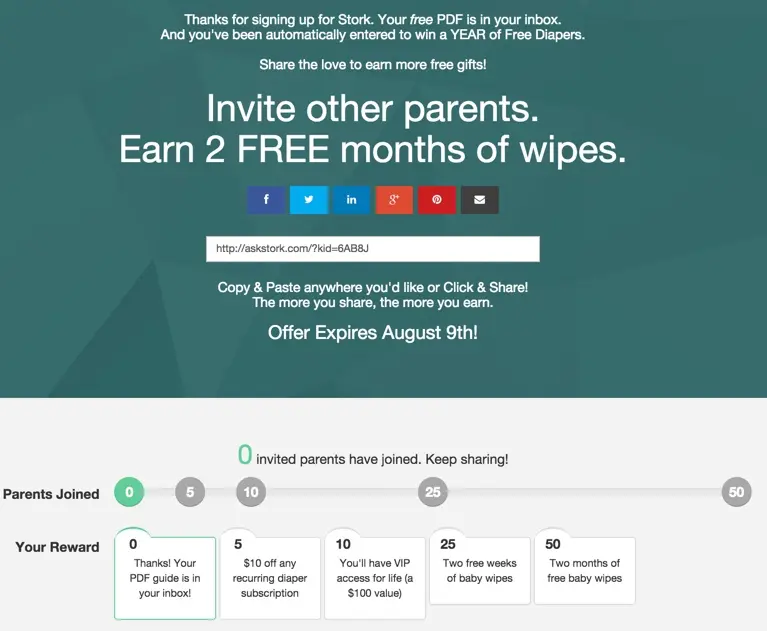 Whatever you decide to do, make sure that your contest is easy to share and easy to sign up for. Include links on all of your social media feeds and send out an email to everyone who might be interested in participating. You could even set up a recurring contest every month or quarter, depending on the level of interest and how much time you have available to devote to your contest.
Instant Action = Instant Referrals
Getting more referrals isn't rocket science, but it does take one thing: commitment. You have to devote yourself to putting in the energy it takes to listen to what your customers are saying, let them know you want referrals, and answer the questions that they have.
If you can do all this successfully, you'll have a new problem: how to handle all the new business you get from word of mouth referrals.
Don't just take our word for it.  See how other brands have succeeded with referrals