If you're an established brand, you know that your audience is the lifeblood of your business. After all, any successful efforts made to grow your following will also allow you to grow your sales. Which is why referral programs can be so beneficial.
By using those that already follow you on social media or subscribe to your email newsletters, you can dramatically increase your customer base. Plus, by rewarding your current patrons for simply referring their friends, you'll keep them happy and build loyalty. That's why running a refer a friend campaign is a key part of a good marketing strategy.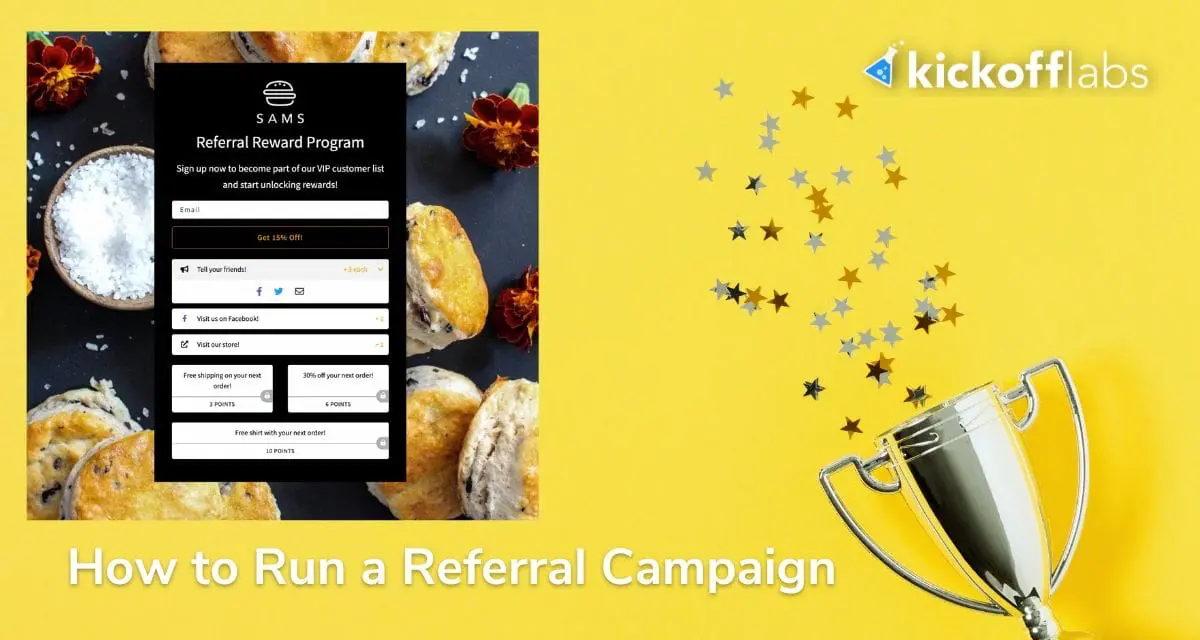 What is a Refer a Friend Campaign?
Refer a friend campaigns are a type of marketing promotion that is designed to encourage people to tell their friends about your brand. Current customers are motivated to bring in new business in various ways that include a specific reward for each new customer they refer, or a chance at winning a larger prize.
The campaign works by providing the members of your audience with a unique link that they can use to share with their friends. As this link is specific to each customer issuing a referral, your brand is able to use it to track successful sign ups. You can then offer the referring party an incentive each time their friends use the link to enter your giveaway.
What Incentives Get People to Refer Their Friends?
There are two great reward options that you can implement to encourage people to issue referrals.
For example, a Bonus Entry Sweepstakes will offer your audience the chance to earn additional entries into your main giveaway with each friend that they refer. So, for this kind of incentive, there is only one set of rewards that you need to offer as a prize. This is a particularly great strategy for giveaways that are competitive or have high value prizes.
Alternatively, Milestone Referral Rewards will provide your customers with ongoing opportunities to earn rewards every time that they refer a friend. Commonly these promotions include prizes such as a discount code or early access to new product launches and sales. The benefit of this option is that the customer is guaranteed some form of incentive upon successful referral, instead of being provided with a chance at a larger prize. This can also be a good strategy if you are looking for an immediate boost to sales, because the awards associated with the Milestone Referral Rewards program, such as coupon codes, tend to encourage customers to make purchases right away.
What Should a Refer a Friend Landing Page Look Like?
There are a few key elements that you should be sure to incorporate into the landing page for your refer a friend program.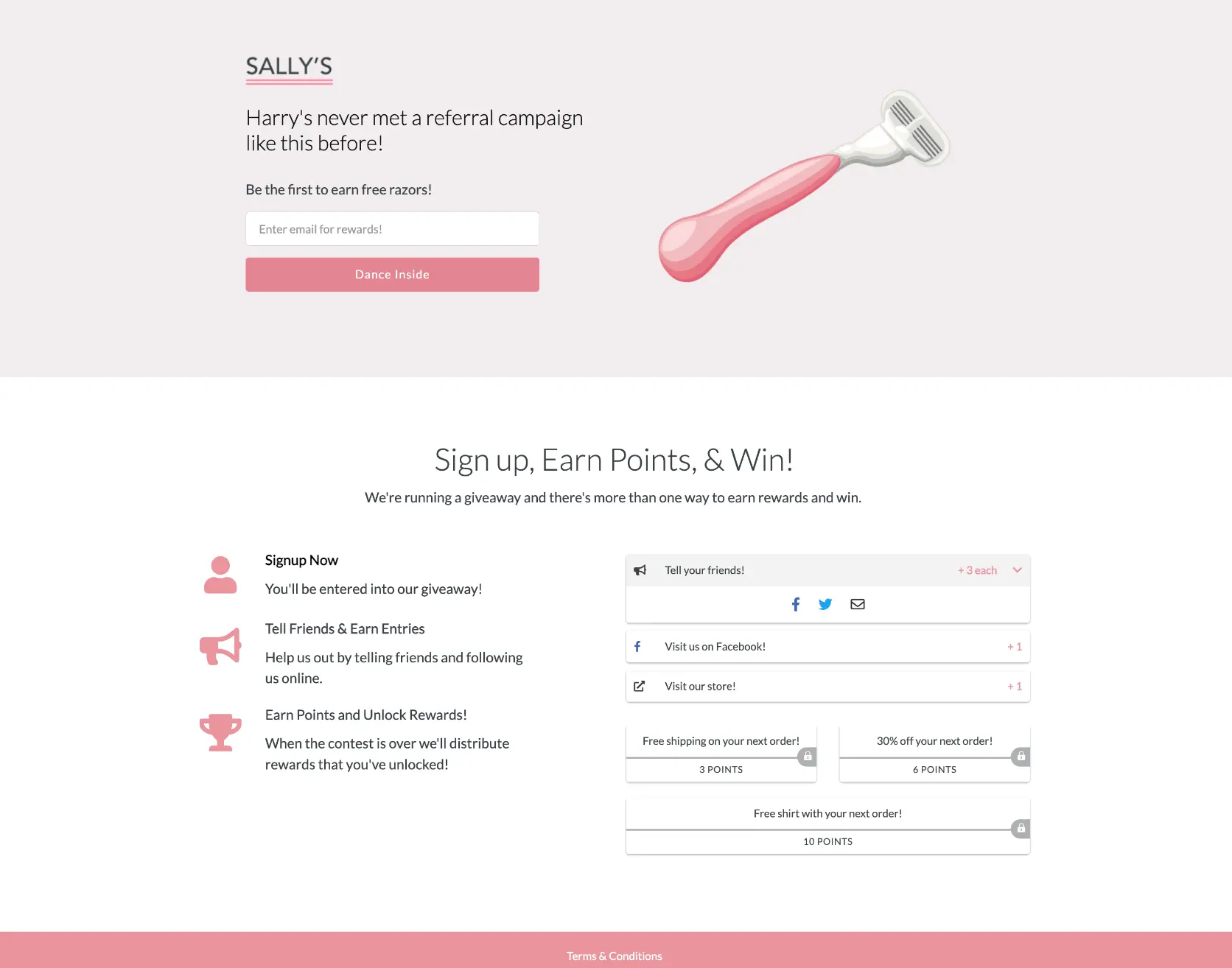 These include:
Your branding. Just like every other webpage associated with your business, your refer a friend landing page should have branding that is consistent with the rest of your site, and recognizable as your own. Building (and adhering to) a strong brand identity is a key part of any successful marketing campaign.
A headline or subheadline that encourages newsletter sign-ups. The incentives you offer are important to encouraging customers to refer the people they know. However, their friends are not likely to join your email list if it doesn't benefit them too! Therefore, it's important that you describe why someone might want to receive your brand's email updates in order to actually generate new subscribers.
A way to generate a unique referral link. Your customers will need something to send their friends to refer them back to your business. That's why you will need to prominently include a button to help them create a link that leads to your sign-up page but is specific to their account. Otherwise, you won't be able to track referrals and properly distribute rewards.
A set of instructions. You'll want to detail the actions that people will need to take in order to successfully refer their friends and redeem them prize(s). If the process is unclear or confusing, customers may just move on and decide not to participate.
An outline of potential prizes. In order to properly motivate customers, you'll have to explain the incentives that are available. Make sure to detail if you are compensating successful referrals with a guaranteed reward, such as in a Milestone Referral Reward campaign, or with entries to help boost their chances to win a larger contest, as with the Bonus Entry Sweepstakes.
Rules. Finally, you'll want to include the fine print. Be sure to list any and all regulations and stipulations that apply to your promotion.
How Do I Build A Landing Page For My Refer A Friend Campaign?
Fortunately, KickoffLabs makes it super easy to create your landing page. There's no need for a web designer when you can just use our landing page builder.
There's tons of great templates available to start you off and set your rewards, scoring, leaderboards, rules, and more. From there, you can customize and personalize with just a few clicks.
The KickoffLabs editor allows you to edit and construct your landing page by dragging and dropping features and widgets - no coding required!
Get Started today in 5 easy steps:
1. Choose Your Campaign Type We recommend starting out with a Milestone Reward or Bonus Entry Giveaway campaign, but we offer several types depending on your needs!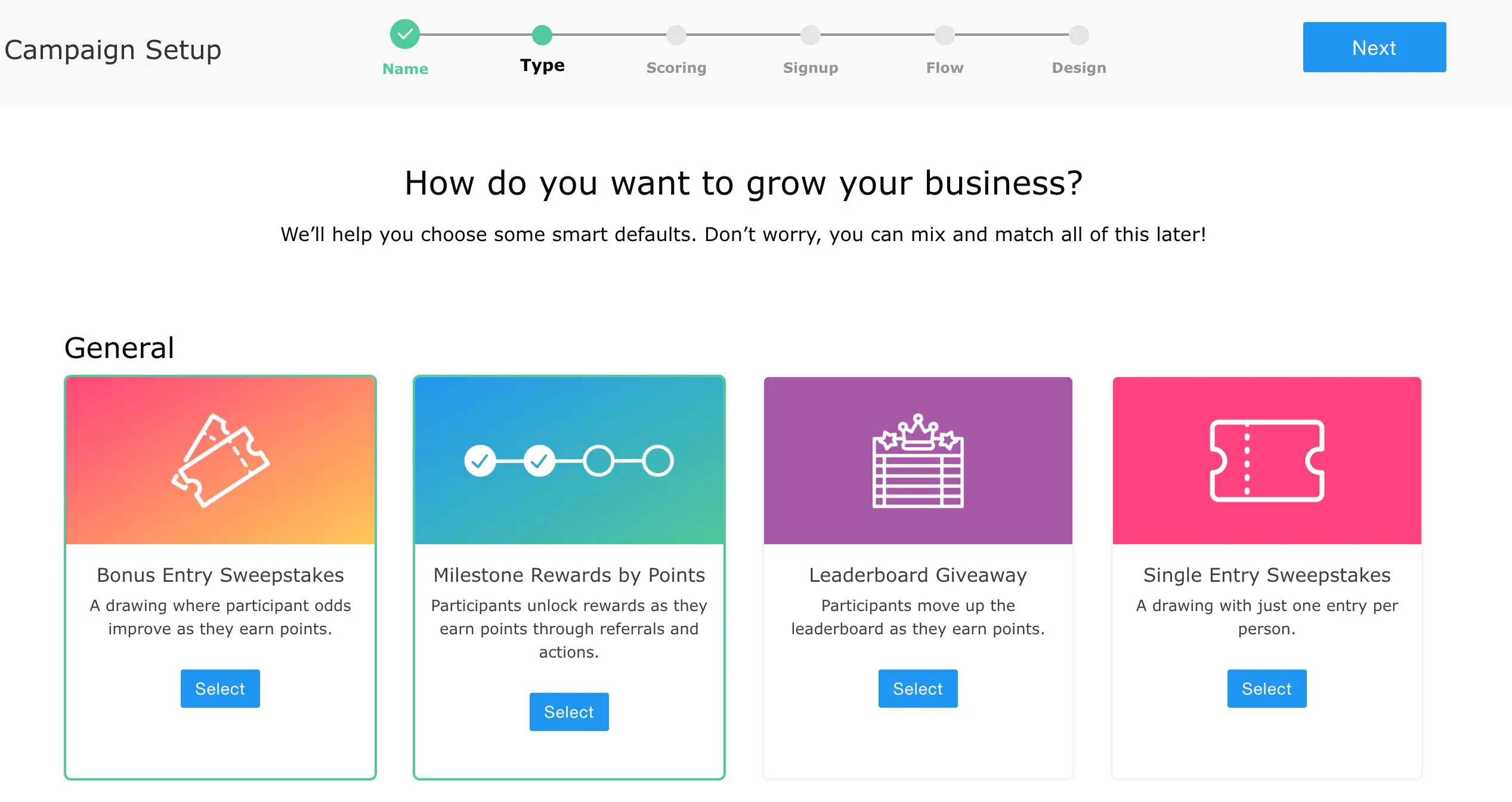 2. Select Scoring We preset the scoring settings for the contest type that you chose, however you can change them to fit your specific contest goals.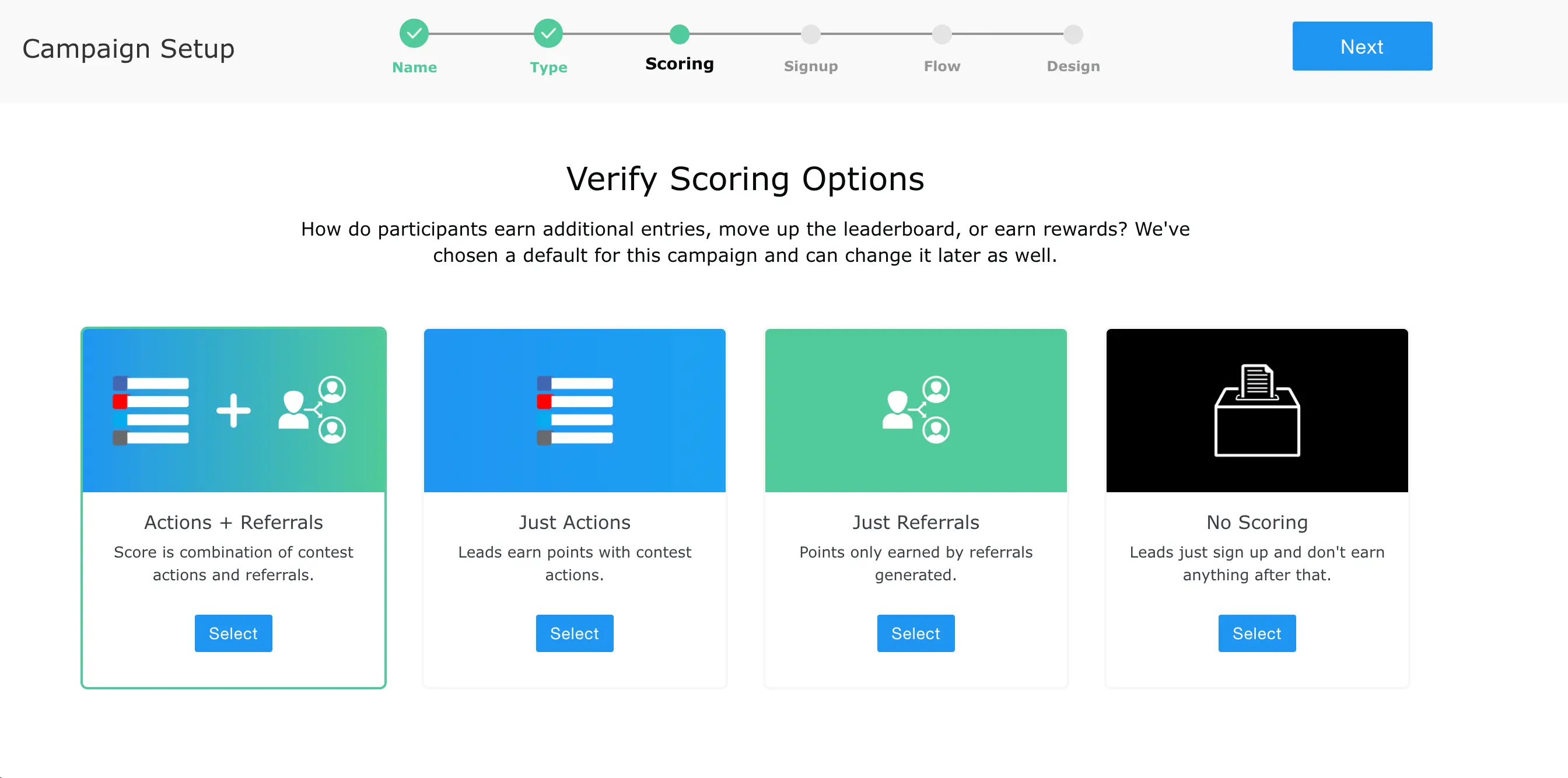 3. Select a Signup Source Build the landing page in our KickoffLabs editor or connect to an external landing page via Anyform or Contest Box.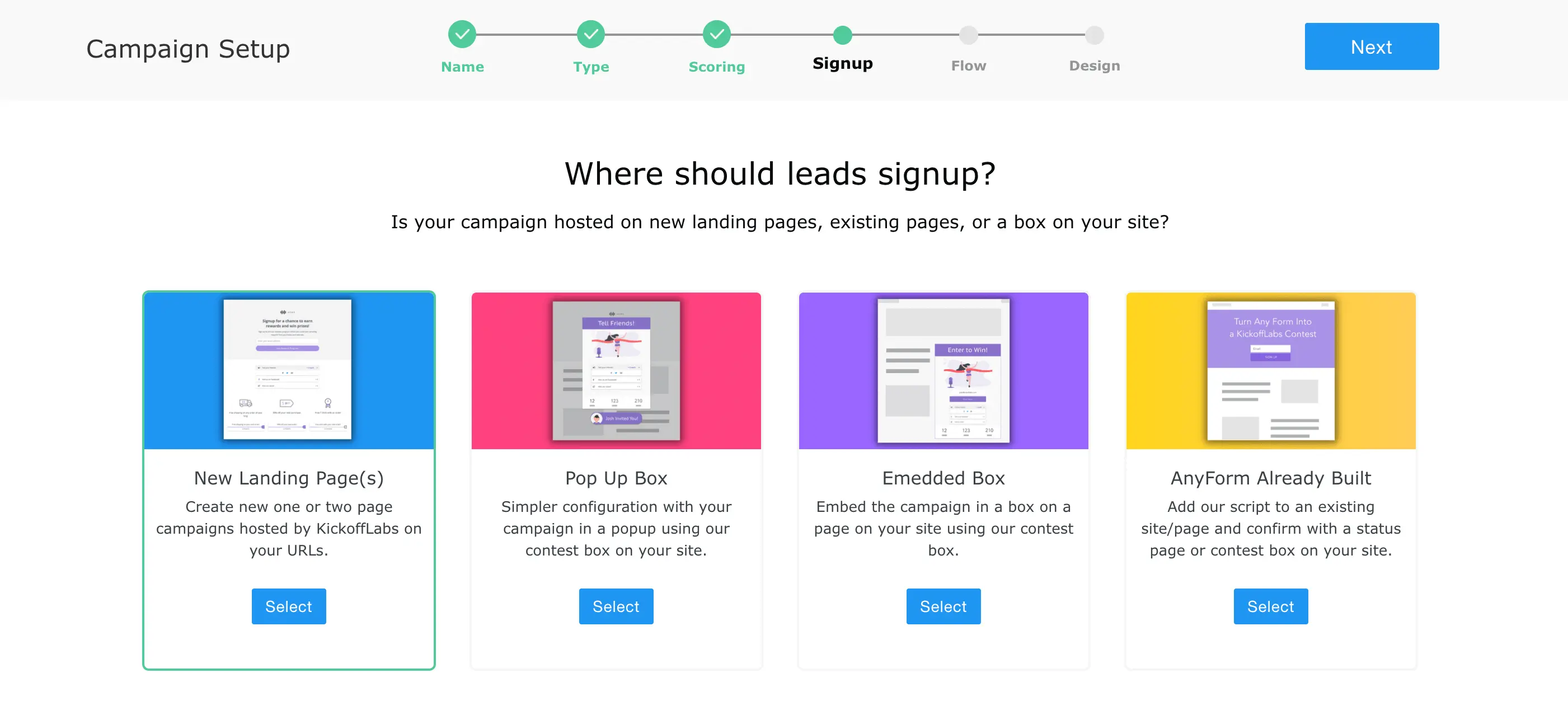 4. Determine Post Signup Flow Select whether to display an on page confirmation message, redirect the lead to a separate status page, or pop up the contest box for confirmation.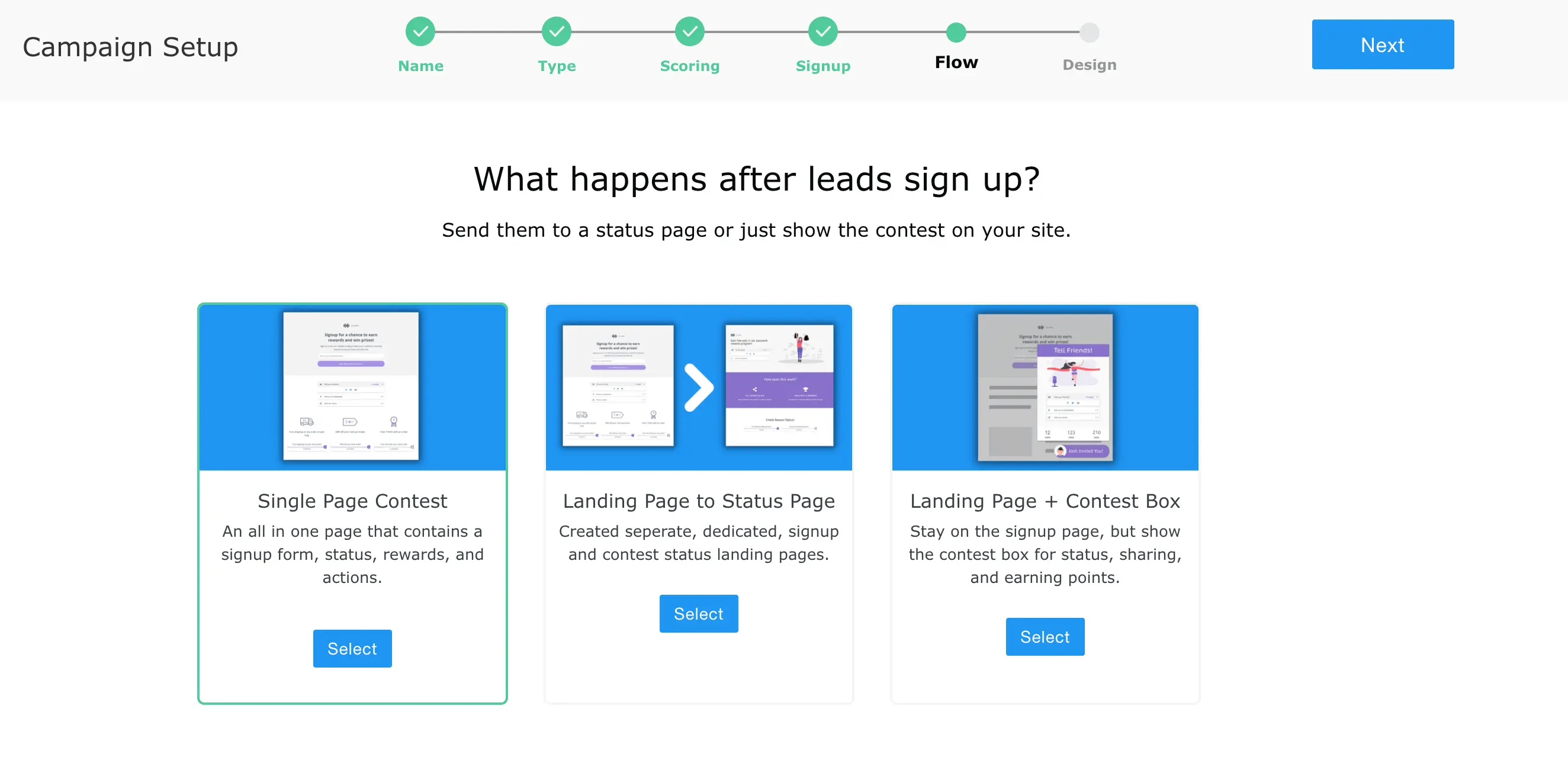 5. Choose a Template If you chose to build the campaign using the KickoffLabs editor, you'll be prompted to select a template. We have a variety of templates to choose from that were designed from past successful campaigns!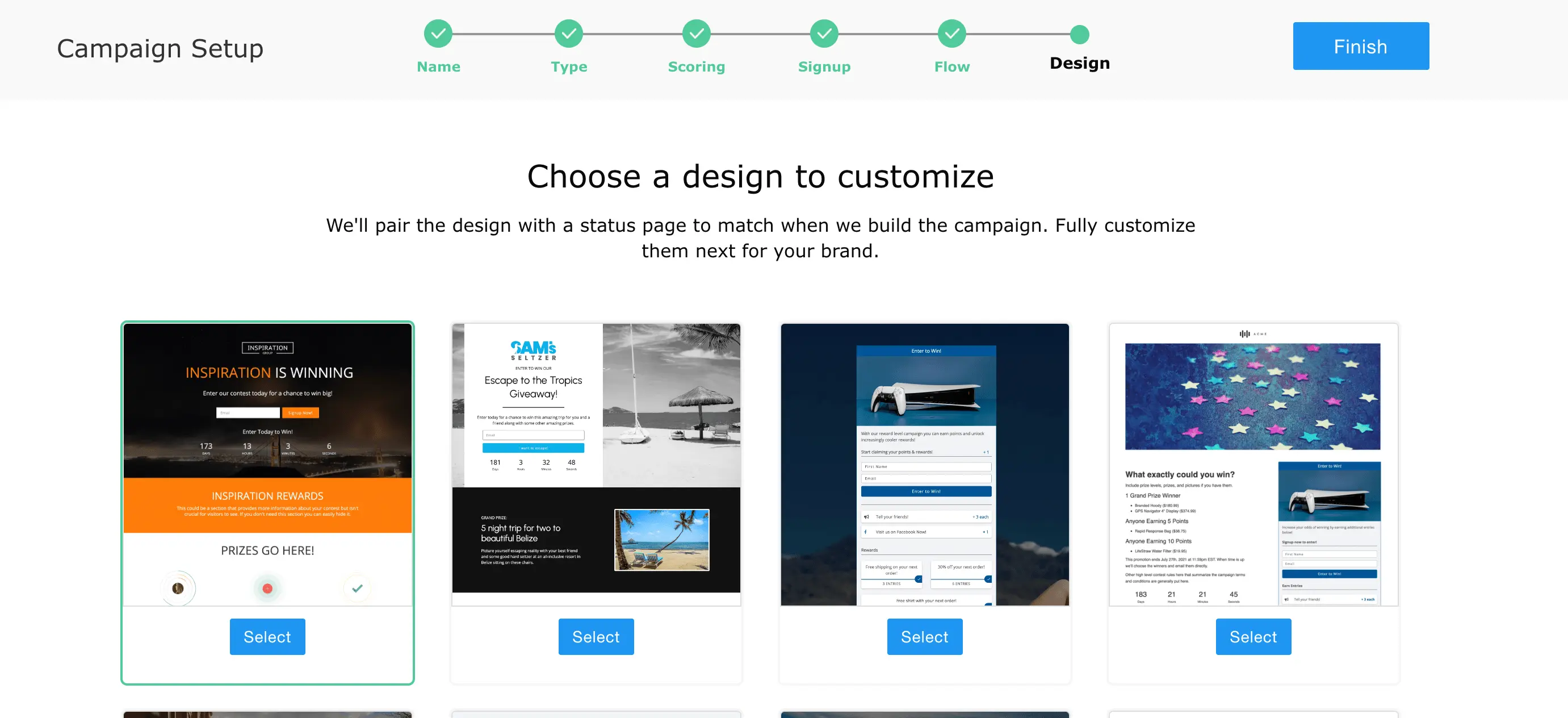 How Do I Tell My Audience About My Refer A Friend Campaign?
Once you have your campaign set up and ready to be run, you'll need to inform your base! If you don't tell your customers, they won't know that they should be participating.
Here are a few steps to start you off:
Promote your campaign on your website. Your referral program should be prominently featured on your site. Be sure to include links to the campaign landing page on your home page, FAQ, and any other relevant sections. This way, you'll be able to encourage referrals without customers having to search to see if there is an incentive program.
Send "instant sign-up links" in email. This will allow your existing customers to generate their unique referral links without having to fill out forms or enter in their information again. The easier the process is, the more likely people are to participate.
Post to social media. This is key to getting the word out about your campaign! Make sure to advertise the new program on all social media. You don't want to stick to only Facebook or just Instagram, because some customers might use Twitter exclusively. Make sure that you target all of the platforms that you have accounts on so you can reach the widest audience.
Advertise. Paid advertisements are a great way to get the word out as well. It increases the chance that both new and existing customers will hear about your campaign and will really boost participation.
Mention during onboarding. When you send our welcome emails to new subscribers, you should make sure that you highlight this program in that email as well. This is a particularly good strategy to reach customers that join some time after the campaign kicks off, because they may not see your promotional social media posts.
Get influencers involved. This is a great way to reach a larger demographic. Try to find those with a fair amount of followers who produce content that is in line with your brand's values and appeals to your target audience. From there, invite the influencers to directly join the campaign. You may also increase the likelihood that they participate by giving them special incentives for each person that they refer.
How Do I Generate Unique Trackable Links For Refer A Friend Campaigns?
The easiest way to create unique referral links that you can track is to find a software that makes the process simple. Luckily, this is something we specialize in at KickoffLabs. We can take an email address and output a trackable link that people share. From there, we make it easy to tell when a customer's link generates referrals. You'll be able to tell when their friends sign up and then you can reward them with their prize!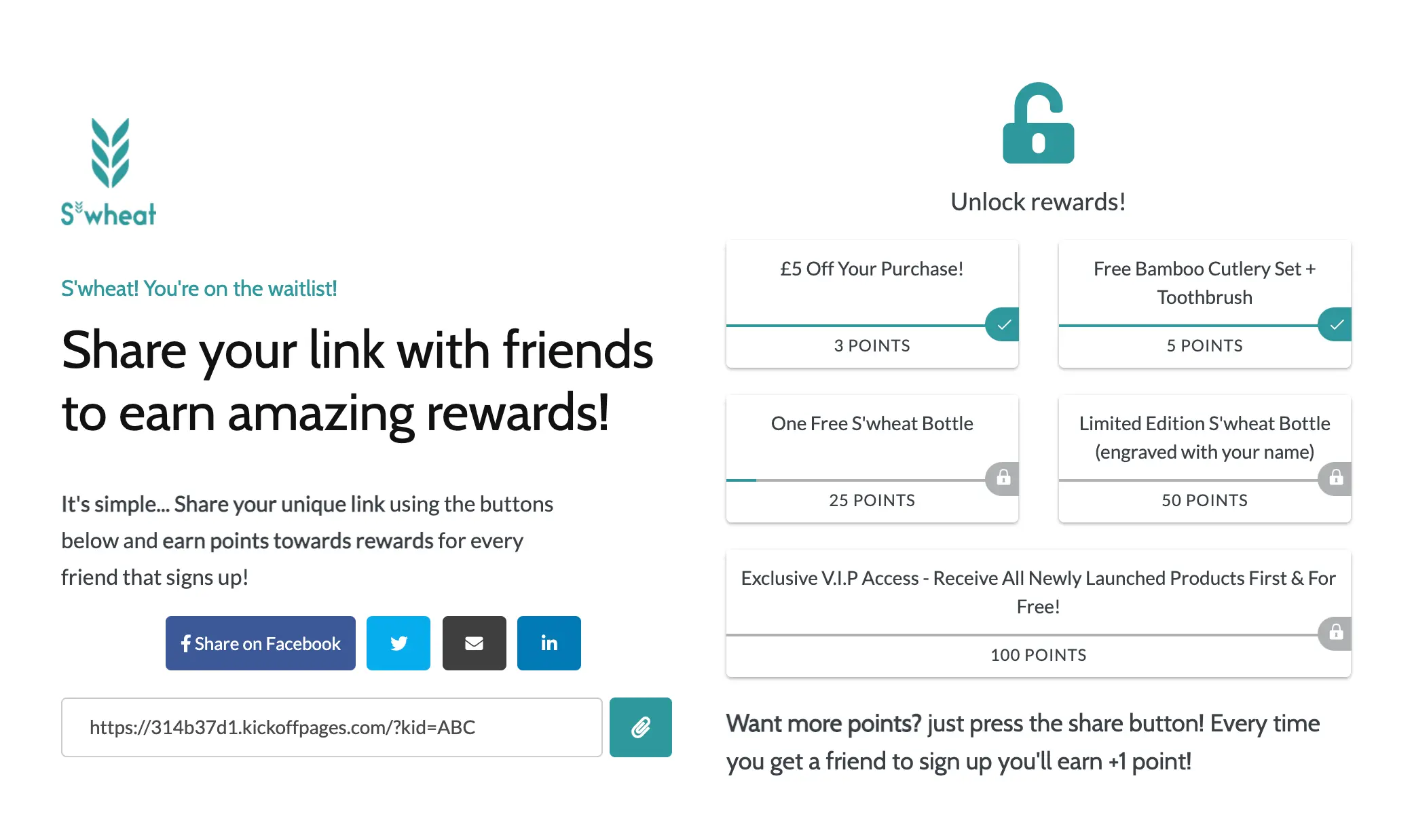 How Do I Pick A Winner For A Refer A Friend Sweepstakes?
There are lots of ways to run a sweepstakes and several methods for determining the overall winner.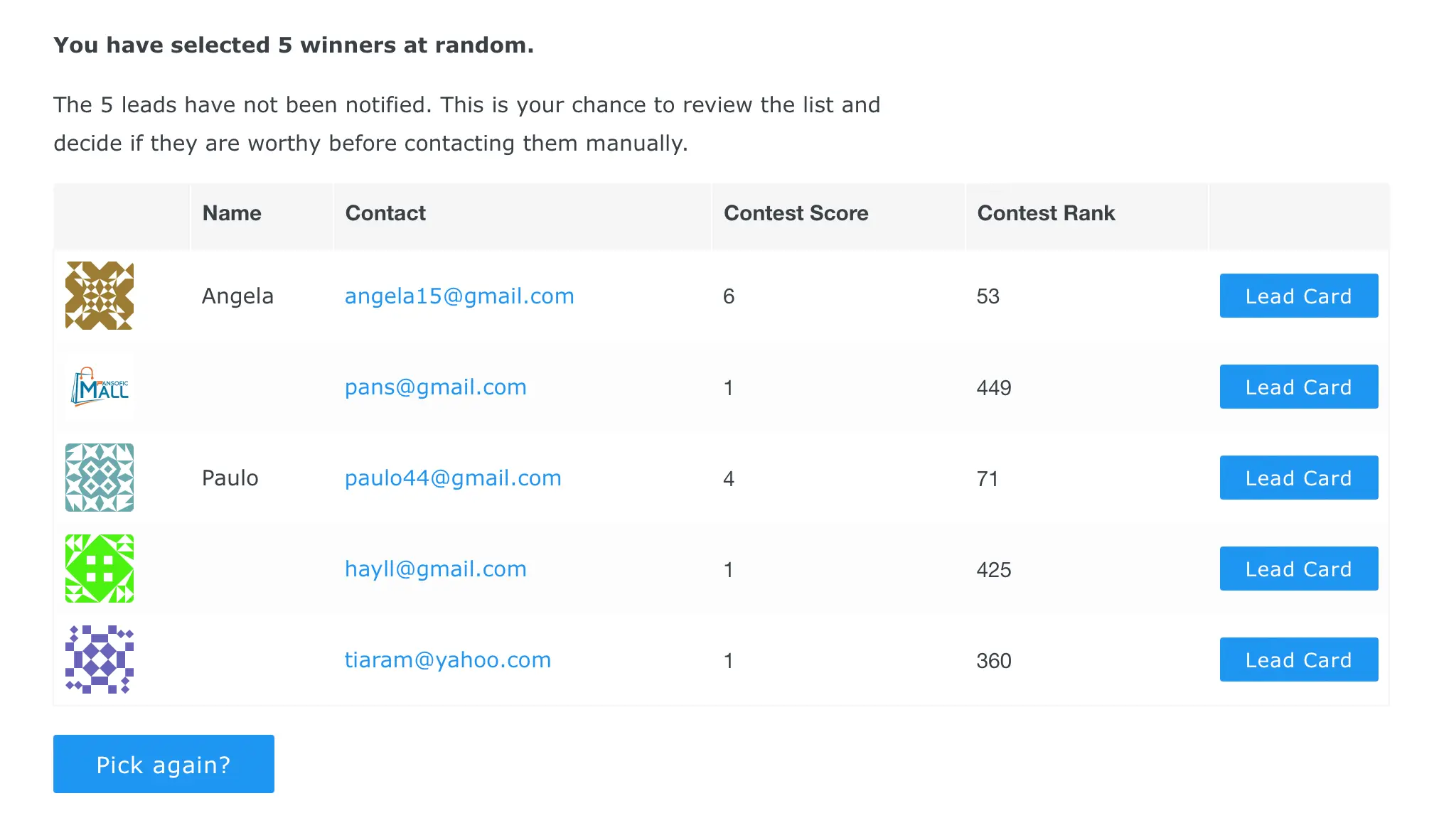 These can include:
Random. This is a fairly simple and straightforward method of picking the winner. In this type of sweepstakes, every entrant has the same chance to win.
Weighted. This is handled similarly to a random sweepstakes, however, participants are able to earn extra entries through various activities.
Most Points Through Referrals. Participants are able to earn points when they refer friends or take other contest actions. Rankings can then be tracked through a leaderboard to encourage competition, friendly rivalry, and as a result, more active participation.
Guaranteed Winners. Each time a customer refers a friend, you can offer them a prize of some sort.
You can find an in-depth breakdown here!
How Do I Distribute Rewards If I Picked a Milestone Referral Rewards?
If you set up your campaign so that customers are entitled to a prize each time they successfully refer a friend, you might wonder how to ensure that they receive their reward. Fortunately, KickoffLabs makes this easy as well.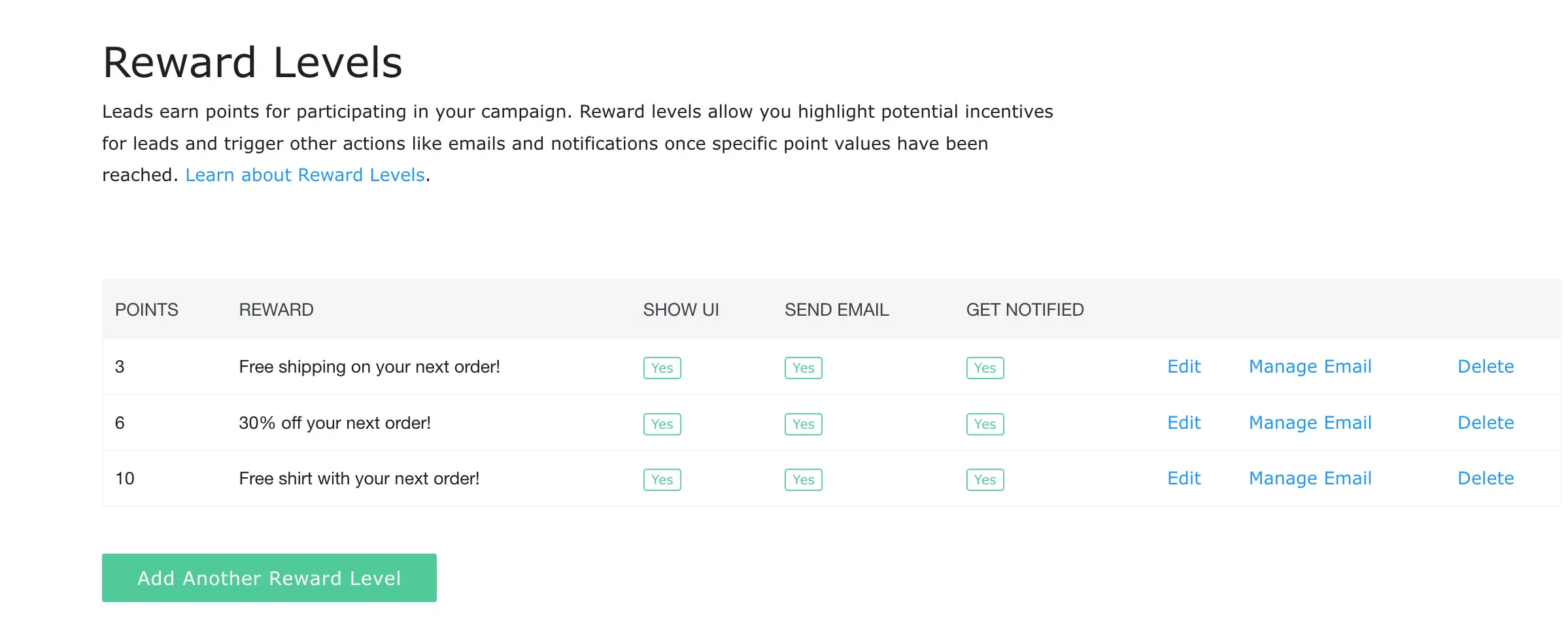 We send automated emails to the customer whenever they have earned a reward. We also will notify your business, so that you can reach out to distribute the prize if necessary. However, if the reward is something like a coupon code, we can help set it up so that a one-time use discount is created and included in the email that the customer receives after referring a friend.
Conclusion
Refer a friend campaigns offer major benefits for any brand by substantially growing their reach. This is significant, because by increasing your email signups, you can let your expanding audience know every time that you launch a new product or run a new promotion. This can have a huge impact on your sales.
While it might seem daunting to create a campaign like this, KickoffLabs makes it simple. With our templates, guidance, and user-friendly landing page builder, you can create your program with ease. Therefore, there's no reason not to incorporate a refer a friend campaign into your marketing strategy today!