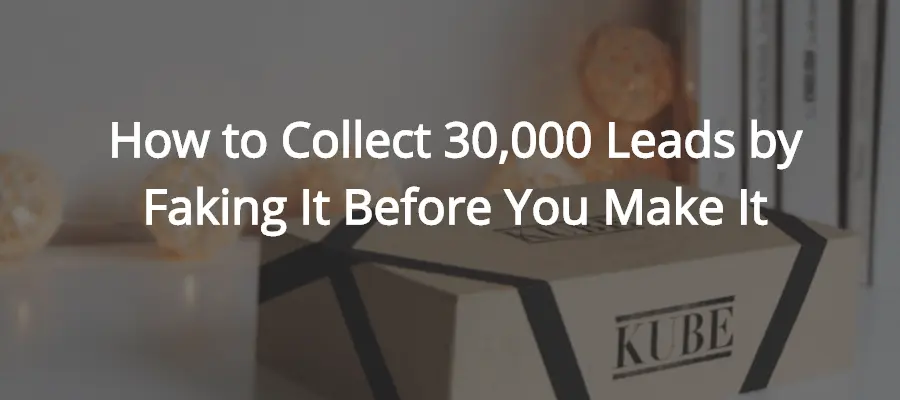 Kube started with a business idea they wanted to validate: an on-demand book box made by booksellers who pick & send the perfect book for you.
Using strategies shared in this post, they used KickoffLabs to organically grow an email list from 100 early adopters to 30,000 raving fans. With $0 in paid advertising! Check out their success story here.
Collecting 30,000 leads is a great goal for anybody starting a new business or pre-launching a product/service on the internet.
But you might be wondering; how can I build a meaningful audience for my business, especially when just starting out?
Today, you'll learn how to fake it before you make it… and what kind of impact that can have on your perception, your ability to generate leads, and your success going forward.
Start talking to customers today
There are already people online that can potentially be good customers for your business.
If you want to validate an idea and see how many people share the same problem… start with a small, targeted audience.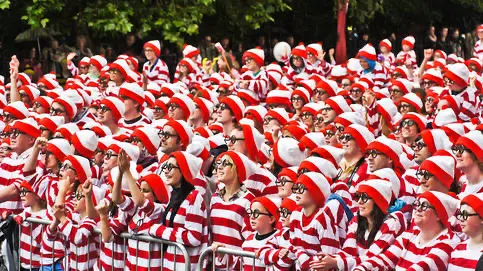 Find these people in niche forums focused on your particular industry. You can literally do a Google search for 'YOUR INDUSTRY/MARKET forum' and come up with several results.
Contact members via private message, and without being spammy tell them: "Hi, we have a great product we are testing. Would you be willing to give us some feedback?".
The goal here isn't to publicly promote your business just yet (not even a landing page), but to individually talk with potential customers and engage them in a conversation.
Make a connection and work them one at a time. It'll take more effort, but you can't be afraid to lose either money or time. That's the only way to really get started.
Build a business based on feedback
During the early pre-landing page stage, try and talk to as many potential customers as possible, this will give you the insight you need to shape your offering and messaging.
More often than not, it will be these initial customers that start spreading the word about your launch.
Take note of what people are liking about the product/service. The messaging will be more direct after validating it for months. It'll make the campaign copy more effective and a lot easier to write.
It's a deliberate strategy to validate the idea first. Once you have something worthwhile, then you're ready to do the landing page campaign.
"Make something people want." -Paul Graham, co-founder Y Combinator
This doesn't mean you can't succeed the opposite way, but it's often harder to know what the right messaging for the product is.
Follow lead generation campaign best practices
After privately validating your business idea, it's time to really test and measure product/market fit with a landing page campaign.
Don't get caught up trying to build a campaign that's mysterious or unclear. People that visit the page never have the same context you have about the product.
The offering should be clearly described and transition to a best practice call-to-action of why visitors should sign up today.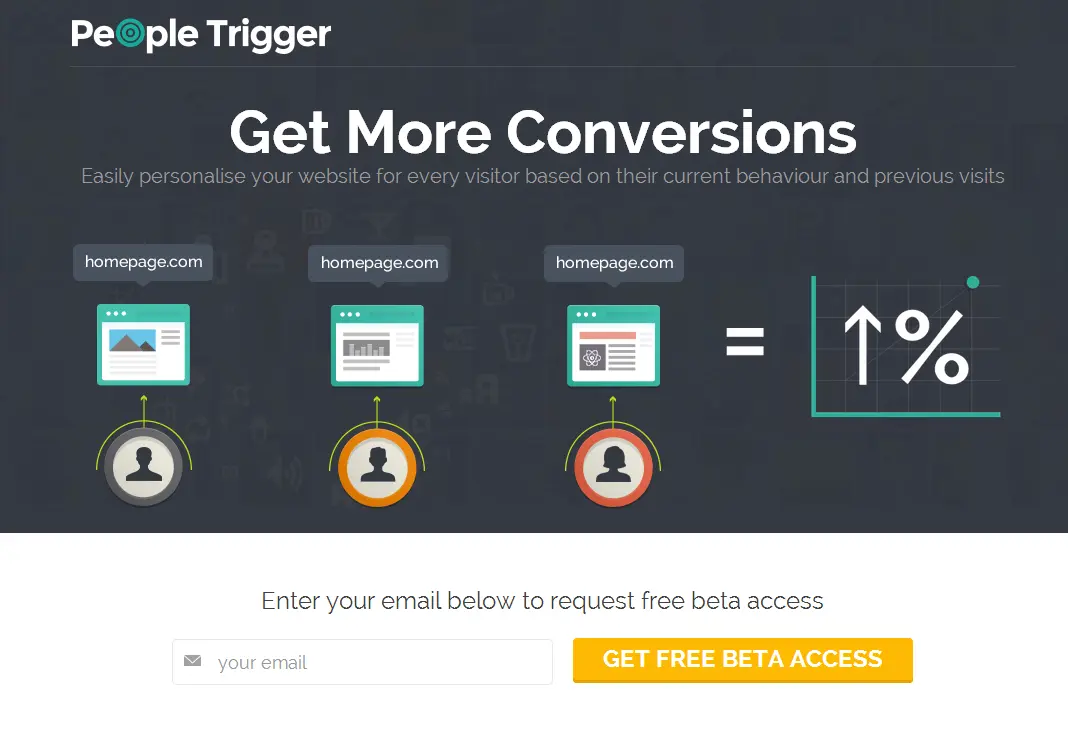 Want your campaign to be amazing? Take a look at our best practices for coming soon launch pages.
Test your packaging ideas
Some people might have a hard time understanding the offering without a 'real product' they can see. It has to feel real or else it doesn't seem worthwhile.
This can be a challenge for businesses who don't have a finished product to show.
One technique is to "hack" the product packaging with a simple, beautiful image that makes the product feel real.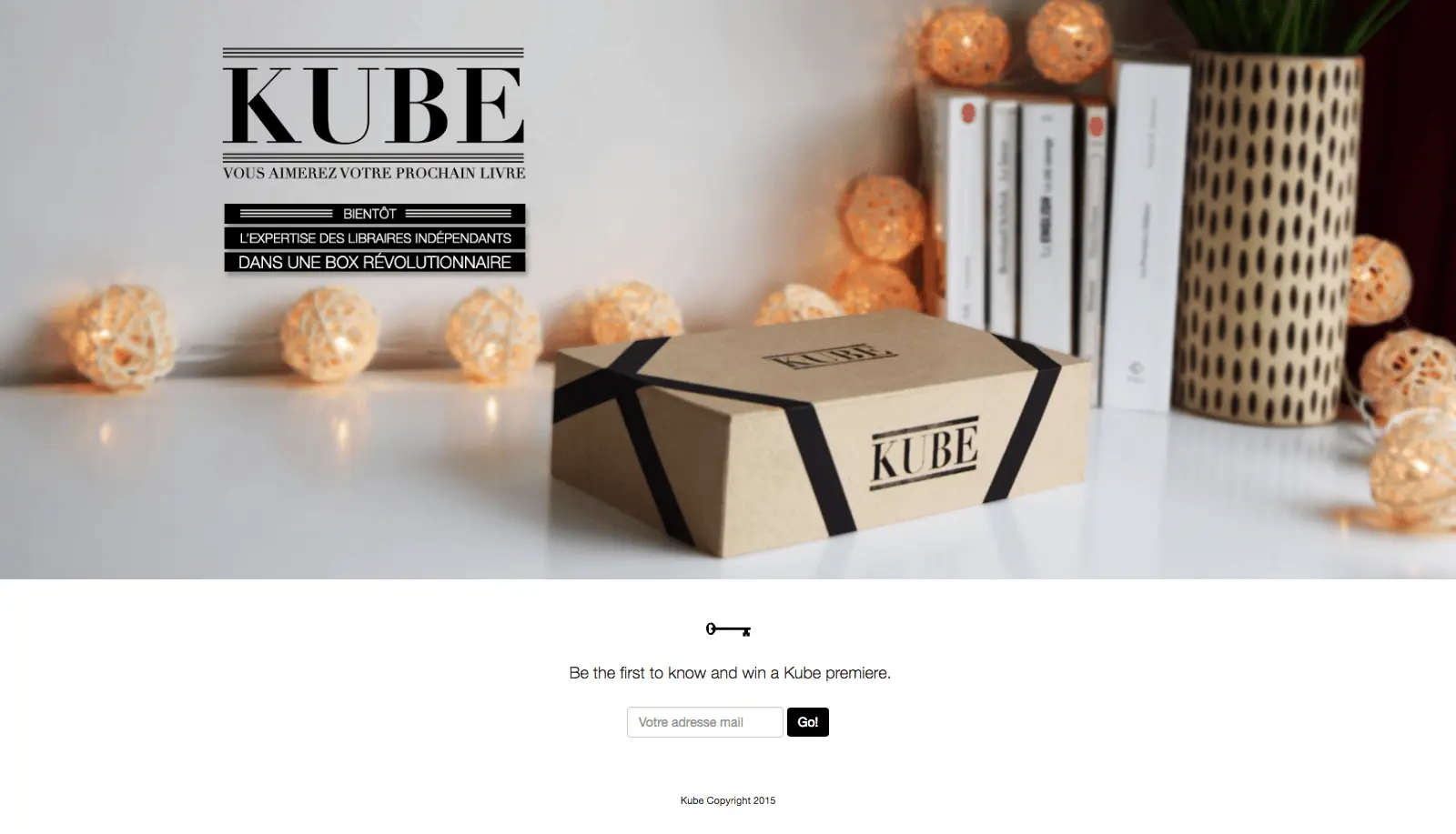 In the case of Kube, the image was actually just an empty box with black tape and a rubber stamp… the product that's shipping today did not exist!
Offer the product as a reward
If you don't have the resources to offer multiple reward levels, like the Harry's Razor launch campaign. Why not focus the campaign around a launch contest? Where the prize is the product!
There's nothing more straightforward than offering the product as the reward. When you have a good product, people will naturally want to share.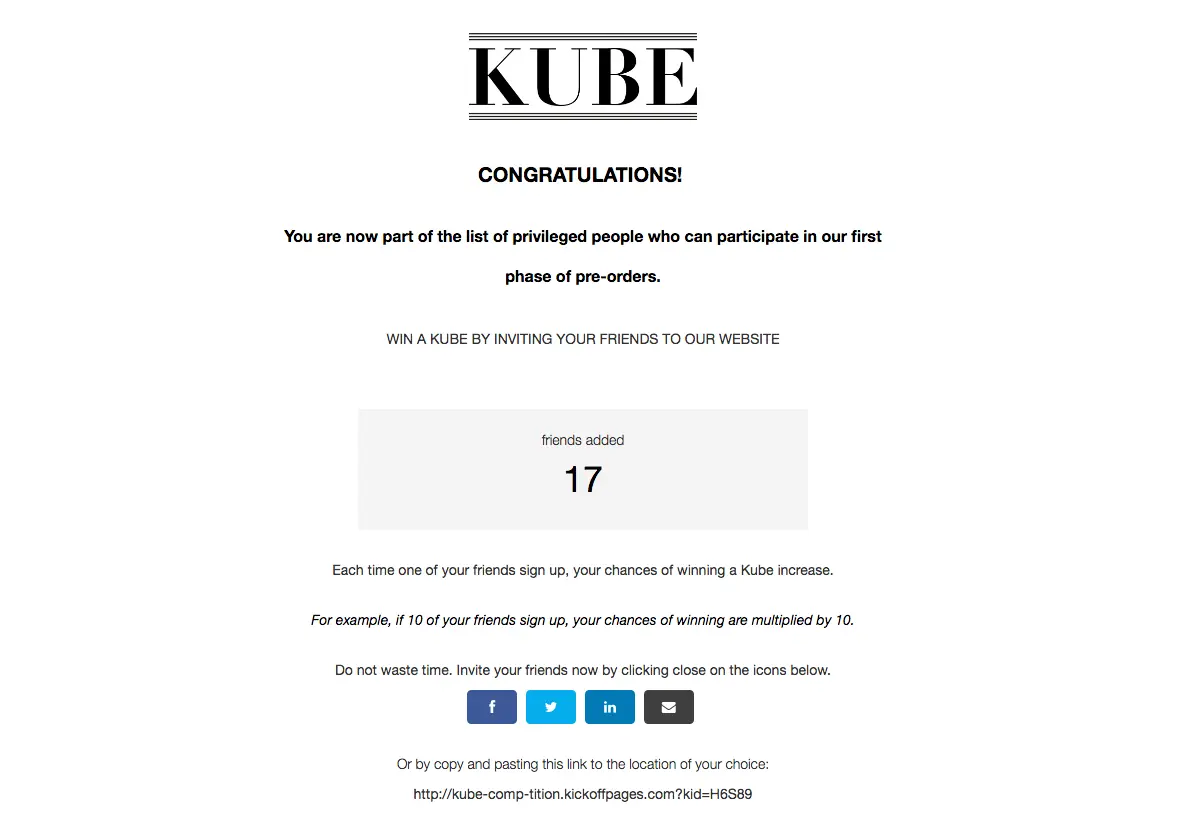 By referring friends, leads can increase their chances of winning. The more friends they refer to your campaign, the better their chances of winning.
Since the number of referrals each lead has is automatically tracked and accounted within KickoffLabs, it's easy to pick winners when the contest ends.
Choosing your winner(s) can be done using KickoffLabs Pick Contest Winners feature. This lets you pick a random winner(s), giving more weight (or preference) to those who have referred more people to your campaign and a number of other factors.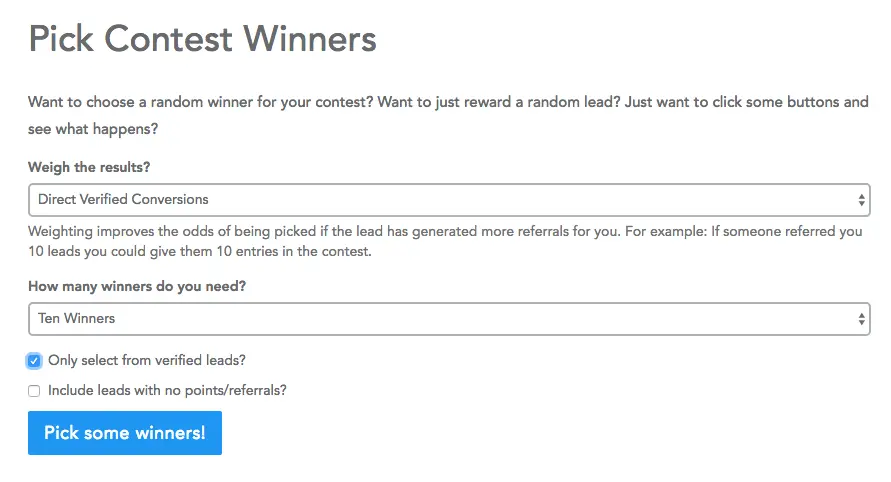 Often it's better to just pick one reward and keep it simple. Your leads will better understand why they are sharing and what they could get from sharing.
Stand out in the Facebook News Feed
Social sharing and social referrals are a huge part of KickoffLabs Viral Boost, with usually at least 35% more leads coming through people sharing their unique social referral links.
But in order to really boost the number of social shares, your social share message should provide a similar experience to the landing page.
Use copy that's similar to the headline and incentive copy on the page. That way people clicking on the link have a consistent experience.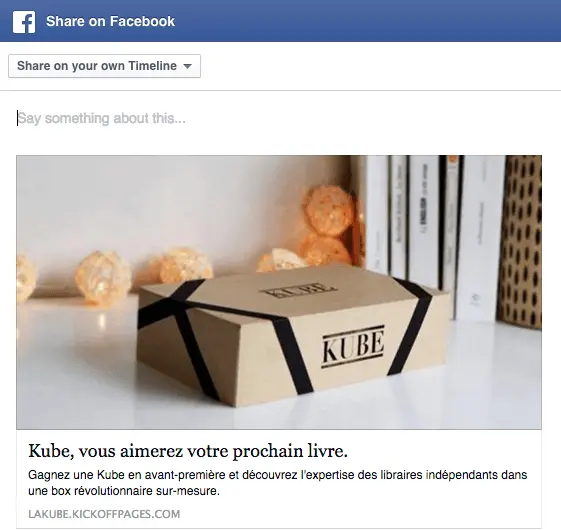 Especially in the case of Facebook, try and use image colors that contrast well against the Facebook blue… finding a balance between simple and eye-catching.
Attempting to stand out in the Facebook News Feed is something that a lot of people miss when creating images for Facebook.
For more advice on creating a great social share messages, visit our article on creating high-converting social share images.
Ask people to pay upfront
There's no need to build out an entire product or process without first validating that people are willing to pay. Even if people say they love your product or service, this is the only way to be sure.
Even if the actual product isn't ready to ship, charging upfront creates the illusion that it's ready to be delivered.
If you're not ready to take pre-orders, consider at least mentioning the product price. That way people will be primed to make a purchase later on.
Keep your campaign messaging simple & consistent
As a founder or early team member, you have a much better understanding of the product/service you're offering. However, people visiting your landing page or campaign for the 1st time won't have that same context.
Instead of trying to explain all kinds of other things about your offering, trim the copy down to a simple, straightforward message.
Repeat this message throughout your campaign; on the landing page, thanks page, auto-reply emails, any paid ads, etc.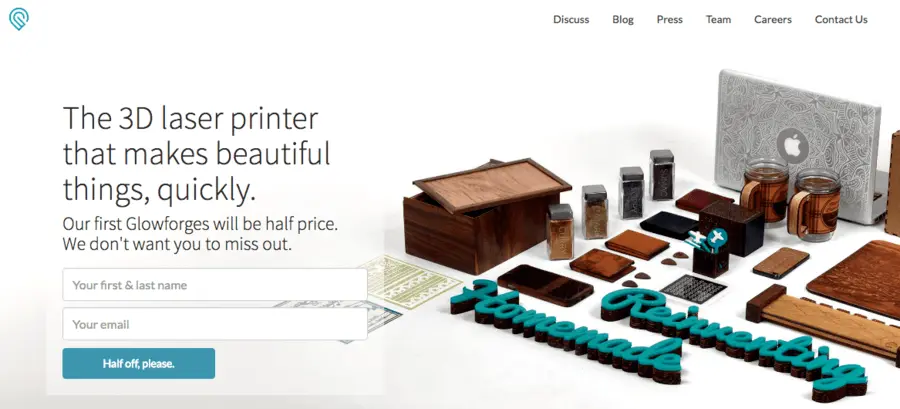 Why repeat the same messaging?
Because it takes people a few times to really understand what the experience is going to be with your product/service.
It's a huge mistake to assume people know your product as well as you do. People have a small attention span, you need to be consistent and to the point.
Have a look at some examples of remarkable landing page copy here.
Grow your social media following
Throughout your campaign, you'll have several opportunities for getting people to "convert". It's important to think about the customer journey, and how to make the most out of those interactions.
The most common goals for each step are:
Landing Page: get people to signup,
Thank You Message/Page: get people to share with friends,
Welcome Email: share with friends, check your progress, also a great place for social media follow links.
Consider using email as a catalyst to grow your community on social channels. Use KickoffLabs automated thank you/welcome email, and ask, not only to share their personal referral links… but also to follow you via social.
You'll be surprised by how simply "asking your audience" can help build community and increase organic reach.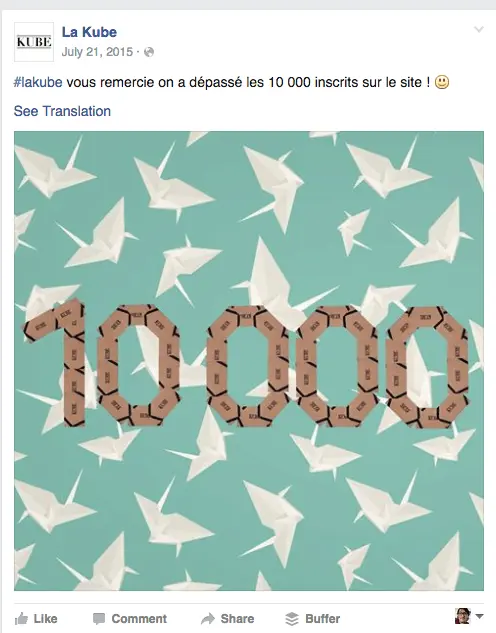 Build a community of "raving fans"
One of the big reasons people will keep sharing and spreading the word-of-mouth is because it feels like it has an impact. If you don't share publicly, they might stop being enthusiastic.
Letting people know about milestones leads to them being more engaged throughout your campaign. And when you ask people for help, be sure to thank them publicly.
Be honest and transparent. If people love what you are doing, they will be more than willing to refer friends. You'll create influencers out of leads, making them feel part of the movement to get subscribers.
Through social media posts and email newsletters, be specific and say: "Because of you, this is what we've accomplished…".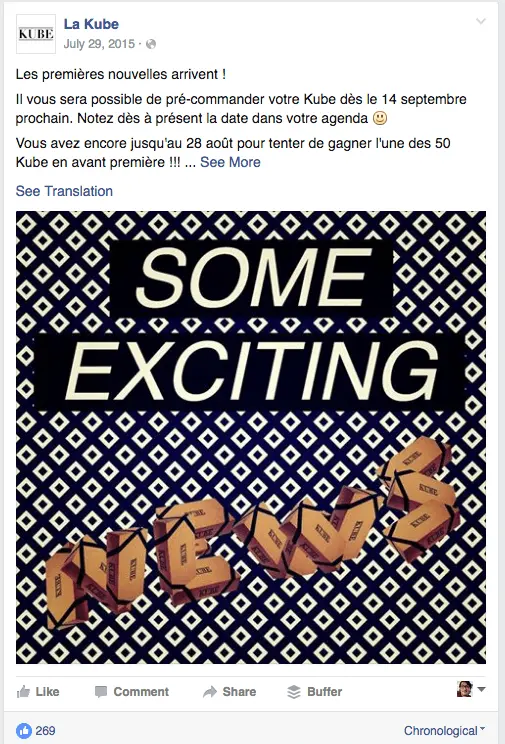 There you have it… 10 great tips from KickoffLabs customer, Kube. For more marketing gems, be sure to watch the full video interview.
If you're ready to launch your own viral lead generation campaign, be sure to check out KickoffLabs plans and get started collecting more leads today!