An online giveaway or sweepstakes is a great way to get audience engagement, expansion, and sales growth. While KickoffLabs makes it simple enough to do, before you begin planning your big contest, you should be privy to the many rules and guidelines you need to adhere to in order for it to be considered legal.
This blog post will provide you with the general rules you need to be aware of before running your online giveaway.
Types of Giveaways
Not all giveaways are the same, and some people may use some names interchangeably. There are different types of giveaways and it's important that you use the name of the type of giveaway in the right way to avoid misunderstanding that could result in a legal issue later on. Read our complete post on the types of giveaways are contests, sweepstakes, and raffles.
Here is a recap of the different giveaway types.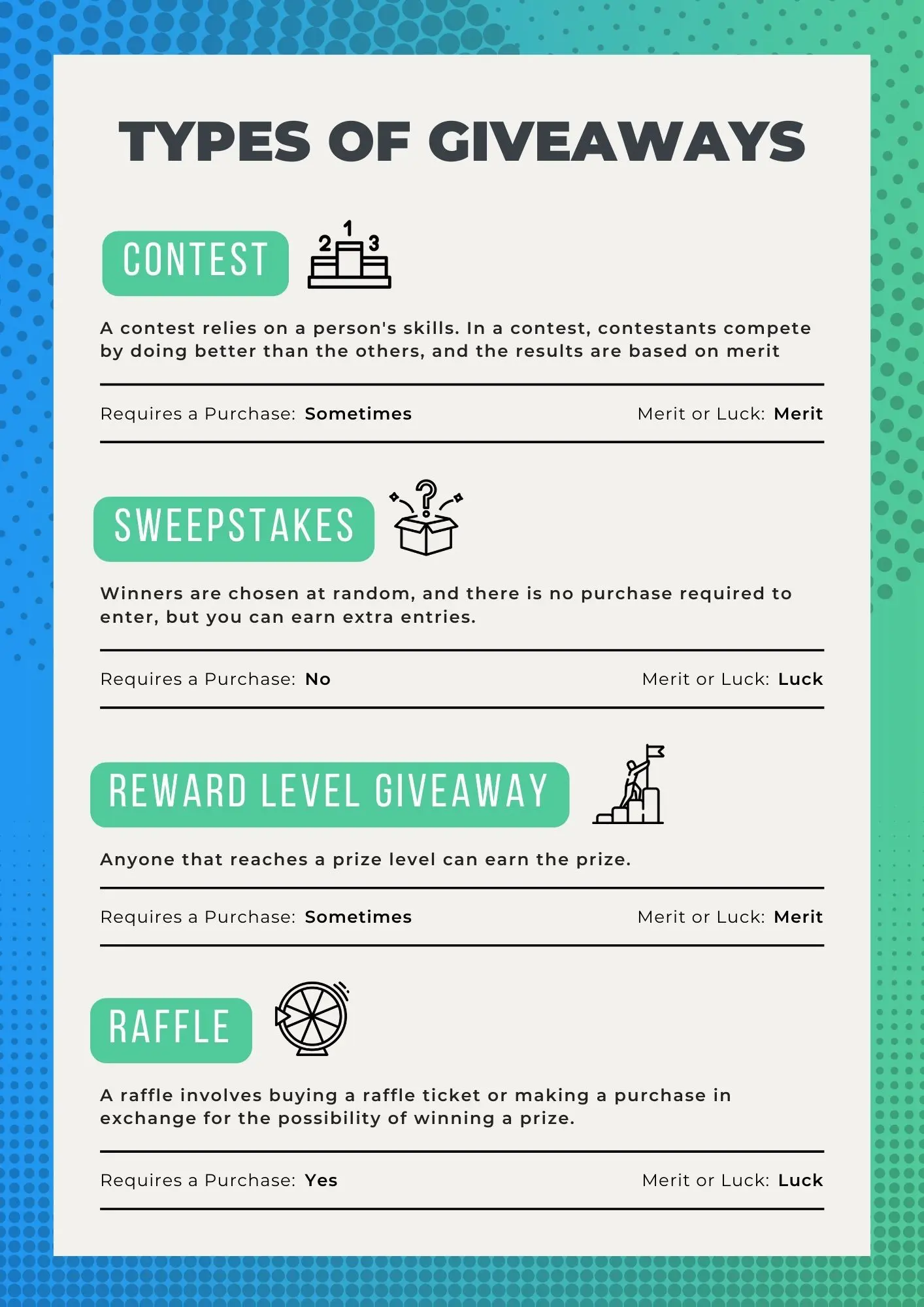 When running a giveaway, it's important to know that lottery and gambling laws prohibit promoting any giveaway that has all three elements of prize, chance, and consideration. By U.S. rules, that is an illegal giveaway, and at least one of the three would have to be eliminated.
Remember This
The element of chance would not be needed for a contest based on skill or merit.
Consideration is not needed in a sweepstakes, as consideration implies an association with money to enter or additional consideration. There is no consideration in a lucky draw.
You can sprinkle these general rules throughout your contest to make it transparent. Check out our Best Practices for Making Contests Legal and Transparent.
Crafting Official Giveaway Rules
Any giveaway you promote should have official rules and general information. Not everything can be put into a 60-second commercial or social media post. Official rules and general information are inclusive of every detail of the giveaway.
Having rules, not only keeps the people who will be entering aware of how the giveaway works but will also keep the sponsors of the event focused on what they should be doing. Official rules and general information help to dot all the 'i's and cross all the 't's of your giveaway and ensure everything is legal and appropriate. It also helps to offset any possible legal action taken against you because of the outcome.
Whatever rules you set should be in compliance with the platform you use. Social media platforms also have their own guidelines for promotions, as well as general U.S. guidelines.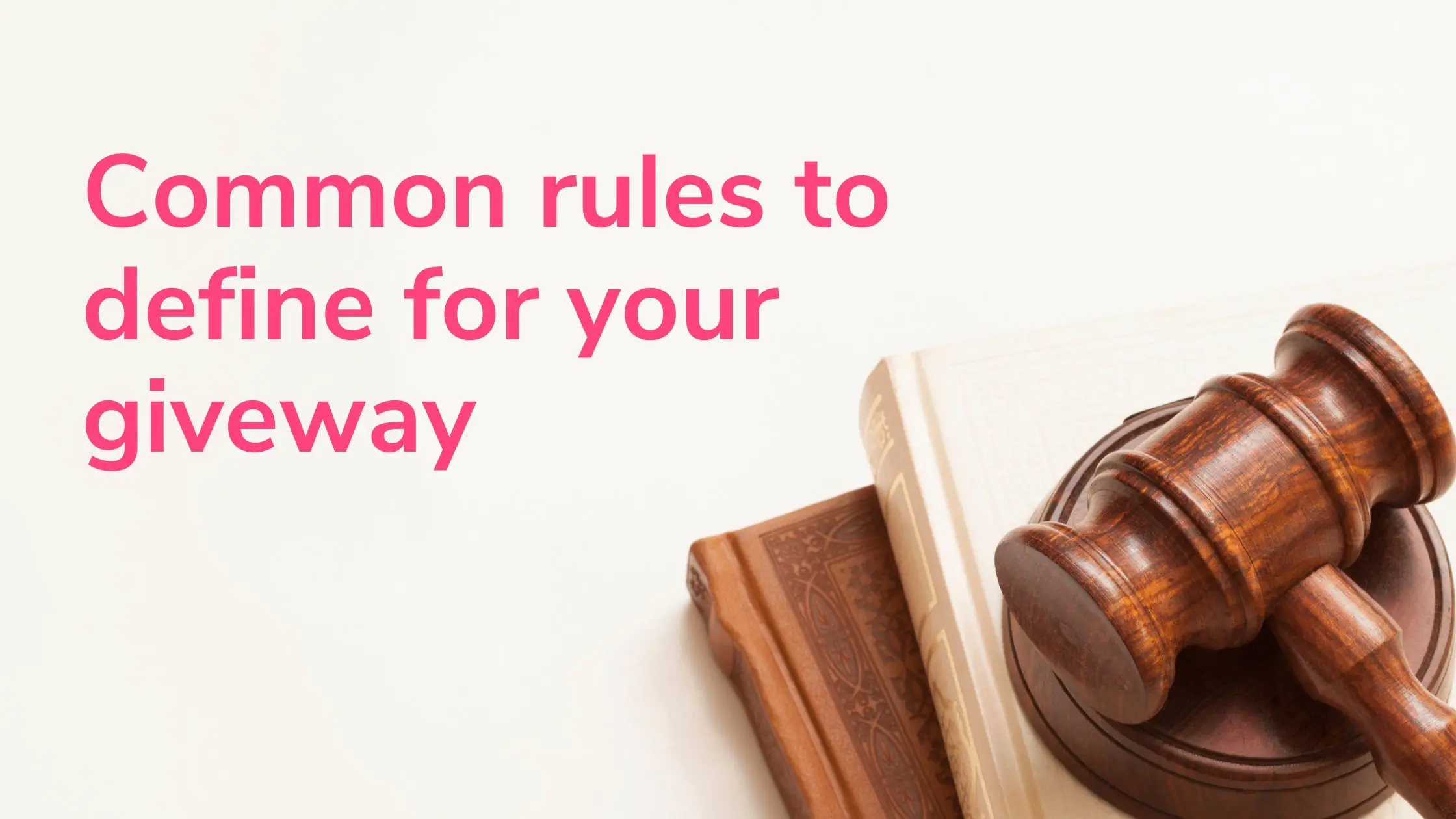 Be aware of state laws
Most states follow the general U.S. giveaway and promotions laws, but there are a few states with subtle differences. Sometimes it's if the contest involves alcohol, includes a purchase, etc.Learn about the differences for your state here.
Who Can Participate in Giveaways?
Anyone 18 years of age or older is legally able to participate in a giveaway. But since the term online is open to anyone who has access to the internet, it introduces other nuances. What we mean by this is that some jurisdictions have their own laws that are to be complied with.
For instance, if a winner in Canada is selected, it has to be through some element of skill and not a random selection. In addition, should you choose to allow Canadians to participate in your promotion, you have to exclude Quebec altogether or include the rules that the province requires.
This may result in keeping your promotion more localized. Whoever you choose to target for the giveaway, ensure you're adhering to all the requirements in those areas.
Terms Affiliated With Your Promotion
If your organization is going to promote a giveaway, it's important that you understand the terminology. Many people interchange terms incorrectly. One term used incorrectly could change the whole dynamic of your giveaway and possibly result in legal action if you can't explain or defend your use of the term. Here are some terms to be familiar with.
Entry
Make sure the official rules and general information for your giveaway clearly state who is eligible to enter the giveaway and how to enter. If there is a limit on the number of entries, make sure that is understood.
By law, sweepstakes in the U.S. have to have an alternate method of entry (AMOE). This just means there should be alternative ways to enter the giveaway to allow everyone the same opportunity. Some of the different ways to enter are by mail, phone call and text, social media, online entry forms, and in person.
Winner
Make sure the official rules and general information clearly state what it takes to win and how the winner will be selected. Using a third party to select random winners in sweepstakes is wise to avoid being accused of bias or impropriety. If judges are used to judge a contest, describe the type of judges that will be making the selection and the criteria that will be used. It should also state how many winners will be selected and what the odds are of being selected as a winner.
Sponsor
The official rules and general information should clearly identify who is sponsoring the promotion. Their physical address should also be included.
Prize Descriptions
Always be specific when naming the prize for the promotion. If the prize is $500, you will need to identify how the $500 will be issued. Will it be in cash, gift card, or some other means? If the prize is a trip to a fancy resort, what exactly will be included with the trip? What's the name of the resort? Will the trip include airfare? Food? How long will the stay be? Leave nothing to the imagination when describing the prize. Whether the specifics of the prize are verbally stated or not, all specifics need to be included in the official rules and general information for the promotion.
Tax Awareness
Any promotion that has a prize valued at $600 means there are tax implications, and the winner needs to be aware of this. A prize of $600 or more will need to be reported to the Internal Revenue Service, and it will be up to your campaign to have the winner complete a prize validation saying they know and understand they will need to be responsible for taxes that come with the prize.
Requirements of Social Platforms
In addition to meeting U.S. guidelines for promotional giveaways, it's important that you follow any rules associated with social media. Each social media platform has its own guidelines. Below are only some of the requirements.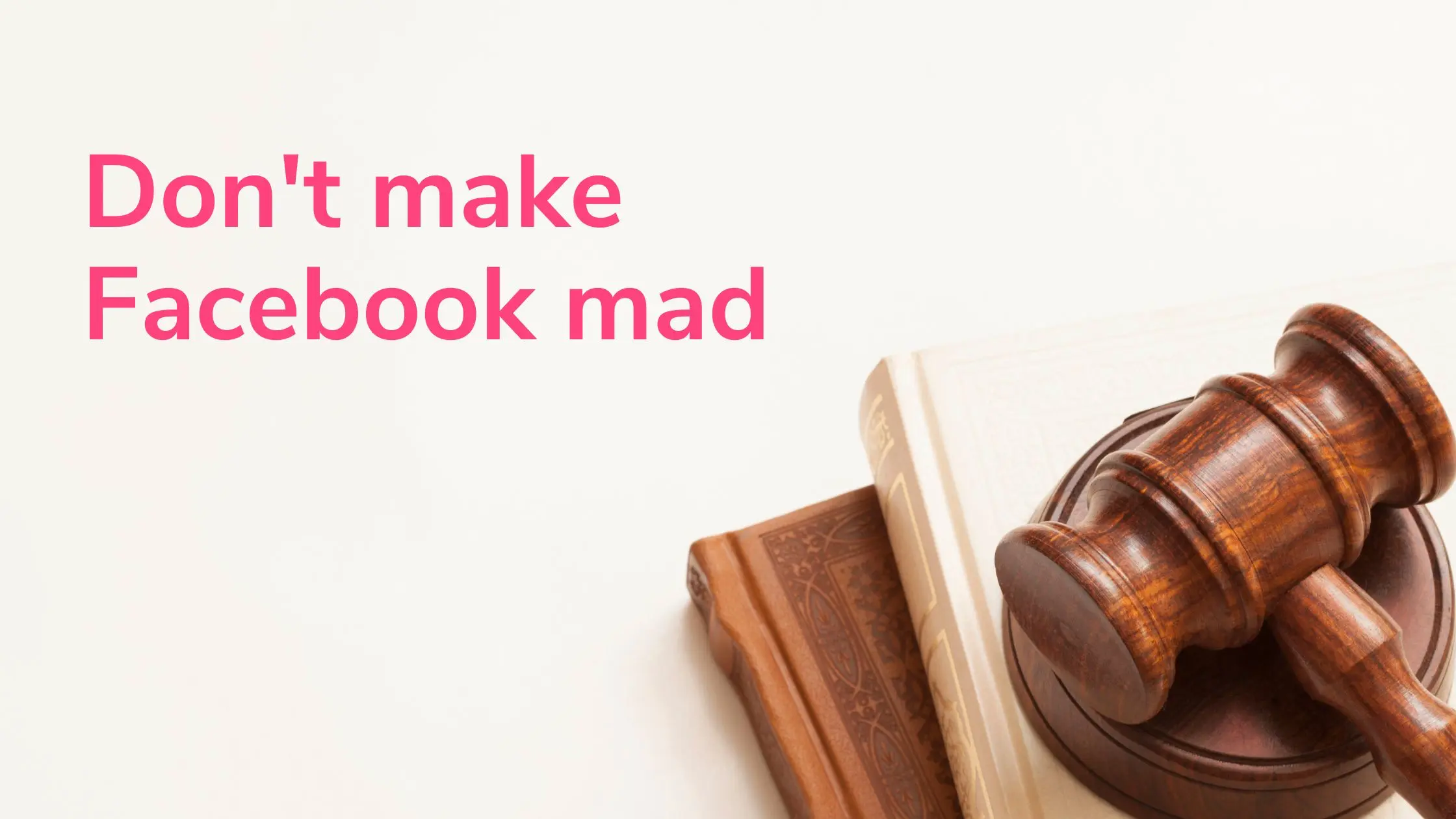 Facebook
Facebook makes it a requirement to include all official rules and requirements if promoting from their platform. In addition, they require you to add a statement that states they are NOT a sponsor of the giveaway. You are not allowed to exchange likes for entries in a sweepstakes using Facebook.
Instagram
Instagram also requires you to include all official rules and requirements for the giveaway. They discourage tagging content or other people in regard to the giveaway, and there's a release form that each person that enters the giveaway needs to complete. You are not allowed to exchange likes for entries in a sweepstakes using Instagram.
Twitter
Twitter discourages the creation of multiple accounts by participants during a giveaway. They also discourage posting the same tweet repeatedly.
Do's and Don'ts for Your Next Giveaway
Dos
Always have a prize to give to the winner for any promotion.
Do announce the duration of the giveaway (start and end).
Do disclose in the official rules and general information how the winner(s) will be selected, who will select them, and how many winners will be selected.
Do allow anyone from the public who requests it, the list of winners from your giveaway.
Do be aware of the guidelines for where you are holding giveaways. For instance, some states (Colorado, Maryland, Nebraska, North Dakota, Vermont) prohibit any type of purchase requirements when winners are chosen on merit or skill.
Do review the Telephone Consumer Protection Act, the CAN-SPAM Act, and other laws before using the contact information collected during a giveaway to expand your email marketing list. Read all of the guidelines for any social media platform you use.
Don't
Do not require participants of the giveaway to like or follow you or to visit a third-party site in order to be a winner.
Never force contestants to make a purchase if winners are selected at random.
Don't include jurisdictions in the official rules and guidelines if they should not be entering (Clearly state who is excluded from participating).
KickoffLabs can help you run your giveaways. You can learn about the different types of giveaways, be up to date on the general U.S. online promotion, sweepstakes, and contest rules, and have a platform to run your giveaways smoothly, yet quickly to give them the traction that it needs.
Official Contest Rules Templates You Can Use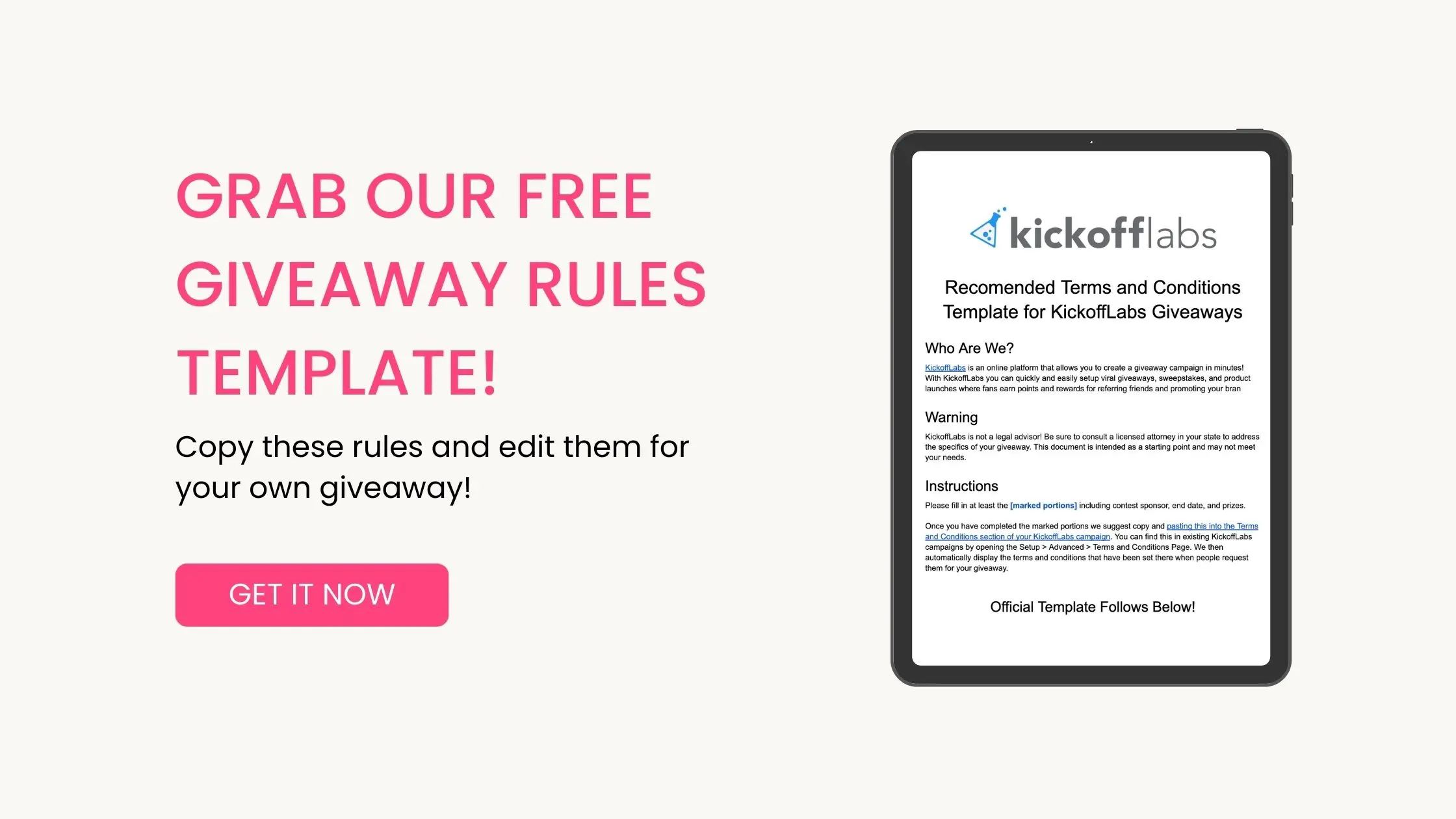 On your site…
If you are running the contest on your own site using AnyForm from KickoffLabs or want to host your own rules page you can download our contest rules template or get started from here.
Within KickoffLabs…
We also add this template to all KickoffLabs campaigns so you can edit it directly there if you are using KickoffLabs to host the rules. Here are instructions for editing campaign terms and conditions.
Additional resource: Running a legal a contest, giveaway, or sweepstakes in the UK