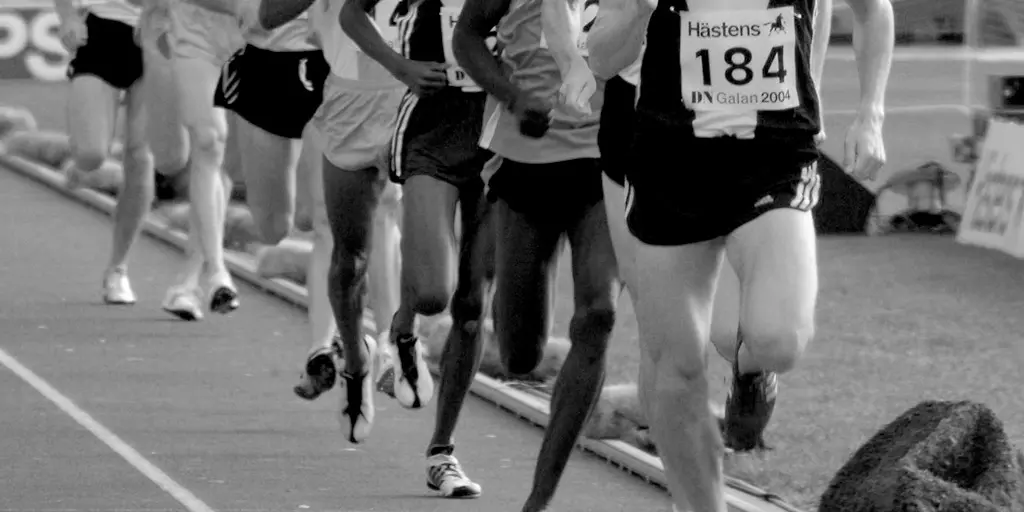 You've probably asked yourself:
Should I run a contest?
Will running a contest really grow my business?
How can giving away prizes actually increase my sales?
At first glance, it may sound like a waste of time. You're putting all of this time and effort into giving away something for free when you could be using that time to promote your products. Wouldn't you be better off putting up Facebook ads, optimizing for search engines, and working with influencers?
Nope.
While you can definitely do all those things, too, contests should be at the heart of your marketing strategy. And not just any type of contest– a viral contest.
Why?
Viral contests are so effective at reaching your target audience, it's crazy. Click To Tweet
Viral contests are so effective at reaching your target audience, it's crazy. Plus, unlike many other marketing efforts, viral contests have a built-in engagement component that extends your reach even further.
Engagement is important because it's the future of marketing. It's not about hard-selling, it's about getting audiences to interact and develop a relationship with your brand. You can do this through the power of viral contests.
In this post, let's discuss the top reasons why you need to run a viral contest starting tomorrow, if not sooner.
Before you run your viral contest, check out this list of best practices to follow.
1. Viral Contests are All-Purpose Marketing
Want to launch your brand? Use a viral contest.
Want to generate excitement for a new product? Use a viral contest.
Want to discover new leads? Use a viral contest.
Want to increase sales? Use a viral contest.
Are starting to see a trend? If you're looking for all-in-one way to market your business, you've got to run a viral contest.
Here's how viral contests help you multitask your marketing:
Viral contests spread the word about your brand. This can help old and new brands alike get in front of a new audience. Contests can help build excitement before the launch of your brand or product.
Viral contests promotes your products to the masses. People will learn more about your product, especially if it's promoted as the grand prize.
Viral contests create leads. People who need your products/services will find you through your contest.
Viral contests improve sales. Whether you use promo codes or you get a financial boost from winners who try and then promote your product, viral contests will improve your sales.
And, the best part is that you can do all of the above at the same time! You don't need to run multiple marketing campaigns– one viral contest can market your brand in four distinct ways.
2. Viral Contests Build Your Community
Marketing can be exhausting and isolating. A lot of marketing, especially digital marketing, is just you, a computer screen, and a knowledge base. But, when you run a contest, you can actually interact with your community and build relationships. Not only is it fun, it's also rewarding to connect with your community through your contest.
Whether you're encouraging participants to share with optimized thank you pages or rewarding them with digital incentives, your viral contest gives you an opportunity to interact with your people in a real and meaningful way.
In the scope of your contest, you're no longer a passive, far-off brand, but a friend who's keeping your community in the loop. Here's how you do that with a viral contest:
Your emails about the contest, although automated, will be friendly, valuable, and must-read updates.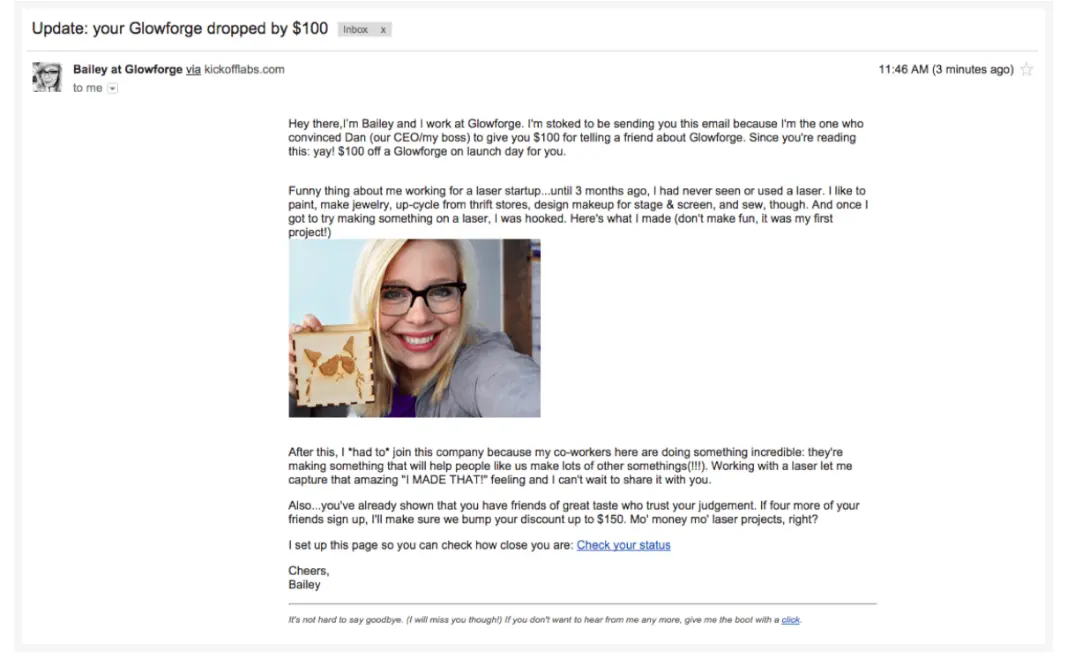 Here's a case study of this in action
In your emails, you'll invite your participants to spread the word to their friends. Word-of-mouth marketing increases engagement and people are more likely to trust your brand.
You'll also provide special incentives (such as promo codes and mini prizes) to encourage participants to spread the word.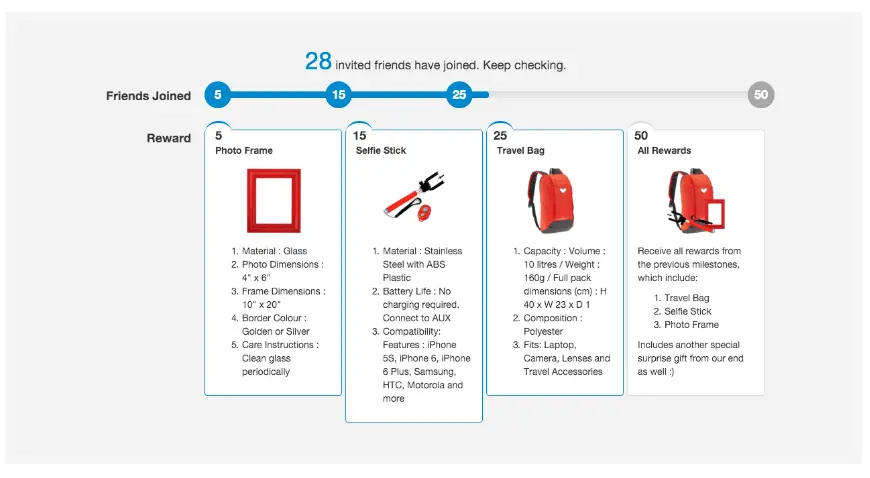 Here's a case study of this in action
With the help of KickoffLabs, you'll identify the participants who've reached brand influencer status and then build personal relationships with them.
You'll send them leaderboard notifications to spark friendly competition.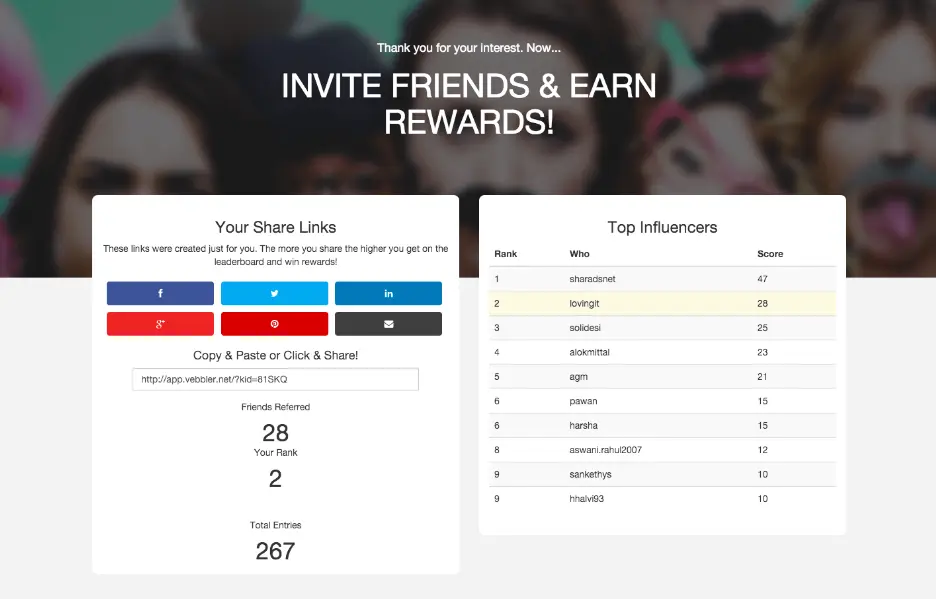 Here's a case study of this in action  
You'll include social share buttons on your contest's page. Our combination of social sharing, social referrals, and incentive rewards will give your contest a viral boost— resulting in an average 35% conversion lift.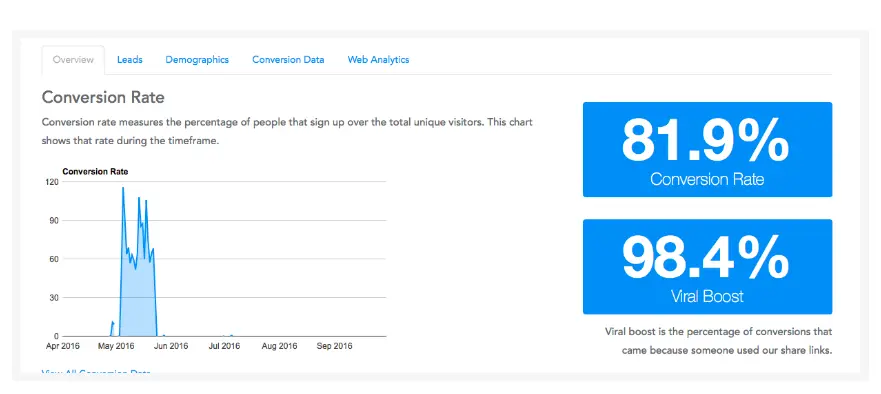 Here's a case study of this in action  
And, overall, you'll cultivate a sense of friendship with your brand, which is key in the often-cold world of Internet marketing.
SEO can't do any of this, but viral contests can.
3. Viral Contests Provide a Ton of Data
If you run a contest the right way, you'll get way more than you give. Sure, you'll give away a prize, and running a contest does require a financial investment, however, the information you gain in return is worth it.
At the bare minimum, you'll learn names and email addresses. You'll also (fingers crossed) get permission to add them to your email list. That's killer because ongoing email marketing can help you build a strong business-customer relationship for the future.
But, you can also learn a lot more than just the basics. When you run a viral contest, you can also learn stuff about the participants like:
What do they do for fun?
Where do they go for information?
What brands do they currently respect/ use?
What do they think about your company?
How much would they pay for your products?
That's just for starters. There are so many more things you can learn from your contest participants in follow-up emails and surveys.
As long as you aren't spamming their inbox with surveys every other day, you can expect to get a healthy amount of feedback to your quick surveys.
And most of the time, when someone signs up for your contest with KickoffLabs, you also learn a lot about them socially (and automatically). You'll get links to the social pages, a quick bio, profile pictures, and more.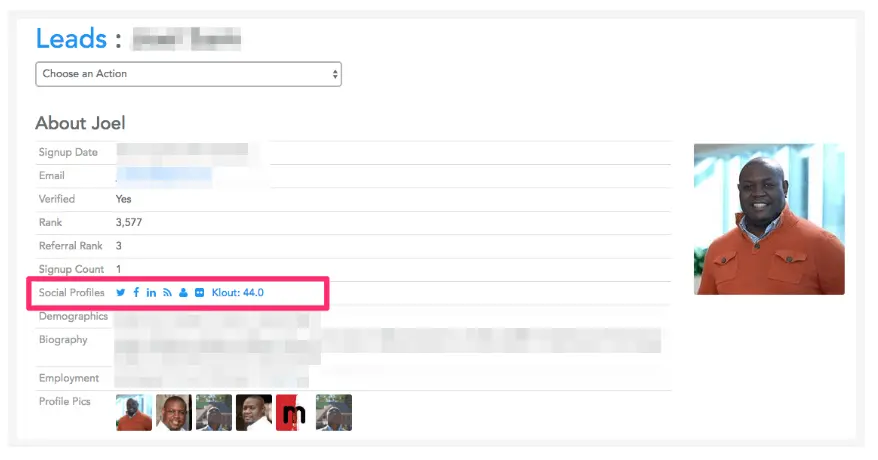 Here's a case study of this in action
4. Viral Contests Help You Identify New Influencers
During the course of your viral contest, you'll notice that some participants are more active than others. Those who refer friends, family, co-workers, and colleagues deserved to be recognized for their engagement.
Using KickoffLabs, you'll be able to recognize your top influencers. After you've identified those influencers, here's what to do next:
Send a personal "thank you" email.
Invite them to give you feedback.
Ask them to promote your contest more, and give them a link to their personal referral page.
5. Viral Contests Can Help You Double Your Email List
Let's say you already have an email list, but it's dried up. Your subscribers aren't clicking on your emails, and even if they do, they're not clicking through to your website. You're stuck with list that's disengaged and likely to unsubscribe at any moment.
Viral contests can change that. When you offer your older subscribers a compelling reason to pay attention to your brand (and what's more compelling than winning a prize?), you'll increase engagement.
What's even more exciting is that a viral contest encourages participants to share the contest with those in their social circle. By doing so, they'll improve the odd of winning. So, you can double your email list just by reaching people on your list, and getting them to market for you.
Plus, you'll have the added benefit of reigniting old subscribers.
6. Viral Contests are Cheap to Produce
Running contests aren't free. You will need to invest time and money to run a successful contest. However, viral contests are insanely cheap when you think of the future profits you stand to gain by running one.
Not only will you raise awareness for your brand, you're likely to move products during and especially after your viral contest. You'll cut costs by choosing your own product as the grand prize.
Who needs a free iPad when you're giving away your product/service as a prize? In fact, giving away your own product is probably the smartest move you can make.
You see, free iPads don't attract the right crowd. While free iPads will attract Lottie, Dottie, and everybody, it won't necessarily attract your true customers. And ideally, your viral contest should be filled with potential customers, and no one else. You'll do that by setting your very niche, very specific product as the prize so that only people who are genuinely interested in using your product will participate. It's a win-win.
And it's another win because you'll save money by using your product as the prize.
7. Viral Contests are Easy to Promote
It's not hard to get people to sign up for something that's free. Everyone wants to be a winner, and in your contest, everyone is a winner.
The most successful viral contests provide something free to every entrant, whether that's a promo code just for signing up, a PDF download, or something else of value.
By giving away something to everyone who signs up, your viral contest will almost promote itself.
Of course, social media ads can help promotion as well. On the paid end, you can use Facebook ads, Google PPC ads, and influencer marketing to spread news about your contest. For free options, you can start by announcing your contest on your website and blog, make a YouTube video, and share with your current email subscriber base.
And because you're giving away something for free, people will sign up. Be prepared for the deluge.
Next, let's talk about word-of-mouth marketing.
I can't stress enough how word-of-mouth marketing can increase the virality of your contest. Your own marketing efforts can only go so far. Sure, it'll be enough to reach the initial group of signups. But, if you really want to reach the masses, you'll need to activate your initial signups and get them to market for you.
You'll do this by incentivization. Give them rewards for spreading the message. And I'm not talking about those pie-in-the-sky, impossible-to-reach type of rewards (i.e. a free iPad for 10,000 verified referrals).
Instead, here's a path you can do:
Sign up for the contest – Get a reward (free eBook)
5 friends sign up – Get a reward (free t-shirt)
10 friends sign up – Get a reward (free video course)
15 friends sign up – Get a reward (free product)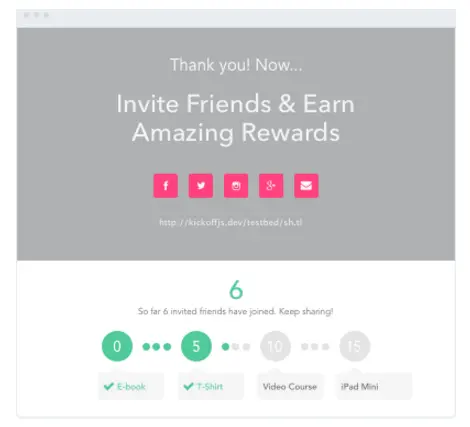 With KickoffLabs, it's easy to incentivize referrals. It's all built-in– all you'll need to do is plug-in your rewards. You'll decide which incentives to give and when (the milestones). Then, when someone reaches that milestone, they'll automatically receive a special notification and the encouragement to keep on promoting.
Another benefit to incentivizing word-of-mouth referrals is that you'll stay connected. Participants won't get a chance to forget about your contest because they're constantly hearing from you– and it's positive news because they've just unlocked a new reward. Even if they don't win the ultimate prize, they've already won something from actively participating.
Finally, consider teaming up with a partner. Partnering up with another brand will improve your chances of success in two distinct ways:
Partnership will extend your reach because you'll also have access to your partner's audience.
Partnership will enable to you to offer your combined audience an even more tantalizing prize because you'll be able to bundle your products together.
8. Viral Contests are Easy to Run
Here are the undisputed facts:
SEO is hard and Facebook advertising has a learning curve.
By comparison, viral contests are easy.
I'd say that the only thing easier than setting up a viral contest is participating in one. With the right software, you can be up and running with your contest in minutes. Get started now.
Additional Resources
Before you go, check out these additional resources that will help you run a successful viral contest:
Don't forget to download this list of best practices for running contests.