We've kept ourselves extremely busy improving things behind the scenes here at KickoffLabs. So it's good seeing many of our customer doing the same for their businesses.
Today we're going through our combined customer analytics and favorite pages for Oct – Nov 2014.
Leads Generated for customers
422,900
Steady growth in # of quality leads KickoffLabs generated for our customers during these months.
Conversion Rate
16.56%
The overall conversion rate of all our customers. Keep in mind that some campaigns perform much better than others. We've seen some (let's be honest) crappy campaigns that really need optimizing, while others getting really nice conversion rates well above 50%.
Learn more about what makes for a good conversion rate by clicking here.
Viral Boost
34.6%
This is the percentage of people that share their KickoffLabs generated unique referral link and get others to sign up.
Asking for the share after signup is really going to help drive the virality of your landing pages.
Age Groups
25-34 & 35-44 yr olds consistently lead the pack. But don't ignore the growing 55-64 & 65+ segments!
Gender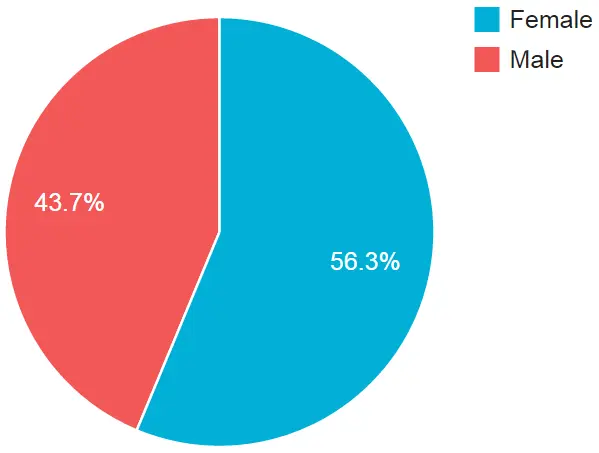 In the past months females were dominating signups (previously almost 70%). During this cycle, males seem to almost even out the playing field.
Our Favorite Pages of October & November
Here's a look at the most impressive landing pages that were launched on KickoffLabs…
Favorite Background Image Landing Pages
MyiArts are using our Suave Theme to highlight their upcoming launch.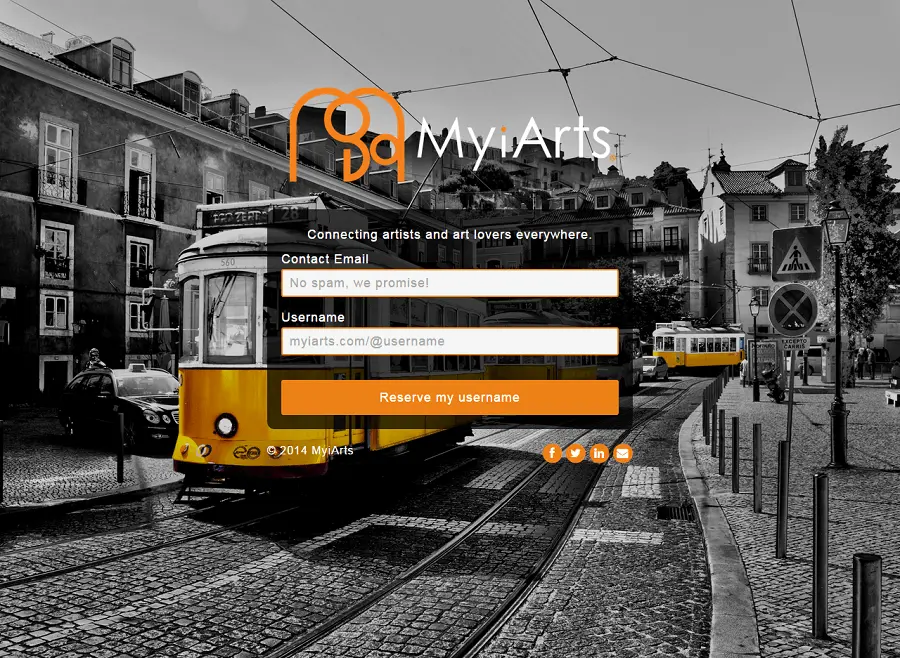 Why we like it?
Background image is non-distracting and plays nicely with the color scheme
An exclusive incentive to sign up by using a 'Reserve my username' call-to-action
WageCan are using our BackgroundSlide Theme to announce their new Bitcoin wallet.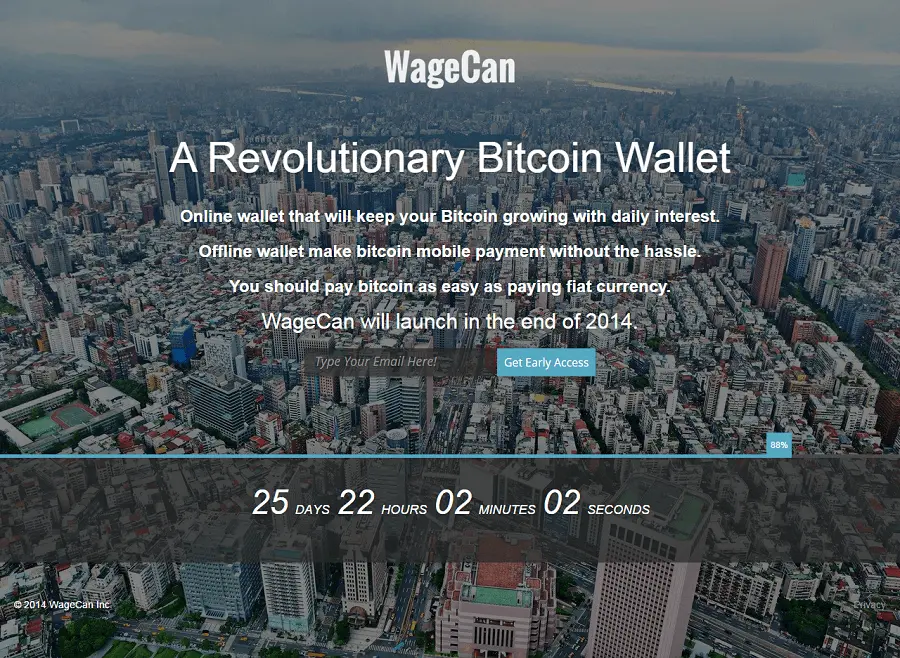 Why we like it?
Great city shot as a background image
Copy flows into the call-to-action
Countdown timer adds urgency
Farmsy is using our So Neat Theme to garner interest for their launch in London.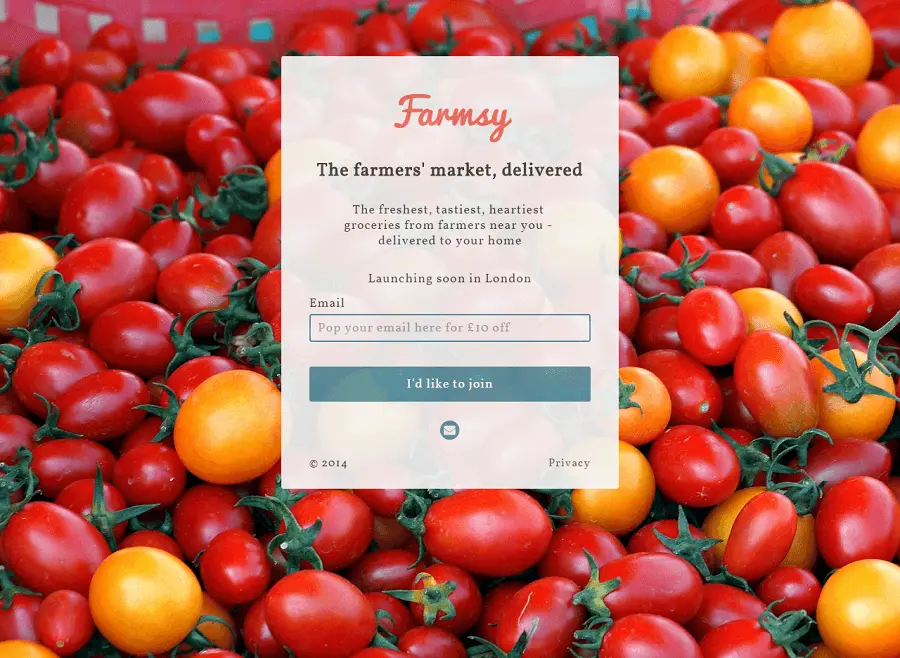 Why we like it?
Uses a yummy background image that portrays 'fresh'
The 'I'd like to join' call-to-action is like asking permission into the club
Rocket Spork are looking to revolutionize the way we eat and getting signups in the process using our Small Box Theme.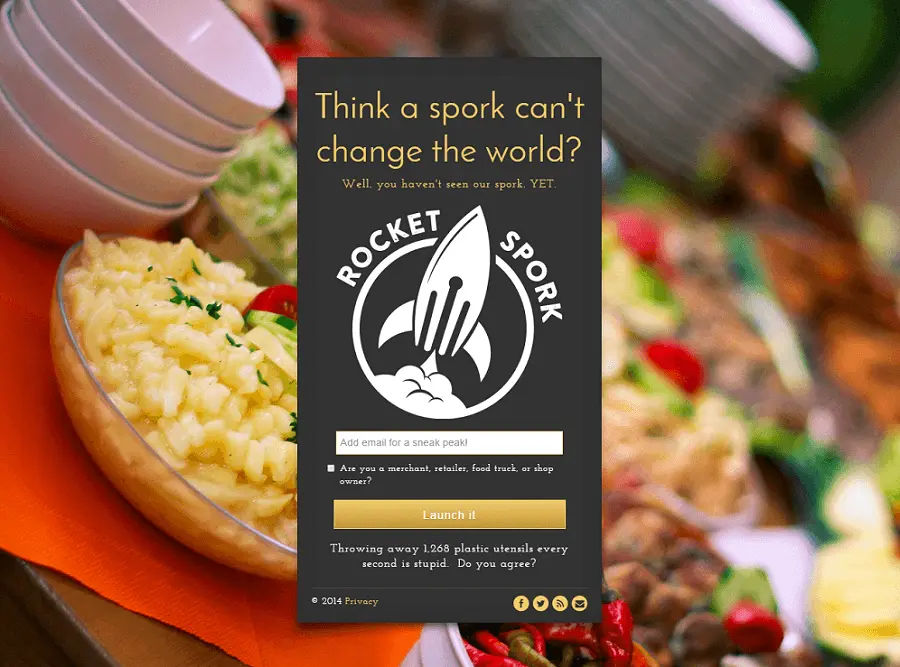 Why we like it?
Another yummy background image that incites other senses
Use a bold headline to describe their upcoming product
TheSwatchBox is using our So Neat Theme to gather emails for their upcoming launch.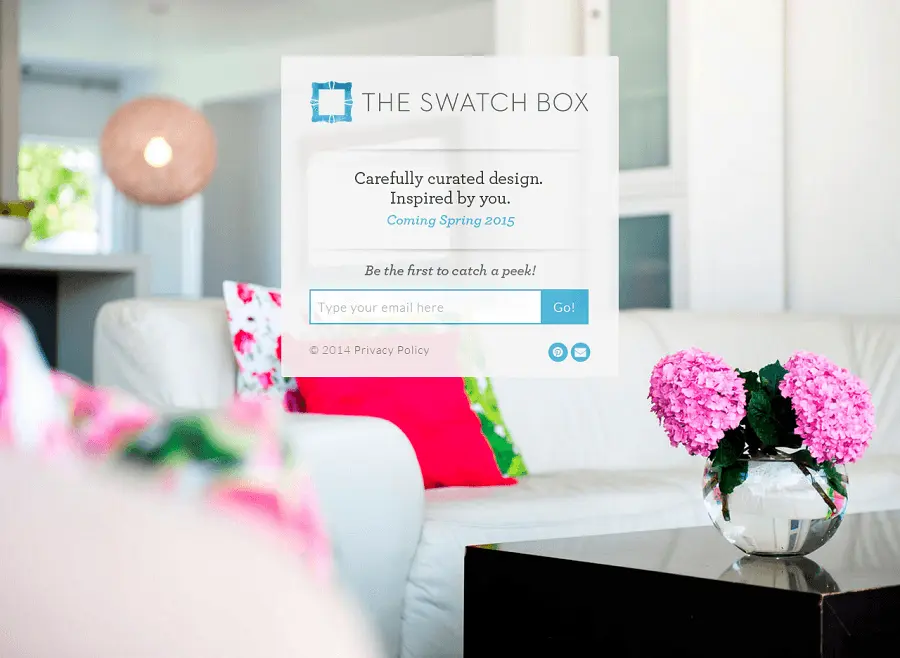 Why we like it?
Tagline and background image work together to set a high standard
Shows how a great background image can give your landing page a professional sheen
Favorite Mobile Gaming Landing Pages
The Original Mahjong is finally coming to iPad, and using the Your App Here Theme are getting a ton of signups along the way.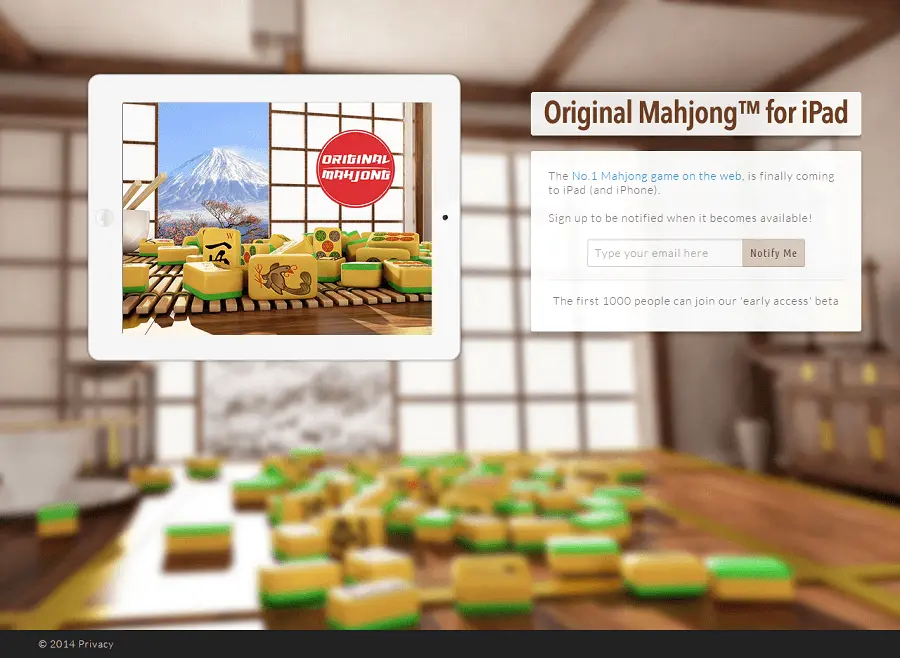 Why we like it?
Leverages our viral referral engine by offering early access to the first 1,000 people
Not asking for any information other that email
Favorite Marketing Landing Pages
We had to give this up to our friends at Drip. This page isn't part of their main site, yet using our Art Of Sales Theme, created a landing page that reflects and matches the Drip brand.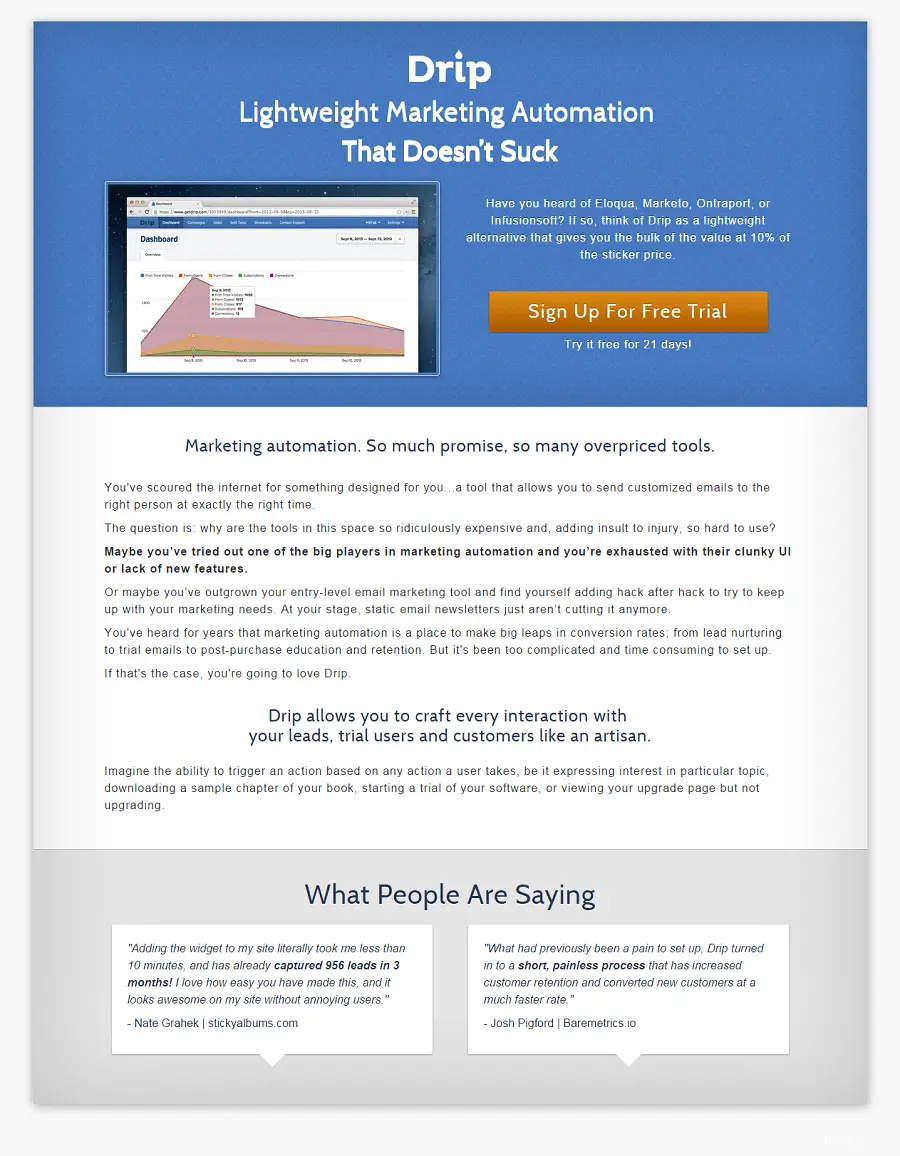 Why we like it?
Shows how easy it is to create landing pages that compliment your current site
Copy is spot-on (of course it is, these guys are marketing pros)
Madesmith created a beautiful lead generation landing page using our Big Show Video Theme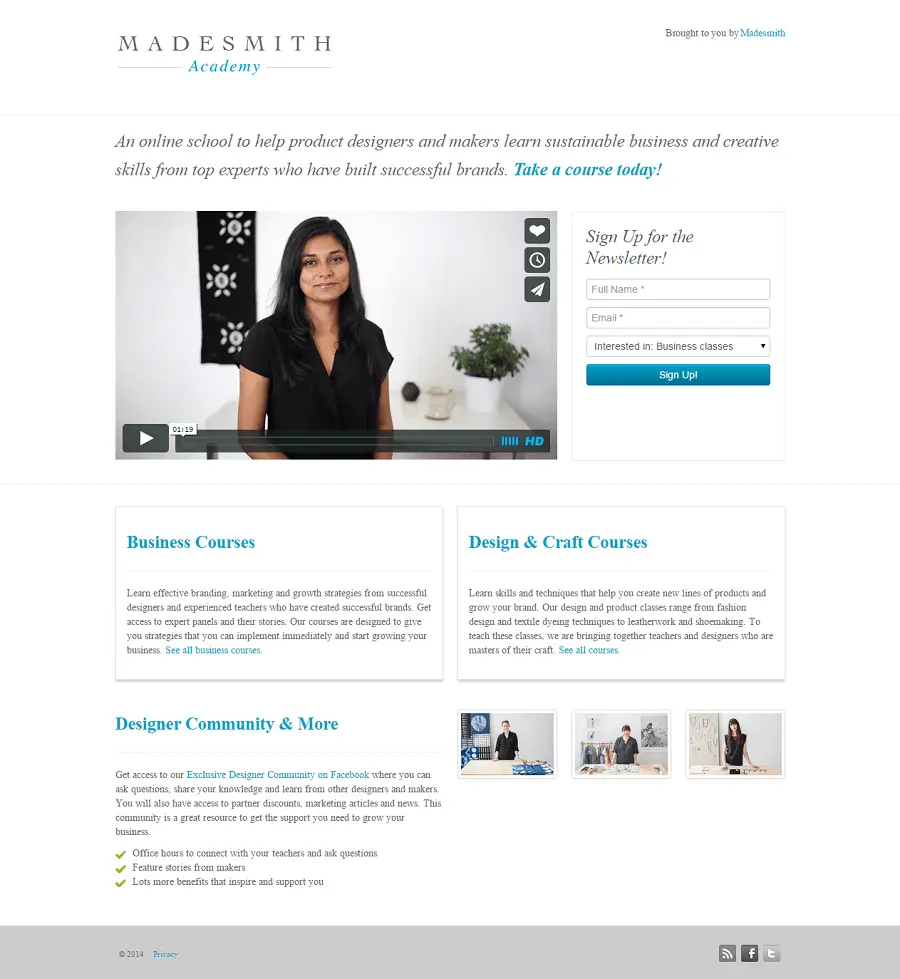 Why we like it?
Incentive to sign up is a free course and newsletter
Landing page (again) closely matches their brand
Favorite Use of Landing Pages
PicNet are executing the extremely smart strategy of running multiple landing pages, each with a single purpose. All these pages start off with our Lead Form Background Image Theme.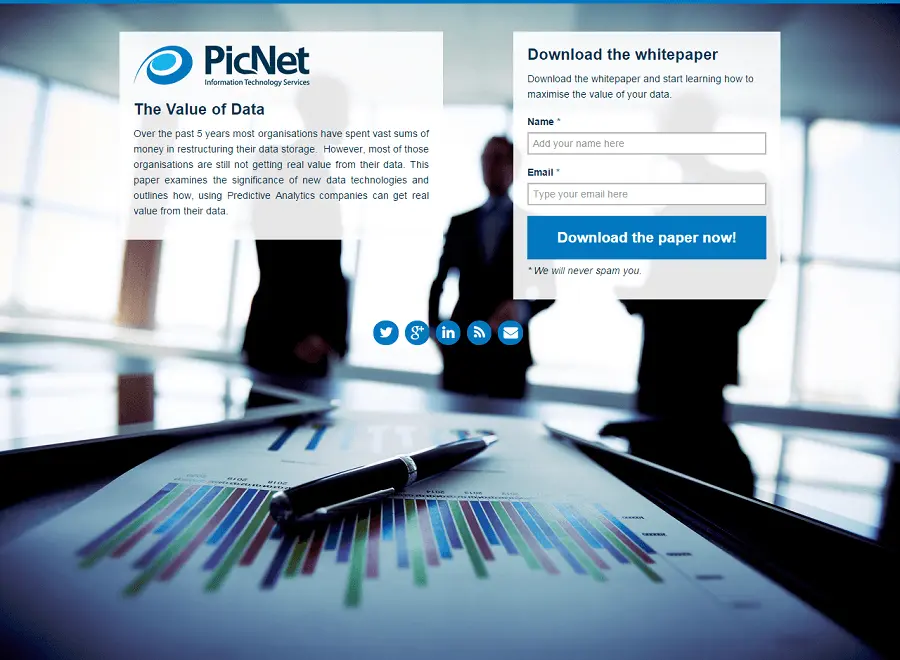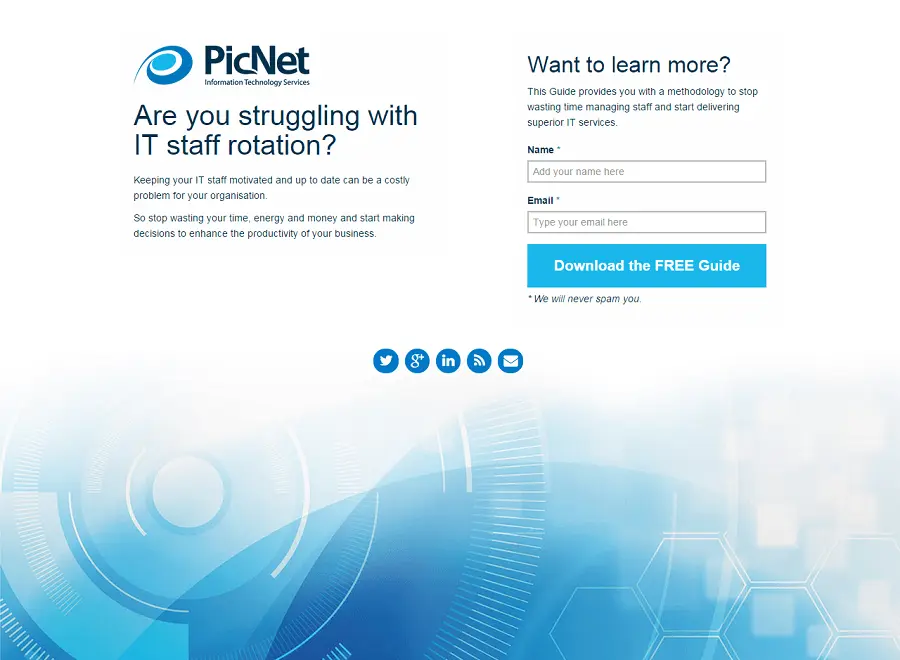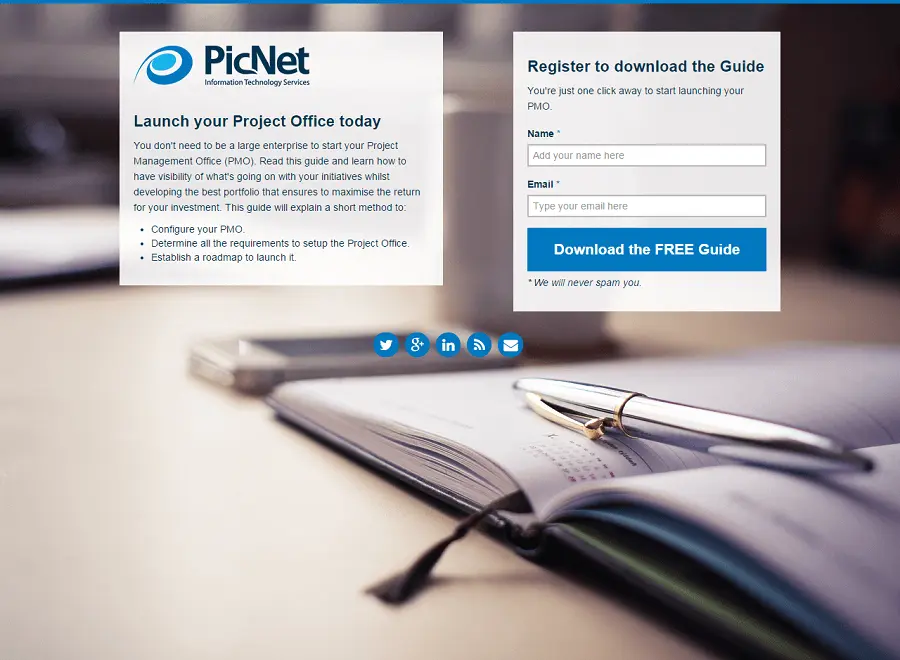 Why we like it?
A great example of landing pages for different offerings
They have plenty more landing pages with the same professional look
Favorite Themed Page
1Dev.ca went into edit mode and customized the HTML from our Coming Soon Countdown Theme to create a beautiful contest page for chez Serge et Suzanne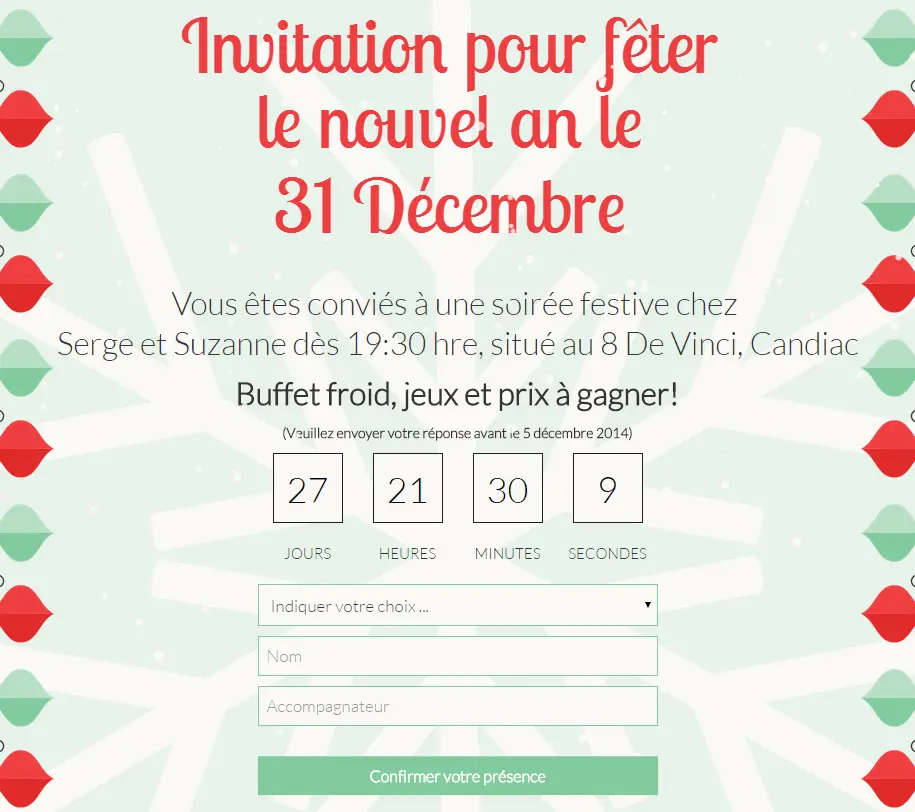 Why we like it?
The animation is not distracting and actually compliments the page
Highlights what can be done on KickoffLabs landing pages with a little HTML magic
Favorite Custom Landing Pages
The team over at Funnel Mail are in the process of gathering emails for their upcoming iOS app.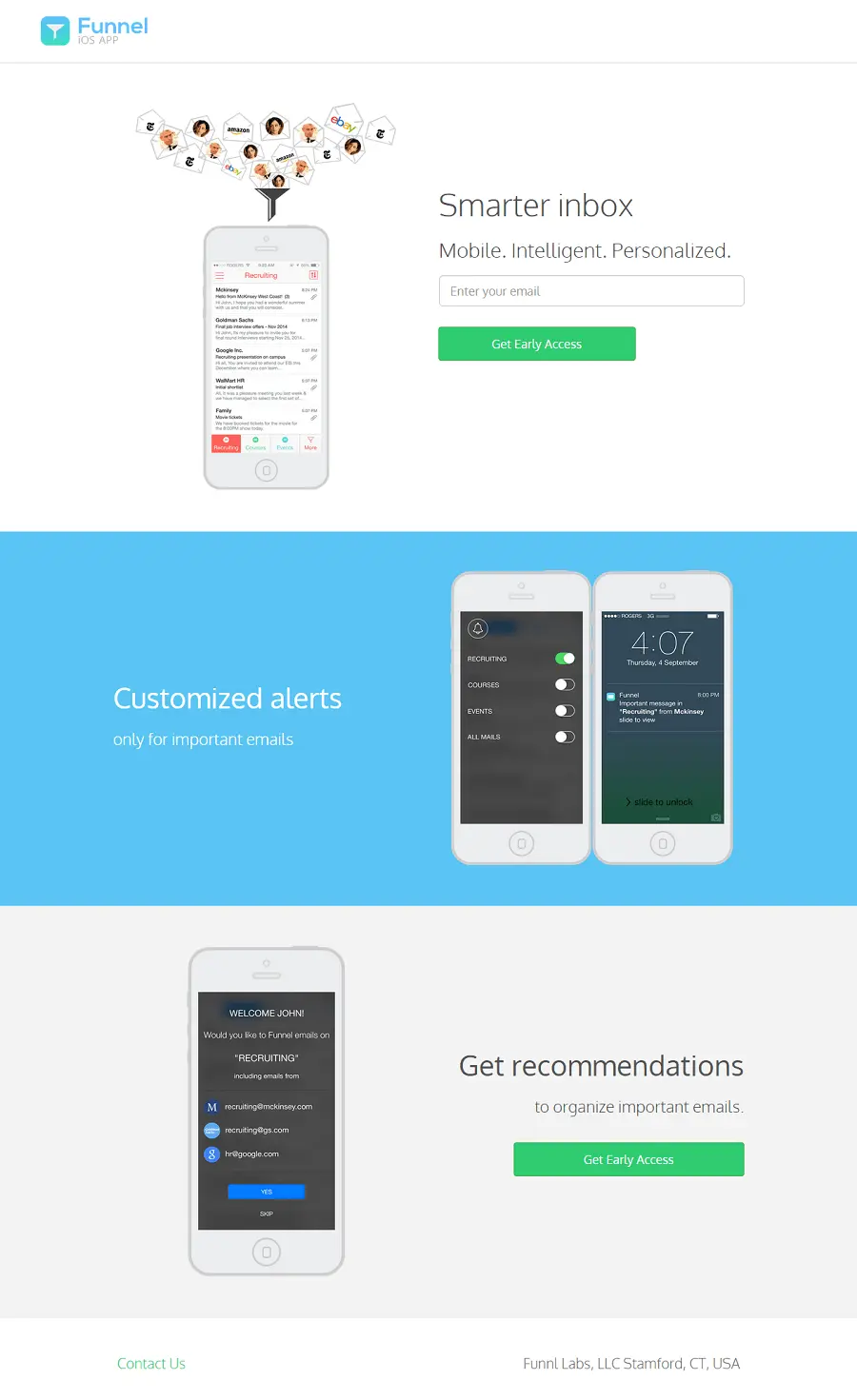 Why we like it?
Nicely styled, minimal page
Use of brief headlines to describe the product
Includes more than one screenshot of the app
Brunchout built another great looking custom page while they're revving for launch.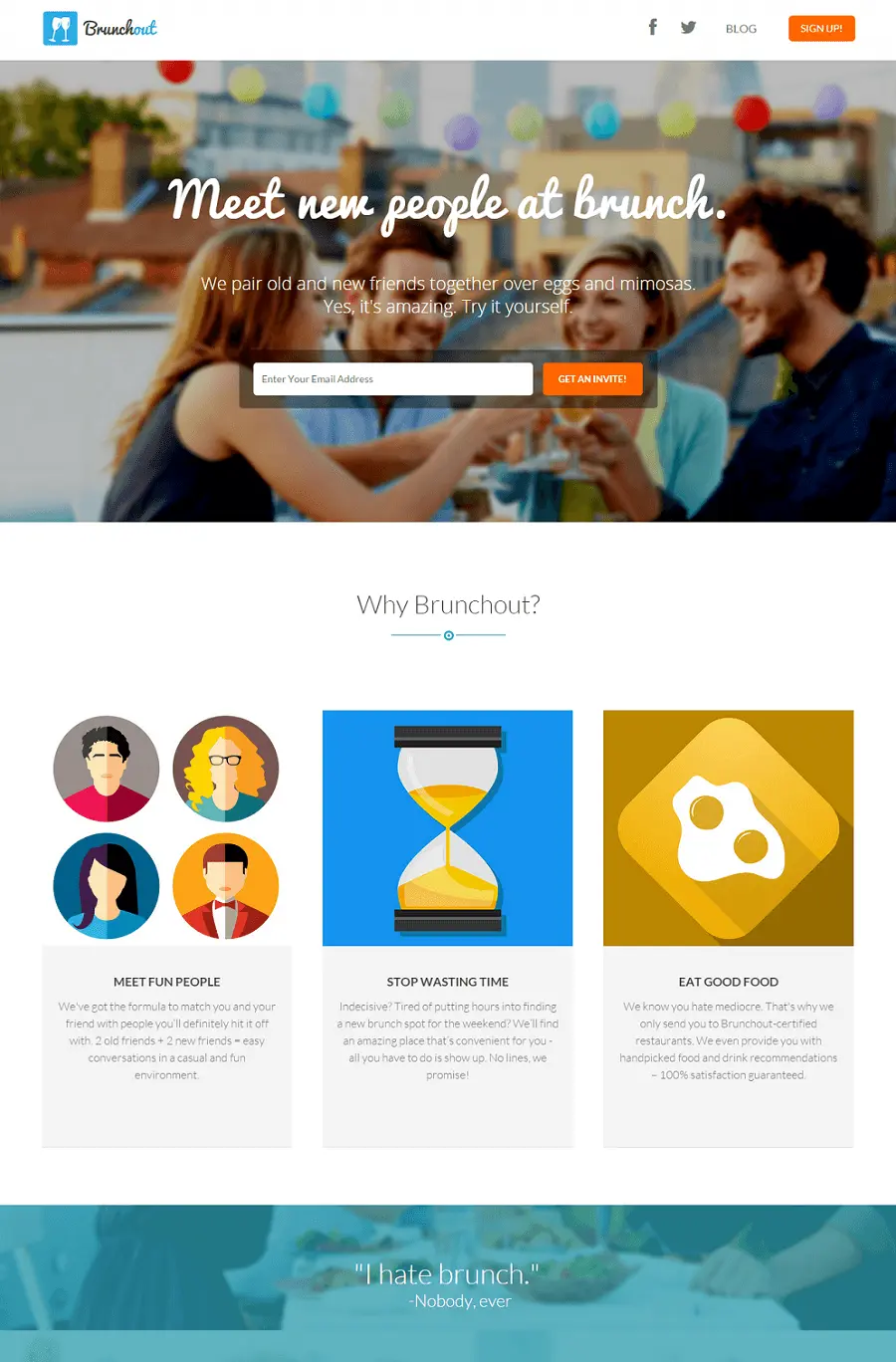 Why we like it?
The call-to-action really stands out on the page
Plenty of whitespace on the page so elements don't feel crowded
Basilic.io put together another beautiful page utilizing the KickoffLabs API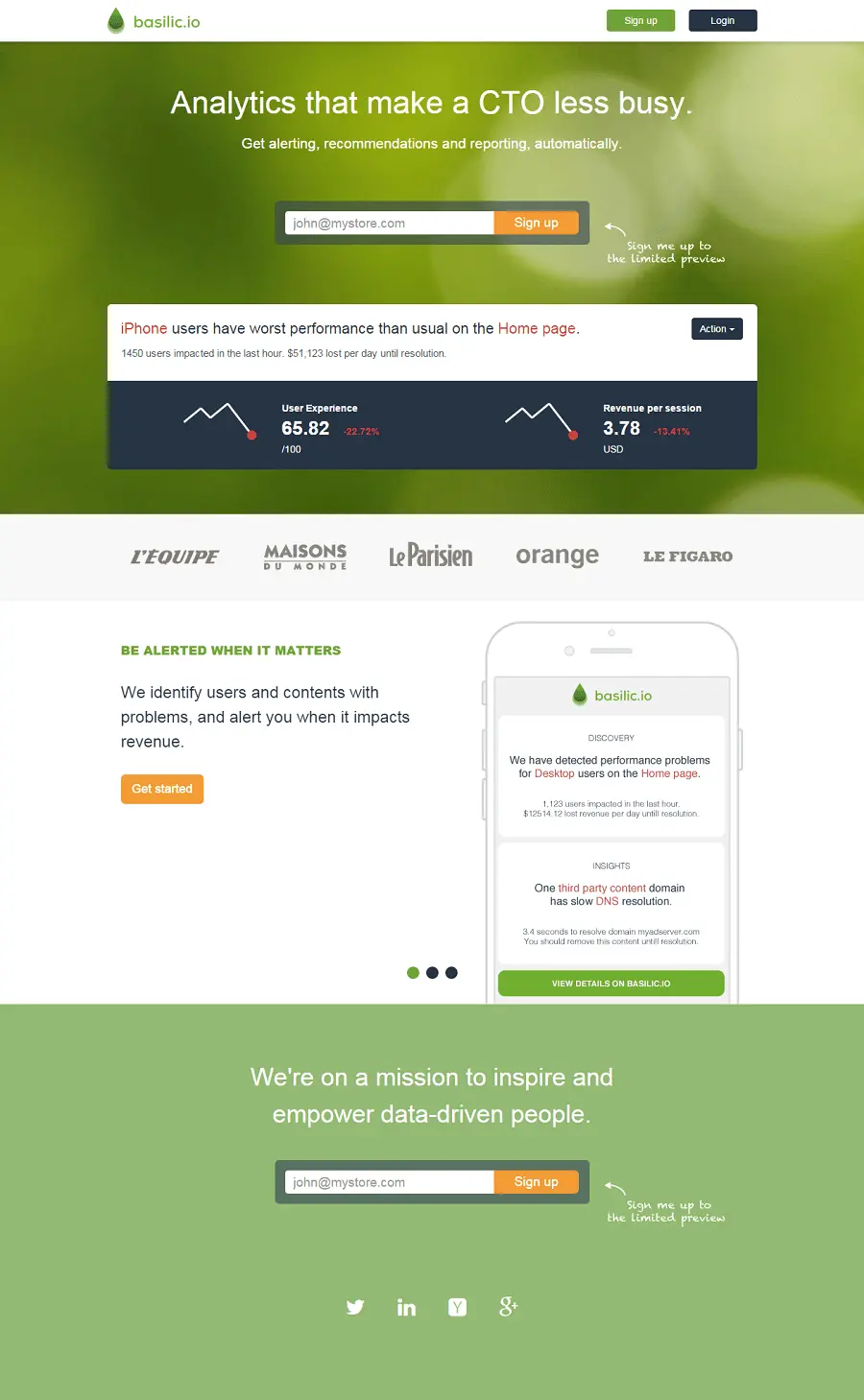 Why we like it?
Great screenshot images
Serene color scheme that inspires to take action
Favorite Call-To-Action Landing Pages
ULC Apparel Group launched a contest page using our Flat Box Dark Theme.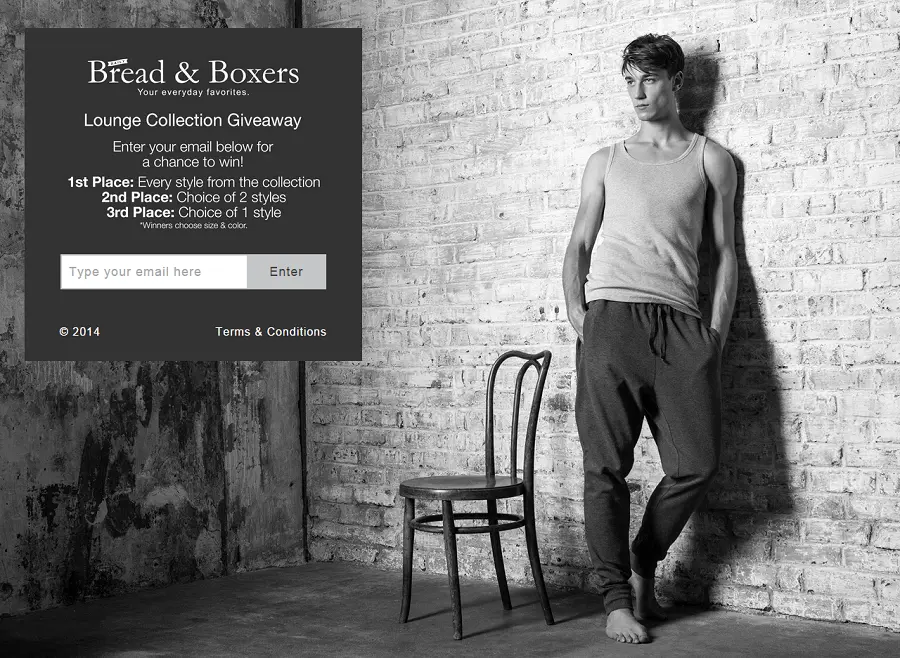 Why we like it?
The call-to-action button isn't a contrasting color, but it's obvious where to click
Tiered prizes give people a greater chance at winning
Here's another page by NorthWood Project, using our Three Step Theme, that emphasizes the call-to-action with a visual cue.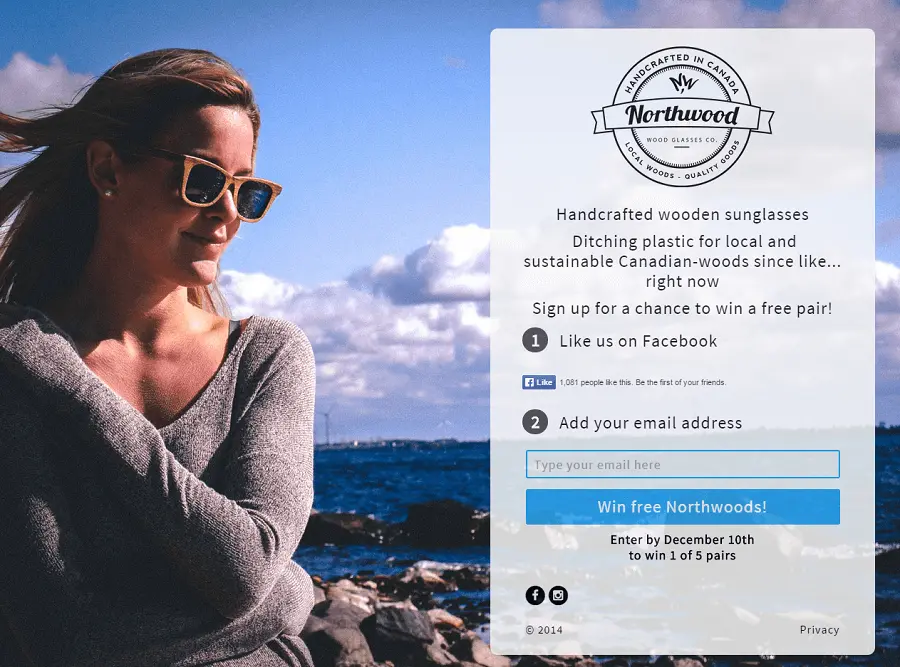 Why we like it?
Contest mechanism allows them to gather likes and followers along the way
The prize is easily identifiable
Favorite Referral Landing Page
Where previously you had to build with our API to get this information on your landing pages, our co-founder Josh custom built this theme for FitMeal. It's our version of the highly sought after Harry's Launch Page, with built in referrals and rewards!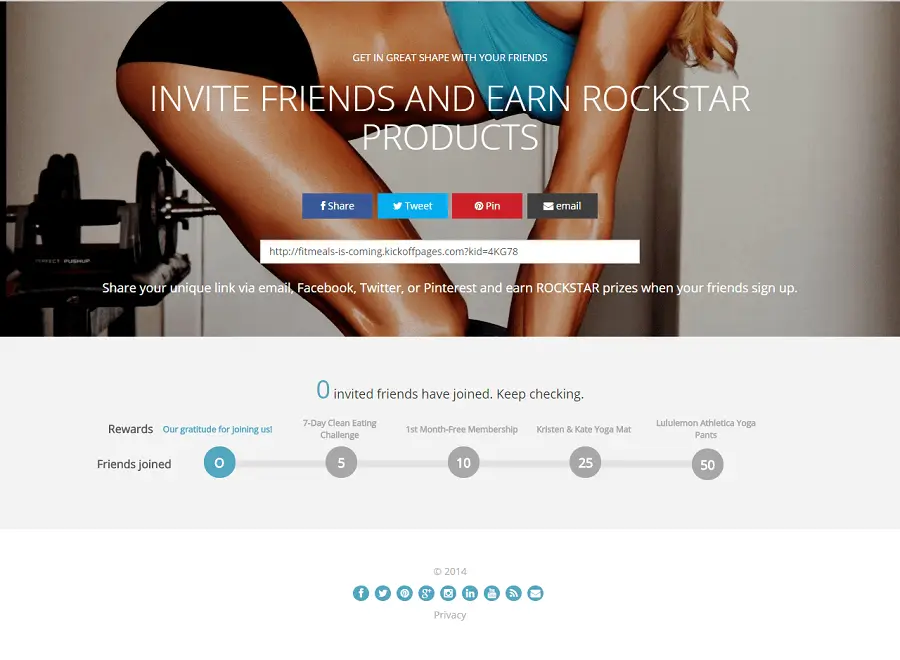 Why we like it?
You really can't get any more viral than offering a tiered list of great incentives
Takes full advantage of sharing by displaying the number of referrals along with how far along people are
Be prepared to see more of these themes ready to use in your campaigns in the near future!
What do you think?
Were these landing pages any good? Did you create a KickoffLabs landing page that deserves to be featured? Send an email or a tweet and let us know!
If you haven't yet created the perfect landing page, you really should give KickoffLabs a try. We make it easy to build an unlimited number of landing pages for your launch and marketing campaigns. Sign up for your FREE ACCOUNT and take your test drive today!
If this article was cool, we'd really appreciate if you share this article with your social network. All you have to do is click this link to tweet: Check out these examples of great landing pages from real @kickofflabs customers

Thanks for reading!
Izzy Palmerin, Growth & Conversion Rate Optimization at KickoffLabs