I have two secrets to share with you.
First, KickoffLabs is not the only place on the inter-tubes to build and host a landing page. (shhh….don't tell anyone else.)
Each landing page platform does things a little differently, yet I've never considered KickoffLabs simply a landing page generator. Landing pages are a means to an end… helping people like you get more high-quality leads, a great opt-in conversion rate, and virally growing your audience. That's what we do best.
Without a doubt, KickoffLabs is the best platform for running viral lead generation, launch, and social contest campaigns. Our focus is on the entire campaign… the landing page is just a part of it.
For one reason or another, we have had customers who want to build their main landing page on another platform and still take advantage of KickoffLabs smarter campaign functionality:
Viral Boost – 35% more leads.
Auto Email Replies – Built in lead magnet distribution.
Viral contests – Encourage more sharing with goal based reward pages.
Viral Incentive Emails – An industry exclusive.
Better Analytics
Thank you pages – Complete with social referral tracking and prize levels.
….and much more.
Before today, if you wanted use the features above you had to host your landing page on KickoffLabs.
Announcing – KickoffLabs AnyForm for Unbounce.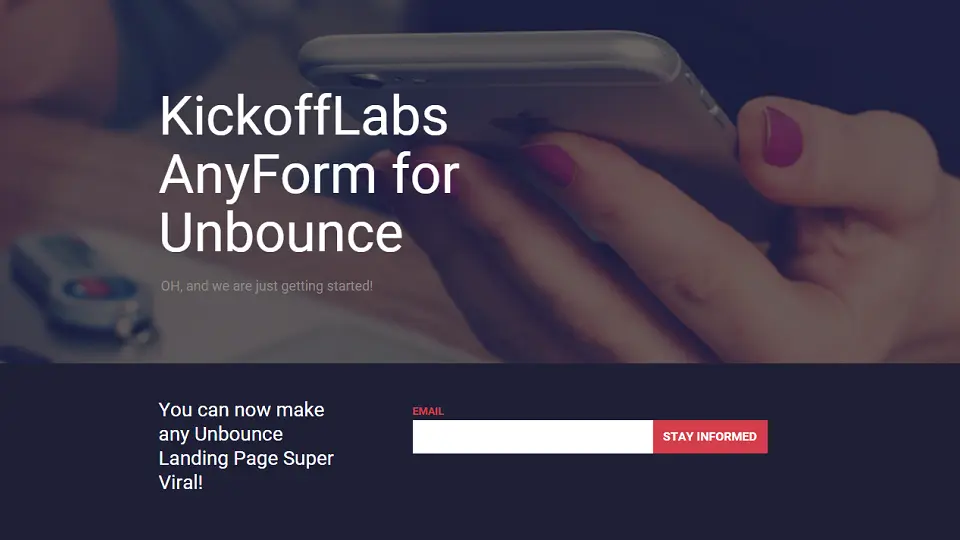 Turn your Unbounce landing page into a super viral campaign without relying on I.T. or web development teams.

Click to tweet
We have made it super easy to integrate KickoffLabs into your Unbounce pages. The set up is simple and takes just a minute and a bit of copy & pasting.
Once completed, your Unbounce page will function exactly like it did before except it is now able to take advantage of every KickoffLabs feature (did we mention you can now add our Exit Intent widget to your Unbounce pages as well).
Want to see it in action? Click here to have a go!
The second secret….
Unbounce is the first, but it is not the last place we are going to offer this type of integration. We already had a simple AnyForm solution for your custom HTML (self hosted) pages. Soon we'll be adding simple integrations with more providers.
Use any solution you want to build a landing page… but leverage us if you want smarter campaigns.