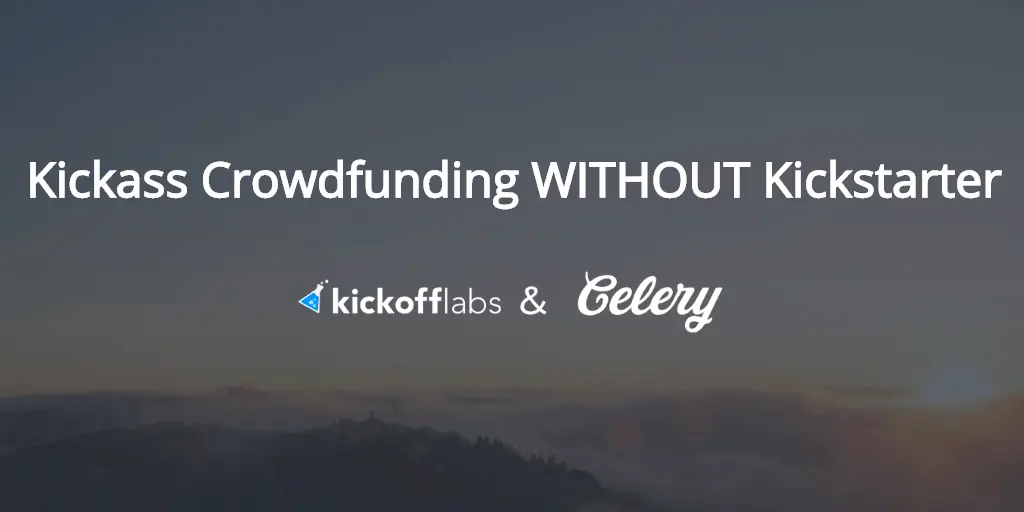 21 Tips For Doing Kickass Crowdfunding WITHOUT Kickstarter (w/ Examples and Tools To Do It)
You don't need a crowdfunding platform (like Kickstarter) to run a kickass, successful crowdfunding campaign. You can do it all on your own site and on your own terms.
Just look at KickoffLabs customer, Glowforge, who built an email list then ran a crowdfunding campaign to record breaking numbers. Raising almost $28 million in 30 days… all on their own website at glowforge.com.
Today you'll learn how to do something similar; build a viral marketing campaign with the capability of accepting pre-orders, doing crowdfunding and beyond!
Why crowdfund on your own website?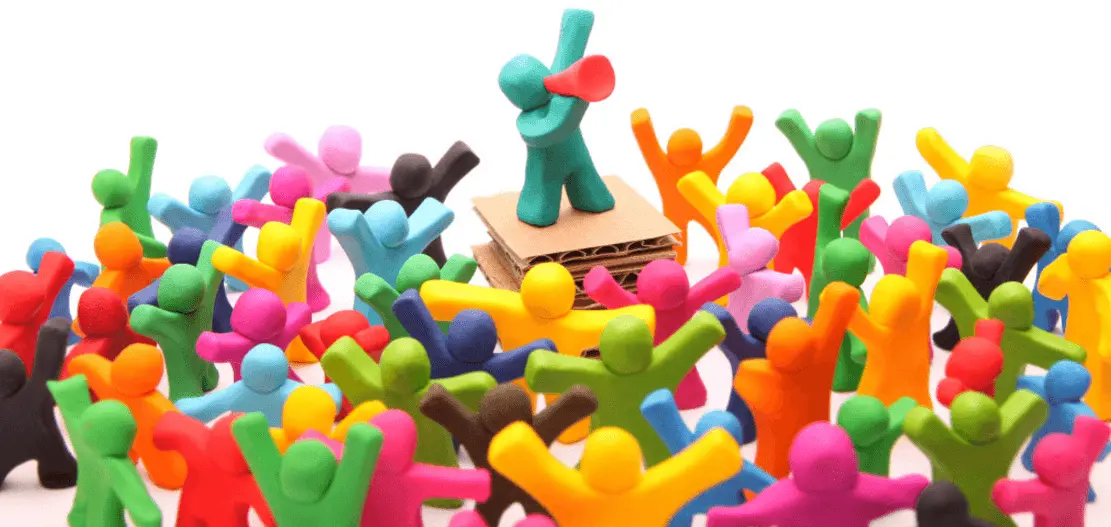 Big crowdfunding platforms come with their drawbacks. When deciding whether or not to launch on a large crowdfunding site, here's a list of things to consider:
1. It's easy to get lost in the crowd
You're working to build an audience, but you have to share that audience with other projects and with Kickstarter itself.
2. If your funding goal is not met, no money is collected.
Many crowdfunding sites employ an "all or nothing" funding model. If you don't hit your funding goal, all your campaign efforts were for nothing.
Especially when tied to a 30 or 60 day crowdfunding period, your campaign is literally on the clock.
3. You're forced to collect all the money upfront
The name of the game in crowdfunding is consumer confidence. it's easy for things to go virally bad when something goes wrong.
Waiting to collect funds creates more sense of community and also better consumer confidence in general.
4. Launch a business, not just a product.
Your goal should be launching a long-term, sustainable business. Not just a one-off product.
That's why we tell people to get off our free kickoffpages.com domain and use a custom domain. So when you're done with the campaign you own that traffic going forward, forever.
5. Create your own unique custom user flow.
Crowdfunding platforms require you work around their established campaign types. Where you need to setup multiple pledge levels, produce a video, offer early bird specials, etc.
A custom flow gives you more flexibility and opportunities by not having to play with all the bells & whistles.
6. Better fitting to your audience
Even though a lot of buyers are now accustomed to the crowdfunding model, lots of them have also been burned.
Consider that some customers may have never purchased through a crowdfunding site.
7. Create your own success
The myth that launching on Kickstarter translates directly into sales and virality is false.
You need to understand what your customer base is looking for. Do they want to participate in a full-blown crowdfunding campaign?
Regardless of what you end up using, you have to commit to an idea and move forward. The people who have success are the ones that hustle.
The Best Alternatives to Kickstarter in 2022
FundRazr - For a cause. Indigogo - Most similar to Kickstarter. Fundable - Business Funding.
Lead Capture Best Practices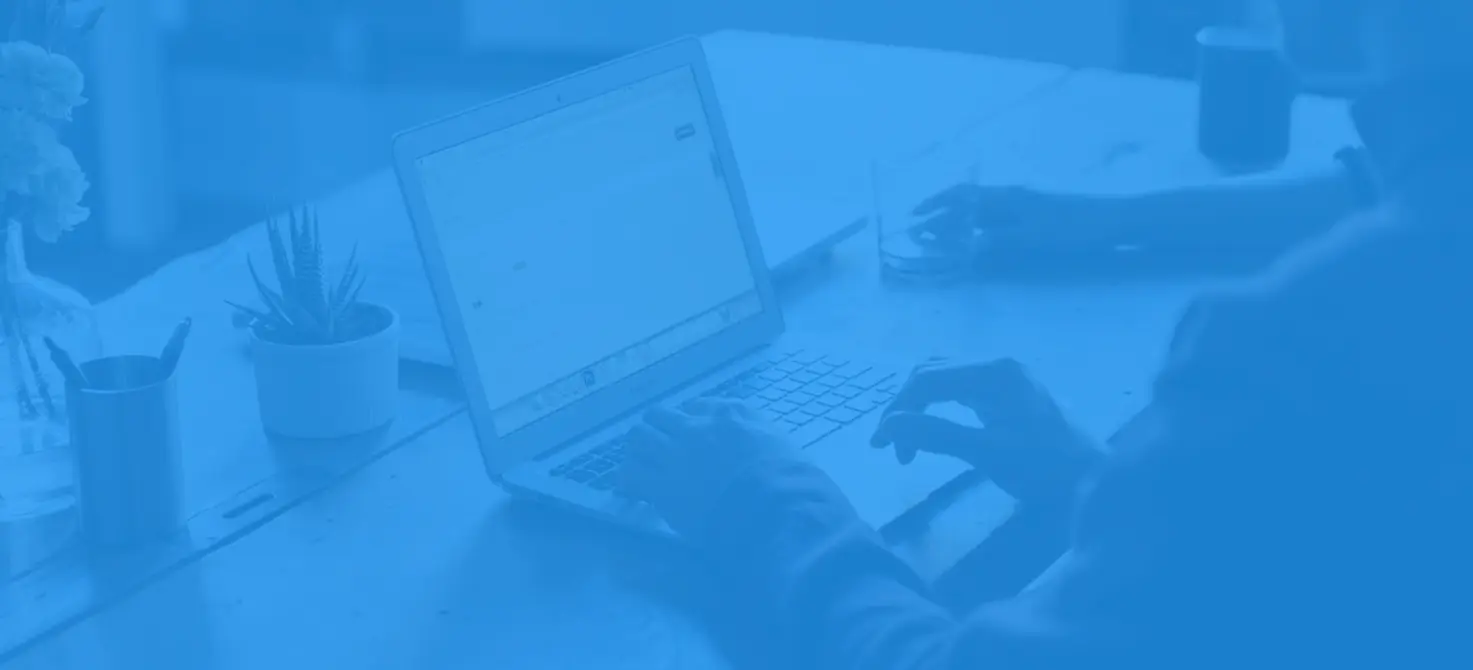 It's now a fairly common practice for people doing crowdfunding campaigns to capture emails before launching the official campaign.
Think about it, you're going to be asking people for money. As a consequence, it can be difficult converting potential backers without them having prior knowledge about your project.
Our advice: Get a landing page up at least 3 months in advance and start collecting emails early!
Using a lead generation campaign to inform your audience and gather subscribers before crowdfunding is by far the best strategy for boosting your success factor.
1. Identify & talk to potential customers first.
There are already people online that can potentially be good customers for your business. Go out and start talking to these potential customers as early as possible.
Early adopters are your biggest strength and ally. Get out there and find your customer base.
2. Start collecting emails now
Some people believe they can build a meaningful audience shortly before the pre-order campaign. Great campaigns take months of preparation to build momentum. Get a landing page up now and start collecting leads today.
By spending a bit more time generating leads early on, you can practically guarantee your crowdfunding success.
3. Build a conversion focused campaign
Are your visitors to your landing page quickly understanding your offering? Is it obvious where people should click? How can you make things so easy and so clear that people click yes?
A conversion focused campaign provides the right messaging and the tools to answer your call-to-action.
4. Use the campaign to tell a story
Be open, honest, and transparent with visitors about your offering. Make it seem as if people are taking part in a larger movement.
Use the landing page, thanks page, and emails to keep the campaign messaging consistent.
Engaging with your audience throughout the process – before, during & after –  is critical in building trust and getting people to tell others about your business.
5. Supercharge your conversion rate with social referrals
The moment that someone signs up, is the moment they are most interested in your business (until they buy the product).
Keep them on the 'yes' train by asking new leads refer friends to your campaign.
You'll also be able to identify any influencers in your space you might not have previously known about.
6. Track campaign performance
You need to define what your goals are to get the product off the ground.
How many visitors do you need to the campaign? What % of them do you need to convert?
If you are accurately measuring results, it should be easy to tell if your campaign is going to be successful or not.
7. Build a community of raving fans
People who sign up should be onboard with your message, and if they love what you are doing will be more than willing to refer friends.
You'll create influencers out of leads, making them feel part of the movement to get subscribers.
Try to involve leads into the experience, making them feel like they have more ownership.
Pre-order & E-commerce Best Practices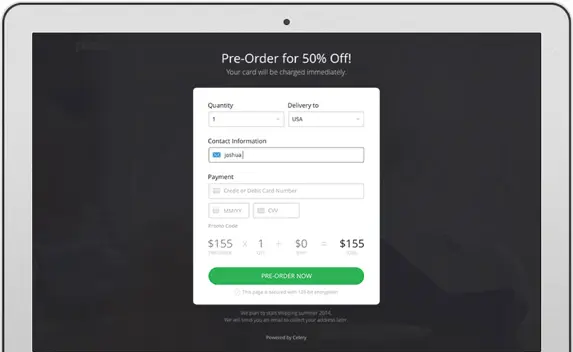 Up until your crowdfunding launch, the single goal of your landing page's call-to-action was most likely to capture leads.
Come launch time, this call-to-action is getting backers to buy into your idea. Your copy, images, video, limited time offers, marketing, and overall messaging must reflect this new goal.
This will mean updating the landing pages, while building a sense of urgency into the overall campaign.
1. Optimize for the checkout
If it's not easy for people to convert, you're going to be losing money.
You should thoroughly test your own checkout flow and identify any potential barriers preventing people from successfully converting.
2. Be upfront about costs & shipping
Let people know about any additional fees (like S&H) they might incur during the purchase process.
If your customer sees a drastic change in price going from landing page to checkout, that's going to cause a lot of friction and will likely cause them to abandon the cart.
Nothing is simpler than free. If you can offer free shipping, do it.
3. Order management
When doing a pre-order or crowdfunding campaign, your product is probably not ready to ship… possibly for several months.
What happens in that meantime?
If your customers don't have a way to manage their orders, you may end up losing their confidence or business.
4. Treat your backers like investors
Your backers are not only there for the product… they want to be early adopters.
Treat them as if they are investors in your company by being transparent, honestly responding to questions, providing great customer support, etc.
Your goal is to make the buyers experience translate into a high level of confidence.
5. Ship better and sell more
You need to make it as simple as possible for people to checkout, and eventually get the product into their hands.
Lots of people running a 1st time crowdfunding campaign have a vague idea about logistics and get in over their head.
Use a third-party tool like ShipStation to simplify this process. If you're going to do it yourself, understand how you can get your product to your customers in the quickest way possible.
6. Sell more through referrals without scams
Successful referral marketing is getting a customer to recommend your product to someone in their network who in turn makes a purchase.
However, there's always the possibility that people will attempt to game the system.
Use tools like KickoffLabs Advanced Fraud Preventionto mitigate scammers and uncover any suspicious activity.
7. Recover lost leads
Nearly 7 out of 10 shoppers who come to your site, browse, and even select an item or two, won't actually complete their purchase.
Use email remarketing to follow up and recover shoppers who abandon the checkout process.
Ready to launch your campaign?
Now is the time to consider whether self-hosting a campaign is right for you!
Here's our advice: If you're going to have to build the audience organically anyways, you might as well control the branding and the messaging throughout… alongside giving your backers more options for making a purchase.
Get started with KickoffLabstoday!
And be sure to check out the full Live Marketing Chat, with LOTS more tips & strategies.