Milestone rewards giveaways are contests that require your audience to hit certain milestones to gain rewards. Your visitors and followers provide their contact information and engage with your brand through participation to earn points that enable them to unlock rewards at specific milestones.
Why Run a Milestone Rewards Giveaway
Reaching audiences has changed in the last decade. It's become critical to grow and engage both your SMS and social media audience in conjunction with email marketing. Running a giveaway with Milestone Rewards is a great way to generate engagement where everyone feels like they can earn a prize.
These contests allow your leads to enter to win prizes and unlock rewards by referring friends and taking other actions. Here, KickoffLabs shares just how they work and how to succeed with a Milestone Rewards Giveaway.
How the KickoffLabs Milestone Rewards Giveaway Works
With KickoffLabs, you set up landing pages – or contest boxes - with our landing page designer and pair them with our referral engine that helps you build your audience through giveaways. You develop your contest, and each lead will get a unique link on their thank you page.
Next, your lead shares on their page and with their friends and family. You also send opt-in offers through email to refer others. As their referrals sign up, they get credit that adds to their rewards. Those leads then share with their network, and your audience continues to grow.
You can always check out your leads throughout easy-to-use CRM, where you can create custom audiences and add tags to organize your leads. As part of our unique offering, you can level up your campaign with features.
With the KickoffLabs Milestone Reward Giveaway, you can grow your email and social audience as they get incentives for following you, referring friends, sharing your posts, and meeting other goals.
How Contestants Gain More Points
Your contestants will gain more points as they share your contests, share your content, and refer friends. Essentially you decide how your contestants gain more points. Contestants can also perform other actions including, following your brand online, adding their phone number, or watching a video to earn more points.
Milestone Rewards Levels
Our reward campaigns are fully automated. You set them up and we take it from there. Add rewards to your landing page using the reward widget. When creating your contests, you may set up three milestones. For example, the first milestone may be "Earn 3 points and get free shipping". The second milestone at 6 points can offer a $20 off coupon. Free product with purchase at checkout could be the third level.
Your leads can check their reward status here:

Continue to engage with your contestants via automated reward emails. These incentive emails automatically reward influencers for achieving referral goals that you set up at each level: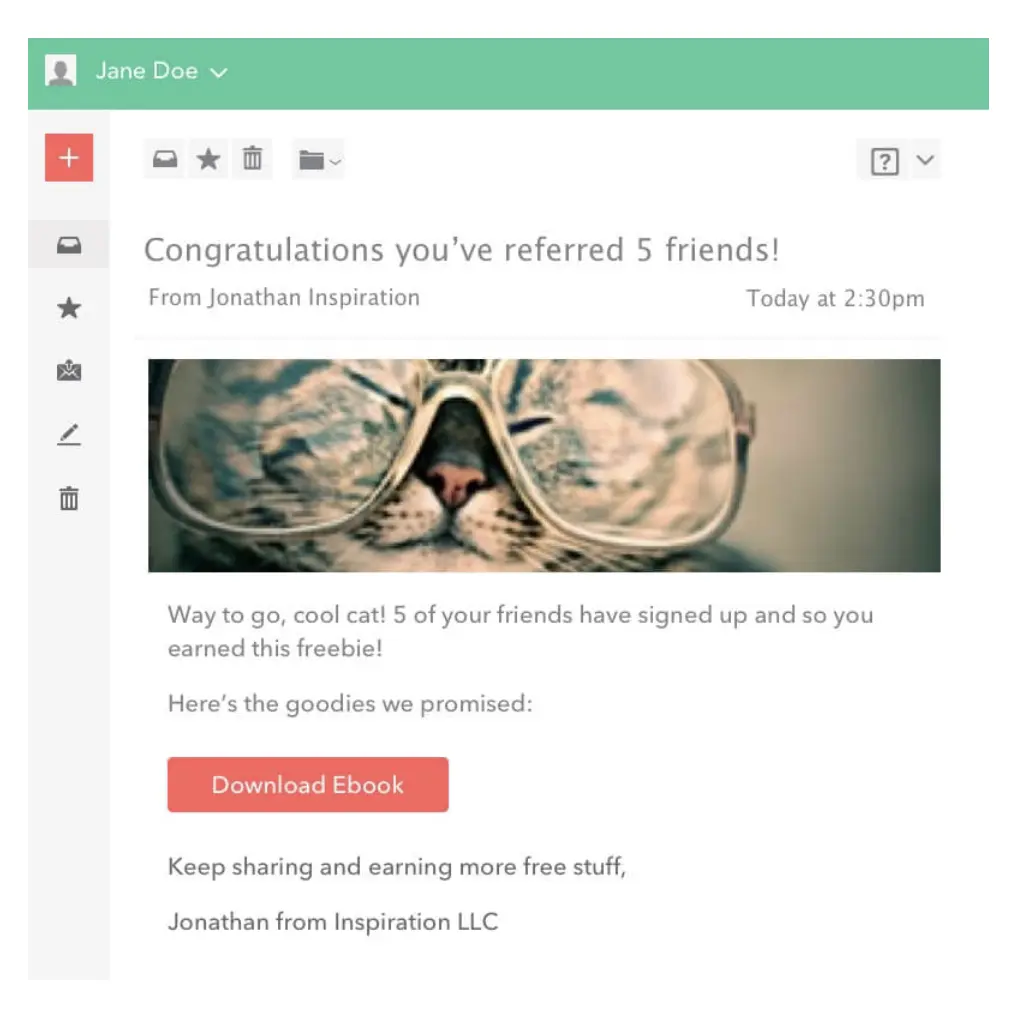 Show reward levels and leaderboards. You can mix and match your campaigns simply by adding the reward widget to campaigns: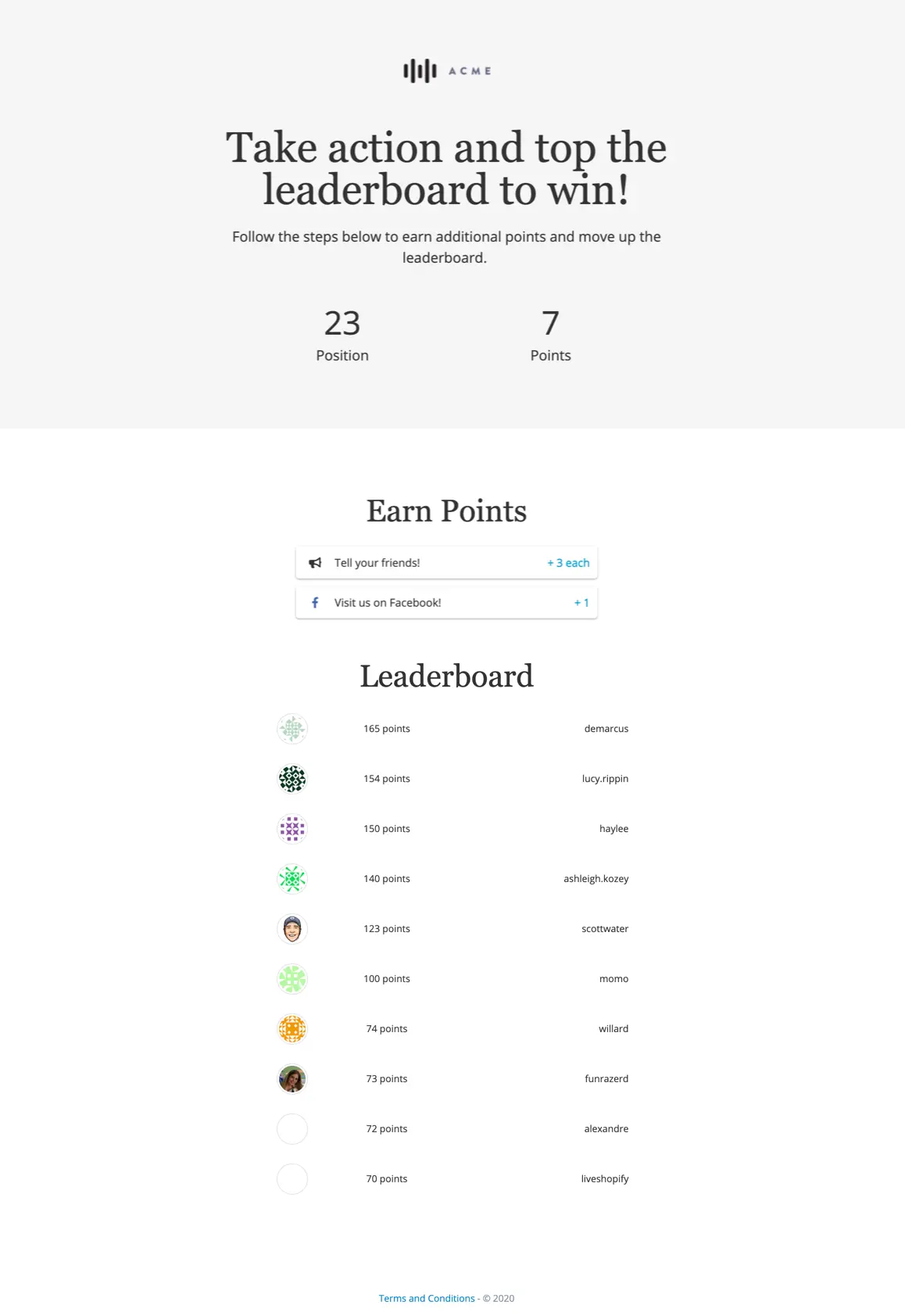 Why Run a Milestone Reward Giveaway?
Milestone Reward Giveaways offer an excellent way to give to your followers to encourage them to refer others to your brand. You can choose to provide them with coupons and exclusive offers, which can lead to sales. You can also offer goodies and products; it's a win-win for all involved.
While your audience is trying to reach each milestone, they continually engage with your brand and encourage others to do the same. You will send out reminders to refer others, share posts, and other actions to get more entries. It's a fantastic way to increase customer engagement.
Milestone Rewards Giveaways also boost loyalty. The positive interaction with your brand sets the right tone for a continued relationship.
Grow leads lists through your Milestone Rewards Giveaway. Participants must provide their email address or phone number to become a contestant. You can then import this information into your email and SMS marketing lists.
These contests also increase traffic to your website. Instead of just engaging with your social media profiles, your audience must come to your website.
Variations of the Sweepstakes
The Milestone Rewards Giveaway for Referrals allows your contestants to gain points for each referral they submit and other contest actions.
The Milestone Rewards Giveaway for Product Waitlist allows your contestants to get instant access or discounts for upcoming products. This is a terrific way to get your audience talking about your products and brand. The more contestants refer, the better their chance of getting early access and discounts. It's also a great way to ensure great sales numbers when the product launches.
Success Stories
Jake Elliot Hook with S'Wheat employed a KickoffLabs Prelaunch, collecting over 20K leads directly from the campaign!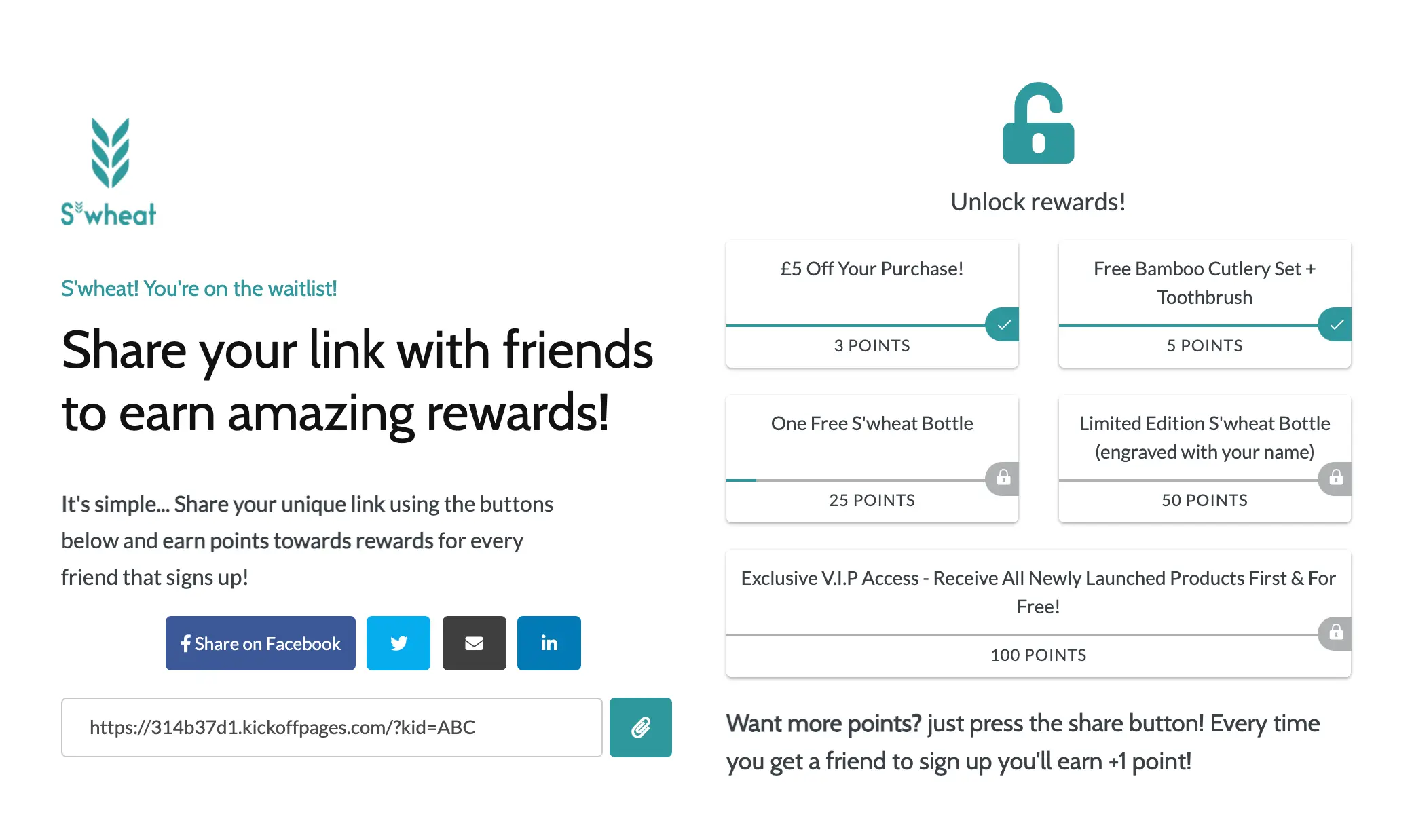 The company also used micro-influencers to get more referrals and sent two to three daily emails. The rewards were easy to reach and still allowed them to be profitable. S'Wheat took advantage of KickoffLabs features:
S'Wheat Used These KickoffLabs Features • Friend Referral Tracking • Reward Levels • Emails • Viral Boost
Glowforge used KickoffLabs to launch the biggest 30-day crowdfunding campaign in history. They garnered 10K new leads, added $27 million to their crowdfunding, and received 75% of their leads from a shared URL.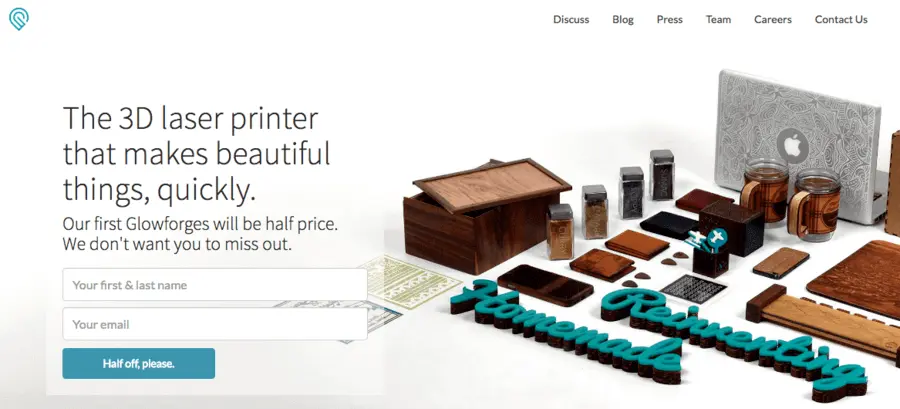 Glowforge Used These KickoffLabs Features: • Friend Referral Tracking • KickoffLabs Waitlist • Emails • Viral Boost • Advanced Fraud Detection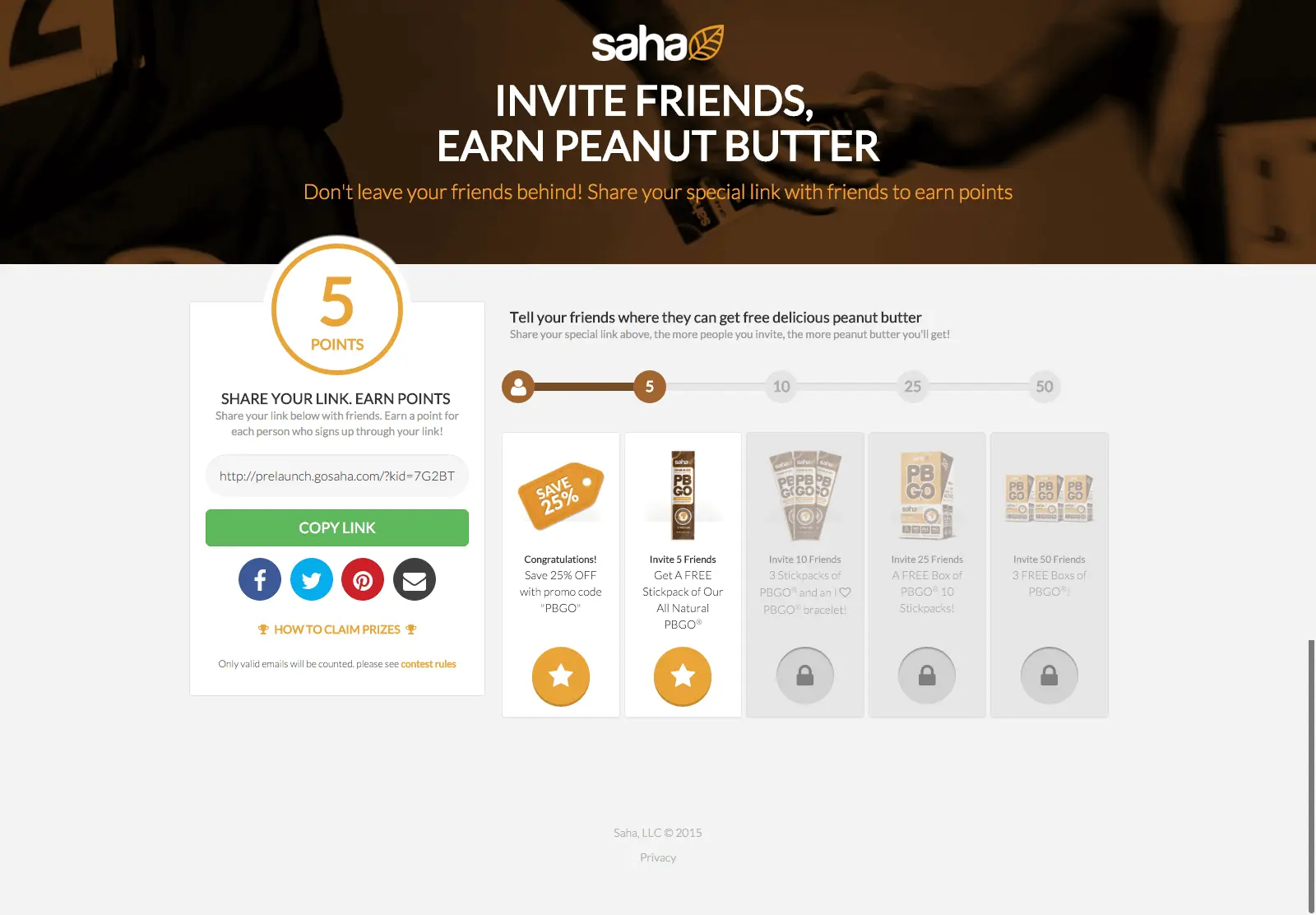 Saha used KickoffLabs to grab 20K signups with a 94% referral rate. The company targeted Americans who don't eat breakfast and saw a 60% conversion rate! Learn more about starting your own KickoffLabs Milestone Reward Giveaway today!