So you've decided to run a giveaway. That is great news! But if you aren't sure what the next steps are from here, we have your back. With tons of great templates to help you create the perfect contest, you'll be on your way to lead generation in no time. Here are our best tips for choosing the contest style for your project- plus a fun quiz to simplify the process even more.
First, let's get into your general giveaway style options
Milestone Rewards- Unlock Reward Giveaway contests encourage leads to unlock rewards by referring friends with unique links or taking actions and reaching referral milestones.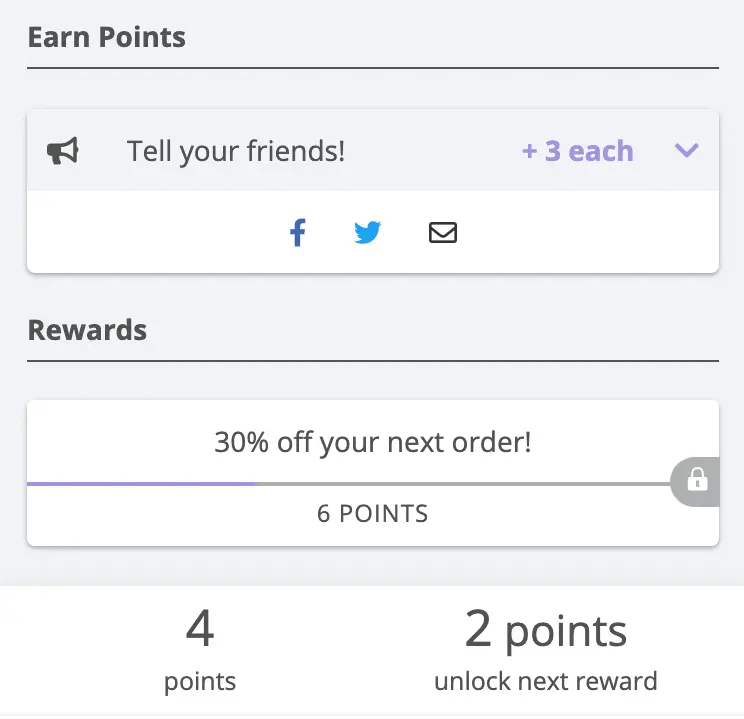 Enter to Win Sweepstakes- A bonus entry sweepstakes ends with randomly picking one or more winners. Entrants can increase their odds of winning by referring friends with unique links or taking actions you suggest to engage with your brand.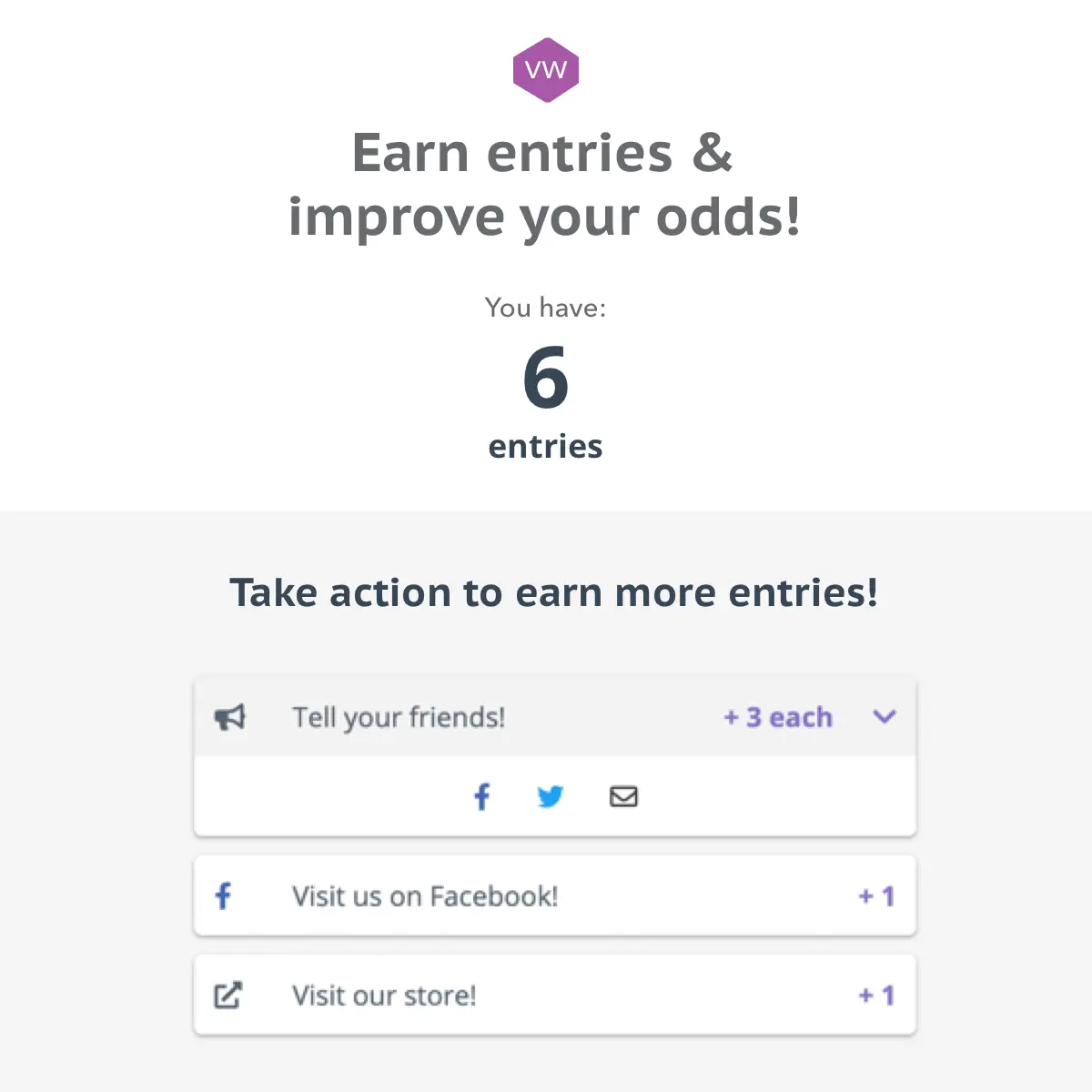 Prelaunch Waitlist- Generate word of mouth for a new product, service, or store launch by encouraging people to move up the waitlist by taking social actions.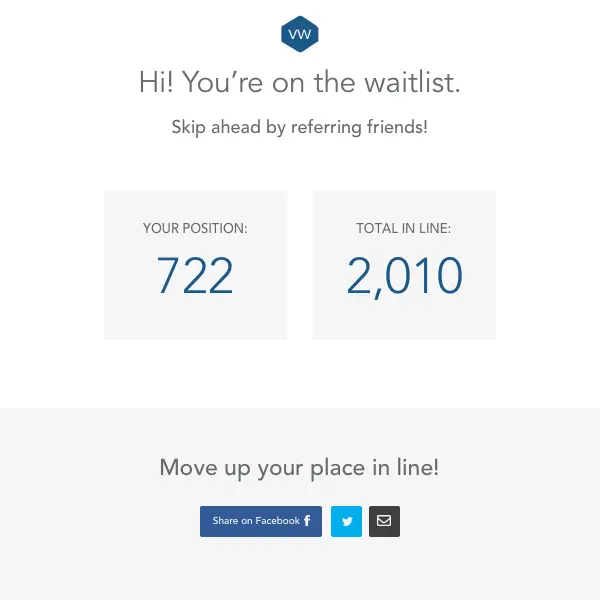 Lead Magnet/Opt in- Everyone is a winner with a lead magnet contest! These templates are light on the contest mechanics and heavy on the delivery of a lead magnet to entice audience growth.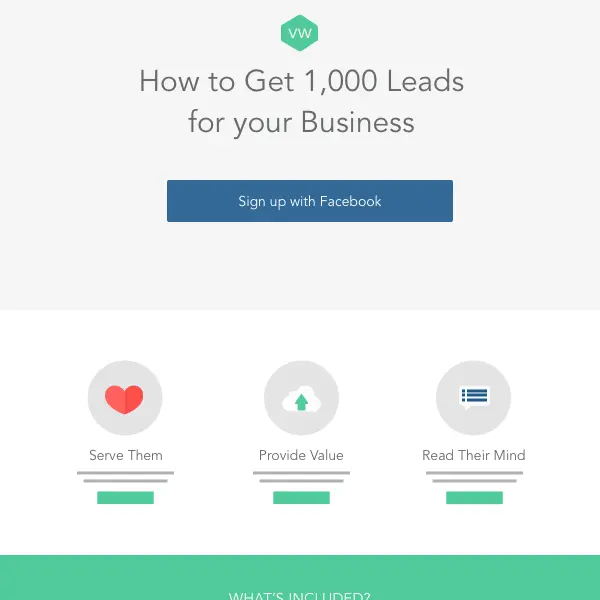 Leaderboard Giveaway- In a leaderboard giveaway leads earn points and move up the leaderboard by referring friends, following your brand, or taking other social actions. You'll give prizes to the top point earners.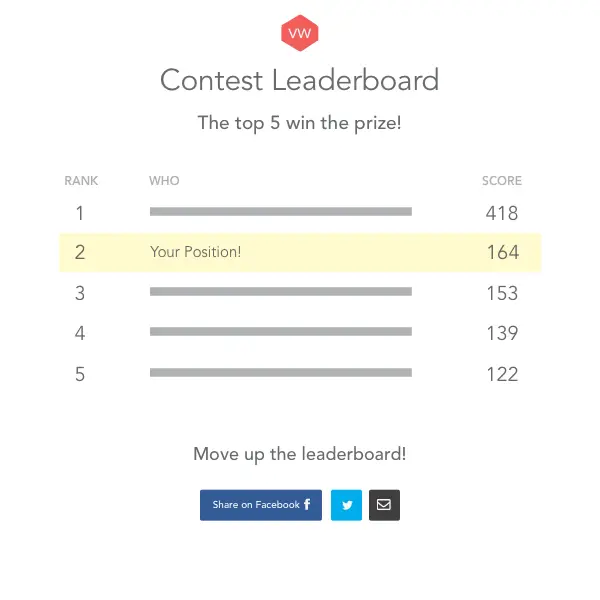 You can also combine these options based on your goals. For example- if you are launching a new product, you would choose a waitlist. But if you also wanted to go the extra mile and have leads earn small prizes/coupons/downloadables for coming back and completing actions such as referrals, you would add an unlock rewards mechanism in the editor once you have created your waitlist page.
Take the quiz to see what contest is right for you!
Set some goals
To choose your best fit, you will need to have some goals established first. Decide what results you want to see the most throughout your giveaway. Choose 1-3 of the most important aspects of your brand that you want to grow and align the template with that decision. So if your most vital priority is an influx of social followers, you align with a Lead Magnet. If you also want to see purchases to your online store, add in online purchase tracking to your template. If you want to promote excitement for a new product, grow your email list, and also add a little competition, choose a waitlist sweepstakes and add a leaderboard, and so on. 
What waitlist type is right for you if you have a new product or business? 
If you haven't launched your new product or company yet and are planning some growth before then, building your audience from small or even zero- a waitlist will best suit your needs. Waitlists can have many variants within them to create the results you want. Here are some of the motives you may have with your campaign:
Simple start:
With a general waitlist you can have your page up and running within the day with a standard waitlist template.
You don't need a prize yet, just the idea of the product you are launching to at least have some context, images, and marketing material.
You will be able to gauge interest for your company/product with minimal upfront effort while gathering an email list.
Prelaunch to Crowdfunding a Physcal Product 
If you choose amreward levels wailist - your top X amount of leads can earn something simple such as early bird access to your new product or a discount code to encourage participation in an affordable way.
Discounts and coupons can be added for reward levels by earning points through actions you set. For example, if you want to draw attention to viewing your blog or website, make that an action worth points to encourage engagement with incentives.
Learn how Travlwear successfully funded over $95,000 after amazing KickoffLabs Campaign!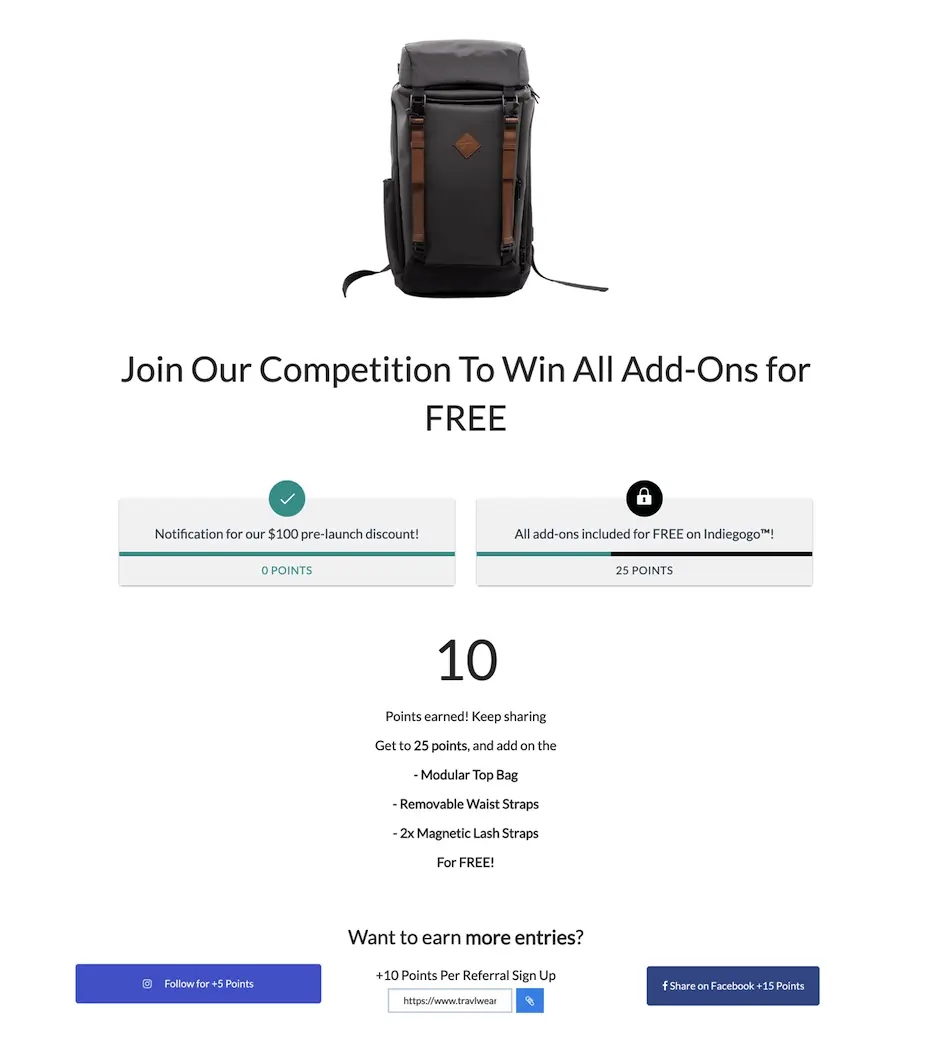 Virtual Product (crypto / NFT / Game / Community) 
A great choice would be to add in some competitive aspects. Choose a waitlist with a leaderboard to create a fun and engaging competition for your audience.
Leads have a chance to move up the leaderboard by completing actions you set and by getting referrals while also having a practical chance of winning something. 
Listen to this podcast to learn how Grizzly.fi gained 50k+ leads using a leaderboard waitlist for their virtual product.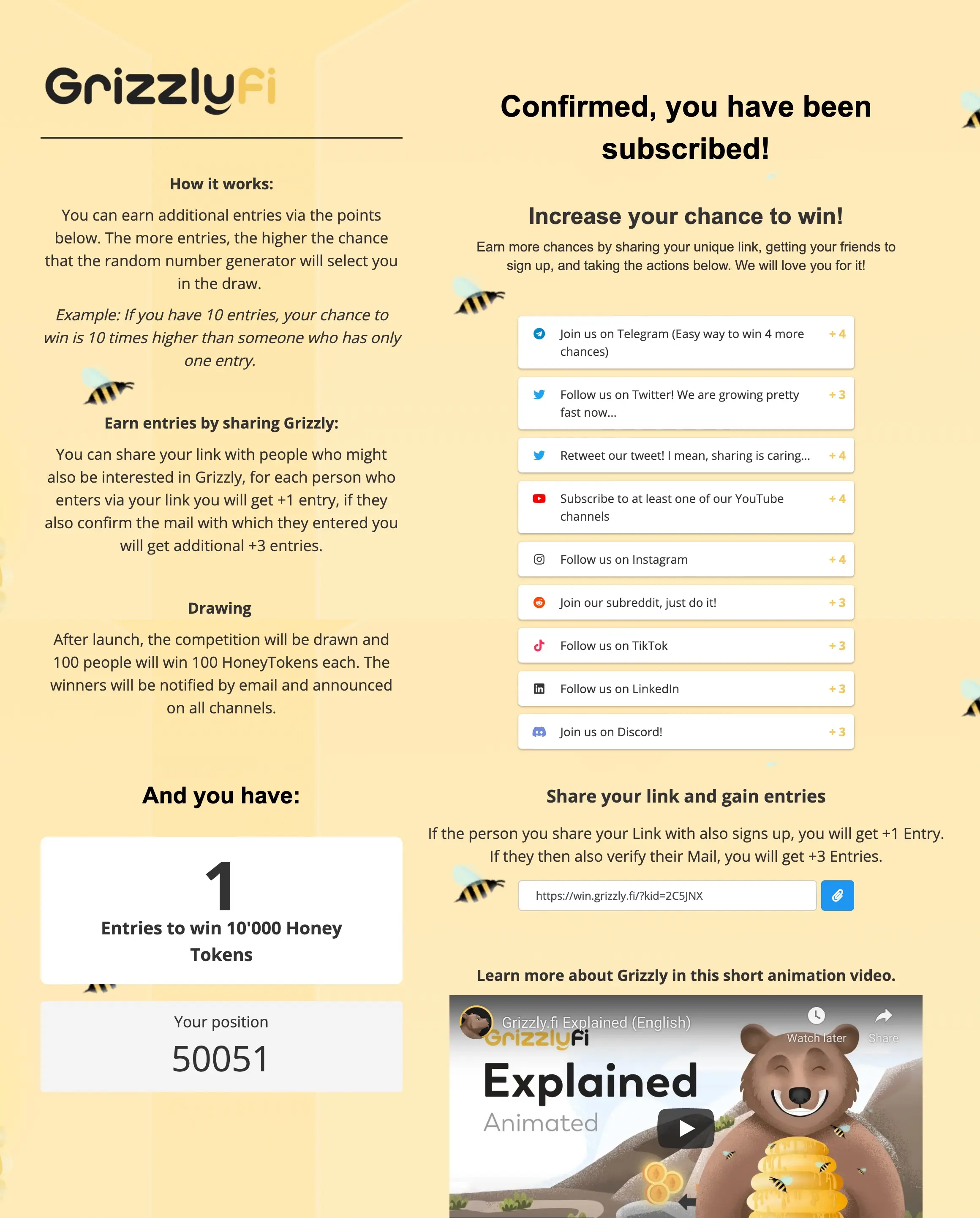 App or Community Launch 
Sticking with a traditional waitlist or a sweepstakes if you have prize that would appeal to a large set of the community would be ideal for this type of launch. You can combine with leaderboard style for a more competitive aspect if this aligns with your company and product or keep it simple. 
Store Launch
Keep it simple with a sweepstakes waitlist. You want to engage your audience, create a buzz, and inform leads of important dates and product information- stay focused on these goals during the creation process.
To be egalitarian - add reward levels so winning prizes can ba attained by anyone. This can sometimes be more enticing for engagement with your actions. This option is more effort in the long run for reward distribution, but is a great option to encourage lead generation. Rewards can be as simple as coupons or small products/store credit. 
What type of contest is best for an online store?
Storefront
Sweepstakes are a great option to grow your brand in-store (whether in person or online). It is simple and can be created in a day. Sweepstakes entice with the idea of chance and a big prize- this is especially valuable if you are looking to boost an email list. If you choose to increase the level of effort on your part, you can add rewards levels for leads to unlock from completing actions. Purchases can also be tied to actions so entrants get more entries for money spent or referrals.
Community
Sweepstakes are an encouraged option for growing your community. Again, this is a simple option where other mechanisms such as purchase reward levels can be added for different results. You will need to make your actions focused on community group- things like joining your Facebook group or checking out your Instagram.
A Sweepstakes is a great move to grow your online community, especially if you have a prize that directly relates to your audience. Listen to how Haugen Racing was able to grow by 14.5k leads after a KickoffLabs Giveaway.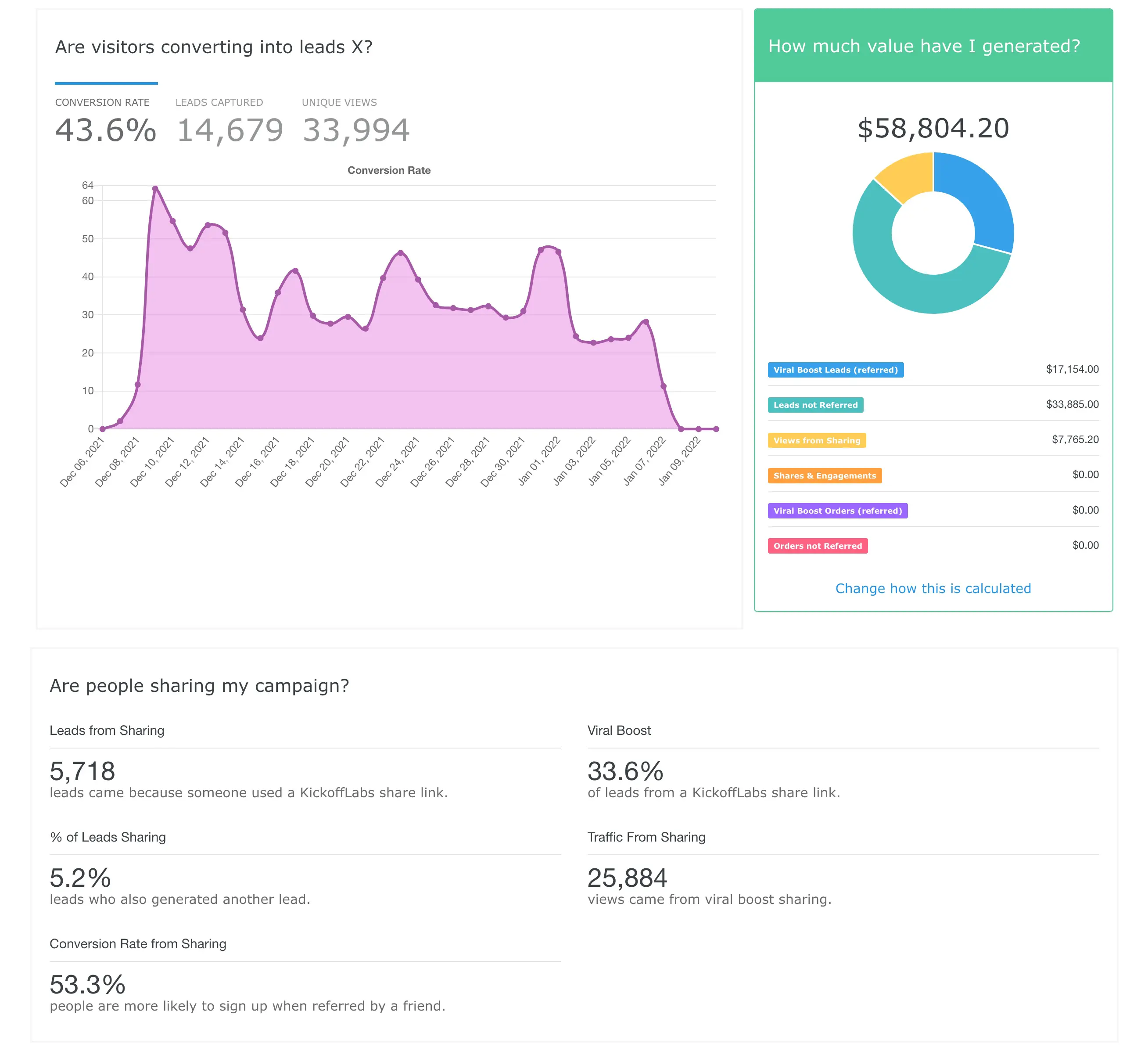 What type of contest is best to promote my mobile app?
You already have an existing app that is not live yet: if you are looking to generate leads and a list of users to exclusively let in- a waitlist would suit you best. You can also have leads sign up and join the wait to receive rewards like early entry, exclusive deals, and free resources. This way you can gather emails and leads while also promoting your app.
You already have a successful app: if you ate looking to give away a fun prize to thank users or generate conversation and boost app downloads- a simple enter to win sweepstakes is perfect. Have leads enter to earn your big prize. Adding an unlock rewards mechanism could also be beneficial to encourage action taking.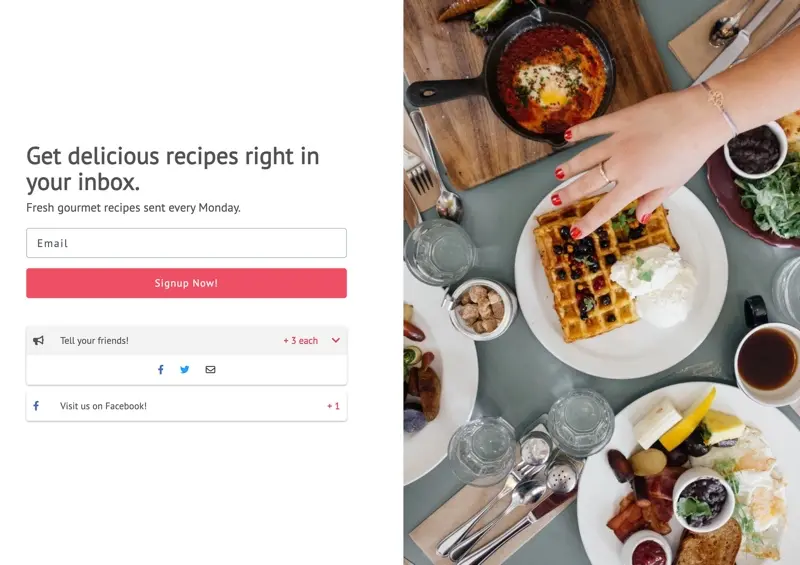 After your giveaway ends, you can even keep your contest box into an email opt in pop up to encourage continued lead generation.
What type of contest is best for promoting my Kickstarter?
To hype up your audience's anticipation and participation, a waitlist would be a great place to start. To add a little bit of competitive nature- opt in for the leaderboard. In this case you want to highly encourage engagement and discussion about your business in order to draw new leads to your kickstarter.
Check out a Kickstarter success story from a waitlist campaign by Swingly toys: How A Waitlist Campaign Helped Swingly Toys Raise $17,000 on Kickstarter!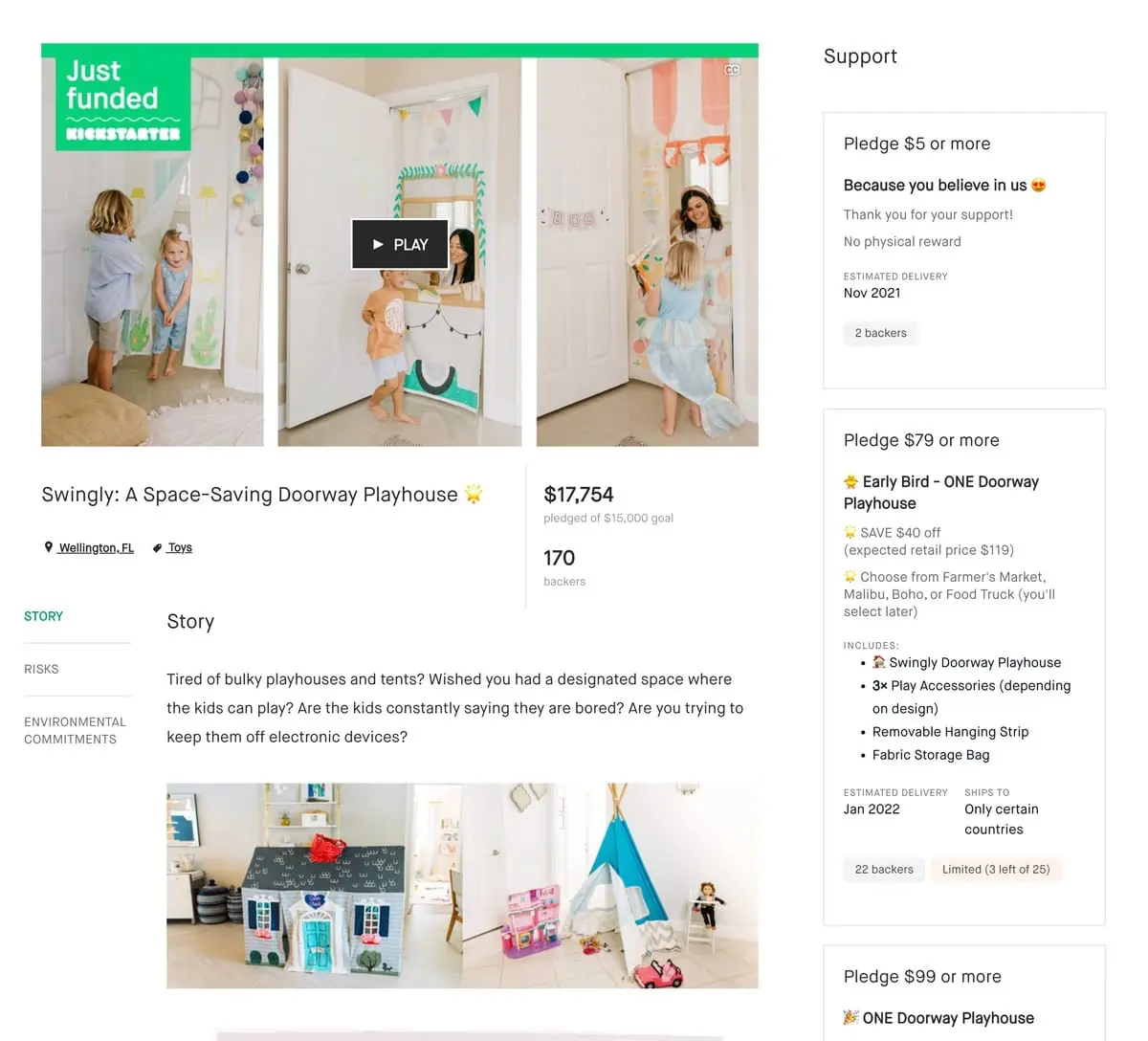 Final Thoughts
There are plenty of reasons to launch a KickoffLabs giveaway and lots of different ways to design your dream contest. The best way to get started is to choose one of  our templates based on these guidelines, start simple, and add on from there if other actions best suit your goals.
We recommend scheduling a demo call to learn more plus get some immediate assistance on picking the best contest type for your business. Our support team is also available to help you or even look at your current page and give you specific advice! Reach out to support@kickofflabs any time.