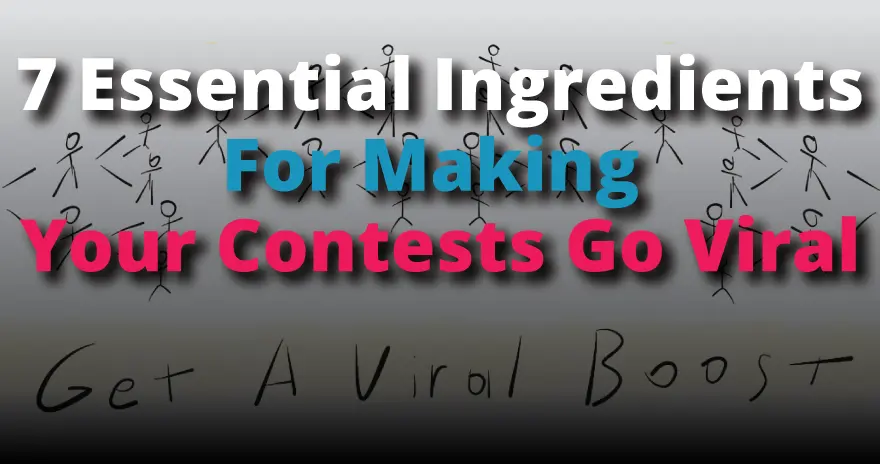 As of late, it seems as if every company and marketer's dream is that their campaign will magically catch a viral wave and the content will flood users screens.
Newsflash! In the online world, things don't work that way.
It's not as simple as the old "build it and they will come" motto anymore. Nowadays, smart companies and marketer's know the importance of effectively getting content in front of the right audience. But if you want to potentially reach a larger audience, you need to architect virality…
Virality Is:
When every person that signs up refers a group of friends that also sign up, who in turn refer their group of friends who also sign on, and so on… Every new series of signups gets larger and larger. It's the forever sought after hockey stick of growth.
The exact reason for this extreme sharing? Well, for each piece of content there can be many variables involved, but all viral content has shared qualities.
The real truth is that there is a formula to creating campaigns with the potential to become viral.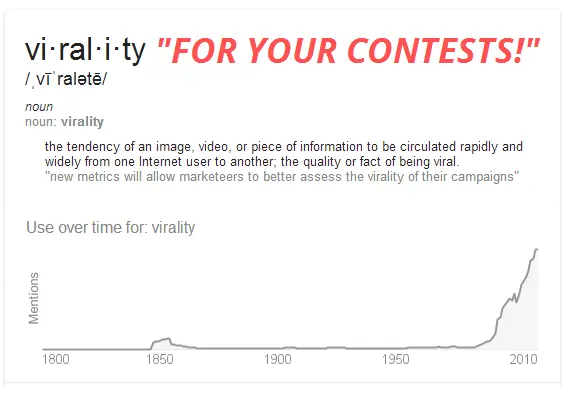 So how can you create a viral contest?
Continuing with our contest education series, I'll be showing you how-to infuse your contests with the different viral elements to get the ultimate signup and sharing boost!
If you happened to miss our previous Part 1: How To Create Contests That Boost Revenues – 7 KickoffLabs Customer Case Studies, Part 2: The Ultimate Guide To Using Autoresponders For Contests & Sales, or Part 3: Step-by-Step Guide on How To Create & Run Successful Online Contests. Be sure to check them out for more actionable advice on running successful contests that convert.
So now let's begin diving into those secret viral ingredients…
Viral Sauce #1 – Answer the "What's in it for me?"
Answering the question: "what's in it for them?" is the first step in capturing people's attention and building virality into your contest. Explicitly describing the prize that they'll have a chance at winning is your way of enticing people to enter.
Offer an irresistible prize that plays to the needs of your audience. Sure, you can give away some off-the-shelf prizes to allure unqualified leads into entering. But if you offer your audience something they truly desire, odds are people will be more willing to enter and talk about the contest with their friends.
It goes without saying that people's attention spans have dropped significantly online and are extremely forgetful. Make sure the prize is both highly desirable and memorable.
The key advice here is to make your contest attractive specifically to your target audience.
Viral Sauce #2 – Create the illusion of scarcity
People dislike missing out on things or events, especially online. Which is why a lot of people have their mobile devices almost plastered to their faces. There is a constant "fear of missing out" (#FOMO) on things that interest us. And it sucks when we don't get a chance to enter an awesome contest or giveaway.
This is exactly the kind of behavior we're looking to leverage for our contests… How?
a) By clearly indicating the contest start and end dates. You can even try using a contest countdown timer to give an added visual trigger of the when the contest will be closing.
b) Letting people know how many prizes are being given away or if their chances are increased by sharing.
Be sure it's obvious to your visitor that there's a good chance they'll win, but they better hurry up to enter!
Viral Sauce #3 – Make them feel part of your exclusive club
People that share common interests have been flocking together since the beginning of human evolution. Which means that your potential leads likely identify themselves with certain groups of people or sub-cultures. Plain and simple, we like hanging out with people who are similar to us.
If you play on that and appeal to people that share a common interest, they'll be much more likely to sign up and share your contest with their friends.
By picking the right prize and incentive, not only will you attract the right kind of people. You'll help them feel like they're part of something special and unique.
Looking back on what Wil Reynolds from Seer Interactive recently said about creating exclusivity and how it can benefit your business: "You will get the clicks you want if you build upon cliques"… It's so true. People yearn to be a part of an exclusive club, YOUR exclusive club.
Building a community aspect into your contest will help amass the most qualified leads.
Viral Sauce #4 – Make the contest fun
Having a great prize might be enough to get people to enter the contest, however adding a sense of gamification to your contest can make the contest more engaging and fun to enter.
Even if contests have been "gamifying" content since before gamification was even a word.
Asking people to participate, for example, by uploading a picture of themselves using your product, will make them feel more involved. It also motivates them to actively interact with and share your contest.
A huge benefit in adding a gamification element to your contest is that you'll gain better insight about your audience and understand how your customers are using your product or service. We all know that every opportunity to learn about your customers is worthwhile.
Keep in mind that gamification might not work in all contests. Looking at our customers past contests, it seems to indicate that some contests perform better with a simple, one step sign up process. Generally, it depends on the knowledge of your market and takes some experimenting with contests to get find a good balance.
Viral Sauce #5 – Incentivize and reward
How do you combat the downfall to a contest giveaway with an awesome prize, which people may not want to share with friends in order to increase their odds?
Give them the motivation to share!
A lot of our customers, for example, leverage a mechanism that rewards people for sharing. The reward could be a discount for anyone that shares with three friends or simply a contest "the most shares wins X".
The chance to win a prize shouldn't be the only thing they're getting in exchange for their email address and referrals.
Viral Sauce #6 – Introduce the Viral Loop
Today, when competition is steep, you need people spreading the word for you in order to expand reach and boost credibility. This is where virality really kicks in.
a) Adding social media share buttons on the contest and confirmation pages is a must and will help lead your contest to a viral effect. Ideally, you'll personalize the share message and it should also be super easy to share.
b) Hone in on your influencers and let them know how much you appreciate them. Taking the time to discover and thank those people who are sending you larger numbers of traffic is essential to building trust from your audience.
These are the people that are not only going to actively share, but tend to be friends with others that share common interests. Sending you highly valuable referred leads, which have a higher conversion rate than those who are non-referred.
Let these people know how much you appreciate them for entering and sharing. Influencers are vital to your contest success!
Viral Sauce #7 – Continue the story
When marketing researcher at the University of Pennsylvania and viral scientist, Professor Jonah Berger asked the question "What makes ideas viral and products spread contagiously?", he uncovered that stories were the content most likely to be shared.
People love reading about (and sharing) stories. If you want people to talk about your contest and your business, you've got to give them something worth talking about.
It's just that sometimes there's just not enough space (nor should you be crowding your page with copy) to give the complete story.
Use this as a chance to further engage with your contest entries via email and newsletters to talk more about the contest and your business.
Give them something they can easily talk about with their friends to remain top of mind during and after the contest.
Conclusion
Most people love entering contests. But sometimes, even after following our advice, you might not get the response you intended. Just remember that not everything cool goes viral. For everything that "goes viral" there are thousands of other similar things that simply don't make it.
That's OK.
It doesn't mean you should stop trying to follow the proven formulas.
It might take several tries to see what works best but the people you do reach will already be highly targeted to your business. Which in itself is a win.
Plus if they're sharing, at least a little bit… if, for example, every person that signs up brings 3 more people… that's a 30% boost you didn't have before.
With past KickoffLabs contests, for example, we've seen an average of a 35% "Viral Boost". That's 35 more leads for every 100 you had to bring in the hard way!
Try applying any or all of these viral tactics to your contests and see what kind of RESULTS YOU GET.
Thanks for reading and all the best in your contest success!
-Josh Ledgard, Co-Founder of KickoffLabs