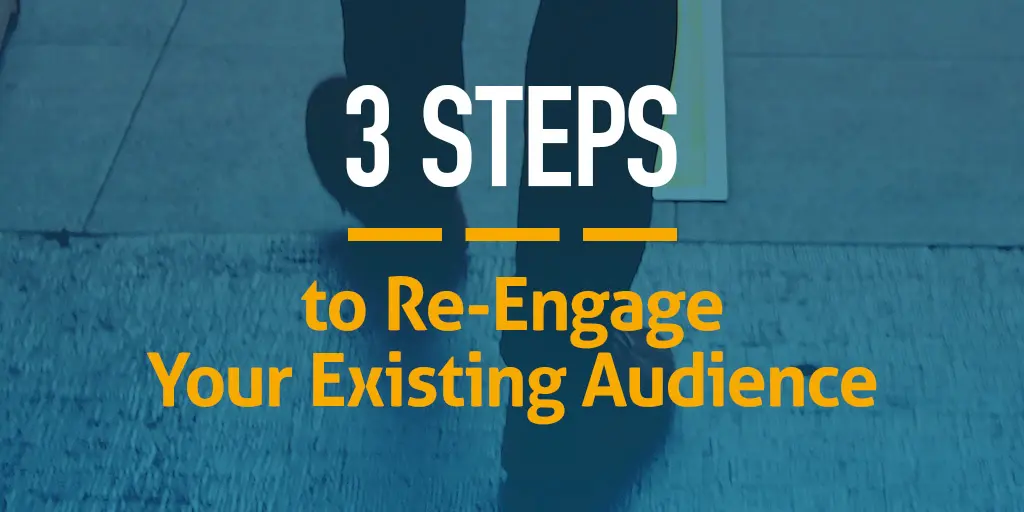 Hey, does this sound familiar? You have a great blog, product, or service that people are actually excited about. They subscribe, they download, they buy, and you couldn't be more thrilled. Then this happens:
Crickets. An orchestra of them. Too bad crickets aren't part of your demographic.
So many of us are passionate about getting subscribers or customers. It's an intense numbers game to get to 100, 1000, and beyond. But not enough thought is put into a retention strategy. Have you thought about what to do with your customers after they sign up to your email list?
When you don't have a retention strategy in place, here's the result: You end up with a lot of people on your email list who just haven't clicked the unsubscribe button yet.
I know that's harsh, so let's chase it with some good news: you can actually re-engage your audience. And you're in a good position to do so because this group of people have already expressed interest in your brand. Even more good news: You're about to learn exactly how to woo your audience back, in three doable steps. Let's get started!
Be sure to download our list of resources for re-engaging your existing audience! 
1. Email Remarketing
You do have an email list, right? Great, so let's make it work for you. The reason that people subscribed in the first place was because you piqued their interest. Maybe you offered weekly emails about the latest happenings in your industry, or you created an email course on how to use your product. Did you offer a promo code or a free ebook in exchange for their email? Did they sign up for your webinar or a contest?
Why did they join your list to begin with?
Once you answer that question, you can then plot a course for re-engagement.
An unbelievably common mistake that a lot of brands make is sending unfocused and untargeted emails. We'll talk more about segmenting in the next step (spoiler alert!) but it's so crucial to rectify this error: you need to send email that is highly relevant to your audience or they'll just ignore you.
Let's say you're a photography coach. You run a general blog that talks about all things photography. You have a landing page for your free email course teaching beginner photographers how to use their DSLRs. You have a second landing page to advertise your master class for advanced photographers who want to beef up their digital presence. Now, you have three different email sign ups for each segment. So why send everyone the same email?
In this example, sending an email with tips on how to choose the right camera lens may benefit beginner photographers, but what about those advanced photographers on your list? They won't click, they won't engage, and if you send too many irrelevant emails, they'll eventually unsubscribe.
This is why you need to send targeted emails to each group.
What if you don't know who subscribed for what? It's okay, all hope is not lost. Here's what you do: send out an email to your least active subscribers and ask them what content they'd like to see from you. If you use MailChimp, you can actually locate disengaged subscribers by their member rating.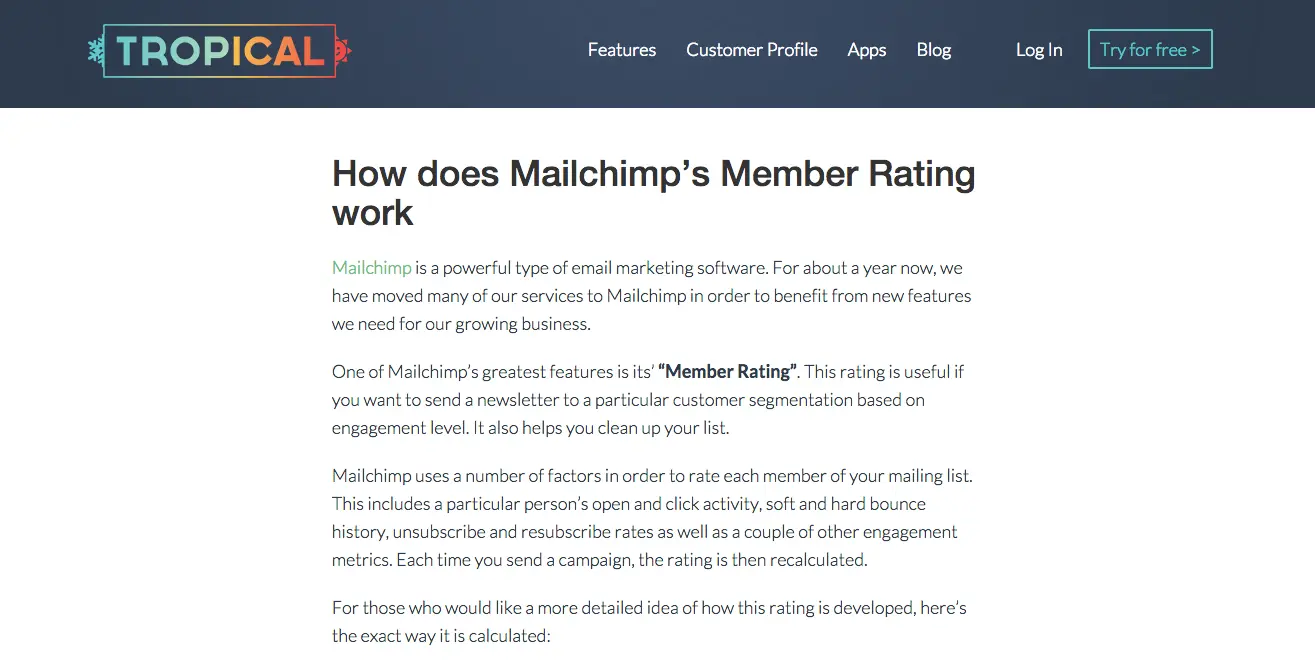 In this email, you can also send a survey with options for them to click. Here's a suggestion on how to craft your email:
Hi John,
Just checking in. It's been awhile since you've visited. Is there anything I can help you with when it comes to ?</span>
Your feedback is very important to me, and I want to make sure that your experience is a good one.
So, what can we help you with?
Looking forward to hearing from you,
Your Name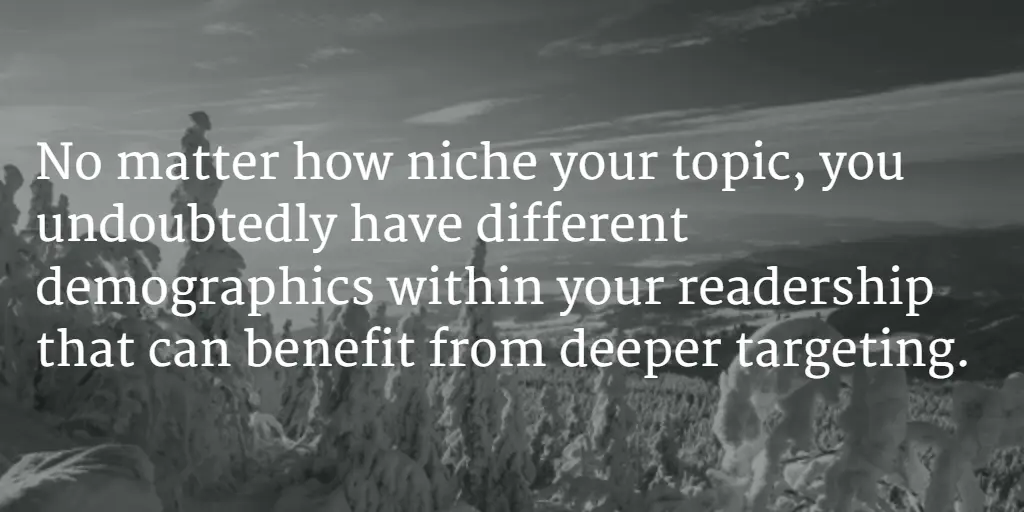 2. Segment
Segmenting is what separates the newbies from the big players in every industry. No matter how niche your topic, you undoubtedly have different demographics within your readership that can benefit from deeper targeting. Whether you're focusing on millennials or baby boomers, just-browsers or repeat customers, you need to put people in groups and then target the heck out of those groups.
Zapier has a brilliant guide on how to segment email lists for more opens, click-throughs and conversions that you should definitely check out.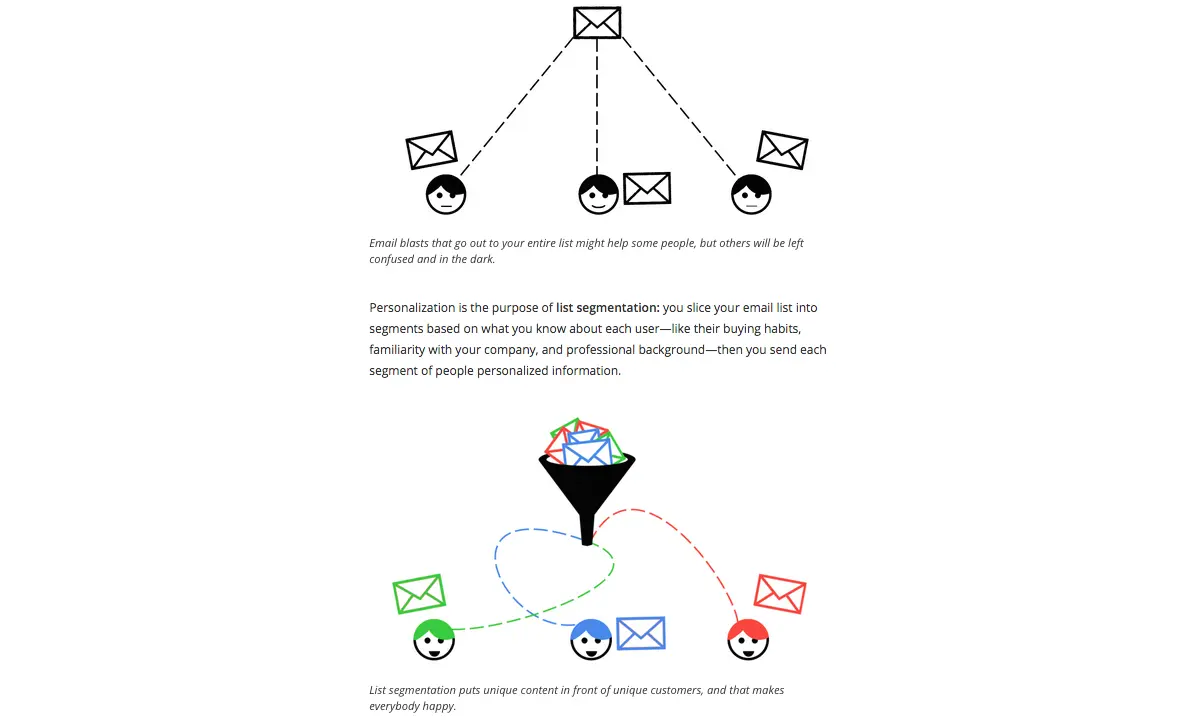 Not sure how to segment your list? Here's a few suggestions:
Demographics (age, gender, income, location)
Offer type (which offer did they sign up for?)
By user activity (what types of emails, if any, have they clicked on in the past?)
Once you segment your list, create emails that speak to each group directly, instead of generally. Let's say you're targeting millennials: make sure that your email focuses in on issues this group may face in relation to your product or service.
A newsletter sent from a dietician to its millennial segment may stress the importance of establishing healthy eating habits when young. But that same newsletter sent to a senior citizen may seem cruel and mocking. You don't want to offend by sending untargeted emails. Give every group the targeted information that they need to succeed.
3. Contests & Giveaways
Looking for a guaranteed way to re-energize your audience? Create a contest! Everyone loves a freebie, especially if there's a low barrier for entry. You get bonus points for choosing a gift that's highly related to your brand, such as a complimentary consultation with, or a free download of your newest book.
You don't have to know anything about running a contest to host one that authentically re-engages your audience. That's because we've created a step-by-step guide on how to create and run a successful contest that you can find here. It's thorough but beginner friendly.
A contest can perk up your audience without much effort. Choose the type of contest you'd like to run, along with a relevant prize. Make this contest interactive. Instead of a "like us on Facebook to enter" type of contest, increase the level of audience participation with something like:
Send us a picture of you using our product and the person with the most votes wins.
This type of contest works on two levels. First, it gets people thinking about your product and how they can use it creatively in a photo entry. Second (and maybe more importantly), it prompts them to tell others about you in the process of campaigning for votes. Brilliant.
Whatever contest type you go for, make sure you choose a prize that's worth the hassle. The harder the contest, the better the prize. To paraphrase 90s supermodel Linda Evangelista, I won't get out of bed for a 5% off promo code. Don't expect your audience to be any different, especially those who've drifted into the sea of disinterested. You've got to hit them with your best shot: maybe 50% off, but preferably free, and especially in limited quantity.
Taking it back to segmentation, don't forget to target your contests, too. Not everyone on your list should get invited to the same contest. You may want to reward your most loyal audience with special and exclusive prizes that show you appreciate their dedication. But for those who've drifted away, create a contest with retention in mind.
For example, if they signed up through your free email course, create a related contest that targets this group. Next, send an email to this group of disengaged subscribers informing them of your contest: everyone who responds to your email will be entered to win the grand prize of a premium course for free.
Of course, not everyone will respond. Those who don't get deleted from your list, and those who do have been re-engaged.
Final Thoughts
Creating a retention campaign does take some strategy and a good, hard look at how to segment your audience. However, once you get the hang of it, re-engaging your audience will be a fun challenge and worthwhile reward. Keep in mind that if they loved you once, they can love you again, and it begins with these three steps.
Don't miss out! Check out this awesome list of resources to go along with this article. Download your free copy now.