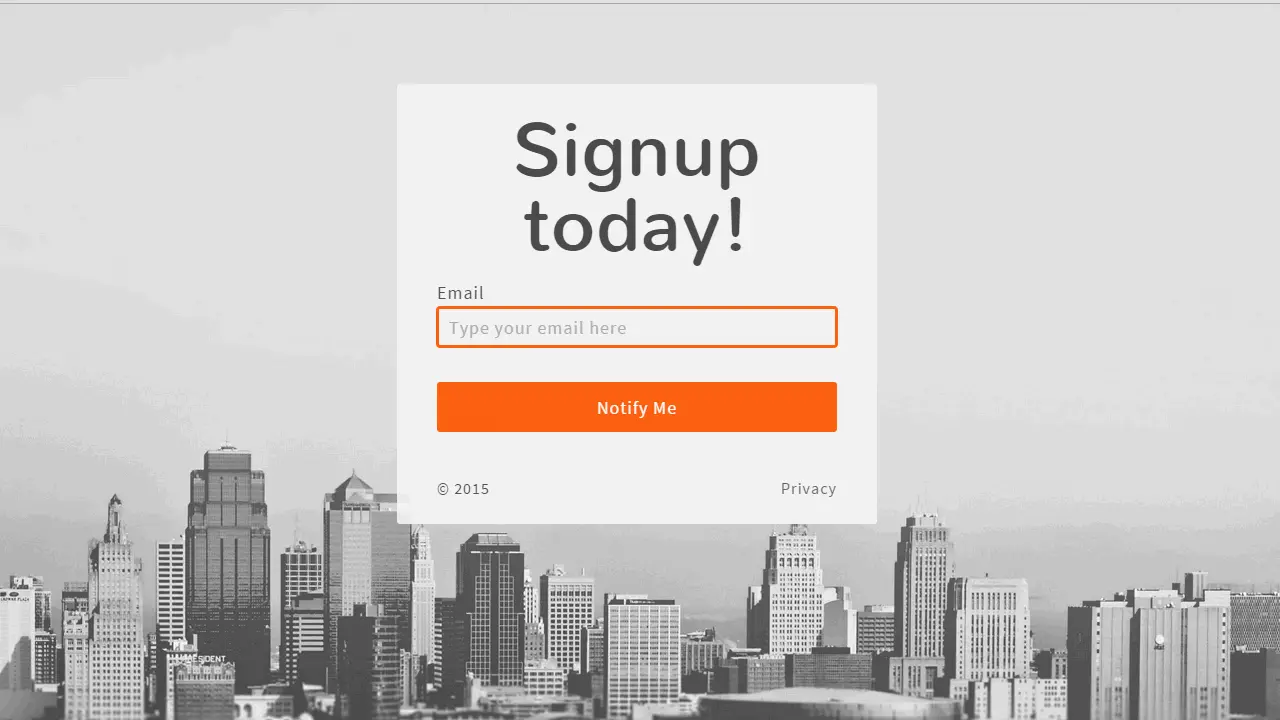 You've styled your page using conversion centered design tactics… tested landing page variations with smart A/B testing… you've even submitted your page for a free professional landing page review.
What's the next step in landing page and conversion rate optimization?
A great "Thank You" confirmation page to get more from your leads after they sign up!
Today, we're excited to announce the release of KickoffLabs new "Thank You Landing Pages" & Custom URL Redirects!
We've always had in-page thank you experiences… but now you can chain your signup page to its own, dedicated, thank you page to deliver digital goods (bribes and incentives) or to increase your campaigns virality.
Use ANY KickoffLabs landing page theme as your primary signup page, and post-signup redirect to our beautiful new thank you landing pages or to a completely different site altogether!
What is a "Thank You" Page (aka Confirmation Page)?
It's the page people see immediately after signing up on your web form.
By observing our customers campaigns, we've noticed it's severely underutilized… yet can be one of the highest converting pages in your signup funnel.
What makes "Thank You" pages so effective?
These post-conversion "Thank You" pages present a valuable opportunity for further conversion. After all, you've already guided your lead through a series of steps encouraging them to sign up, which means they are already "warm".
Psychology has proven that once someone has agreed to a small request, that person is more likely to agree to a larger request – and 52.8% will satisfy that second request.
It's the perfect opportunity to motivate new subscribers to share with like-minded friends and increase the chances of your campaign going viral.
How can you use "Thank You" pages and Custom Redirect URLS?
Here's a quick rundown of different possible ways you can use "Thank You" confirmation pages to increase your conversion rate…
After someone signs up to your email list, you can:
include links to another offer
ask them to take a survey
encourage people to share on social media
visit another interesting page with related content
Savvy companies will also use KickoffLabs built-in social referral tracking to offer rewards and incentives to people who share.
"Thank You" pages shouldn't be about trying to make a sale or trying to get another big conversion… the goal is to get your leads to complete several microconversions to help boost your results.
KickoffLabs new "Thank You" Confirmation Pages
We currently have 2 "Thank You" landing page themes to choose from (with more on the way)! These themes are completely customizable, and just as easy to work with as our standard landing pages.
Basic Thanks & Share
We would consider this our "clean slate" theme; where you can add in a custom logo, text, images, colors and more.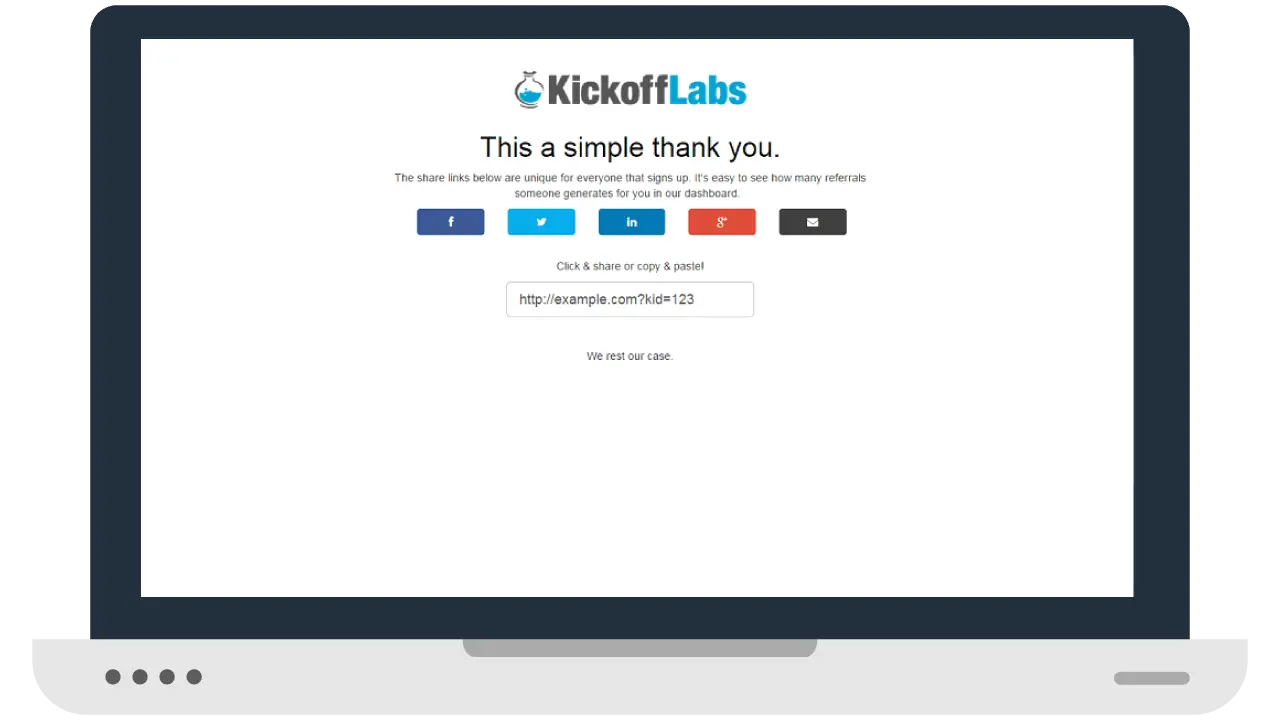 It's the perfect confirmation page to encourage sharing or for offering a free download link.
Viral Rewards & Thank You
We've had customers asking to use any of our other 40+ landing page themes, but wanted to leverage reward levels that our powerful social referral system grants them.
Our answer is this truly viral "Thank You" confirmation page: the thank you screen from our famed "Harry's Goes Viral Theme".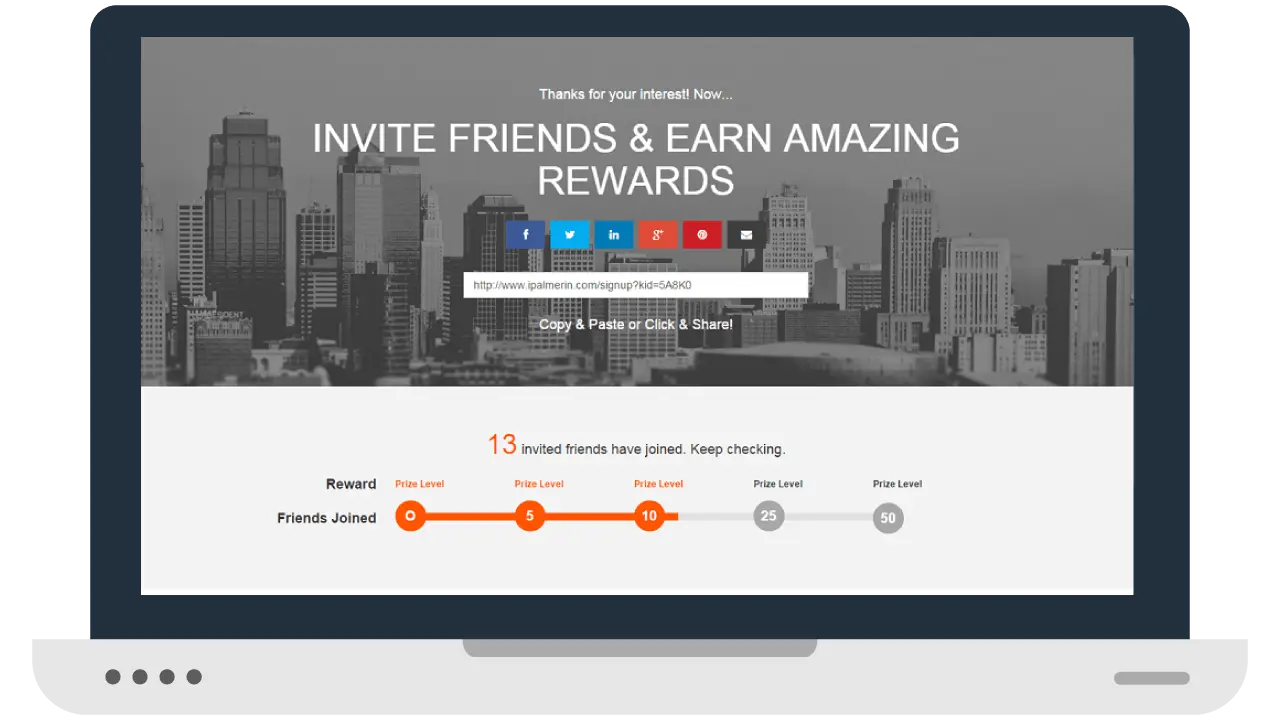 This is the ideal landing page for offering tiered rewards to people that share with friends! Add in your own custom prizes and get people sharing your campaign!
KickoffLabs Custom Redirect URLs
If you'd rather redirect your leads to another URL link after signup, YOU CAN DO THAT TOO!
Simply skip creating the "Thank You" page, and jump directly to the Primary Landing Page Setup.
"Thank You" Page Setup
In your Account Dashboard, click into the Campaign where you want to place the "Thank You" Page.

From the 'Page & Forms' Dropdown, click on 'Add New Landing Page'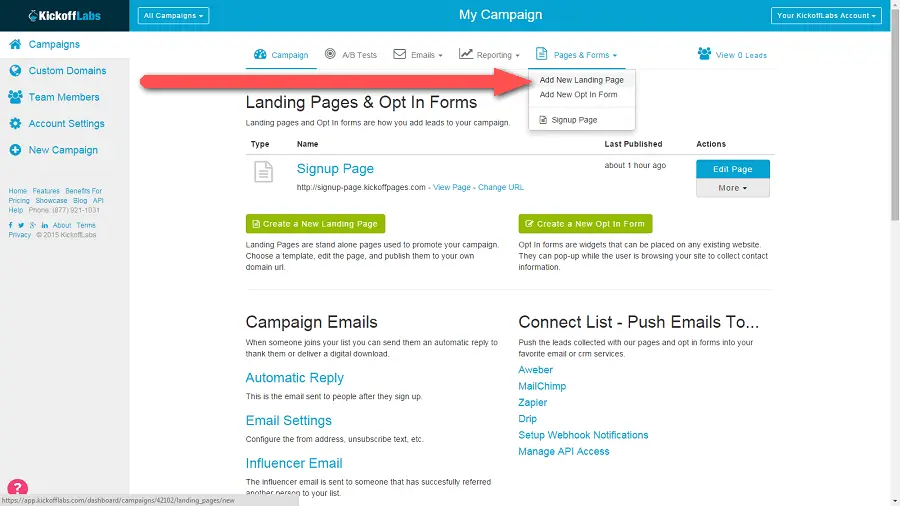 Now in the Landing Page selection screen, give your "Thank You" page a name, then scroll down to the "Thank You" pages section.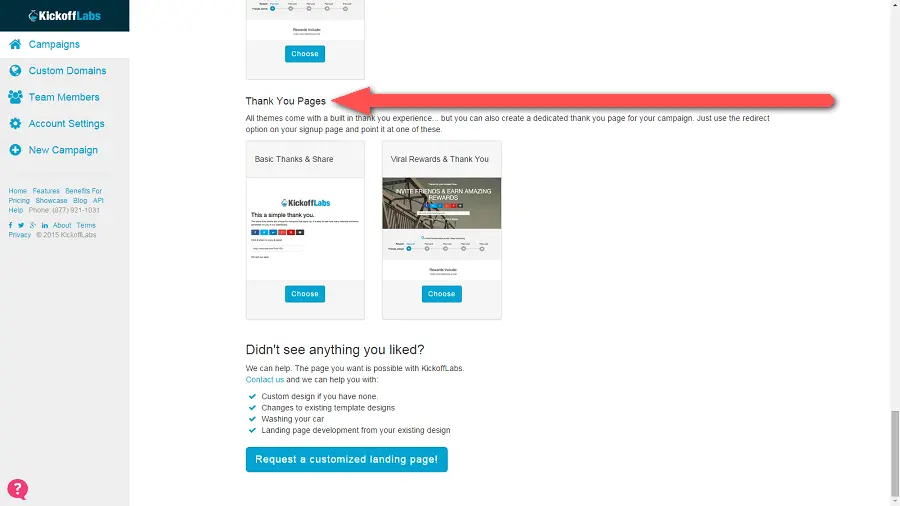 Once you've decided on your "Thank You" page, click on 'Choose'.

Now click on 'Edit Page' to edit the "Thank You" page to your liking…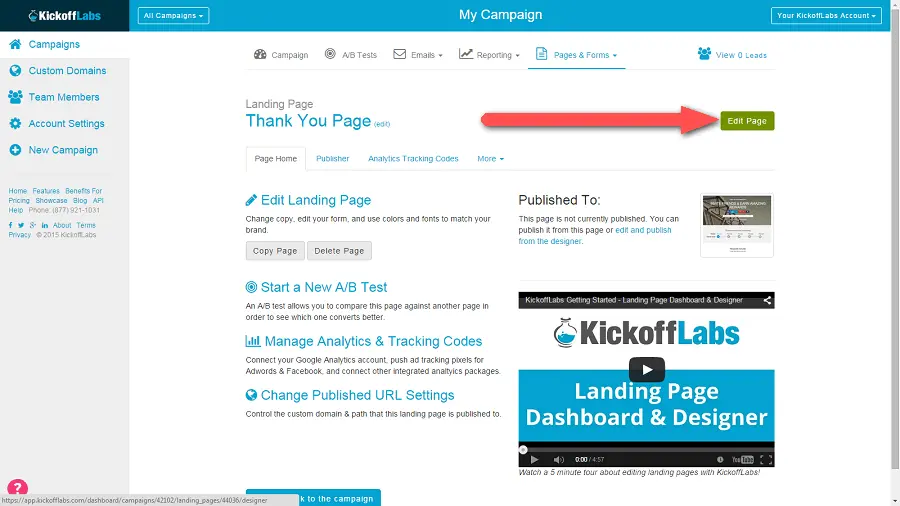 Make your customizations to the "Thank You" page… then click 'Publish'.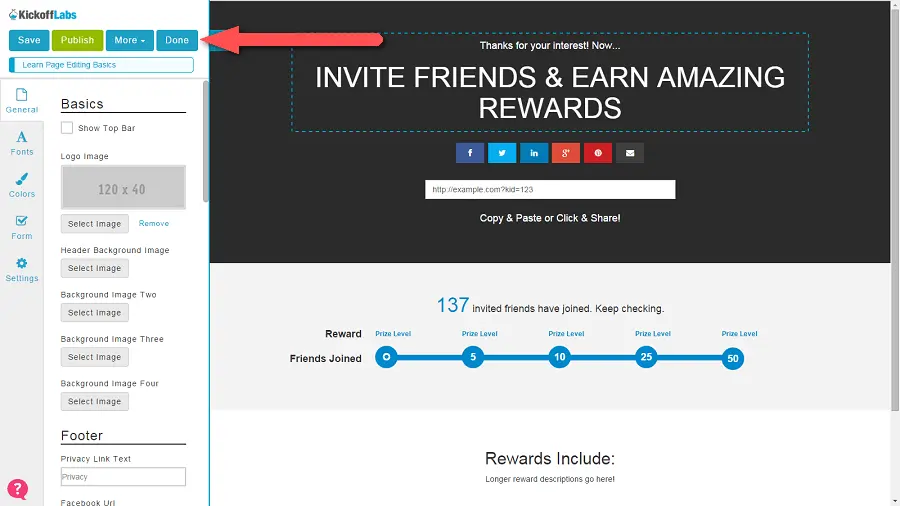 If you are using a Custom Domain for your KickoffLabs landing pages, you may want to publish as: www.yourdomain.com/thank-you … or something similar.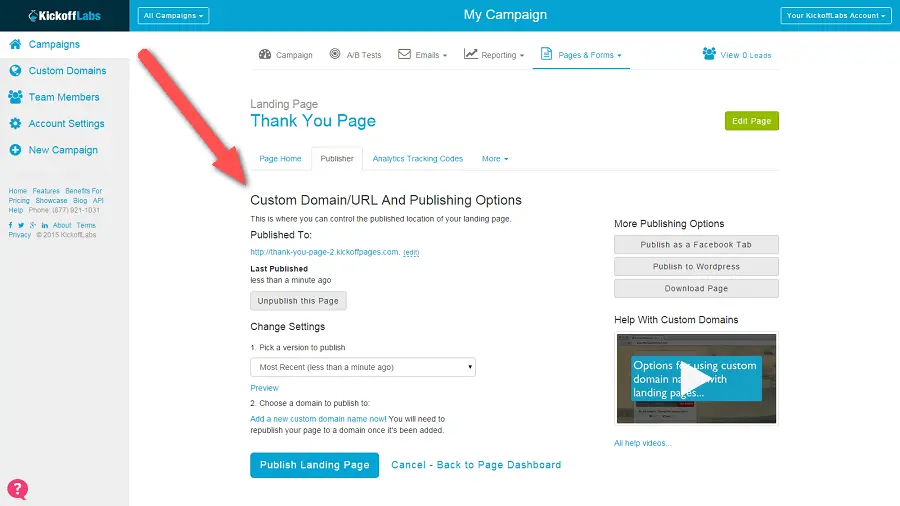 Primary Signup Landing Page Setup
Now that your "Thank You" page is setup (OR if you're setting up a Custom URL Redirect), let's configure the post-signup redirect.
This allows you to use ANY KickoffLabs landing page theme as your primary signup page and after signup, send to a "Thank You " page or Custom URL Redirect.
Click back to your Campaign Dashboard.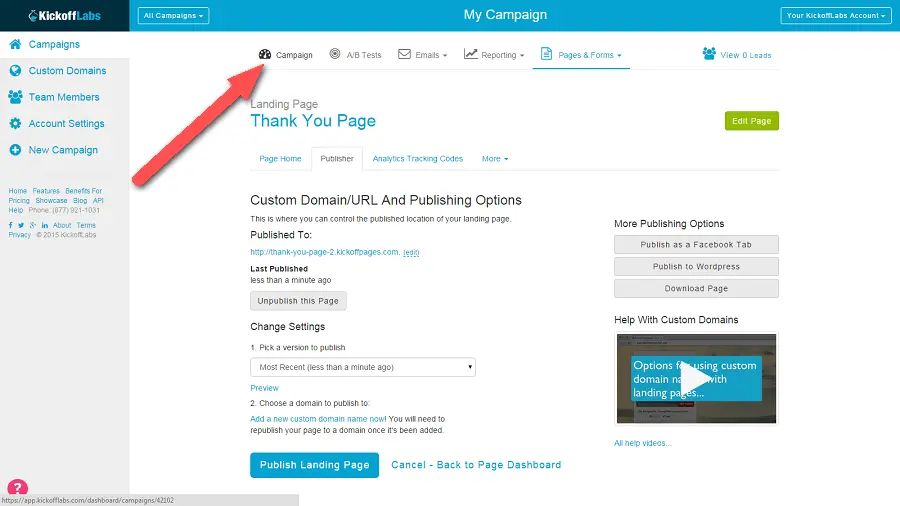 Locate the primary landing page where you want people to sign up and click 'Edit Page'.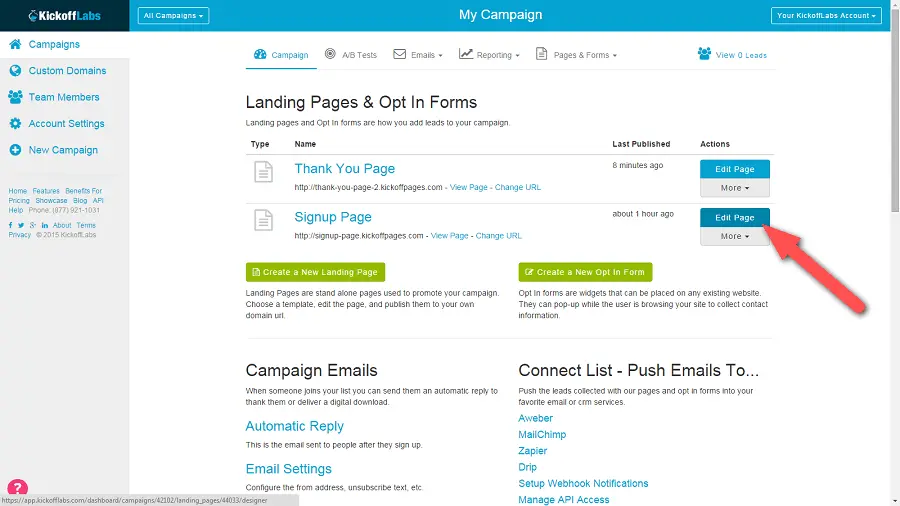 In the left hand sidebar, click on the "Form" icon and scroll down to 'Redirect Options'.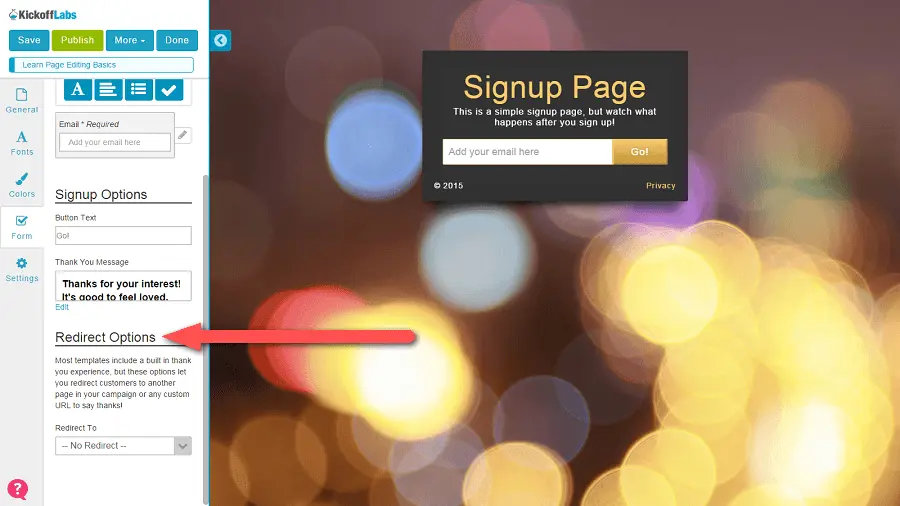 From the 'Redirect To' dropdown, choose the "Thank You" page that you created earlier.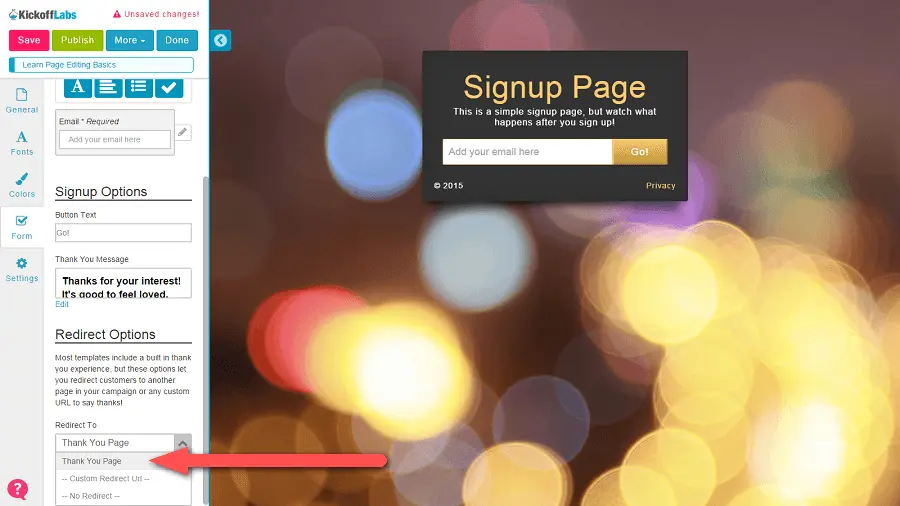 IF you want to redirect leads to another custom URL and will NOT be using a KickoffLabs "Thank You" page, choose the '– Custom Redirect URL– ' option and place the full URL to the page where you want to redirect.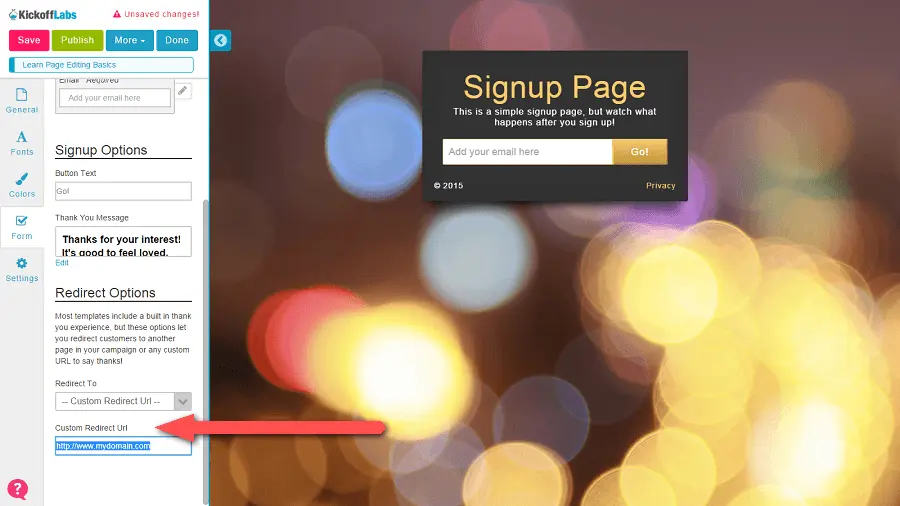 Click on 'Publish' to publish your changes and you're all set!
**How will you use KickoffLabs "Thank You" Pages and Custom Redirects to increase your conversion rates?**