Keeping your audience engaged is more important than ever, but it's also more challenging than ever. The average attention span of a human adult is less than ten seconds, and with so much content being thrown at us from every direction, attracting (not to mention holding) someone's attention isn't easy.
That's where launching a contest can help. Not only can an online contest keep members of your audience engaged, but it's a fun way to do it. Plus, it allows you to generate new leads, build brand awareness, and boost your social media following.
But we haven't even told you the best part; launching a contest through KickoffLabs is fast and easy. Want to see how simple it can be? Check out this complete guide on how to launch your upcoming contest in just ten minutes.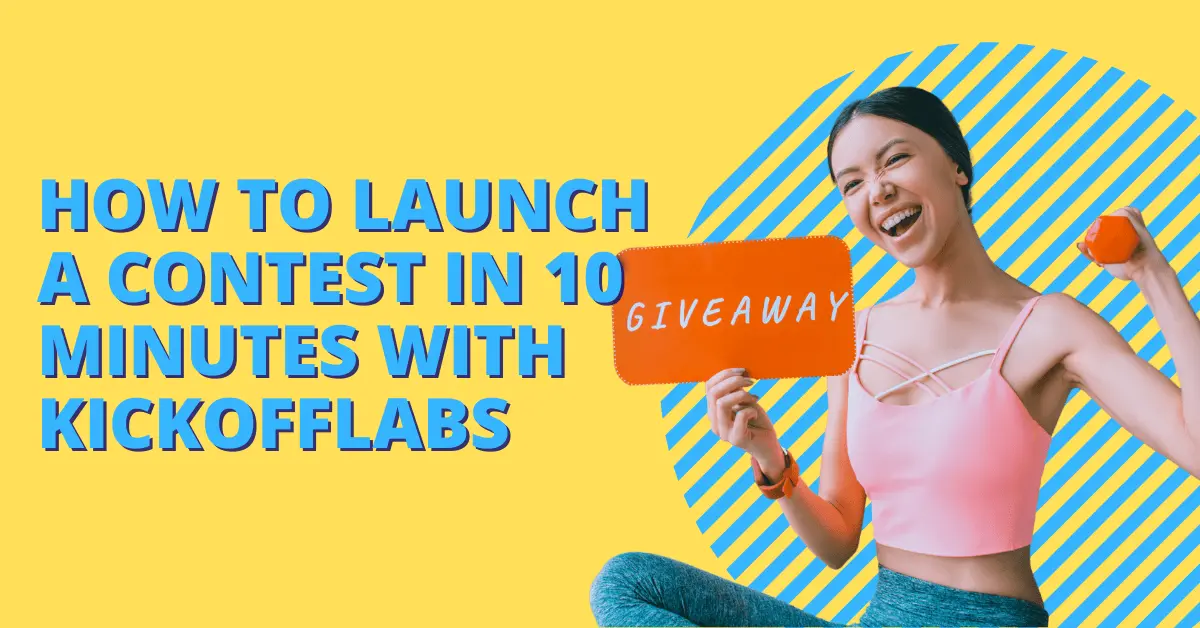 8 Steps to Launch a KickoffLabs Contest
Creating and running a successful contest can actually be very time-consuming and stressful.
At least, that's generally the case when you don't take advantage of the right tools and resources, which is why KickoffLabs focuses on keeping things simple. We do this by giving members access to tools that are easy to use, but also effective for creating viral campaigns.
Here's how launching a contest with KickoffLabs looks like.
Step 1: Create Your Free Account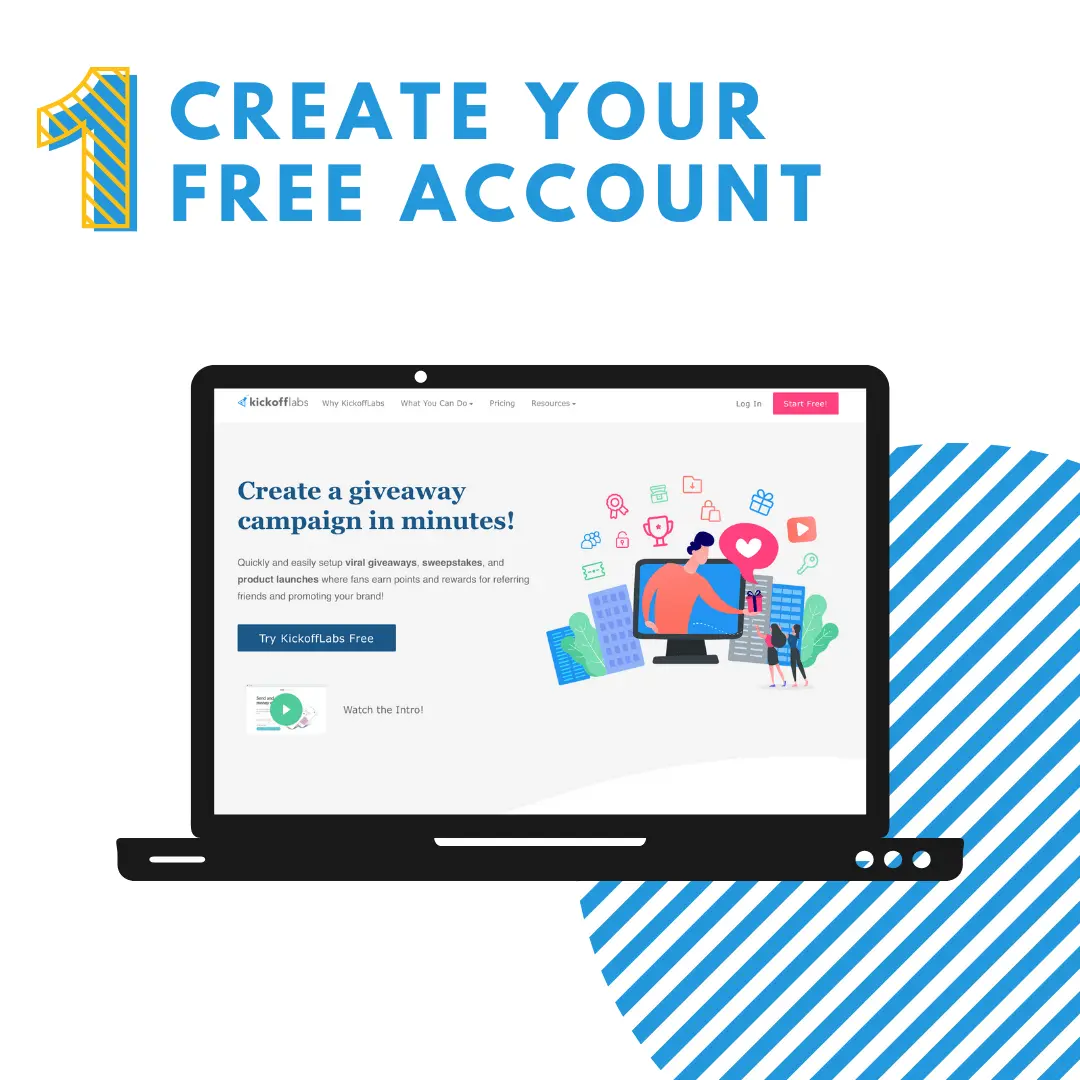 First things first, start by creating a KickoffLabs account. You can sign up instantly for free by inputting your email and creating a password - no credit card information required!
If you want to compare plans, we do offer a few paid memberships as well, which require a monthly fee. These range from $19/month for startups and contest hobbyists to $199/month for major enterprises. The Premium membership is the most popular, giving you access to features like free branded landing pages, A/B testing, reward level emails, and more.
Just think of it though. For just $19/month you'll get the opportunity to double or triple your audience. Imagine the potential an audience that big has!
Step 2: Name Your Campaign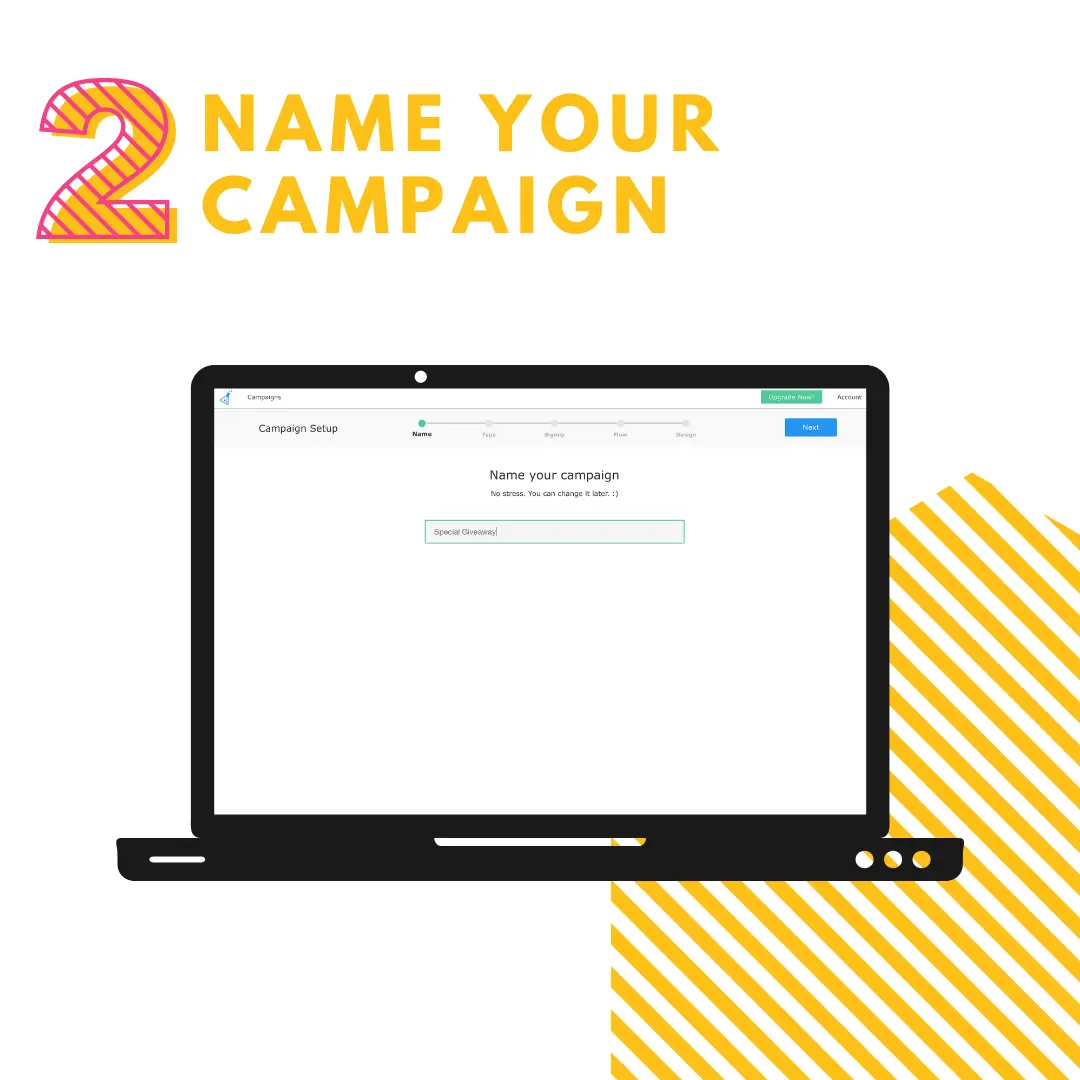 Once your account has been created, it's now time to give your contest an official name.
This should obviously be related to the contest you're running; for example, if the plan is to give the lucky winner a $50 gift card to your online store, include those details in the contest name. Something like "Enter for a Chance to Win $50" would suffice.
Step 3: Choose Your Campaign Type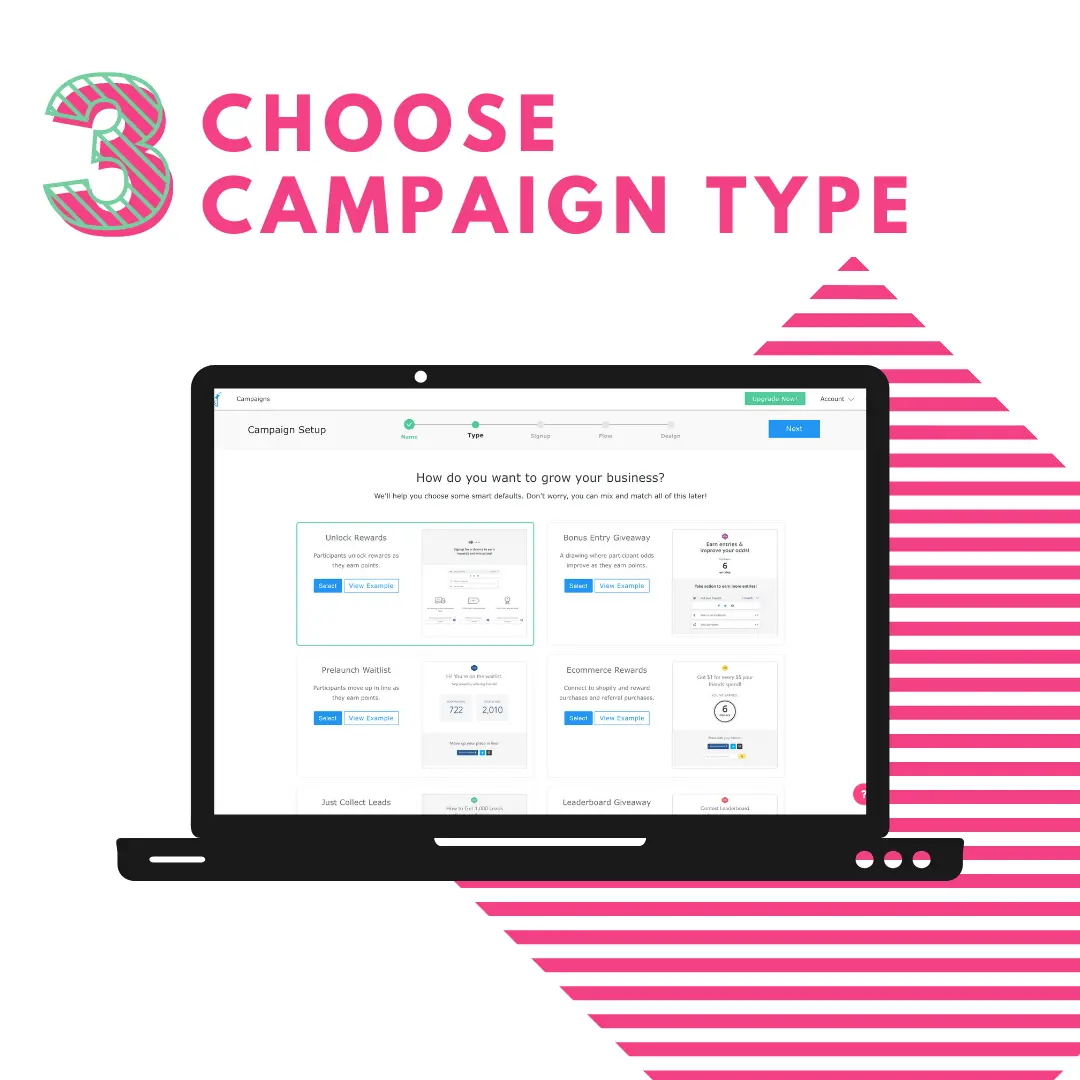 At KickoffLabs, we know that every business is different. While one business might benefit from launching a coupon giveaway, another might be better off with some type of referral rewards program. That's why we offer several different types of campaigns to fit within your marketing plan.
In terms of different types of contest campaigns, we give you options for how you want yours to run. Here's a description for each of the unique campaign types you'll have access to at KickoffLabs:
Reward Level Referrals (Single Reward): Leads can unlock a reward by reaching a single point milestone.
Reward Level Referrals (Multiple Rewards): Leads can unlock rewards by referring friends using their unique links and reaching several referral milestones.
Prelaunch Waitlist: Generate word-of-mouth marketing by encouraging people to move up the waitlist as they refer friends and earn points in your contest.
Bonus Entry Sweepstakes: Leads earn additional entries and increase their odds of winning the contest by following your brand or referring friends.
Leaderboard Giveaways: Leads earn points and move up the leaderboard by referring friends, following your brand, or taking other social actions.
Email Opt-in Bribes: Deliver a simple instant download in exchange for someone joining your email list.
Coupon Giveaway: Generate leads by giving away coupons, vouchers, and other unique codes to your fans through email replies.
Shopify Rewards: Drive purchases and commend true fans that refer buyers by giving out Shopify rewards.
So step #3 is to choose the campaign type (one of the options listed above) that will work best with your business goals and marketing plans.
If you want referrals first and foremost, go with a Reward Level Referrals campaign. If you operate a Shopify eCommerce store, the Shopify Rewards campaign might be better suited to your contest plan. If you like the idea of growing your email list, perhaps you should run an Email Opt-in campaign.
Step 4: Choose the Location of Your Contest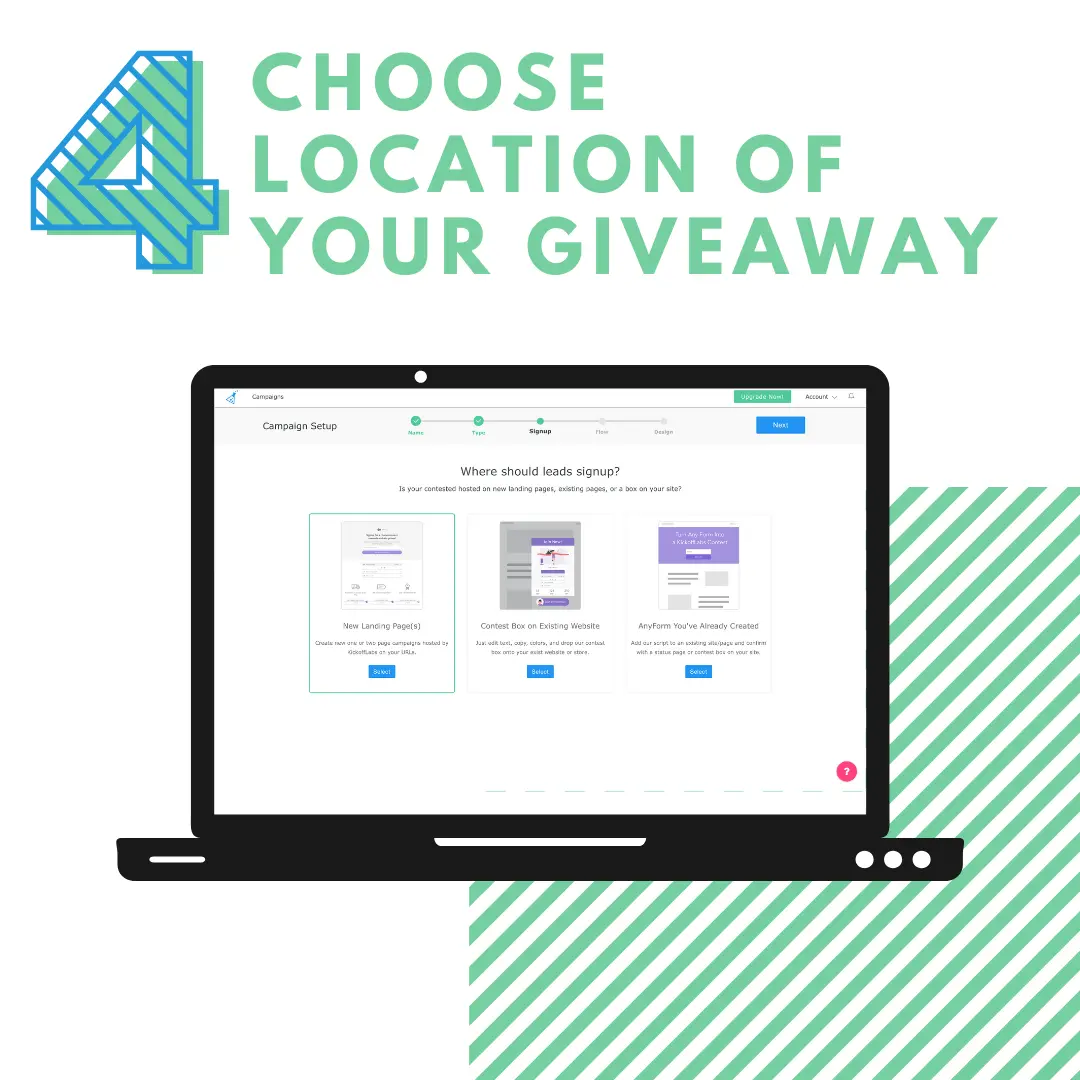 When choosing the location of your contest, we don't mean to choose the geographical destination that you plan to launch. Deciding on location means choosing where you'd like your contest to be visible in the online world.
Do you want it to appear as full-blown contest landing page or do you prefer to keep things simple with a Contest Box located directly on your website? You also have the option to go with a contest form that you've already created by using a tool called KickoffLabs AnyForm.
If your website already generates a good deal of traffic, you should be able to benefit from a simple Contest Box. KickoffLabs Contest Boxes make it possible to set up viral contests on your site in minutes without any technical knowledge of web design or coding whatsoever.
Step 5: Choose What Happens After Signup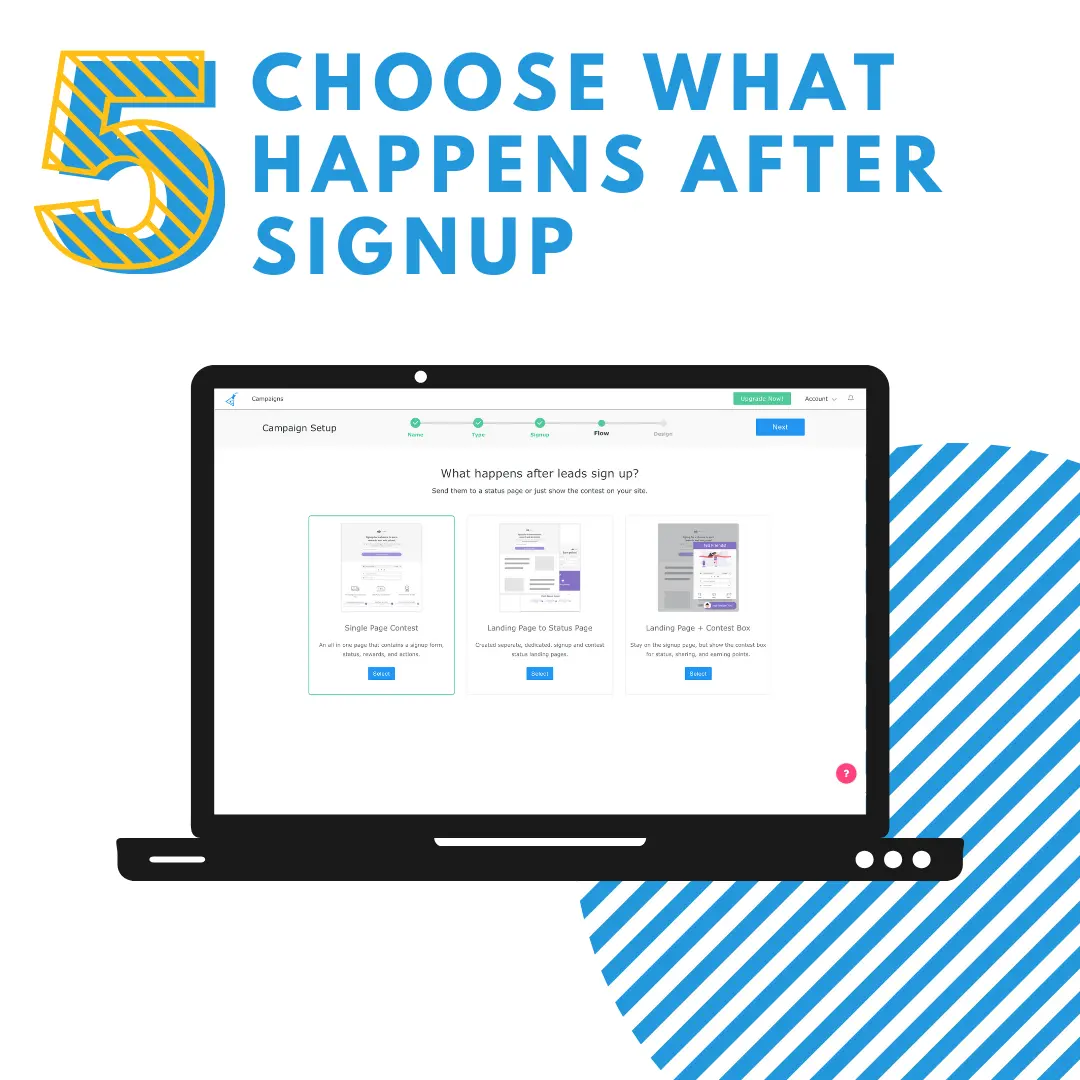 Launching a contest is like a mini project. You want to make it yours, which means personalizing it to fit what you're trying to achieve. That's why step #5 is all about determining what happens when a lead opts-in.
You can choose from:
Single Page Contest: Using this option you'll create a single page that will contain everything, from a signup form to users' status once they submit their information.
Landing Page to Status Page: With this option you'll end up with two separate pages – one for signup and the other for status.
Landing Page + Contest Box: This option is a mixture of the two above. After signing up on the general signup page, a Contest Box will pop open to display status, sharing, and earning points.
Learn more about our contest campaign modes here!
Step 6: Pick Your Template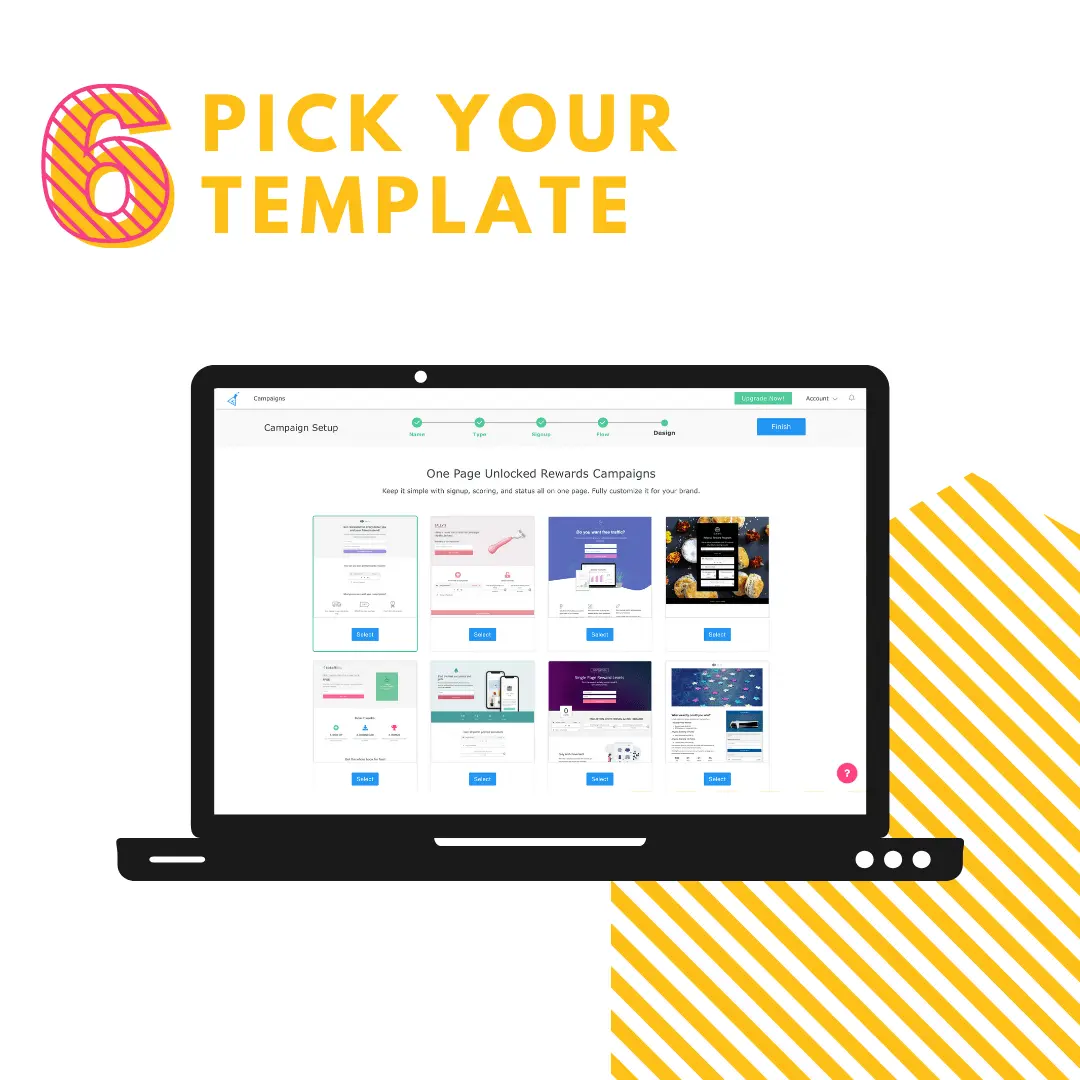 In Step #6, it's time to start designing the contest page. You can start by selecting one of our premade templates. If you want to use a landing page, KickoffLabs offers over 45 templates to choose from. These range from simple signup pages and coupon giveaways to more intricate leaderboard signups and referral rewards programs.
We even offer templates for thank you pages, so you'll always be able to thank your audience for opting in, referring friends, and signing up.
Step 7: Personalize Your Campaign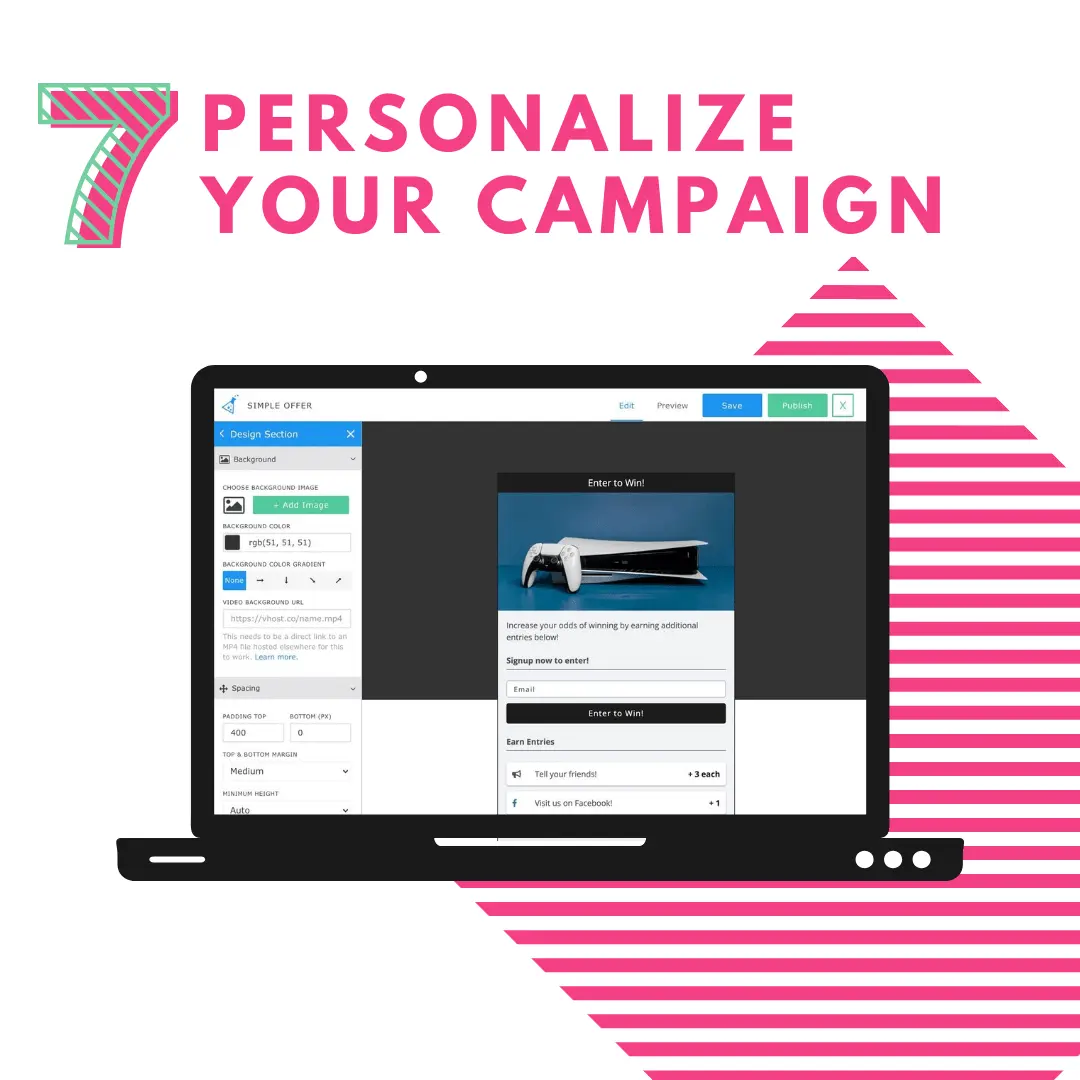 Once you've selected your template, you can easily personalize it in Step #7 using our customization tools. These tools allow you to edit text, add images, input contest terms and conditions, and more.
This is when it's time to get creative and make the campaign yours. Remember, launching a viral contest is all about engaging your audience to generate leads, so make the campaign just that: engaging!
Step 8: Start Generating Leads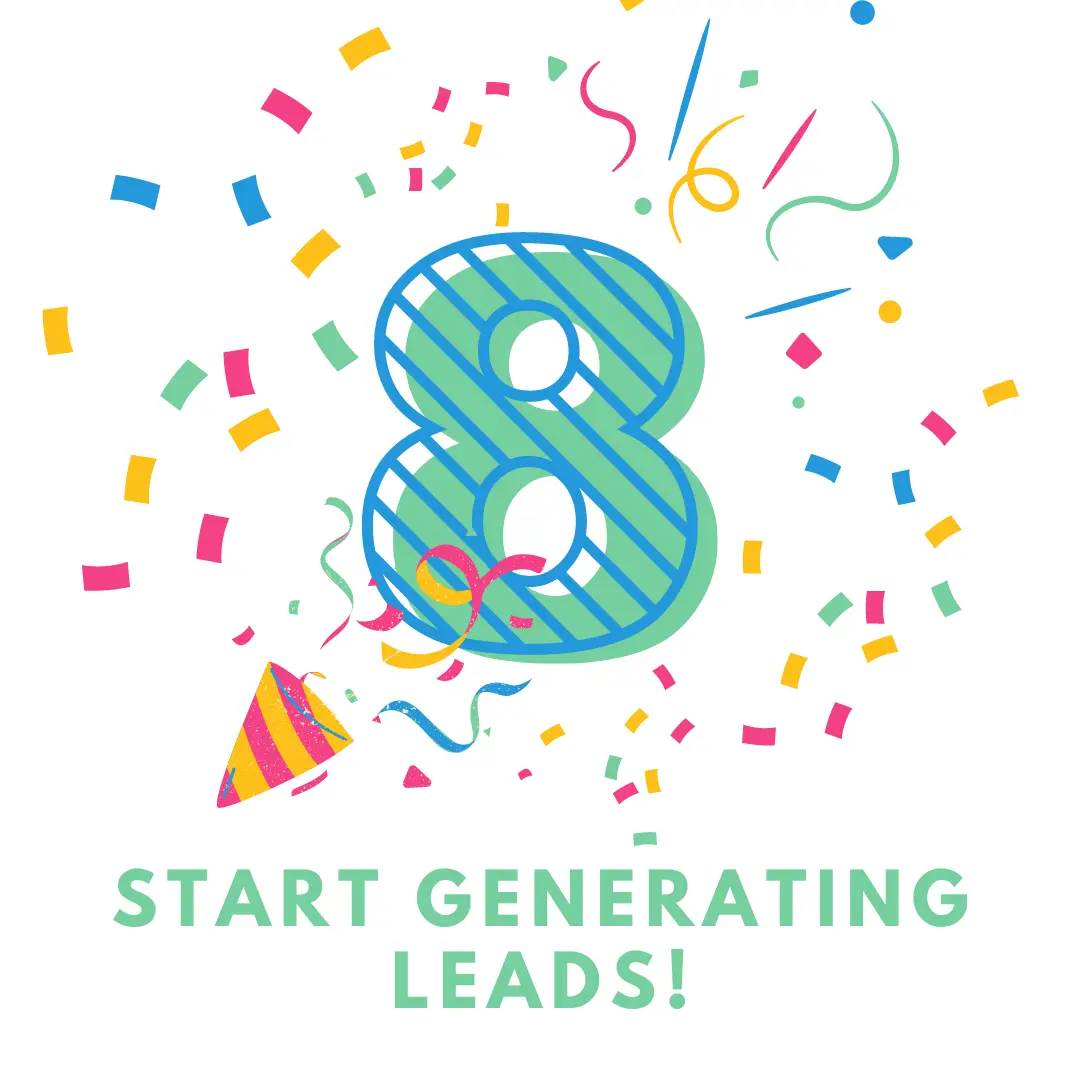 Step #8 is possibly the best part of the entire launch process. Now that you've gotten through the first seven steps, you can sit back and relax while your contest starts generating leads.
Launch Your Contest with KickoffLabs
By following these eight steps, you can get your contest up and running in as little as ten minutes. This may just be the viral boost your business needs and you can get started for free by creating your KickoffLabs account today.