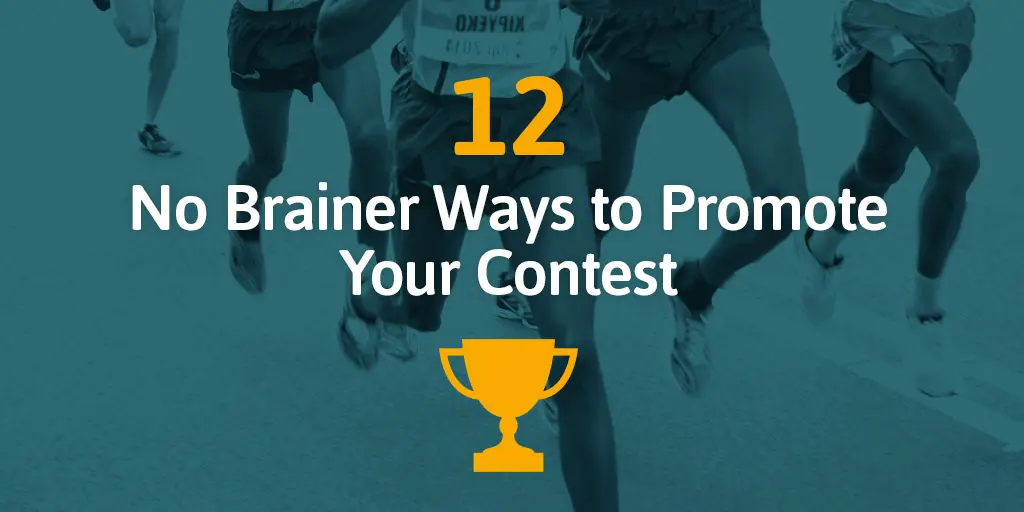 If a tree falls in the forest and there's no one nearby to take a selfie next to it, does it make a sound?
These days, if it's not posted, pinned, tweeted, or uploaded, it might as well not even exist. Scrap that "if you build it, they will come" mentality. Creating a contest isn't actually the hard part: getting people to know it and participate is infinitely harder.
It's unfair, I know, but in this post, I'm going to share some amazing strategies to tip the scales to your favor. Who's with me? Let's jump right in!
Here's your exact script for what to say on each platform. Subscribe now to receive this extra resource.
Killer Ways to Promote Your Contest
+Email your list
I thought I was going to get fresh advice, that's what you're thinking, right? Emailing your list– everything knows to do that.
Or do they?
First of all, you do have an email list, don't you? If not yet, do it.
Secondly, there's a right and wrong way to email your list.
The wrong way is to ignore the rules of email optimization and just send out a "if you don't mind, by the way" type of email that casually links to your latest contest. Are you really expecting your subscribers to click on this afterthought of email? Spoiler alert: they won't.
The immediate question you must answer from your subscribers is, "what's in it for me?" Even after you impress them with your prize, your job isn't over yet. You've got to show them what to do next. This is where your call to action training comes into play. Get them over to your contest with a call to action that makes them want to click each time.
Also, it's a great idea to add a referral element to your email. When you email your list, you're talking to folks who already love you. You want them to spread the word about your contest so that more people get involved and learn about your brand. How do you do this?
Tell them to forward your email to others. Create an easy way for them to do it.
You'll get brownie points if you've also built in a referral system for your contest from the get-go. We've talked about how and why to do that here, but here's a refresher: add social elements to your contest that motivate participants to share with others.
For example, create a contest where the person with the most votes wins. This will motivate them to get their friends and family over to your contest so that they can vote.
+Add your contest to your email signature
Speaking of email, have you optimized your email signature yet? It's an often overlooked, but powerful, opportunity to promote your contest.
An often overlooked, but powerful, opportunity to promote your contest. Click To Tweet
In your email signature, add a link to your latest, greatest contest. If you'd like to see how well this strategy works, use a URL shortening service like Bit.ly that allows you to track and analyze how many times your link is clicked.
In your link, make sure to include the grand prize.
+Submit to Contest Directory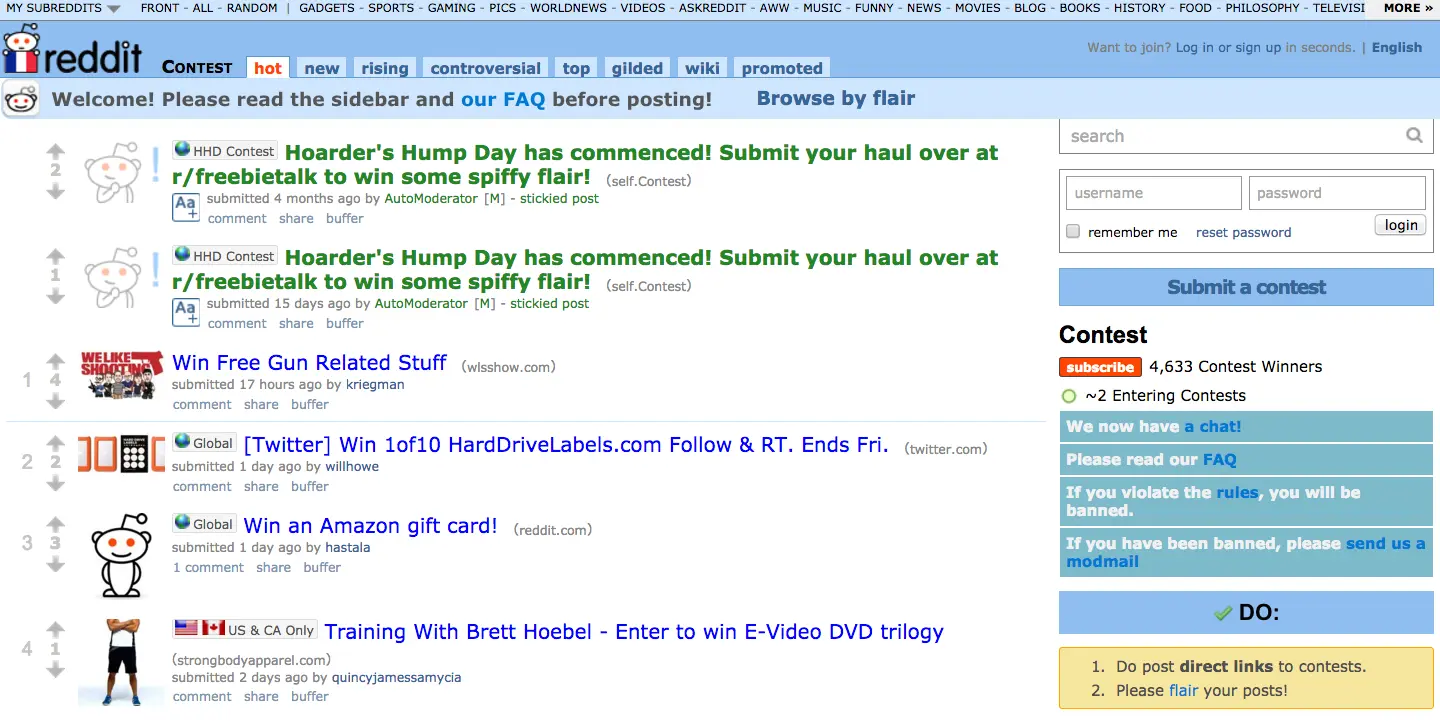 The more places you can share your contest, the better. Here are my favorite contest submission sites:
+Publish a Press Release
Sit up, things just got professional. Press releases aren't only for multi-million dollar company mergers. You can create a press release for your contest, even if you're simply giving away a $50 prize.
Free is always going to be newsworthy, especially if you create a compelling story around it. Get people excited about your contest. Explain what's unique about it, and why you're running it. Perhaps you're giving away an amazing grand prize, or you're gifting everyone who enters with a special discount code. Write your hook and then reel them in.
There's plenty of press release distribution services. My favorite two are PRWeb and PRNewswire. These are paid services, though, and you will need to pay around $100 per press release. However, you're guaranteed to get more eyeballs on your press release than if you went the free route. It's definitely worth it if you're hoping to maximize your exposure.
Also, after announcing winner, send out another press release that discusses the stats about your contest and how successful it was.
Need help creating a press release? Check out The 6 Essential Steps to Writing a Killer Press Release by the good folks over at Copyblogger.
+Create a blog post for your contest
There are faithful readers who come to your blog for the latest updates. Don't forget to create a blog post about your contest.
A blog post can generate excitement in your contest, give a backstory on why you've created this contest, and provide different reasons for why someone should join.
Most importantly, your blog post should link to the contest's landing page.
+Create a landing page for your contest
Oh yeah, we're creating a landing page for the contest, too.
It's actually a simple and easy thing to do, but can make a huge difference in how people perceive your contest and share it with others.
On your landing page, you should include the following:
A killer headline. Your headline will draw people in. Create a headline that communicates value right away. Need help? Check out our landing page hacks for non-copywriters.
An introductory video. Explain what the contest is, how to participate, and what they'll win. Keep it under two minutes.
A photo of the prize. People like visuals, and in addition to your video, make sure to add a photo of what they'll win (even if it's non-tangible, like a consultation). Create a visual representation that you can use to lure them further down your landing page.
An entry form. The less forms you require, the better.
A social share area. Ask for the share, include a "click to tweet" option, and add share buttons to your landing page. My favorites are the ones with social proof that show how many shares for each site.
+Link to the contest on your home page
Hello bar is great for this. Because it's a banner that's parked at the top of your website, it's impossible to miss. You can also add a button animation that will grab readers' attention.
Describe the benefit of joining this contest (i.e. your grand prize), and then link to your landing page.
+Use Pop-Ups
Ditto with pop-ups. I recommend an exit intent pop-up for your contest, so you stop your visitors from leaving with a dazzling prize. Nothing stops me in my tracks like the opportunity to win free swag.
Here's some advice on how to use pop-ups like a boss.
+Reach out  
Along with creating a press release, take the time to approach bloggers who cater to your target audience. They may or may not be in your industry, but together you share the same customer base. Shoot them a quick email or tweet to let them know about your contest.
Don't sound desperate, but definitely ask them to share the contests with their audience if they think it'll be a good fit.
Keep your message short and to the point.
+Post on social media
You probably already know to post on social media, but are you doing it right? Here are the best ways to optimize your posts for each social platform:
Facebook. Create a customized call to action tab for your contest. Also change your Facebook cover image to advertise your contest.
Pinterest. On your landing page, make sure that image of your prize includes the name of your contest, and pin that image to your Pinterest board.
Twitter. Link to your landing page and include a hashtag for your contest. Also include a generic hashtag (i.e. #contest) so that you reach a wider audience.
Instagram. Share an image of the grand prize, especially if it's tangible. Add your hashtags. Link to the landing page in your profile.
YouTube. Create a video about your contest. It should be short and sweet, no longer than two minutes, and just you and your smartphone. Also, partner with popular YouTube channels so that they can share the news of your contests with their viewers.
Google+. Create a quick post that links to your blog. This will (allegedly) increase your organic reach. Allegedly.
+Pay for It
And by "it" I mean Internet advertising. There's a lot of great paid ad options you should consider for your contest, including:
+Email all participants after the contest
When the contest is over, you're still not done. Don't give them the chance to forget about you and then eventually unsubscribe.
Now's the time to thank your participants for joining your contest and then pump them up about an upcoming contest in the future.
Final Thoughts
Here at KickoffLabs, not only do we specialize in creating contests, we also help you promote them. Need to create a landing page? Check! Need to make sure it goes viral? Double check!
Let's work together to create a contest that grows your audience.
Here's your exact script for what to say on each platform. Subscribe now to receive this extra resource.