You may recall that last week we were running an big A/B test on our home page.  Well, the results are in. They were a little surprising at first, but I think they make sense.
Option A: Text/Feature heavy with signup form on the first row.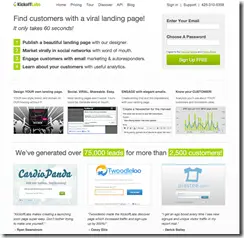 Option B: Do we sell macs?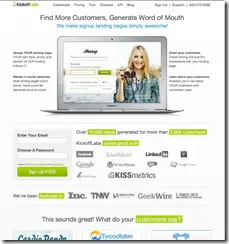 So which did better?…
| | | | |
| --- | --- | --- | --- |
| | Visits | Signups | Paid |
| A: Text/Signup | 387 | 37 (9.4%) | 5 (1.3%) |
| B: Macbook | 426 | 31 (7.2%) | 19 (4.5%) |
At first glance you'd say the text heavy page won in terms of signups… and it did.  HOWEVER… tracking these folks through our funnel all the way revealed that nearly 2/3 of the people that signed up from the Macbook home page eventually paid!  WINNER!
Those are the numbers and here are my theories:
The Macbook home page clearly explained what the visitor was going to get with our service.  That probably:
Turned away some people that were probably bad leads to begin with.
Left a better impression with the people that signed up… since they got exactly what we showed… so they paid. 
The sign up form was featured higher on the text heavy page… I honestly think some people missed it on the Macbook page.  We've made some adjustments you can see live to call this form out since as week.

The Apple product sets the expectation that you are going to have to pay for the service.

The copy on the Macbook home page is clearer.
What do you think?  How would you improve our home page?
The lessons… for anyone looking to generate leads…
The more clearly you explain what you are going to be selling… the better leads you'll get.

Not all leads are created equal. 

Signups don't always equal sales.  

People hate to read.  I think I've learned that they actively avoid it based on some of the questions we get.  The fewer words you can use to paint a great picture the better.

You can get more leads with ambiguity… but do you want them?