We're fanatical about customer support. It's one of our differentiators. So this is not a choice we've taken lightly. We've evaluated each of these platforms for the full trial period and we're circling around a winner.  Yes – we really did run customer support through each of these systems and switched just about every month for the last 6 months.

Note that, for us, having great email support so that customers could create cases by just emailing our support address was a requirement.  If there is something we didn't answer, feel free to ask us below in the comments!
The nominees are…
DIY Email & Tagging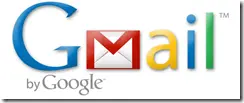 We started here and it's a perfectly reasonable solution when you don't have much volume. Scott and I created a support@kickofflabs.com account and shared the login. I simply used Sparrow App and my iPhone for email. You can use tags if you'd like, but it's easy to see if the other person replied and email is ubiquitous.
PROS: FREE – No overhead – Perfect for 1–3 cases/day – Use if you are just getting started.
CONS: No KB articles – Can't tell open from closed issues.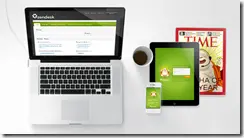 Ultimately the default process and workflow appeared to be designed for a much larger, dedicated, support team. For example: To close an issue it had to first be assigned to an owner and owners weren't automatically assigned when one of us replied. The process for managing a case via email was too complex to manage on mobile devices.
Although they have an iPhone app it was really only good for notifications. I couldn't imagine a more confusing interface for simply replying and closing a case via a mobile app. I really wanted to love it, but I just got the feeling it wasn't designed for small startups.
PROS: Multiple channels (twitter, email, chat, etc) – Work via apps – Reply via email – Email case management – Great for larger process heavy dedicated support teams.
CONS: Crazy process for a small non-dedicated team – Confusing App UI – Obfuscated the customer email addresses in notifications – Complicated email configuration – Slowest and least knowledgeable customer support if you run into issues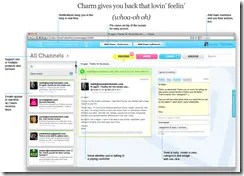 Disclaimer: We used CharmHQ during their paid beta so things have probably changed a lot since then.
The web case management UI was simply awesome. Just what we were looking for. It was a little hard to find closed cases, but otherwise the workflow was simple and the default process made a lot of sense for two people. Unfortunately there were a couple of email outages during our trial and the platform was clearly in beta still.
PROS: Amy & Thomas provided great support themselves – Simple elegant workflow – Pass customer properties like "paid" to help prioritize cases. :) – Post answer follow-up tracking (bug, feature, etc)
CONS: Beta outages – No reply/close via email – No public support site or KB system for customers.

Tender came with rave reviews from some of our trusted peers. It fully supports reply via email and even a bunch of reply tags to manage cases without opening their app. Awesome.  They also provide great customer support site with KB and public forums. At $24/month for 3 agents it was nearly half the cost of the other solutions we evaluated.
Tender was everything we wanted from a pure support system. It let us keep our natural flow via email (reply & mange cases) and publish a simple support site. But half way into our trial (Which was 30 days at the time.) we started noticing delays and missing emails. Their email channel began to falter and it caused us to miss cases. After this happened several times during our trial we gave up. We also found their KB article management/publishing system confusing for admins.
PROS: Great web based support – Lowest costing professional looking solution – Simple workflow combined with email case management – Integration with their bug tracking solution (Lighthouse) if you are using that.
CONS: Credit card required for trial – Can't cancel yourself – Email support channel was too slow and unreliable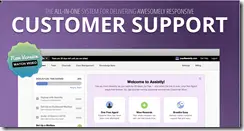 Assistly is owned by Salesforce…  It's clear that this a low-end offering (in a good way) compared to Zendesk. The default process and tooling is built for small teams. They even offer pricing to add unlimited "flex agents"… which would be perfect for a small non-dedicated support team.
The UI and web support site functionality felt very similar to TenderApp, but it's a lot more powerful. For example: You can also connect it to monitor your Twitter accounts and Facebook profiles. It can create cases out of @mentions and even search results for keywords. If a case comes in via twitter you can reply directly from the tool and close the case! You can even configure chat support on your site.
One feature I liked was the simple customer history view where it showed glimpses of the past tickets that each customer had asked. Perfect for adding context to the requests you get.
Finally – Setting up this system and your channels was the most well thought out of any of the solutions reviewed here. Unfortunately they did not support agents replying to or closing cases via email.
PROS: Simple setup – Great multi-channel support – Flex agents for smaller, non-dedicated teams – clearly separated agent versus admin UI – Cheapest solution to monitor twitter & Facebook
CONS: Doesn't support reply or case management via email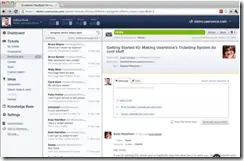 They feature the simplest workflow with complete two way email integration. Simply replying to a customer case via email will assign the question to you and close the case. The case will, of course, be re-opened once the customer replies… but most of the time this is the behavior you'll probably want. We didn't have to think about process and we like that. :)
Like most of the other tools reviewed here UserVoice supports a public support site with forums & knowledge base articles. It also has an option for customer feedback. This way your customers can create new suggestions and vote on other ideas in public. Although we aren't using this yet for KickoffLabs I've been using it for over a year with a mobile app that I shipped and it works great.
The agent UI features a 3-pane list, case, detail view that's pretty familiar to most people, but there is a bonus feature that I loved… a leaderboard. Your startup probably has a bunch of competitive people working there and it's great to have a little extra motivation around customer support. Points are awarded for replies, quick replies, and customer kudos.
Uservoice is missing integration with Twitter, but does support a rich Facebook app for your pages. If you ship an iOS app they also have an SDK for direct app integration.
This is my favorite solution and the one that we'll most likely be using for the next year.
PROS: Simplest process – Reply & Close cases via email – Leaderboard for motivation – Unified app for customer feedback voting & helpdesk.
CONS: Lacking Twitter, chat, or phone integrations – Most expensive white labeling solution
And the winner is…
If you are just getting started don't bother setting up any complex system. Just use email. Once you start to get overwhelmed…
Uservoice
For the simplicity of workflow and excellent email case management.
If covering the widest possible set of channels is important for you and you don't care about reply via email then I'd recommend Assistly.
Thanks for reading, and for sharing!
– Josh, Co-founder KickoffLabs