If you love all things gaming, Twitch can be a great platform to interact with other players and share your love of video games with the world. Plus, successful Twitch streamers can have large communities of subscribers and are even able to monetize their content. But, in order to reach this level, you have to start by building a strong following.
There are lots of strategies that are useful in growing your Twitch following. For instance, investing in good tech to make your streams higher quality is a great place to start. However, the best techniques aren't as simple as making a purchase. In order to gain dedicated followers, you'll need to make sure your content is good, and you're engaging with the community. Fortunately, we have some great tips to help you on your way.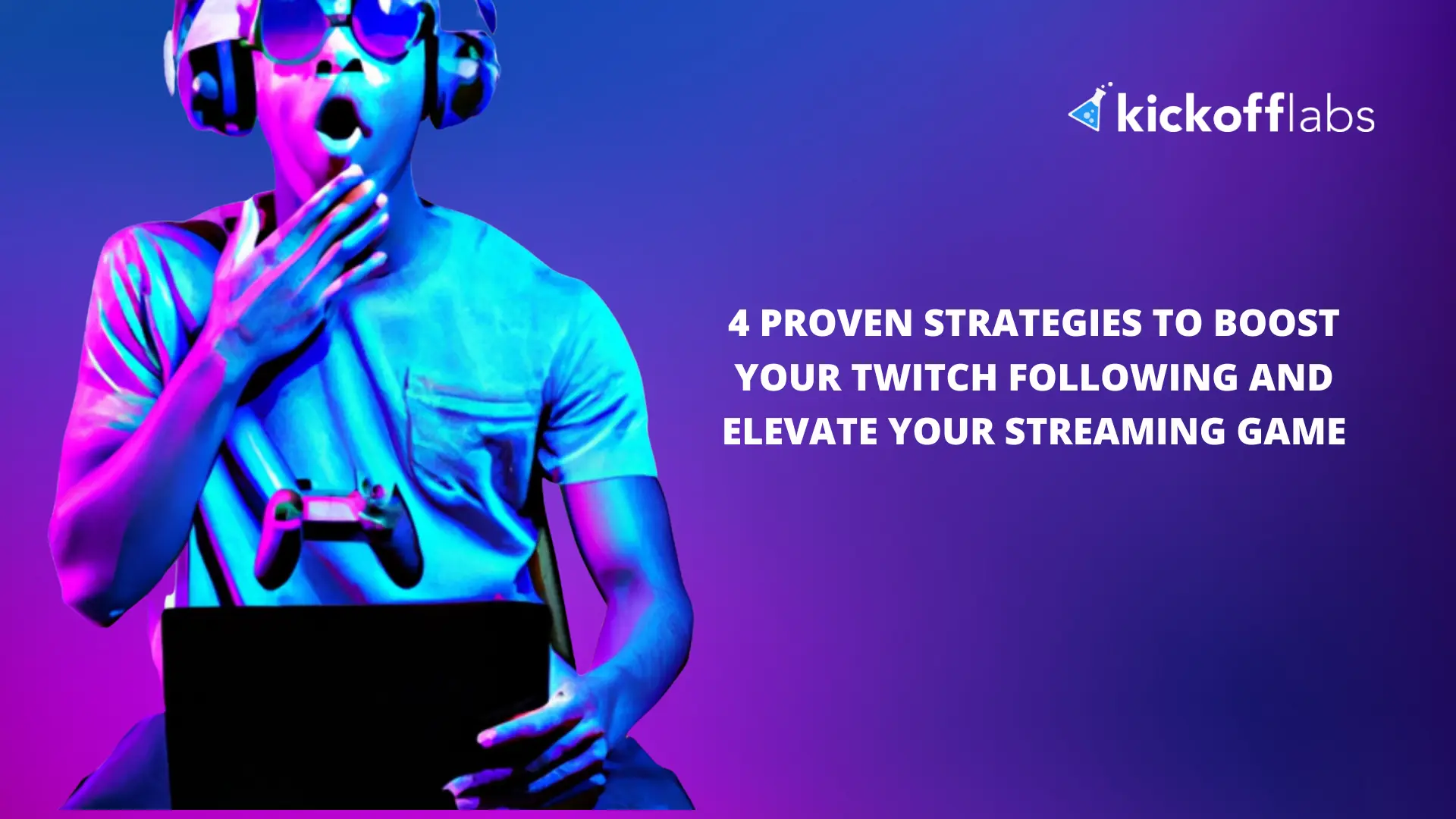 Create Valuable Content
The best way to grow your Twitch following is going to be by delivering a stream that people want to watch. This means paying attention to the things that are popular and also keeping track of your analytics. If you get more viewers with certain types of programming, you may want to use that as the basis for future streams.
Fortunately, there are a lot of ways to create good content, and you don't have to do them all. There are streamers that focus on specific genres of games, others play old-school retro throwbacks, and some just playthrough and review what's new and trending. You'll even find streamers that don't focus on games at all! Some simply chat about music, pop culture, sports, or politics.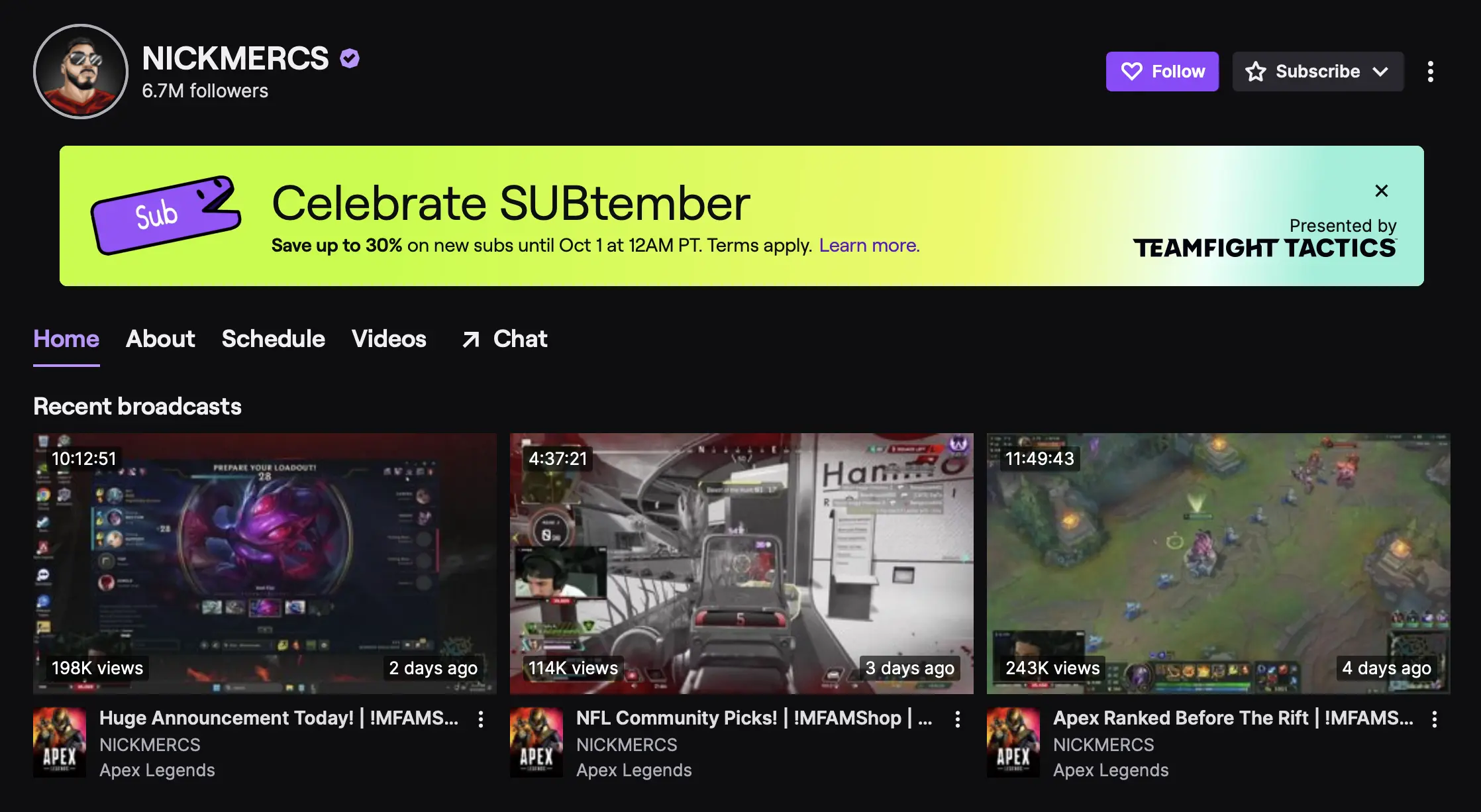 It's important to find your own niche. So you shouldn't build your stream around things you are not interested in just because they're popular. That being said, if you want to grow your audience, they need to be invested too. Find the common ground between what people like and what you care about, and use that to guide your stream.
Engage Your Audience
An interesting topic or concept is a good way to get people to tune in to your stream. However, if you want them to come back in the future, you'll have to do a little more. Engaging your audience is a key step in building a strong following.
To start, you should keep your content as entertaining and captivating as possible. If you're playing a game, provide interesting commentary as you hack and slash. Talking directly to your viewers is a good way to build a personal connection and keep them invested in your stream.
You should also focus on cultivating a community within your following. A good stream should encourage audience participation. This is one of the reasons that people tune in to Twitch. Otherwise, they could just watch a video on YouTube.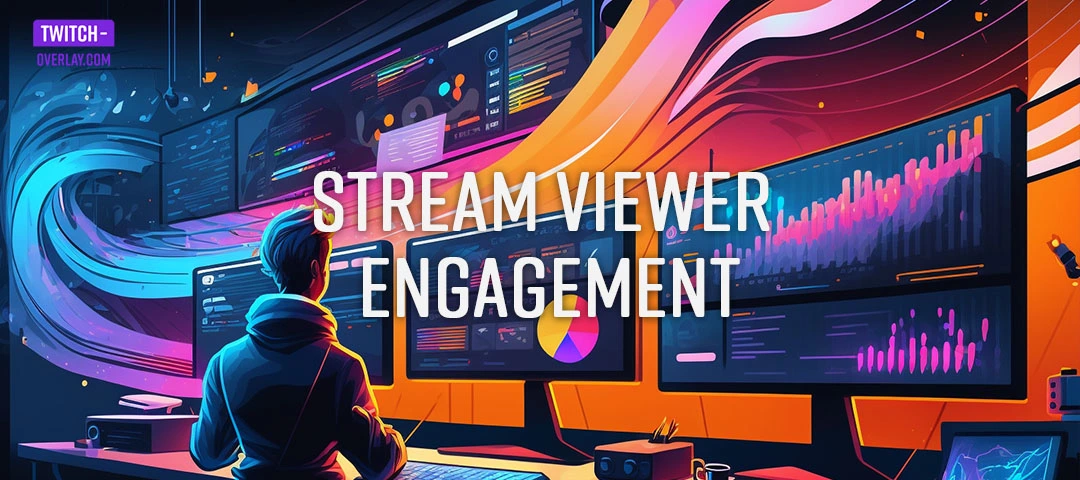 So, start by asking your viewers questions. Encourage discussions within the chat, and make sure you respond to some of the people that write in. If you interact with people, they'll enjoy your stream more and be more inclined to watch in the future.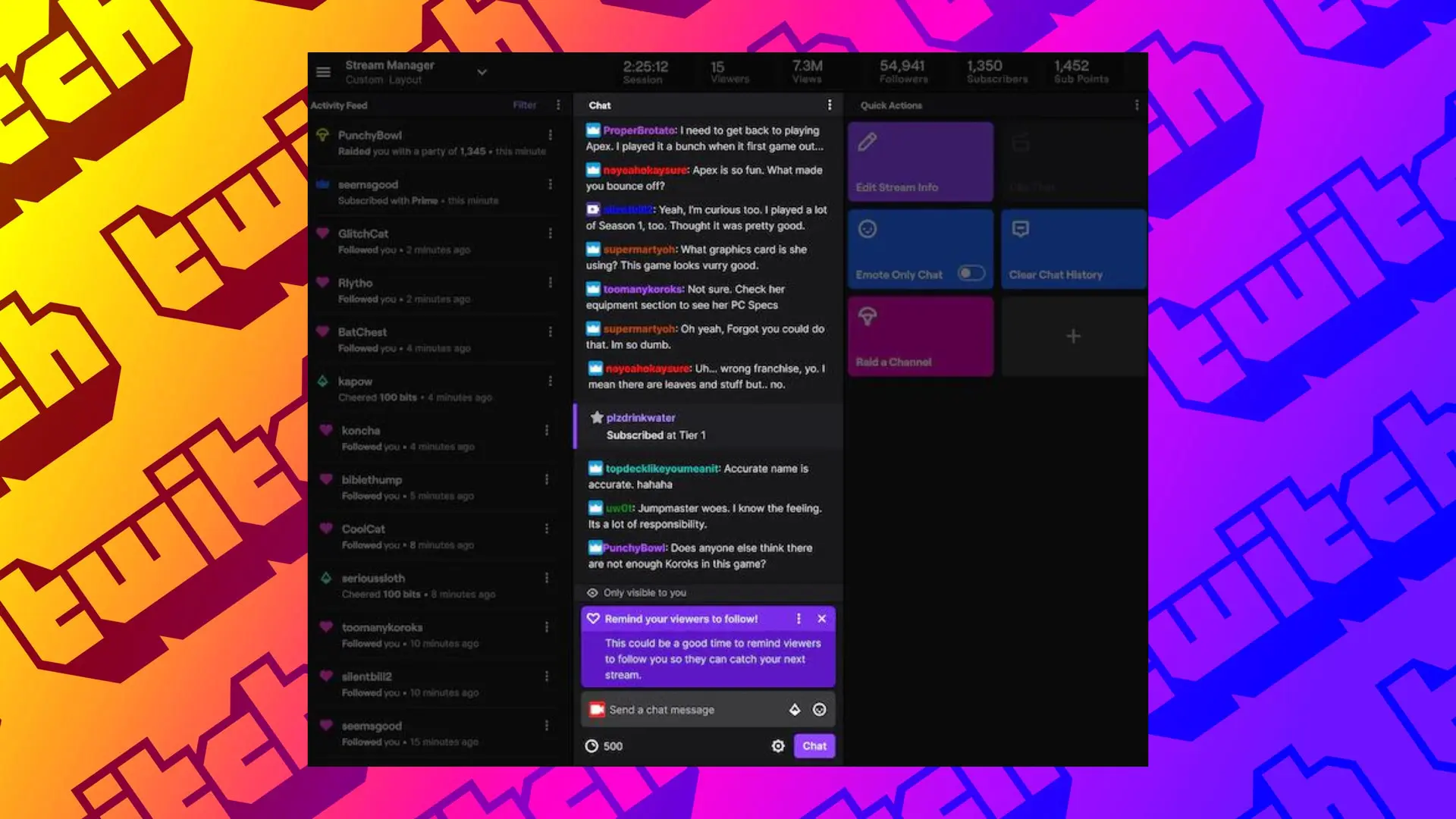 Keep A Reliable Schedule
Gaining a Twitch following isn't enough - you also have to keep it. A big part of this is going to be streaming at fairly consistent times. After all, if people don't know when to tune in, they won't be able to watch your content.
Of course, promoting your streams on social media sites can help too. For instance, it's often a good practice to announce that you are going live to your Twitter followers before you start a stream. However, this is going to be most helpful in tandem with a regular schedule.
Part of the reason that predictability is so important is that it shows that you're serious about growing your following. If you only stream sporadically, your audience may think you're unreliable, and they won't be as invested in your content.
Fortunately, the Stream Schedule feature on Twitch makes it easy to let viewers know when you're planning to go live. You can set regular hours so people can anticipate your programming and plan to watch your streams.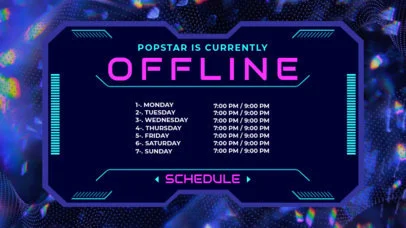 Promote Your Stream
Social media is a streamer's best friend. We've already mentioned that it can be a good idea to announce that you're going live before you start a broadcast, but there are other posts that can help you build a following too.
One great way to reach new followers is to interact with other, bigger streamers on social media. Comment on their Instagram posts, duet their TikToks and reply to their Tweets. The more that you engage with the Twitch community on other platforms, the more visible you will become. This means that people will be far more likely to find out about your stream and decide to tune in.
If you do something really cool or interesting on stream, you may also want to share clips of it on other sites. Use YouTube to archive old streams and share your favorite moments on Insta and TikTok. Combine these posts with hashtags, and you can reach a lot more viewers.
You should also harness the promotional powers of your existing followers. One great way to do this is by running a sweepstakes with KickoffLabs that will incentivize referrals. When your audience members send their friends a link to your stream or tweet about your Twitch channel, they can earn bonus entries for your giveaway that increase their chances of winning.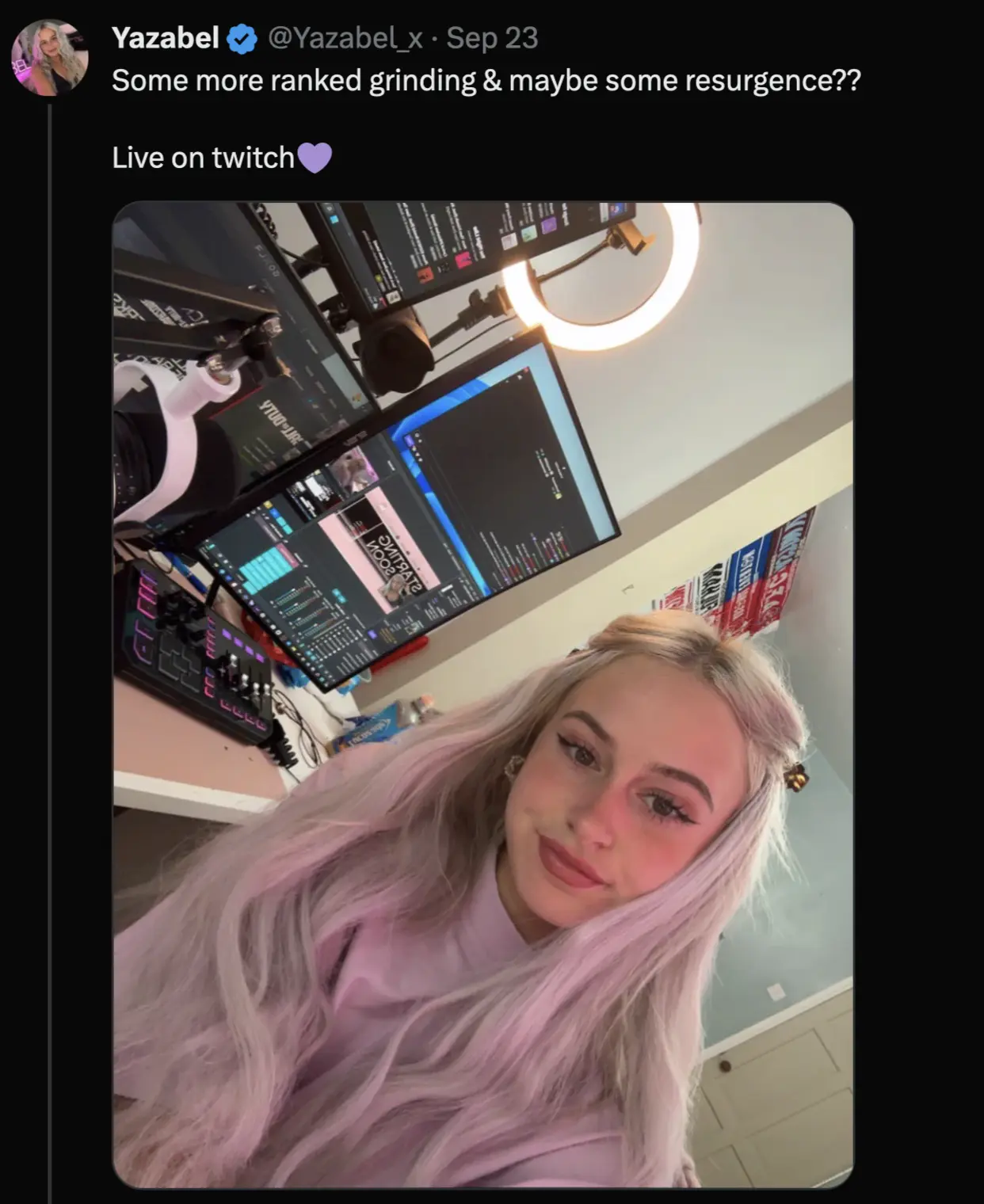 How to Use KickoffLabs to Set-up Your Next Twitch Campaign!
KickoffLabs can be a great resource to help you run a variety of promotions to boost your Twitch profile. After all, a giveaway or sweepstakes can be an excellent tool for growing your following since people are more likely to promote and engage with your channel when they are incentivized.
Running a leaderboard competition with KickoffLabs can be another cool way to engage with your audience. This is a great solution if you want to encourage your existing followers to promote your stream to new viewers. Plus, by providing prizes for the top finishers that help you grow the most, you'll keep people active and invested in your stream. This can even help foster healthy competition between viewers, which in turn can go a long way toward developing a community atmosphere.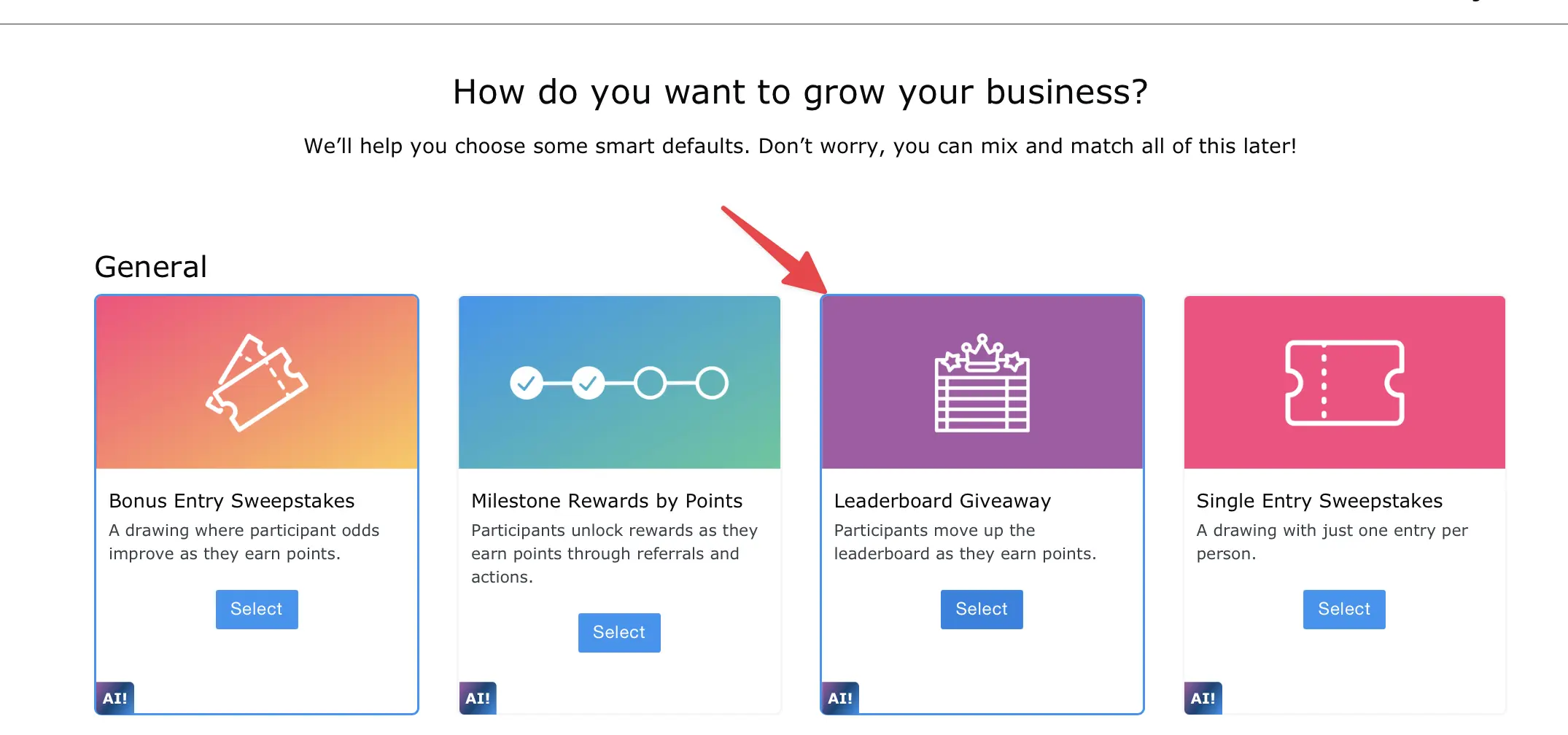 Getting started with a Twitch leaderboard camapign at KickoffLabs is simple. Choose from ready-made Twitch giveaway templates or select from other customizable landing page designs. Already have a website? Easily integrate your own external page with KickoffLabs pop-ups or Anyform. Your custom landing page acts as the central hub, directing giveaway entrants to connect their crypto wallets and follow your brand. With KickoffLabs, you can quickly launch a Twitch giveaway to engage your audience and promote your stream.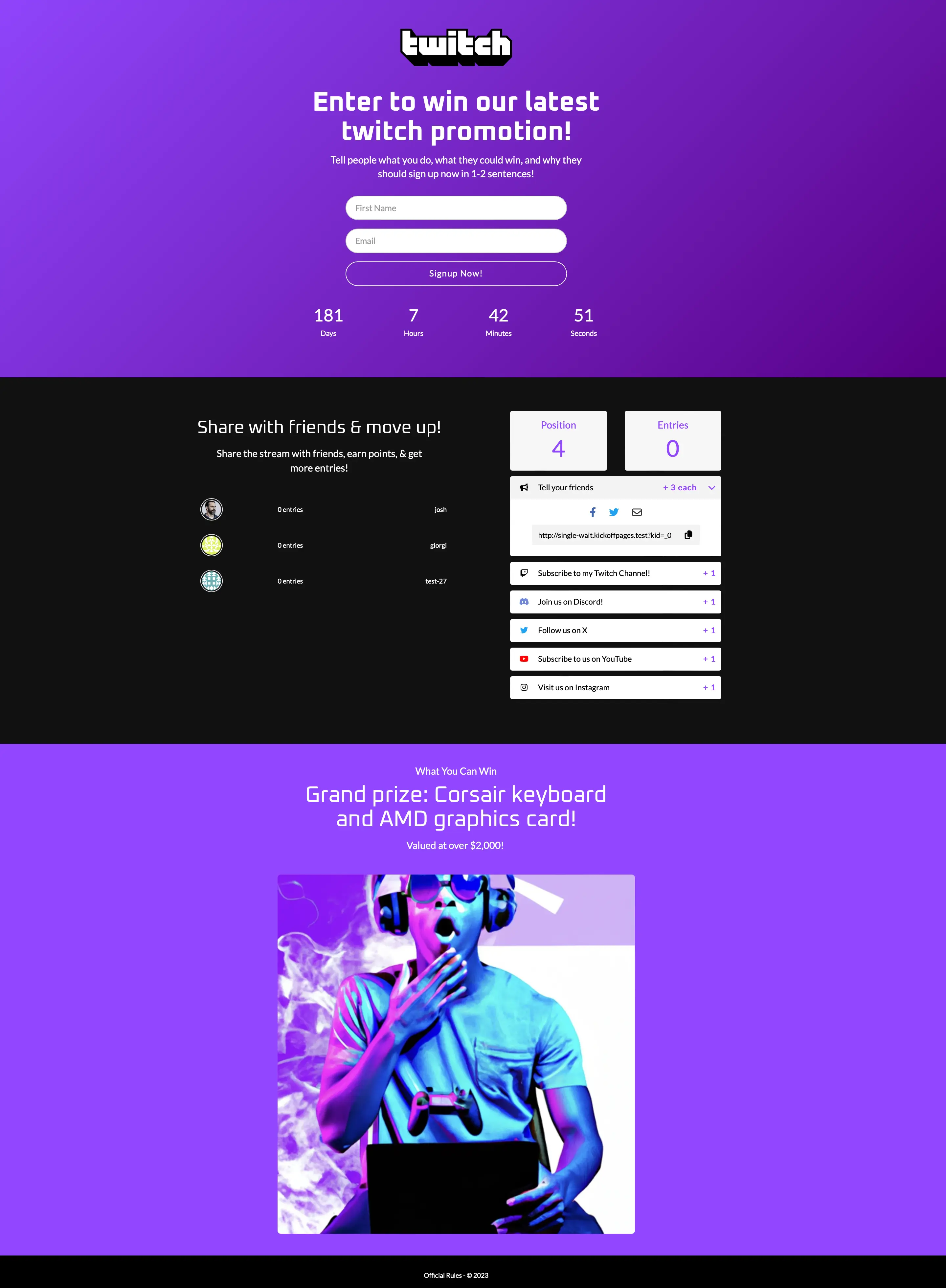 With KickoffLabs, Twitch campaign settings are automatically configured to boost engagement. For example, scoring prioritizes referrals and social actions - perfect for expanding your viewer and follower count. Simply design and launch your Twitch leaderboard campaign with our user-friendly platform. As the first participants enter and engage with you on Discord, share on Twitter etc, they'll be motivated to spread the word to their networks for more chances move up the leaderboard. KickoffLabs incentivizes referrals so your Twitch campaign reaches more users interested in your channel.

To help gain followers even faster, our Twitch campaign automatically includes streamer specific actions that leads can take in exchange for a bonus point or two.
Easily select Twitch leaderboard winners with KickoffLabs' lead filtering options to determine who ranked at the top.With KickoffLabs, you can effortlessly run a fair, hassle-free Twitch leaderboard from start to finish.
Start Building Your Twitch Following Today!
Building a robust Twitch following requires a blend of engaging content, consistent interaction, and strategic promotion. As you embark on your journey to Twitch stardom, remember that every tool and tactic you employ should resonate with your unique brand and audience.
One proven strategy to amplify your reach and engagement is leveraging the power of KickoffLabs for your next Twitch campaign. With its track record of success and user-friendly interface, KickoffLabs can be the game-changer you need to elevate your Twitch presence to new heights. So, gear up, strategize, and let KickoffLabs be the catalyst for your Twitch success story!
Get started for Free today or email our support team at support@kickoflabs.com.