You've written a book! This is truly a moment to celebrate. And guess what? The book is done, so you've done all the hard stuff. Now you just have to promote it. That's where this guide comes in. 
In this guide you'll get links to contest templates, email copy to use, suggested rewards, and social media images you can steal from us on Canva to help promote your book.
One of the best ways to get the word out about your book would be to create a book launch contest. While that may seem intimidating, it is nothing compared to actually writing your book. Just follow along here. 
Step 1: Setup a book contest website
Begin by setting up a pre-launch contest site for your book. This will give your fans somewhere to go, sign up, and help promote your book while they wait for their own copy to arrive!
Your webpage could be as simple as a single page hosted by KickoffLabs designed to collect email addresses and encourage people to tell friends about your book. Or you could make your KickoffLabs launch contest part of your website.
Either way, we've got a book contest template you can set up in minutes that lets people register and join in on the promotion. It comes in light or dark modes and you customize everything about it.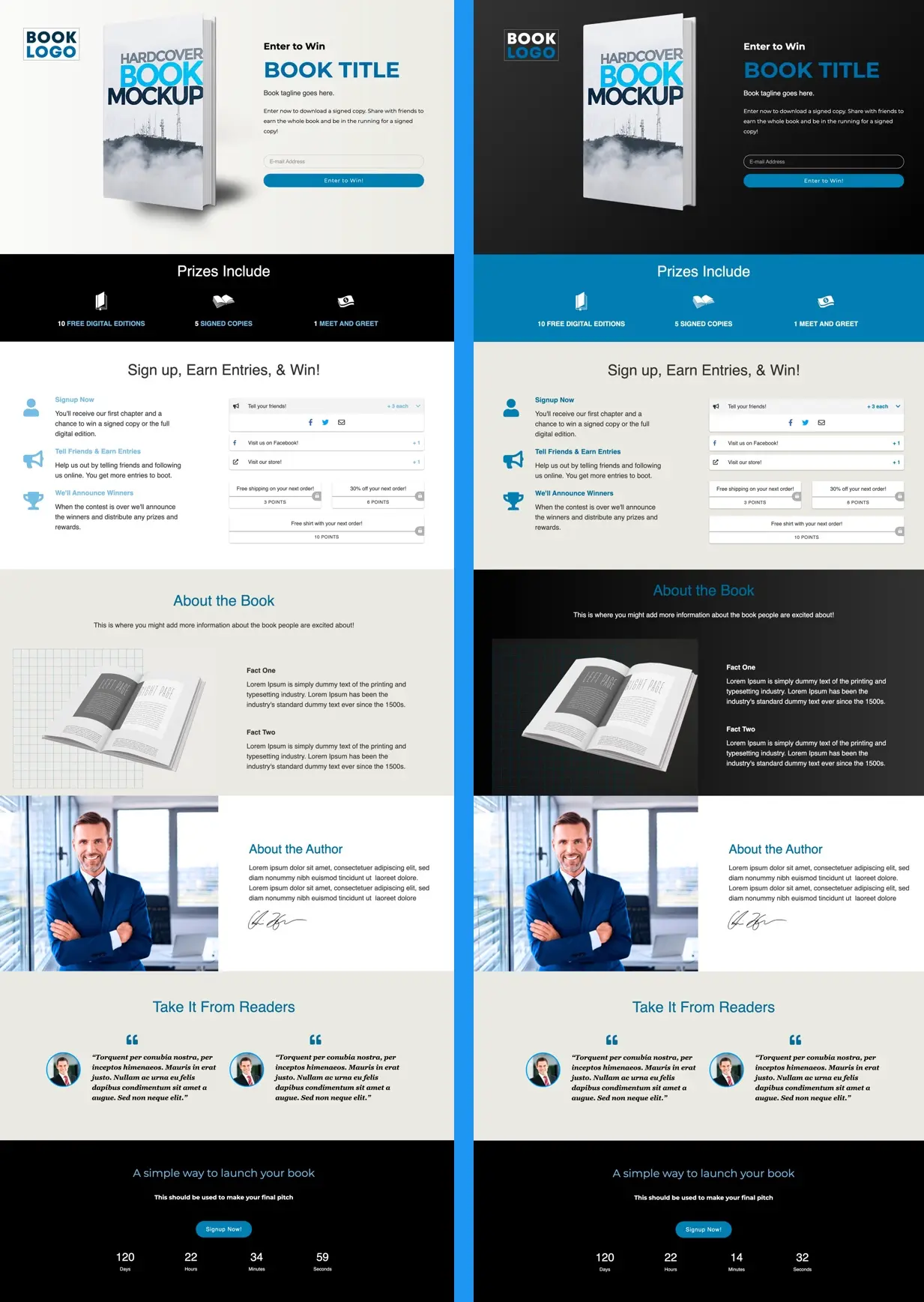 Step 2: Create something to reward people for entering their email address
Consider giving away a teaser of the content with a sample chapter your readers could download or a discount. We recommend using a form to gather email addresses with the option to input the email addresses of five friends to earn the free chapter of the book. With this information, you could also create a mailing list of interested parties when your book premieres.  
With KickoffLabs you can automatically email this chapter out as a digital download with an automated reply email. 
Here's a template you could use:
Hello there!

Thanks for signing up for my book launch. Here is a link to download the sample chapter I promised. [LINK TO DOWNLOAD]

While we wait for [BOOK TITLE] to come out, I will be sharing all kinds of great stuff with you right in your inbox. You can also participate in the promotion by telling your friends about the book. If you can sign a few of them up you may even earn the book for free! 

Get your personalized sharing links here! [LINK TO PERSONAL SHARING PAGE HERE VIA KICKOFFLABS]

Thank you, again, for signing up! I am so happy you are here!

[YOUR NAME]
Step 3: Reward fans for promoting your book
There are lots of directions you could go with the prize for the contest prize. Chances are, if your readers are entering the contest, they'd be interested in meeting you too. So, a few signed copies of the book for your winner and a couple of their friends, then a dinner or live meeting with you would be a fantastic prize. 
You should also develop a reward for your fans for sharing out the contest. This may be a discount code, free digital swag, or even access to secret/exclusive content! We'd suggest starting with digital downloads, signed copies, or even some online meet and greets with the author people could win.
In KickoffLabs you can set up sharing and other actions people can take to help promote your book. You can also set up rewards that people can earn along the way in addition to the contest prizes. Don't worry - you can limit the total number of each reward if needed. 
Dear loyal fan,

Congratulations! I see you have earned [COMPLETED REWARD LEVEL], and I am just so very grateful.

I know your friends and family will love [TITLE OF THE BOOK] as much as you, and I can't wait to get it in your hands!

You've also increased the chances of winning a signed copy or a meet and greet! Don't forget to keep sharing with your personal links. [PERSONAL STATUS PAGE LINK FROM KICKOFFLABS]

Thank you, again!

[YOUR NAME]
Step 4: Tell existing fans about your promotion! 
Now that you've got the book contest setup you should tell your fans about the book launch promotion you've got going on. Here's a template you can use for that.
BTW - you should use the KickoffLabs "Instant Signup" feature to automatically generate personalized sharing links for people. 
Hey friends!

Can you believe [TITLE OF THE NOVEL] comes out in only [#] days? I feel like I was just writing up the outline, and here we are!

I just wanted to pop into your emails to share a surprise with you! We've decided to release an exclusive excerpt of the first chapter to people that enter our launch contest. In the contest you could also earn additional rewards or win prizes like a signed copy or meet and greet with so we can chat! 

Sign up here! [KICKOFFLABS INSTANT SIGNUP LINK]

And don't forget to share with your friends to increase the odds of winning one of our prizes. 

Have a great day, and thank you for reading!

[YOUR NAME]
Step 5: Promote your contest online
Social media is an incredible place for marketing. So, find the pages and groups on various platforms that are discussing your upcoming book and become part of the conversation. This will help you build excitement and anticipation for your coming book.
Not sure where to look? Begin by checking out hashtags with your name or the book, as well as tags like #bookstagram on Instagram and #booktok on TikTok. You can also create pages specifically for your book on Facebook if they do not already exist. 
While you interact with your fans, spread the link for your contest like mad. Also, in your bio for each of these social media platforms, be sure you have included the link to your contest and pre-launch website. The more points of contact, the better. 
Here's a hero image in canva you can copy and use to promote your contest.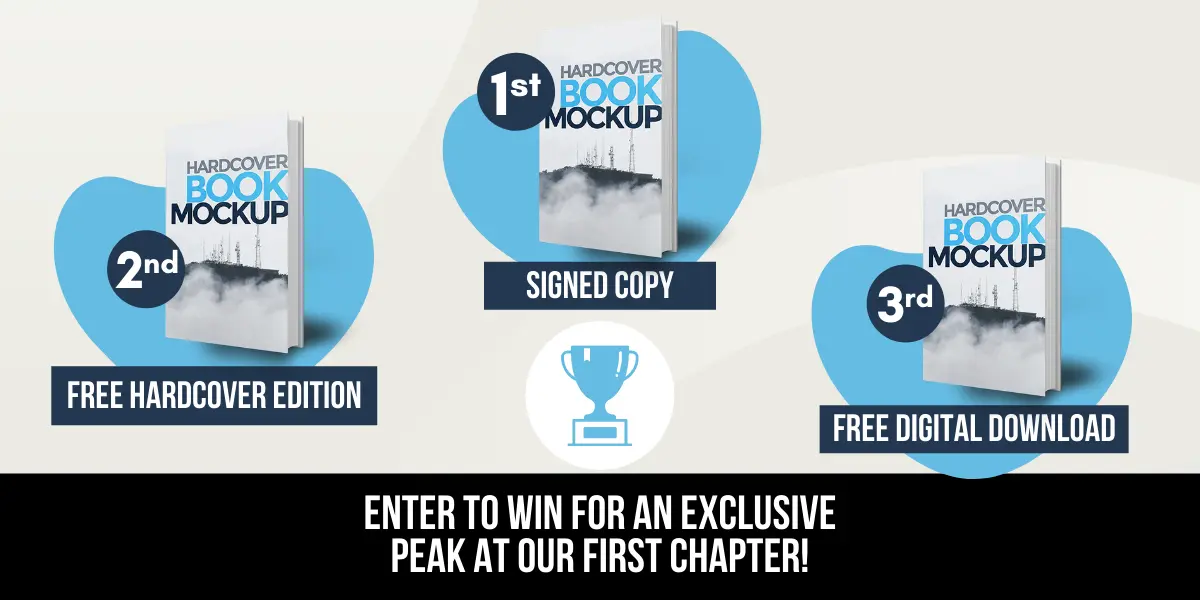 After your fans hit a reward level, you could send an email congratulating them and offering them their prize. Of course, the email varies based on the reward you are offering and the level they've reached. Augment this email as necessary:
Step 6: Find the influencers
There are many people who would be considered influencers in various social media platforms. So, after checking out the landscape of the different social media websites, begin to locate the people who hold influence over people's buying habits on the platform. Then, message those people. They will be some of your most powerful marketing avenues.
Step 7: Keep the emails flowing
Be sure you become a fixture in your fans' inbox with frequent emails. Send weekly emails to the list of fans who have signed up on your pre-launch website about your story to keep them engaged and interested. You should also encourage your readers to share their excitement on social media for your coming book in these emails.
Unsure what to include in these emails? Consider some of these ideas:
An invite to a social media live conversation.
The next chapter in the story.
Answers to questions that readers have sent in.
Opportunities to win swag like bookmarks, t-shirts, or book copies.
Short segments of the book to keep them reading.
As your big release day gets closer, you can send periodic emails to your fans to keep them interested. You'll want to encourage them to share out your contest to meet your reward levels and even keep them engaged as the big day draws nearer. Feel free to edit and use this email as a place to begin:
Hello there!

I hope you're doing well since the last time I reached out! I just wanted to find out how the reward levels are going? Have you been able to share out the contest to welcome more people into our [TITLE OF THE BOOK] fandom? 

You guys are the absolute best, and I appreciate all of your continued support.

Click right here to share the contest on your favorite social media platform! [LINK TO KICKOFFLABS HOSTED CONTEST PAGE]

Have a great day!

[YOUR NAME]
Step 8: Remind fans to pre order
Using your email list, reach out to your fans and remind them that launch day is quickly approaching. If they want to get the best deal on the book, they should probably purchase it before the official launch occurs. 
Then, provide links to several different retailers that are selling your book. Often, readers like to buy from smaller shops, so you should include links to indie bookstores and the big ones.
You could also offer a discount code in these emails to help your fans save even more by ordering the book early.
Step 9: Reward your contestants
On launch day, blow it up big on all of your social media sites, and make a big deal out of selecting winners for your contest. Consider choosing the winners on a social media live event to really draw interest.
Then, after you have selected your winners, send out your prizes. If this means you are sending out signed books, be sure to spend extra time making the signature something your reader will treasure forever. These small touches make such a big difference to a reader.
Step 10: Continue giveaways!
Even after your book gets released, you can still offer contests and giveaways! To keep your readers interested, continue running regular giveaways to build your email list using KickoffLabs. This will also help you have an easy list to start from if you ever wrote a sequel to your book.
It's easy to copy this first KickoffLabs campaign and use it to start running weekly or monthly giveaways! 
Take-aways
Writing a book is the hard part. Marketing and sharing that book with the world is the fun and exciting part, so don't get stressed by the prospect of book marketing because it really is quite easy. You'll amass a longer list of interested fans than you could have ever imagined with promotions like contests and giveaways.