Big banks can't help anyone track personal loans and debts. They aren't in it to help out your friends. That's why I love the motivation behind PayyMe. They are building a peer to peer debt tracking system. Perfect for the new economy. Here is the story in their words. 
1. Tell us about PayyMe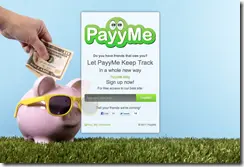 The idea for PayyMe came thanks to a friend who I have known since the 1st grade. Due to the longevity of our friendship we tend to argue or bicker over various things. The most common (friendly) disagreement typically centers around who owes who money and for what. It got to a point where I decided that we needed to start putting things in writing. So what better way to do this than develop a brand new startup focused on not only tracking friendly debts, but reminding us about them as well?
I began to think that my friend and I certainly weren't the only people with this type of problem. I believe it was the rapper Puff Daddy who was famous for saying, "Mo' Money Mo' Problems," and this saying still holds true today. Money can be a sensitive issue for a lot of people, and it is my goal to try and develop a solution to make it easier for people to work out friendly financial   debts.
We will be rolling out a web application where users can log in, invite their friends, and begin adding new debts in a matter of seconds. But we don't want to stop there. We wanted to add in additional features that would separate ourselves from just another debt tracking service. So we implemented the ability to set reminders for yourself via email, and even text message. And if the debt still hasn't been paid you can even send out a nifty looking invoice to your friends.
2. Who or what inspires you and why?
PayyMe is inspired by the generosity in people. In tough times, having people that are willing to loan their friends a couple bucks, or a personal possession can go a long way. I wanted to give something to help people who help others.
3. What other advice do you have for other people just getting started?
Create a clear and concise plan. Don't ever "wing it." This is especially important for somebody who needs to outsource a lot of work to designers and developers. You will find yourself constantly wanting to make changes, be unsatisfied with your end result, and your pockets will be a lot lighter.
Make sure there is a demand for your idea. Don't be afraid to ask your family and friends what they think. Research the industry you are trying to tap into as well as figure out who your competition will be. 
4. What do you like most about [KickoffLabs](https://kickofflabs.com?
No coding required. As someone who can hardly write one line of HTML code, the fact that I can get a professional and sleek looking landing page up in minutes is awesome! The customer service is the absolute best. In the rare instance you have a problem, they get back to you immediately to solve the issue or answer your question. Being able to blast my signups a newsletter whenever I want is a pretty good thing too.