Business analytics are crucial to any company's growth. Whether you just launched a company, or your business is an established one, the analytics you compile is what will help you form strategic decisions moving forward.
One of the most crucial areas to pay attention to are any data points around the traffic to your website. If your traffic is lagging, you'll want to think creatively about how you can acquire more leads and generate more visitors to your page. One strategy you can implement to tackle this is a strategy focused on obtaining more company reviews.
To help you tackle this, below we take you on a deeper dive into the power of reviews and how you can generate more of these for your business.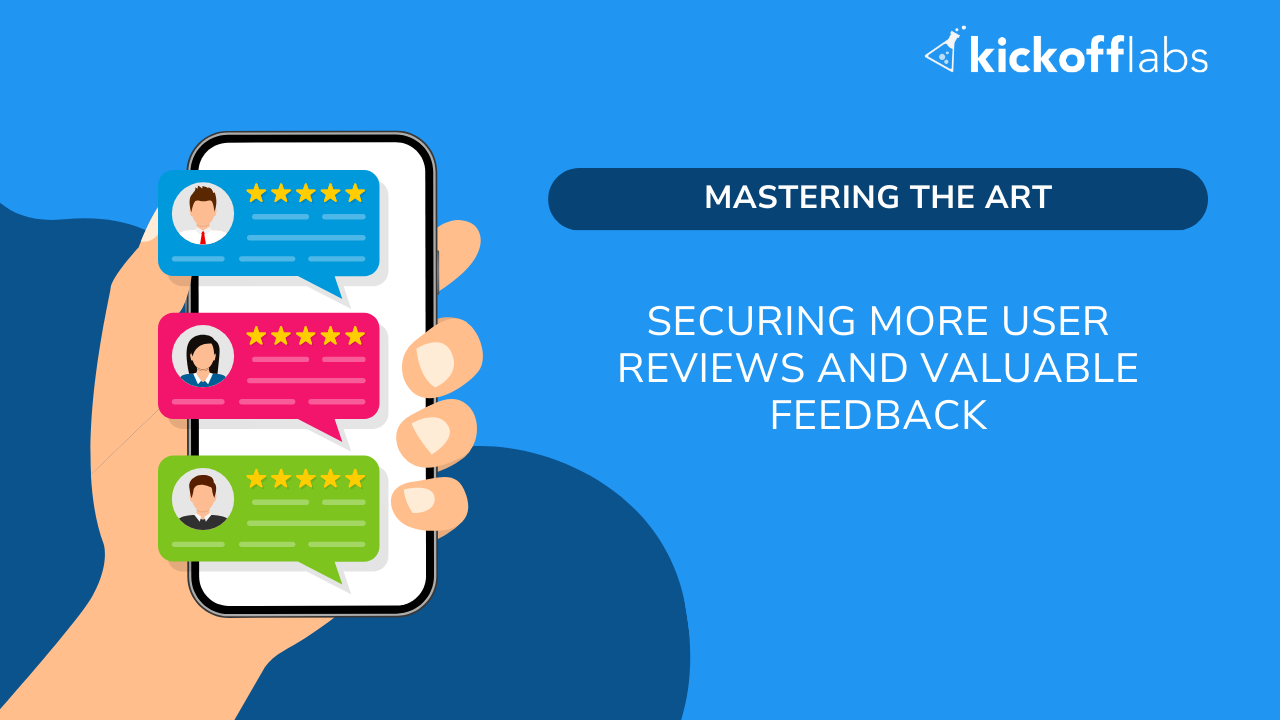 Why do You Want More Reviews for Your Business?
First things first, it's important to understand the power of an abundance of positive reviews. Reviews are often the first place prospective customers will look when they are considering a new business. This is especially true if a prospective customer is debating between more than one company to give their business to. The same is true when it comes to a product. Customers will want to know how that product arrived and if it is reliable. Because of this, many prospective customers will turn to the testimonials of customers who have purchased that specific product previously.
If you want to acquire these prospective customers and generate more leads, you'll want to ensure you have a strong review presence. Beyond selling your business through customer testimonials, you can build brand loyalty with current and prospective customers by responding to each review conveying a message that you care.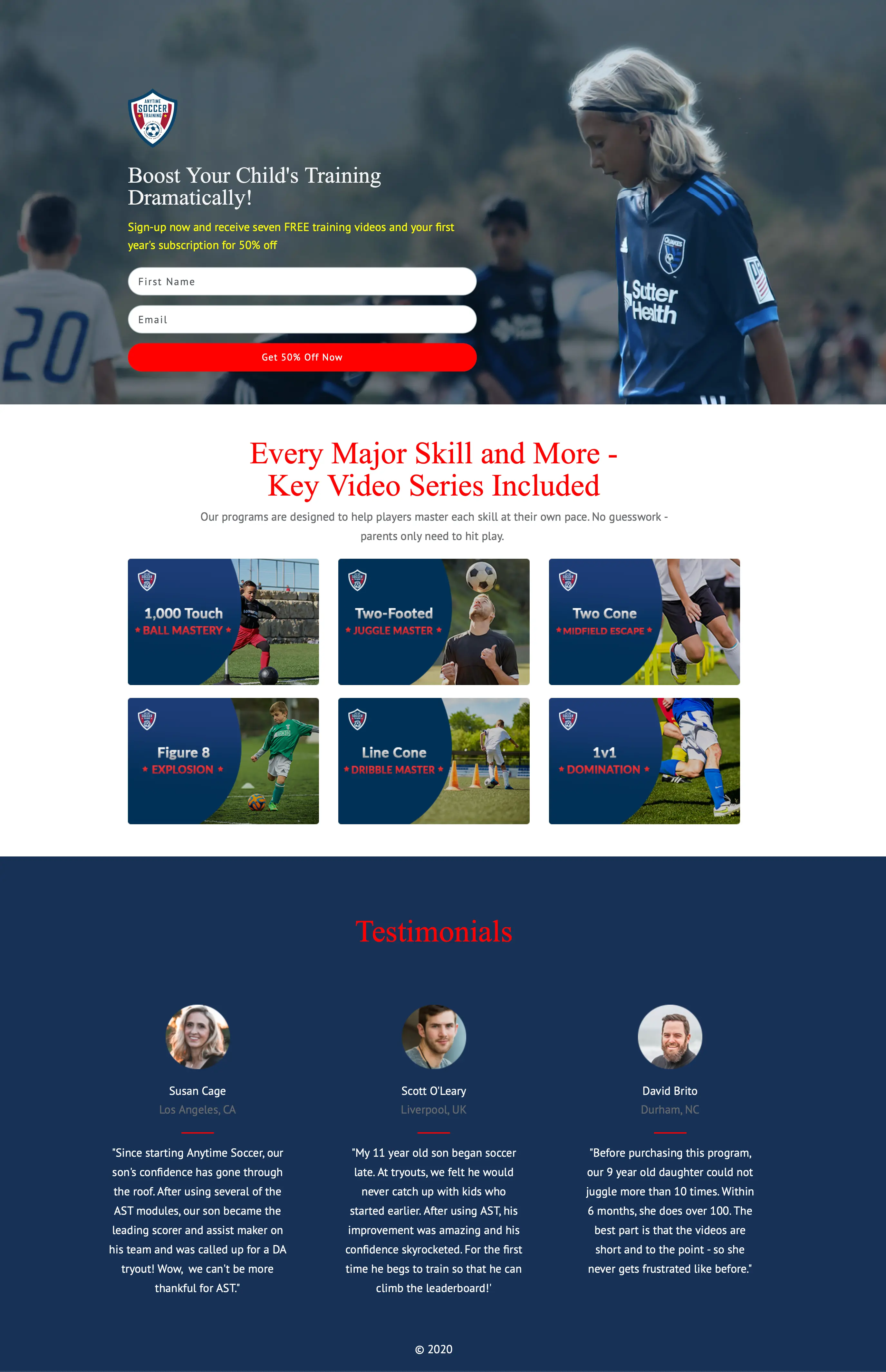 In short, with more reviews prospective customers will find your business more trustworthy, you'll improve your local SEO (because the more reviews you have, the higher your ranking on a Google search will be), your brand will be more visible, and it will give prospective customers a real, unfiltered look at your business.
How Can You Encourage More Reviews?
Now that you know the power of reviews, you may be asking yourself, "How can I get more reviews?" The good news is that there are countless strategies you can try. Regardless of which strategy you implement, you want to always ensure that everything you do is aligned with your business's mission and vision. For example, you can put a plug in your email signature, you can include a blurb in your newsletter to loyal clients, you can include a follow-up email to anyone that makes a purchase asking for a review, you can offer a coupon for anyone that leaves a review, and more – just as long as it is aligned with your business's mission. For this blog, we're going to focus on one of the most fruitful strategies you can incorporate, running a review contest.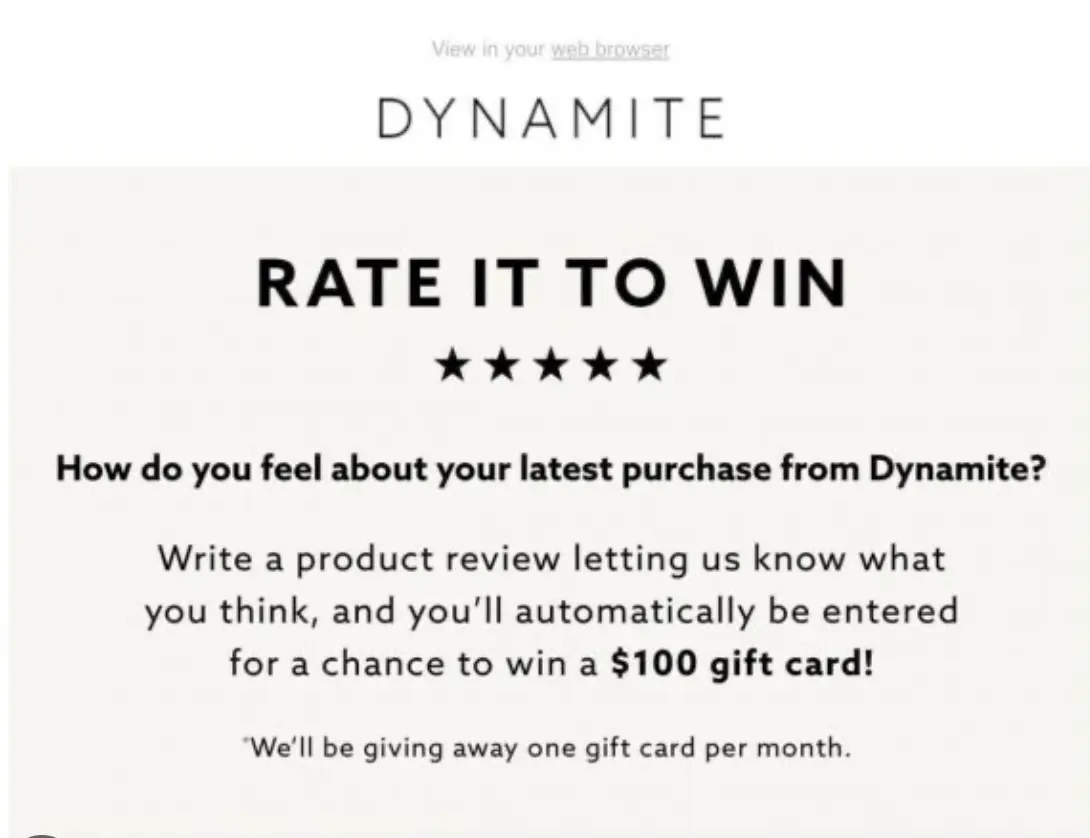 What Does a Review Contest Look Like?
Sure, you can ask your customers to leave a review, but many customers need to be incentivized to leave a review. Through a contest, you can do exactly that. By running a contest, you're giving your customers a reason to review your business. When you simply ask for a review, it's easy for your clients to forget to leave the review, or for them to neglect your ask. Running a contest does the opposite and incentivizes them at the specific moment in time.
A contest can be anything from randomly choosing a winner from someone who leaves a review in a certain window of time to offering bonus sweepstake entries to anyone that refers a friend in addition to leaving a review. How you structure your contest is up to you and should be based on what will best achieve your business's traffic goals.
What Are the Do's of Running a Contest for Reviews?
Do Remind Customers on Your Website
While getting customer reviews is top of mind for you, it isn't top of mind for your customers. They will need to be reminded so you'll want to make it as easy as possible for your customers to leave a review. Including a reminder about your contest directly on your website will remind them to partake in the contest before they leave your page. To do this, you can include different call-to-action icons and pop- up windows that can easily direct customers to your review page.
Do Advertise Through Email
Beyond relying on social media and your website traffic to gather contest entries, use your email. Send a personalized email to any customer that has recently made a purchase. By having that personalized follow-up, they'll feel connected to your business and will be more inclined to participate in any contest and leave a review.
If your contest meets your customers where they are and is convenient and fun for them to partake in, they will be more likely to follow through. Instead of a simple icon that notifies customers of the contest, incorporate images, videos, and more to increase your social proof. Rather than asking for standard written reviews, you might ask for a simple photo review submission to mix things up and highlight your products in real homes and real customers' lives.
What Are the Dont's of Running a Contest for Reviews?
Don't Only Offer Your Products as a Prize
The people that are leaving a review are customers who have purchased a product and they may not want more of the same product. Instead, offer a coupon or discount to your website or services, beyond a specific product, or consider offering a completely different prize like an Amazon gift card or a trip somewhere, depending on the budget and scale of your review campaign.
Don't Neglect Social Media
Social media is your friend when it comes to running a contest. You can post across Facebook, Instagram, Twitter, and any other platforms your business is on. This will not only generate more reviews and contest entries, but you'll acquire reviews on a variety of other platforms outside of the standard Yelp and Google, broadening your reach and gaining exposure to more leads.
Don't be Scared to Get Creative
A review contest doesn't have to be a reward for the customer who provides the most reviews or a raffle. A review contest can be much more than that. If you want to acquire different kinds of reviews, you can run a video testimonial contest to encourage video testimonials around certain parameters. You can also use your contest to gather feedback through an additional poll or quiz about what aspects they like and don't like about your business.
What is the Easiest Way to Run a Contest for Reviews?
Lucky for you, you don't have to run a review contest on your own. Companies like KickoffLabs are available to run your contest and/or help you build a contest in minutes. Whether you are looking for a contest template, like a template for an "ask a question" contest, or a template for bonus entries, KickoffLabs is available to help.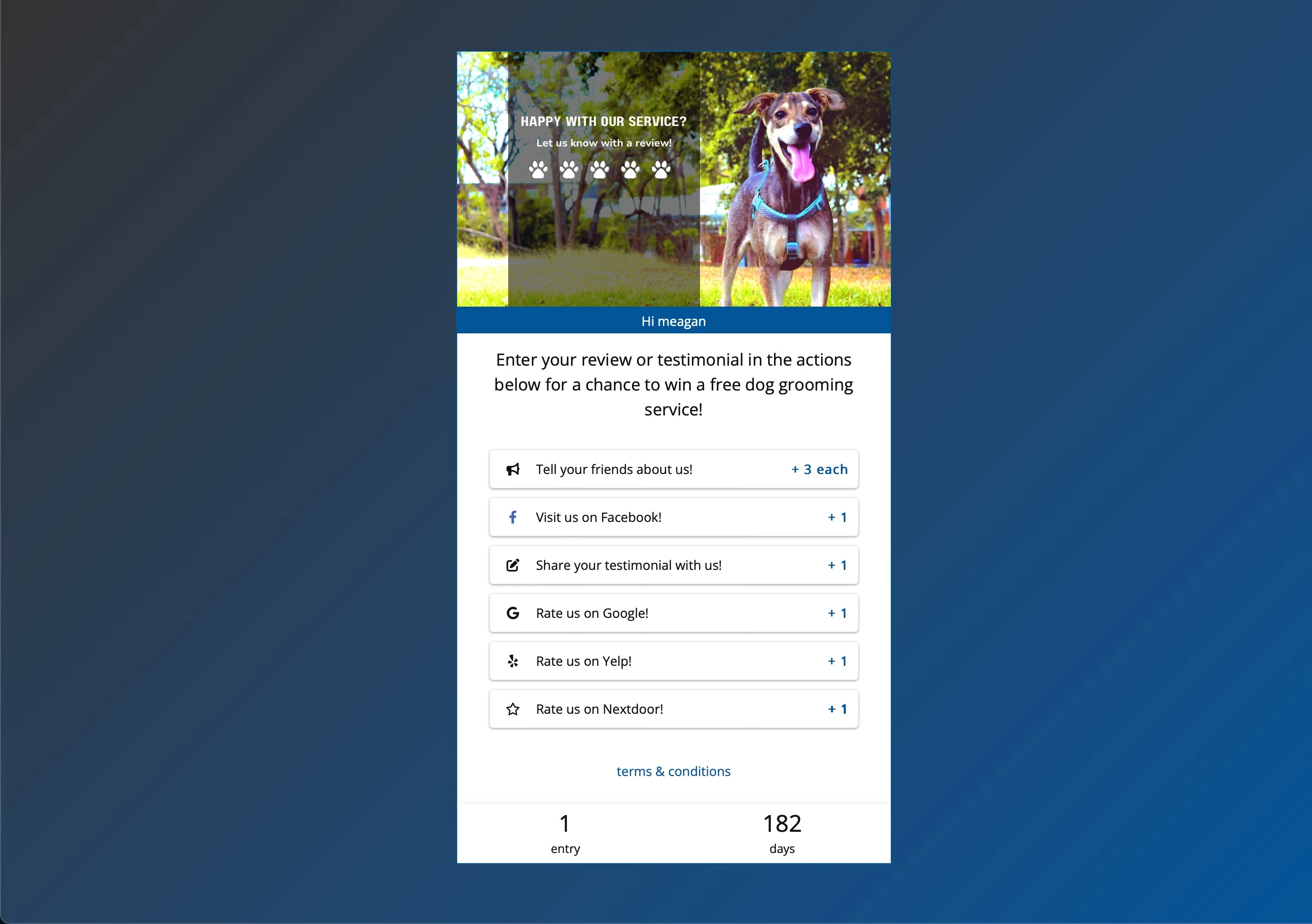 Use KickoffLabs' Open Link action to create custom actions for leads to leave reviews on platforms you're on.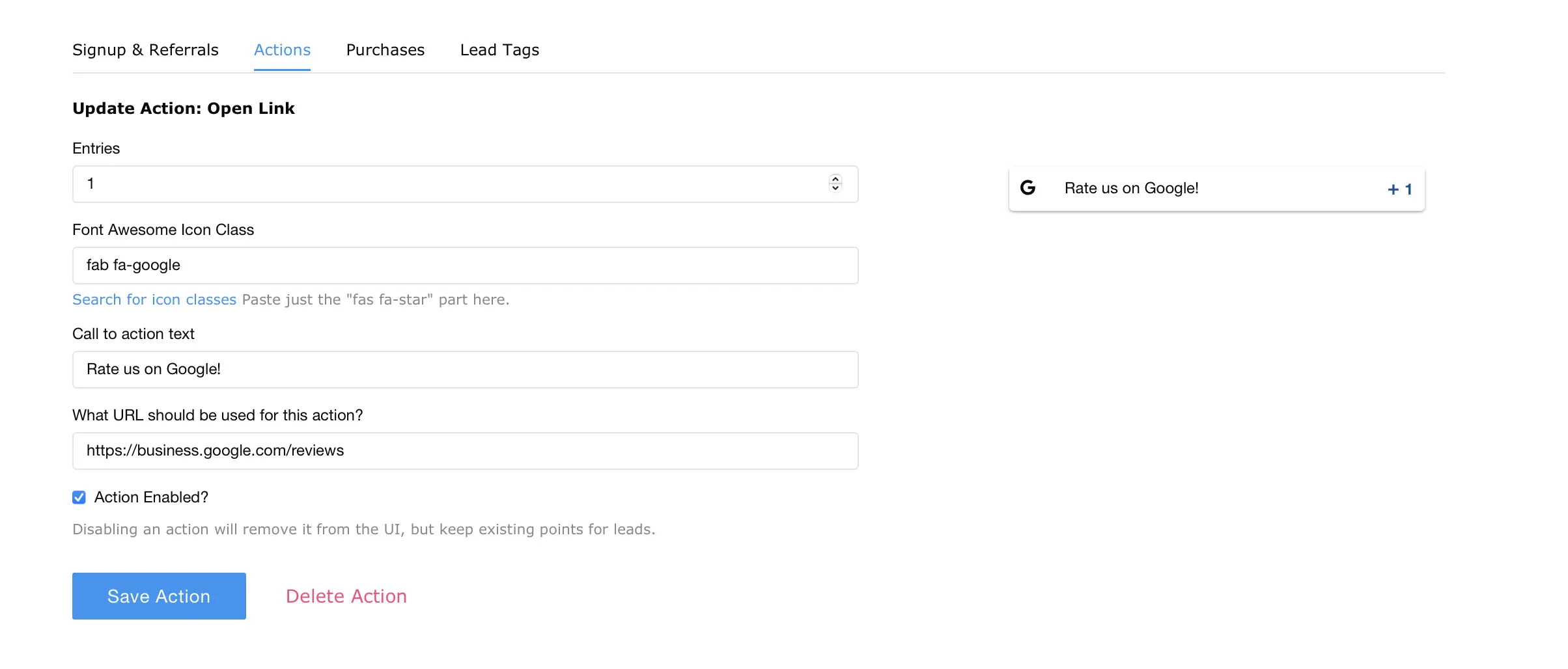 Or, use the form/question action to have leads create a testimonial on their socials and share the URL with you: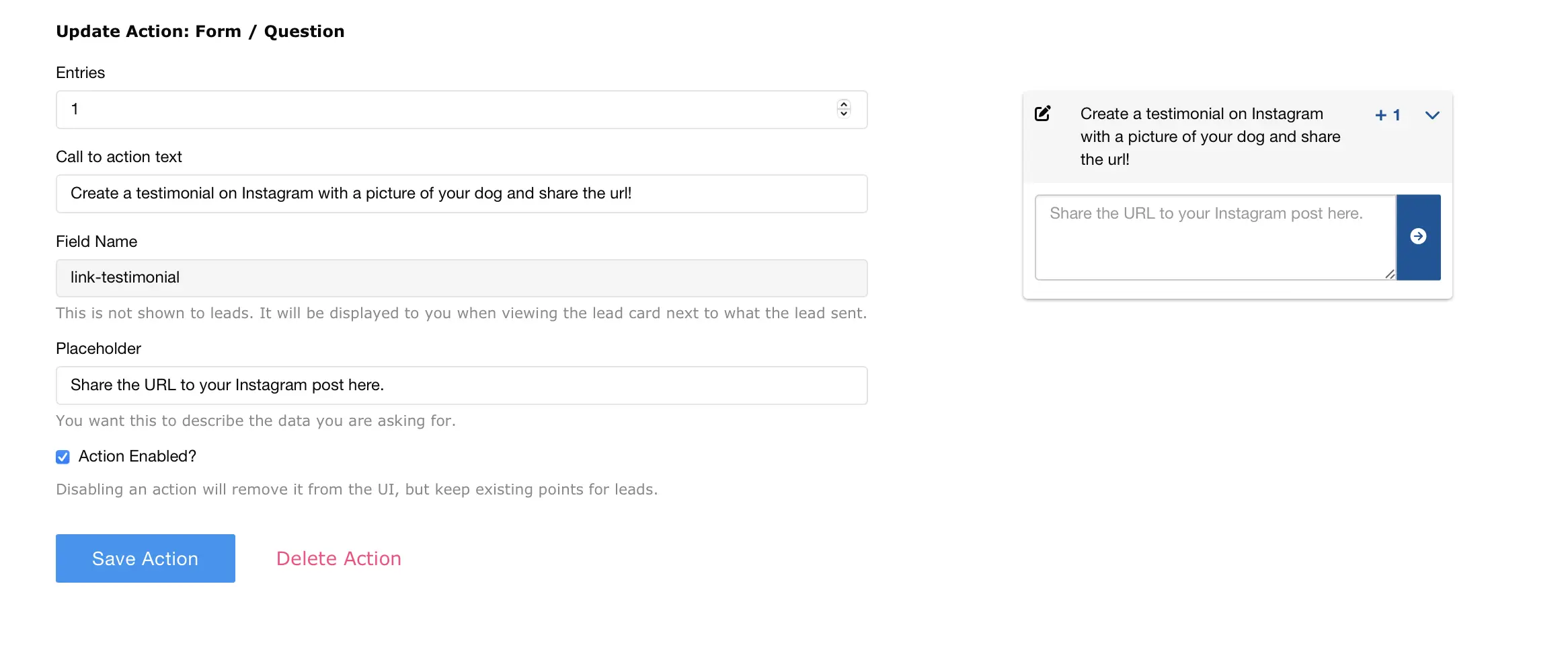 No matter what your goals are for your review contest, KickoffLabs will help you grow your audience. Get started with KickoffLabs for free today or email our support team at support@kickofflabs.com.