Magic contact takes customer email addresses and fills in missing data such as Twitter names, Facebook profiles, biography, current employer, and even their full names.
It's magical! You no longer have to ask busy customers for twenty pieces of data they are going to lie about anyway. This data is available for the majority of your recent signups and you won't find this combination anywhere else.
Actual Magic Contact Customer Data!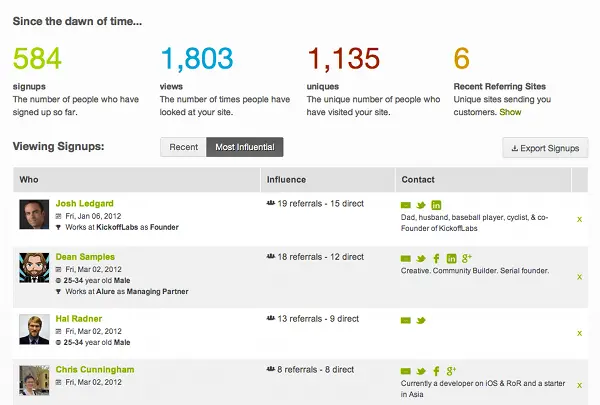 (Most names changed to protect the innocent.)
Discover Influential Customers
In addition to magic contact you can now sort customers by their influence to your business. The combination contact data and influence sorting helps you learn more about and create stronger connections to your most valuable customers.
How do I see this cool stuff?
The most influential view is available to everyone by viewing the signup reports on your landing page. Magic Contact data is only available to paying members with premium or max plans. So upgrade today if you haven't already. :)
Thanks,
Josh & Scott – Founders of KickoffLabs
NOTE: Magic Contact data is only available on your customer signups that have occurred since last week. If you'd like us to fill in the missing data on older emails in your customer list reply to this mail and we'll be happy to help.