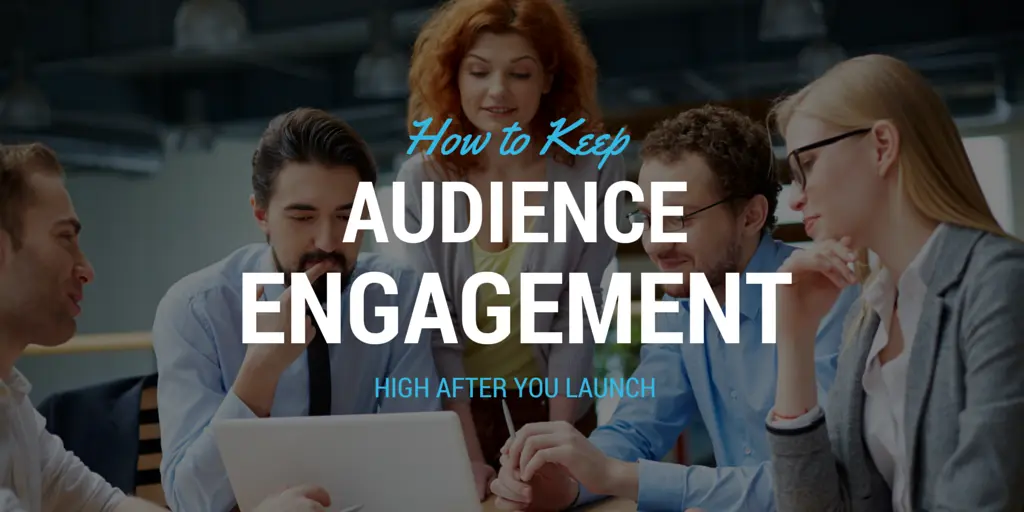 You've launched your amazing new project, and successfully gathered an interested crowd. Congratulations! Now what?
Now that you have your audience on the hook, you don't want them to just wander off to the next exciting show. This is the time to get them emotionally invested in your brand. Doing so will cultivate an engaged community who can help shape your brand.
In the good old days, it would take years of blood, sweat, and travelling salesmen to keep customers engaged with your brand. Anyone remember door-to-door encyclopedia salesmen? These days, it's never been easier and quicker to carve out a cult following for your brand. In fact, you can start building engagement within minutes of your launch. Interested? Here's your strategy:
(Psst.. be sure to download the action plan at the end of this post.  Or grab it now!)
Monitor Your Social Media Channels Like It's Your Job (Because It Is)
Everyone interacts on social media. I bet your grandmother even has a Facebook. Chances are, your audience is on at least one social media channel. Whether it's Instagram, Snapchat, Twitter, Google+, Pinterest, Facebook, or beyond, it's crucial to set up shop where your community hangs out.
Not only that, you also need to communicate with them on their platform of choice. Get involved in the conversation. Be open, outgoing, and extroverted. When your audience mentions you, be there to thank them. Monitor keywords associated with your brand and provide helpful answers or other valuable insight even if not directly asked. Offer freely without slyly linking back to your product. Trust me, if you do this correctly, they will seek you out.
Be committed to creating a conversation with your audience. It is called social media for a reason. Create a specialized hashtag and ask daily questions to keep the conversation active.
When responding to your followers, always use their first names. It makes you less robotic and more human. It also shows that you care about your audience which is the first step to creating a lasting engagement.
Forge a Relationship with Your First Customers
Getting your first few customers is an exciting experience. Each one validates all of the hard work you've put into your project. Here at KickoffLabs, we took things personally. When we first launched, we did three things that we highly recommend:
First, we looked up everyone who signed up. We wanted to know who invested in our product. It helped us understand our audience and better target our offerings.
Second, we looked at their created pages. We wanted to see the different ways our customers used our product.
Finally, we reached out personally to each customer. We offered meaningful, customized suggestions to improve their conversion rates. We went beyond their expectations.
The result? We received our very first testimonials from these impressed customers. We also got great word of mouth that you just can't buy. While a lot of businesses let their first customers fade into the background, we created an engaged community from the start by taking an active interest in them.
Highlight Customer Stories
Do you know the stories of customers who've used your product or service? This is why monitoring social media is so important. Not everyone will send in a testimonial, but they will share their experiences on social media with their own sphere of influence.
If you come across a customer who loves what you do, don't just take it as a boost of confidence– take it as free advertisement. Re-tweet, re-post, re-pin, repeat! This is a great opportunity for you to share the ways that others are using your product or service.
Bonus points for finding creative uses of your offering, because sharing it can inspire your community to use your product in exciting new ways. Consider what IKEA Hackers did for IKEA: one person's creative bookshelf DIY launched a thousand trips.
Run A Contest
It's always the right time to run a contest. Whether you've just launched, or you're re-engaging dormant customers, a contest is a great way to create buzz and energy around your brand.
I think the best contest to run is one where there are no losers. While there may be only one grand prize, everyone who participates gets something in return. Whether it's a free ebook, a special discount, or extra points for every referral, incentivizing your contest will motivate your audience to action.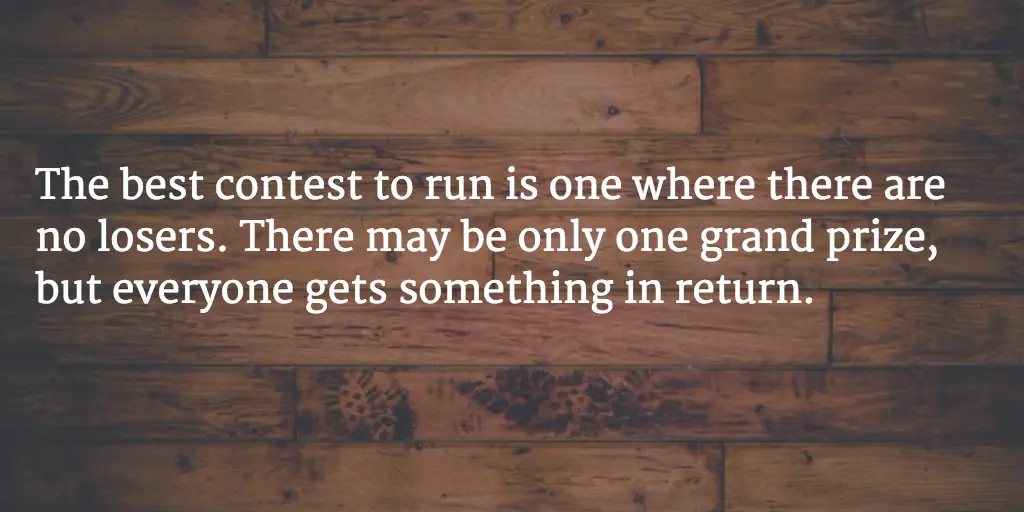 Create A Loyalty Program
Along with running a contest, consider implementing a loyalty program. Make your audience feel appreciated by creating a loyalty program that incentivizes their engagement. Do they bring in referral business? Do they spend a certain amount? Decide on what activity you want to drive and then make a program around it.
A few words of caution: Don't make a never-ending loyalty program. For example, no one wants to earn one point per every $1000 spent, especially when it requires 10 points to get a branded t-shirt.
Make the goal doable and valuable to your audience. Perhaps you can offer a heavy discount after reaching a certain point level, or even a free upgrade. Your prize should be commensurate with your product. Take a look at seven customer loyalty programs that add value.
Ask for Ratings
Did you know that ratings and review emails enjoy two times the open rate of average promotional emails? That's because your audience is most excited to review your product or service immediately after they've purchased from you. Use that window to get valuable ratings and reviews for your product.
When to do it: The answer depends on your offering. If you've launched a product that's available for immediate download, time your review email within a couple of days, to give your customer an opportunity to evaluate. If your product requires physical delivery, time your email for the day after delivery. Of course, there are no hard and fast rules. You know your product and your audience. The important thing to remember is to ask.
How to do it: Don't force lengthy reviews. Sometimes, it's easier to ask for a star rating with an optional written review. That way, it's short, sweet, and non-intimidating to your average time-pressed reviewer.
Make Your Audience Your Co-Creators
Treat your audience as your focus group. Remember that your product is for them, so it should be shaped by them. They'll tell you what works and what doesn't work. The secret to keeping an audience engaged is by making them feel like they're part of the process. You can and should create an active dialogue between you and your audience.
You do this by showing them behind the scenes photos and videos on your blog. You ask for opinions on new projects over your social media channels. You create polls on your email newsletter to choose the best design for upcoming products/ services.
Getting your audience involved with your brand will make them feel connected and invested in you.
Create A Blog and An Email Newsletter
This is definitely a one-two punch. While you do need a blog for more than just audience retention, there's no doubt that a blog will increase your engagement (when done right.) Your audience likes to read fresh news from and about your industry. And they're coming to you because they want your unique perspective.
One of the most important goals of a blog is to grow your email list. You want to create a blog that's helpful and entertaining, but you also want it to be read. And for that to happen, you can't rely on your audience's memory. You need to create an email list that gently re-engages your readers. Use it to announce new blog posts and other relevant information that they would love to receive from you (new products, special promos, etc).
When people give you their email address, it's almost sacred. It's their way of saying, keep me engaged. Woo me. Serenade me at dusk. (Maybe I'm going a little too far.) But the point is, you have permission to converse with them, so take it and talk.
And don't just let it be a one-sided conversation. Ask questions, offer surveys, invite to contests, show them how to use your product/ service, and ask for specific feedback. You know you're on the right track when you get responses.
So, are you ready to implement these strategies? Be sure to download our post launch action plan.