Father's Day is more than a holiday honoring male role models: it's also a fantastic opportunity to engage your audience with interactive giveaways. Many families already celebrate Father's Day by treating dads to fun activities, favorite foods, and thoughtful gifts. Father's Day 2023 is June 18, so there's plenty of time for your brand to join the holiday spirit. Giveaways are proven crowd-pleasers that can boost your engagement, reach, and conversions. Explore everything you need to know to run a successful Father's Day contest including strategies for audience engagement, appealing prizes, and essential giveaway elements.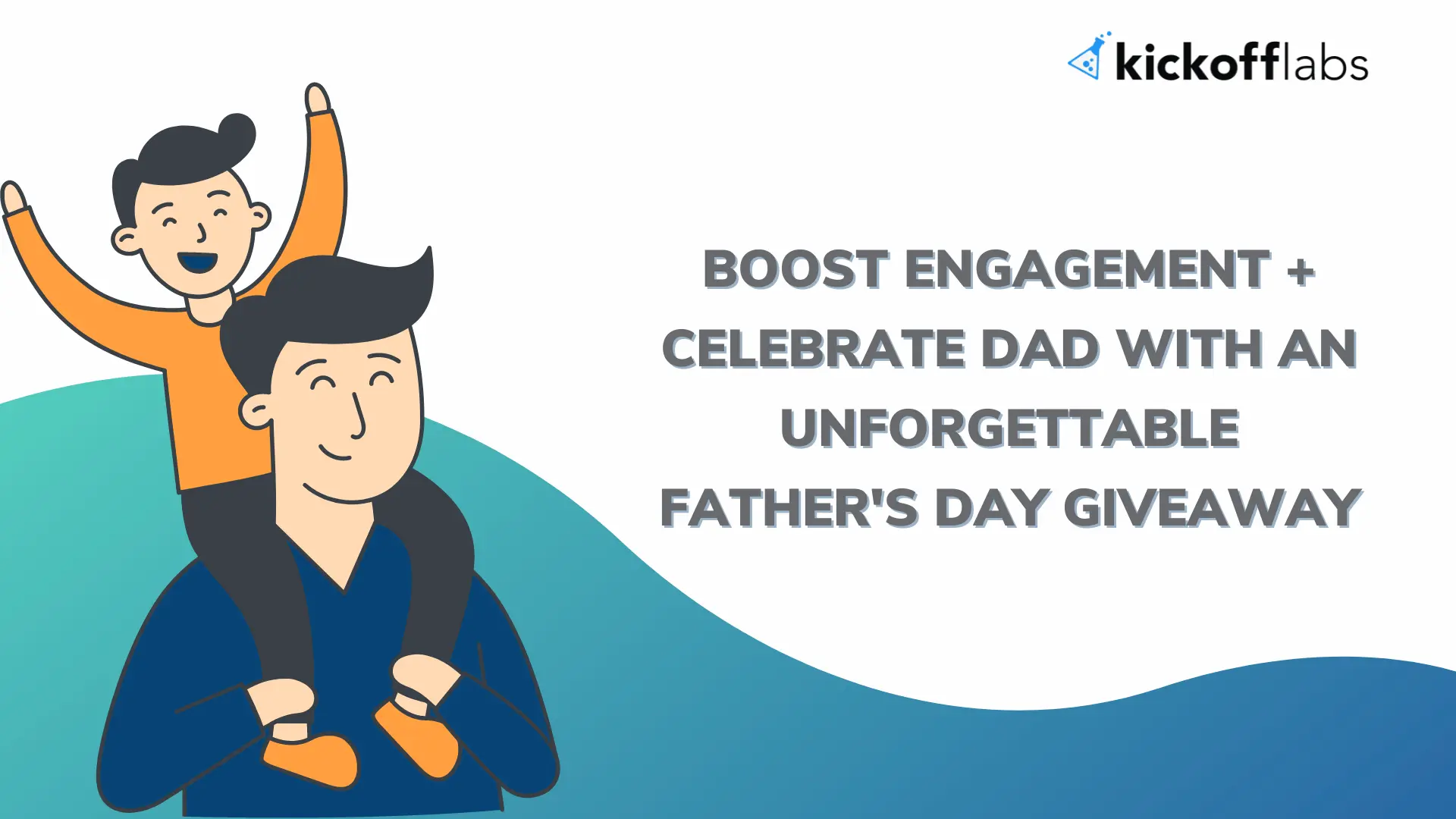 Father's Day Giveaway Ideas To Engage The Audience
Online giveaways are a reliable strategy for boosting audience engagement, brand recognition, and reach. Consider these fun ways to encourage giveaway participation for Father's Day.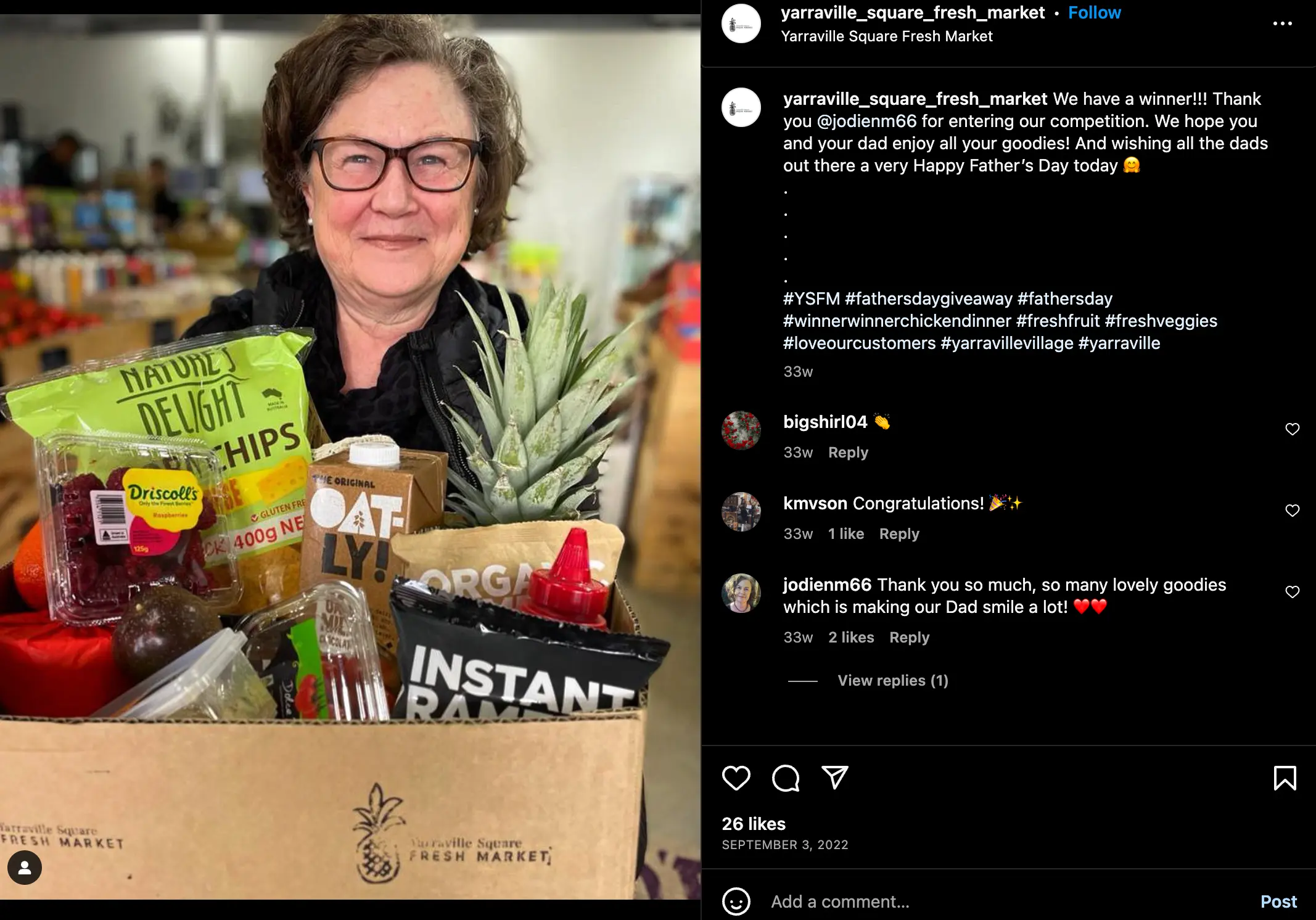 Tag a Dad
Encourage your leads to tag their dads in your giveaway posts on social media. Tagging other users will expand your reach to new circles, plus it helps fathers feel included as the holiday arrives.
Share a Favorite Memory
People start to think about good family memories as Father's Day approaches. Help users share these memories as part of your giveaway Text posts or comments on social media are an easy way to collect memories. Other social options include tagging your brand in a photo or video post about their dad. You can also ask users to include cherished memories on their giveaway entry forms or through email.
Honor Fathers who are no Longer With us
Navigating Father's Day can be a challenge for people who have lost their dad. Help your customers in this situation feel included by asking how they're remembering their father this year.
Discount Codes
Offer discounts for every user who enters your contest. A code for 10% off, free shipping, or a free trial will entice customers who might have scrolled past your giveaway.
Giveaway Items
Similar to offering a discount, giveaway items are another value add for your users. You can give people a code for a free item when they enter your giveaway. Items branded for Father's Day are nice, but not a necessity. Feel free to use your standard promotional items as giveaways.
Dad's Favorite Recipes
Almost every family has special food traditions. Ask your users to share their dad's favorite foods on social media to boost engagement.
Recognize Other Male Role Models
Like all family relationships, fatherhood can be complicated. Not all of your users will have a good relationship with their dads. Encourage your community to tag other important men in their lives like grandpas, step-fathers, uncles, brothers, cousins, or even teachers and coaches.
Photo Contests
Ask users to submit their favorite pictures of their dads. Funny pictures are always a hit, but you can also request photos of dad looking cool, dad with the family, or even better, dad using one of your products.
Quizzes
A quiz might have been bad news in school, but people love online quizzes. Try trivia-style quizzes that feature well-known pop culture fathers. You can also offer gift-finding quizzes that show users the best Father's Day present for their dad. Feel free to suggest your products as gifts if that's appropriate.
Prize Ideas For Father's Day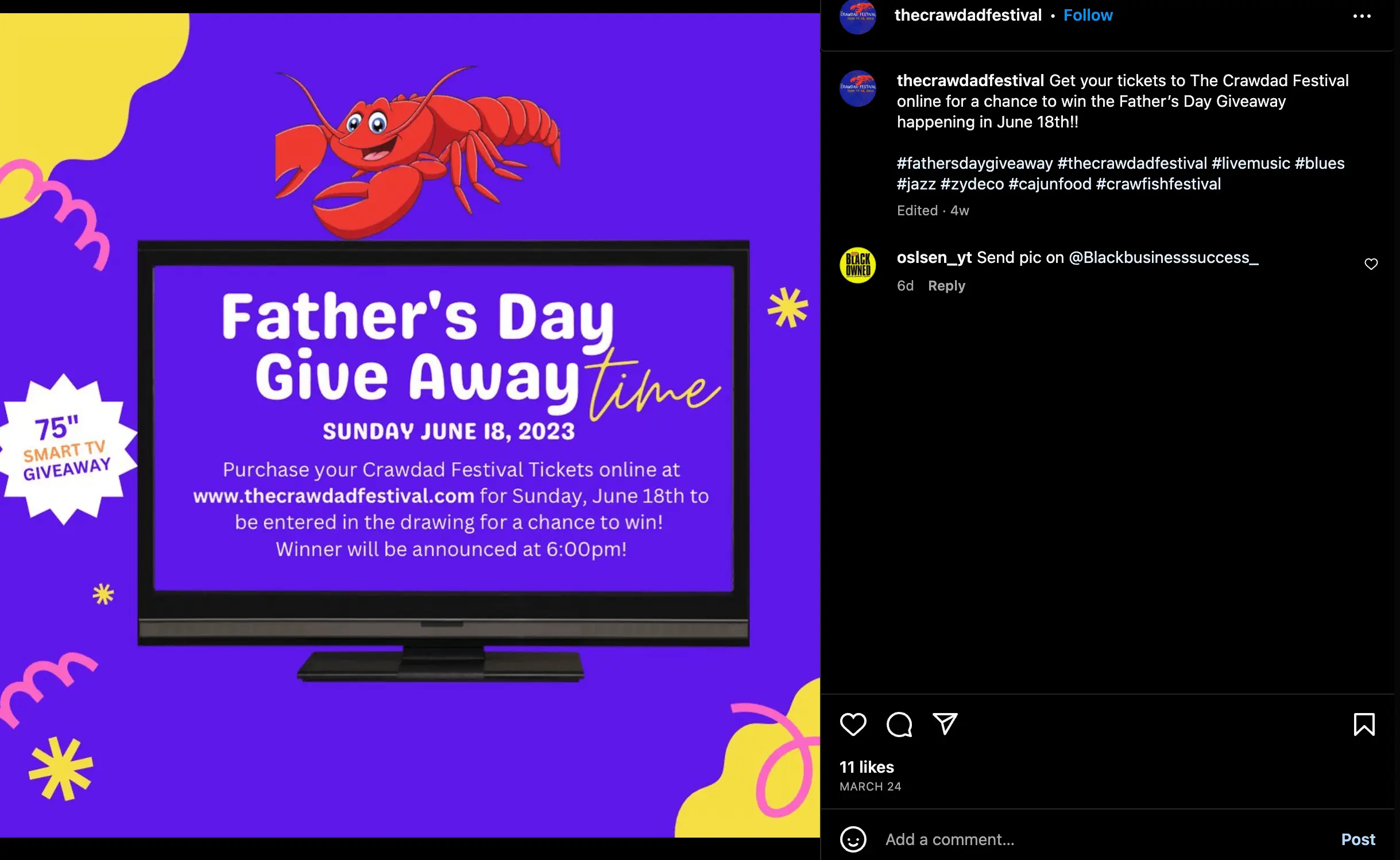 Dads have many different interests, so you can choose from a range of prize ideas for Father's Day.
Gift Cards
Money is always a crowd-pleaser! Gift cards let your winners choose their reward. Digital gift cards are easy to manage: simply send the details to your winner after they're selected.
Subscription Services
Cover a family's subscription costs for a year. One popular option is offering a year's subscription to Netflix, Disney+, Hulu, or any other streaming services. However, you can also provide other subscriptions to your audience. Meal prep boxes, loot crates, member's-only retail stores, and even physical magazines are all fun subscriptions for your prize.
Your Most Popular Product
Dig into your segmentation data to see which of your offerings is most popular with the dads in your customer base. Then offer that product or service as your giveaway prize.
Personal Training
Athletic training is a fantastic way for dads to invest in themselves. If your winner is already active, training can help him reach the next level of performance. Beginners can also benefit from an individualized training program to kickstart their fitness journey.
Dad's Day Out
Put together a mix of fun activities for dad to enjoy by himself or with the family. Tickets to a sporting event, theme park, movie theater, or other enjoyable event are a good start. Add a restaurant gift card to round out the day.
Date Night
Give dad a night on the town, complete with a babysitter, nanny, or other safe evening activity to keep the kids busy.
Local Events
If your business has primarily local customers, offer prizes from regional favorites. Whether it's tickets to the local sports team, passes to an upcoming live concert, season passes to a nearby attraction, or anything else from the area, local giveaways cement your brand as part of the community.
Branded Goodie Bags
Round up all your branded promotional items and give your winner one of everything. T-shirts and hats are a great start but don't forget about backpacks, pens, tech accessories, stickers, water bottles, and more. This prize is sure to attract your most loyal customers and their families.
Behind-the-Scenes Access
The best prize is something you can't get anywhere else. Offer up exclusive access to your giveaway winner. Depending on your business model, this could be a facility tour, meet-and-greet with your founder, customized products, or anything else unique to the contest.
Essential Father's Day Giveaway Elements
Creating an unforgettable giveaway experience and engaging consumers can be done in minutes with our Father's Day Giveaway template. Easily customize the template to your brand using our pre-set widgets to boost conversions and increase brand awareness! KickoffLabs offers over 50 actions to choose from across multiple platforms.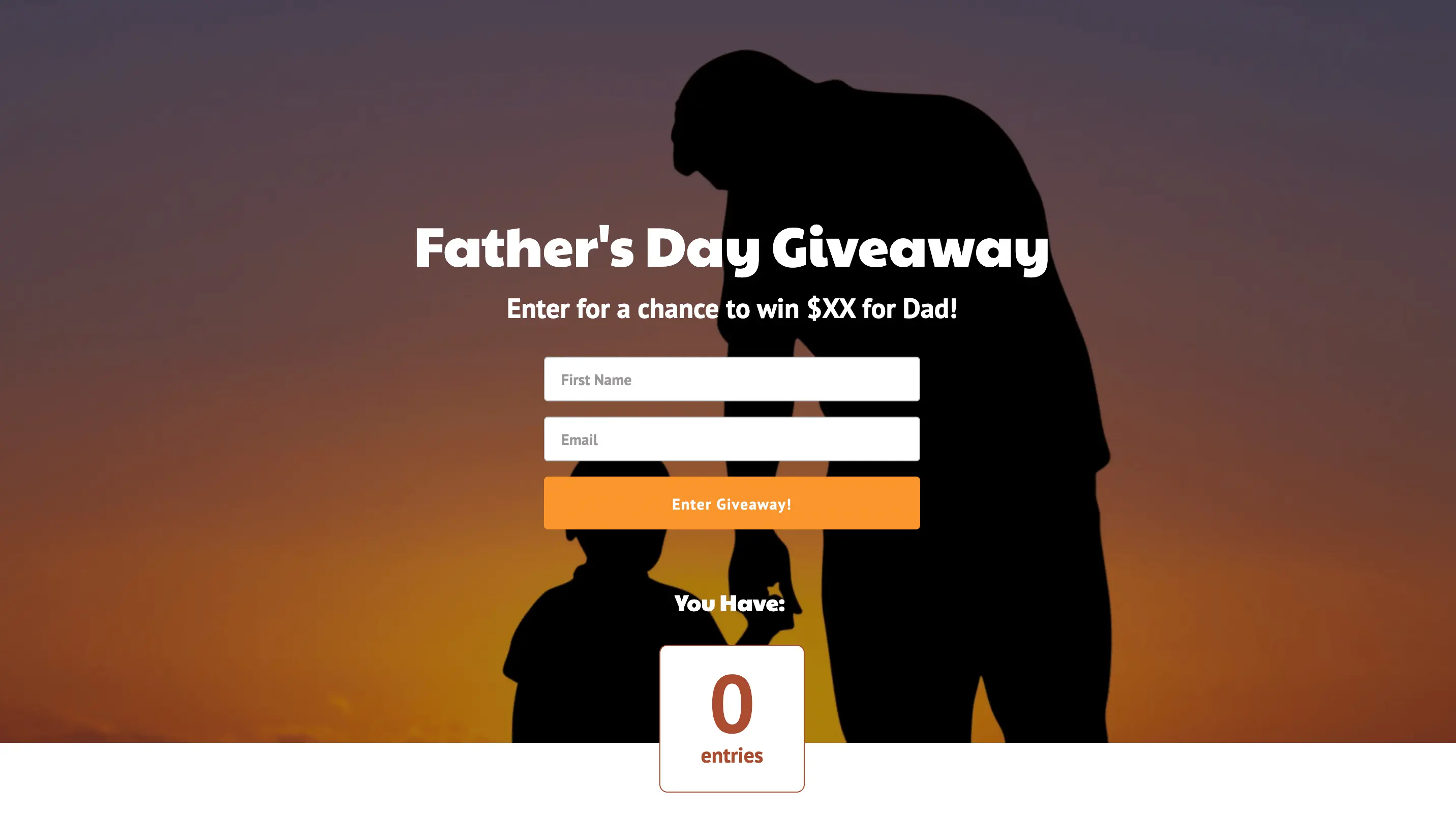 The Father's Day template comes pre-set with several of our top widgets (preconfigured to the campaign type chosen) and include the lead's unique share URL,making it easier than ever to boost word of mouth reach with your brand.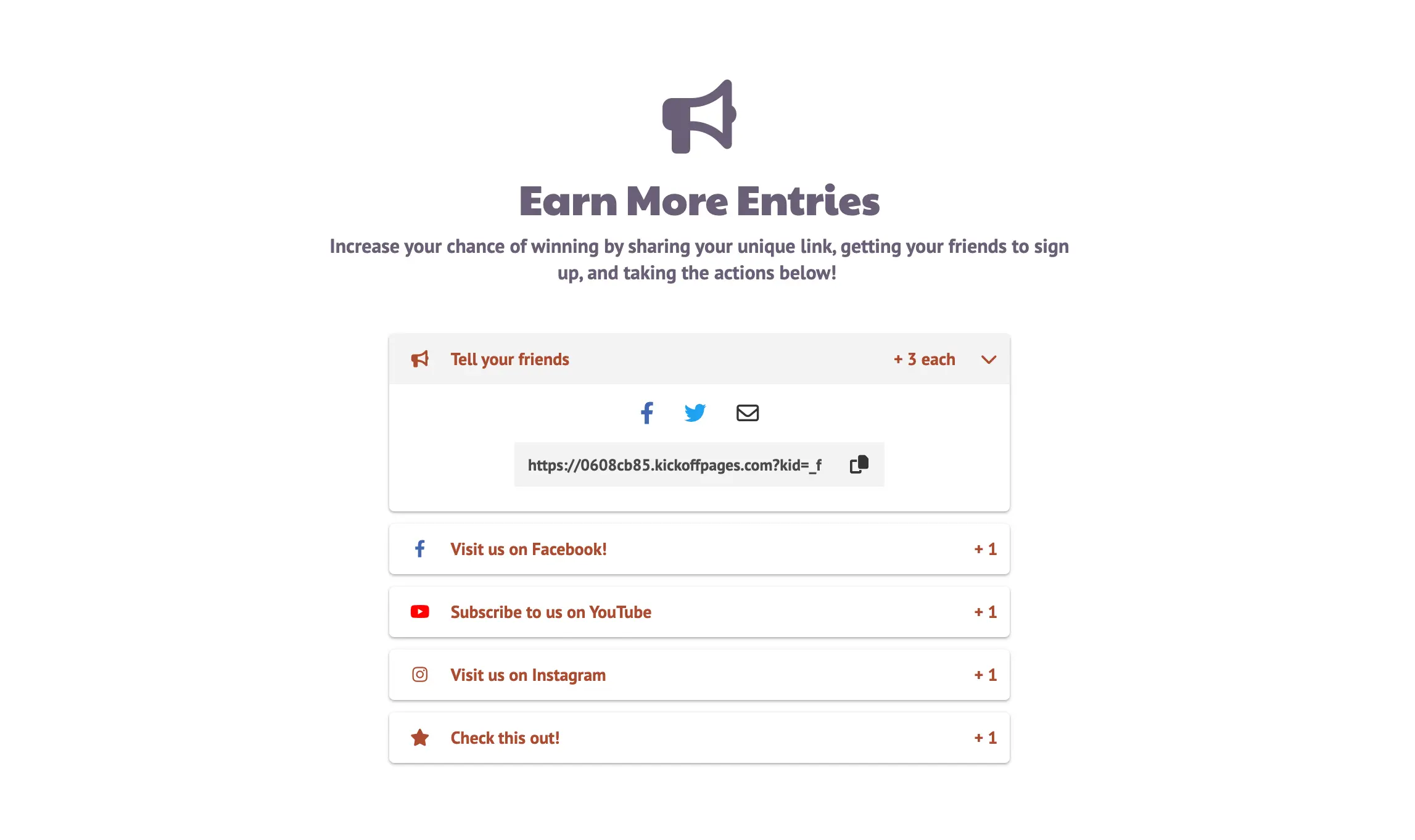 We've also included some additional best practices to keep in mind while building your first Father's Day Giveaway.
Relevant Background Image
You need an attractive, appealing, professional background image on your contest page. This visual detail shows your customers that they're on a reputable site so they trust you with their contact information. Use an image related to fatherhood if possible for the best results.
Highlight the Prize Value
Remember that customers are entering this contest for the prize, not because they like your brand or what to help you. Showcase the prize and its value throughout the page.
Easy to find CTA button
Like all call-to-action buttons, your conversion link should be prominent. Use contrasting colors, large font sizes, and other design elements that are easy to find.
Timer
Create a sense of urgency with a countdown timer. This encourages users to convert right away, before time runs out.
Complete Contest Information
Include precise details on how to enter, what the prize includes, and everything else about the contest. Some users want to know all these details, so make it easy for them to find.
Terms and Conditions
Make sure your contest terms and conditions are posted somewhere on your website. Then include a link to this page on your contest entry. If you're running a contest on Facebook or other sites you don't own, research their contest rules before you start to post. We offer a boilerplate template with all of the needed items to cover to help get you started.
Limited Navigation
Don't give users a reason to leave your page before they convert! Include a T&C link but otherwise, your only clickable link should be the entry form. Users can explore the rest of your site after they enter your contest.
Run A Father's Day Giveaway Easy With KickoffLabs
Online giveaways are even more rewarding with KickoffLabs! Our giveaways are designed to multiply the impact of every entry. Participants feel rewarded when they enter so they organically spread your contest throughout their network. We make it easy to increase your traffic, boost conversions, and expand your reach, all while helping users feel valued. Explore KickoffLabs and get started with our viral giveaway services today or email our support team support@kickofflabs.com to learn more!