Are you getting ready to launch an amazing product? It's time to get a teaser 'coming soon' page up and start collecting email addresses. This post takes a closer look at six outstanding 'coming soon' pages from companies that have aced their campaigns using KickoffLabs, along with the best practices they employed to ensure their success. Scroll down to read more.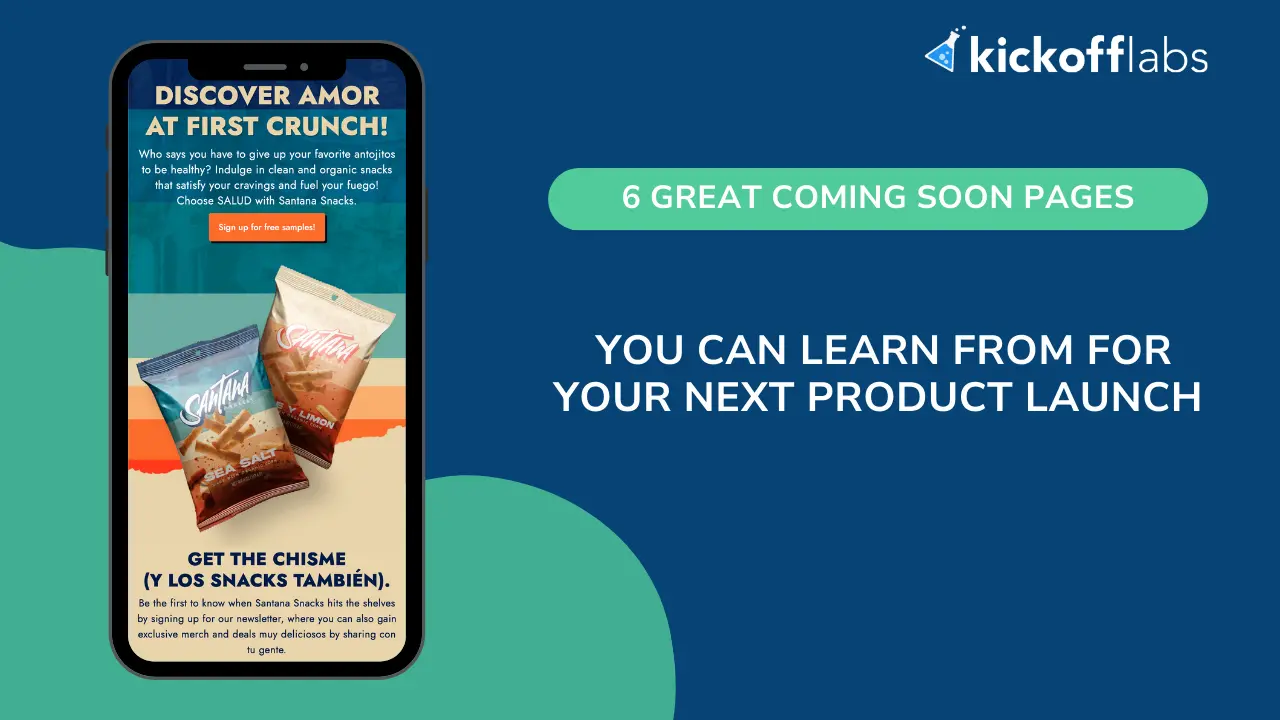 Keep the Coming Soon Page Simple
Scream Park excelled in creating a prelaunch landing page for their event, ensuring a seamless user experience while effectively building anticipation. The page was mobile-friendly, straightforward, and visually appealing, featuring essential elements like a form, logo, and background image.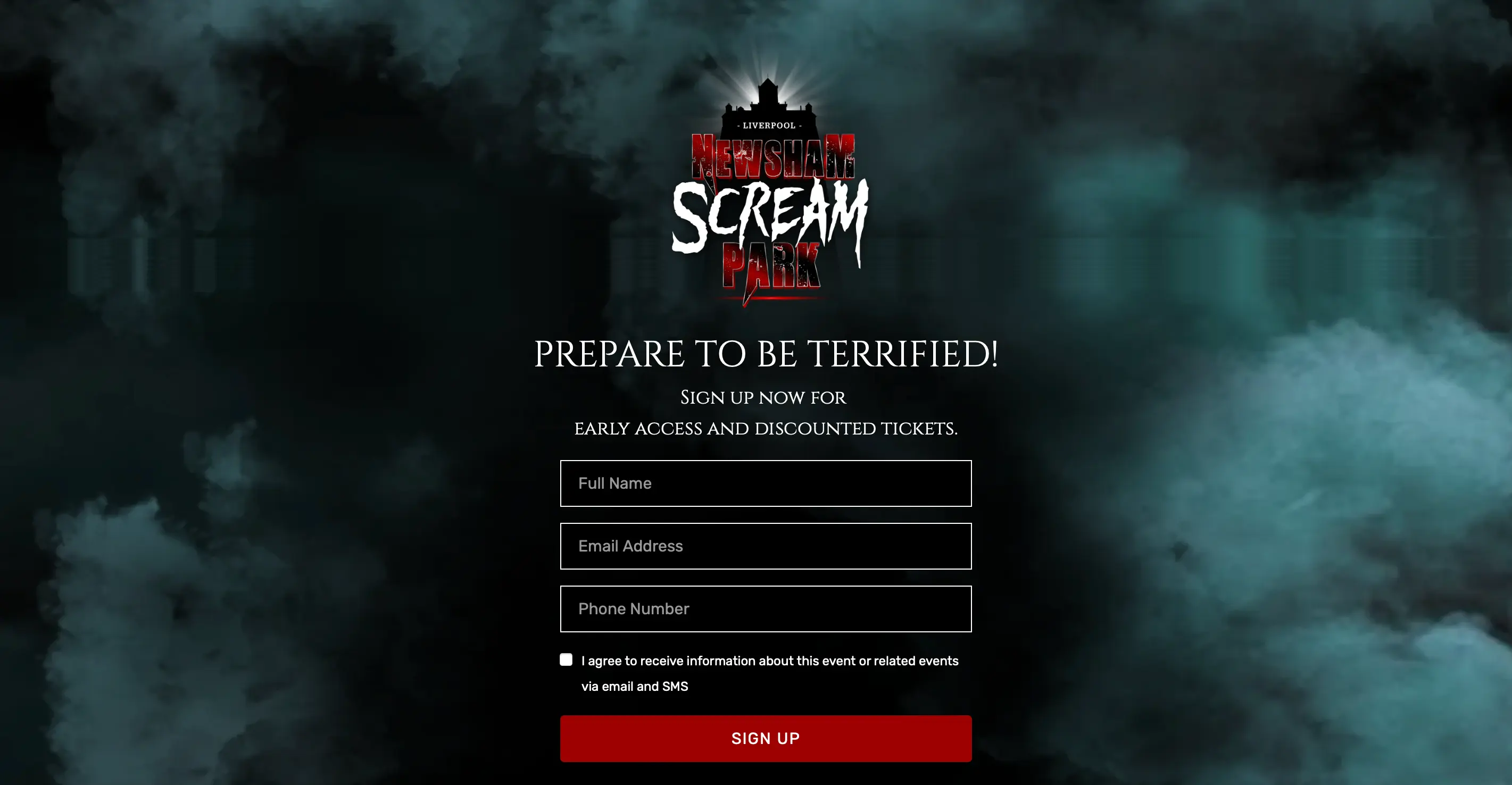 Upon signing up, users received a personalized thank you message, enhancing the user experience. The page also included clear calls to action, encouraging visitors to follow their social media, visit their website for more information, and share the event with friends to enter a competition.
This clever integration of a sharing mechanism not only fostered community engagement but also significantly amplified their lead generation efforts. By implementing these best practices, Scream Park set the stage for a successful event launch, poised to sell out tickets rapidly and create a buzz in their community.
Have Clear Visuals on Your Product Launch Pages
The Furoomate pre-launch landing page is a masterclass in effective landing page design. They have a crisp hero image, showcasing the Furoomate litter box in a home setting. The headline, "Furoomate - Elevate Your Cat's Comfort and Your Convenience," communicates the product's dual value proposition, addressing both the pet's needs and the owner's convenience. Complementing the image and headline, the sub-text dives deeper, inviting visitors to abandon the inconveniences of conventional litter boxes in favor of the future of feline-friendly cleanliness.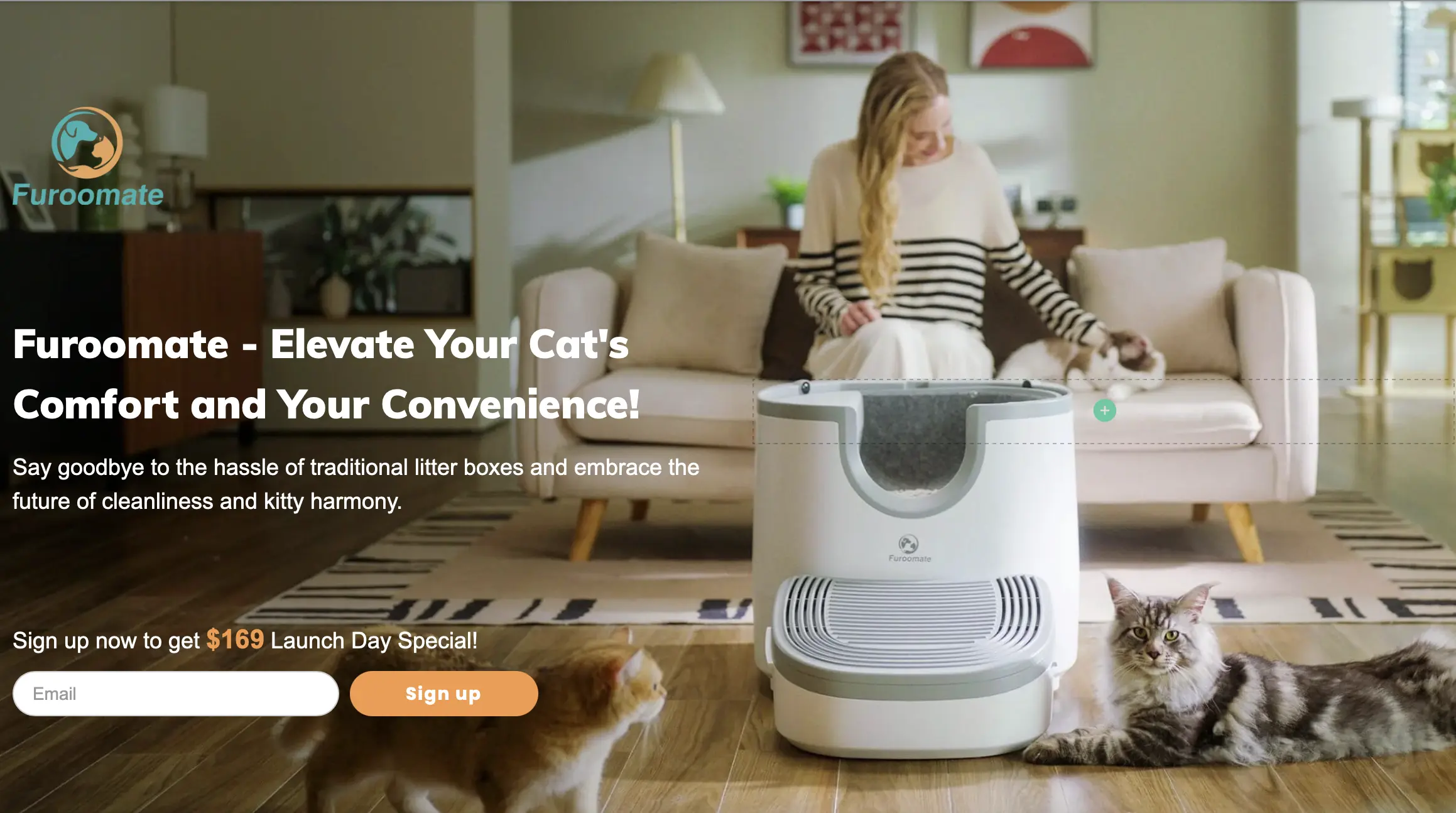 The cherry on top? The strong call to action. By highlighting the enticing $169 Launch Day Special, Furoomate not only incentivizes immediate sign-ups but also creates a sense of urgency and exclusivity, crucial elements to motivate interest ahead of their crowdfunder campaign.
Create a VIP Facebook Group to Promote Your Product Launch
HeyGears utilized a strategic approach for their pre-launch landing page. They presented a clear product image alongside a headline that effectively conveyed the product's value proposition. Their primary incentive for sign-ups was a deeply discounted early bird offer, promising a $400 discount and an additional community coupon.
Building an email list pre-launch was essential to secure a customer base for the crowdfunding phase.
The page also details the product's capabilities, showcases examples of what can be created, and wraps up with reiterated calls to action. By emphasizing community engagement, they encourage users to join their dedicated group, which helped to build the excitement for the product launch.
Offer Free Samples to Micro Influencers who Promote Your Product Launch
Santana Snacks pre-launch landing page brilliantly showcases the best practices in design and digital marketing. The attractive design, instantly draws the visitor in, presenting tasty, healthy snacks using vivid visuals.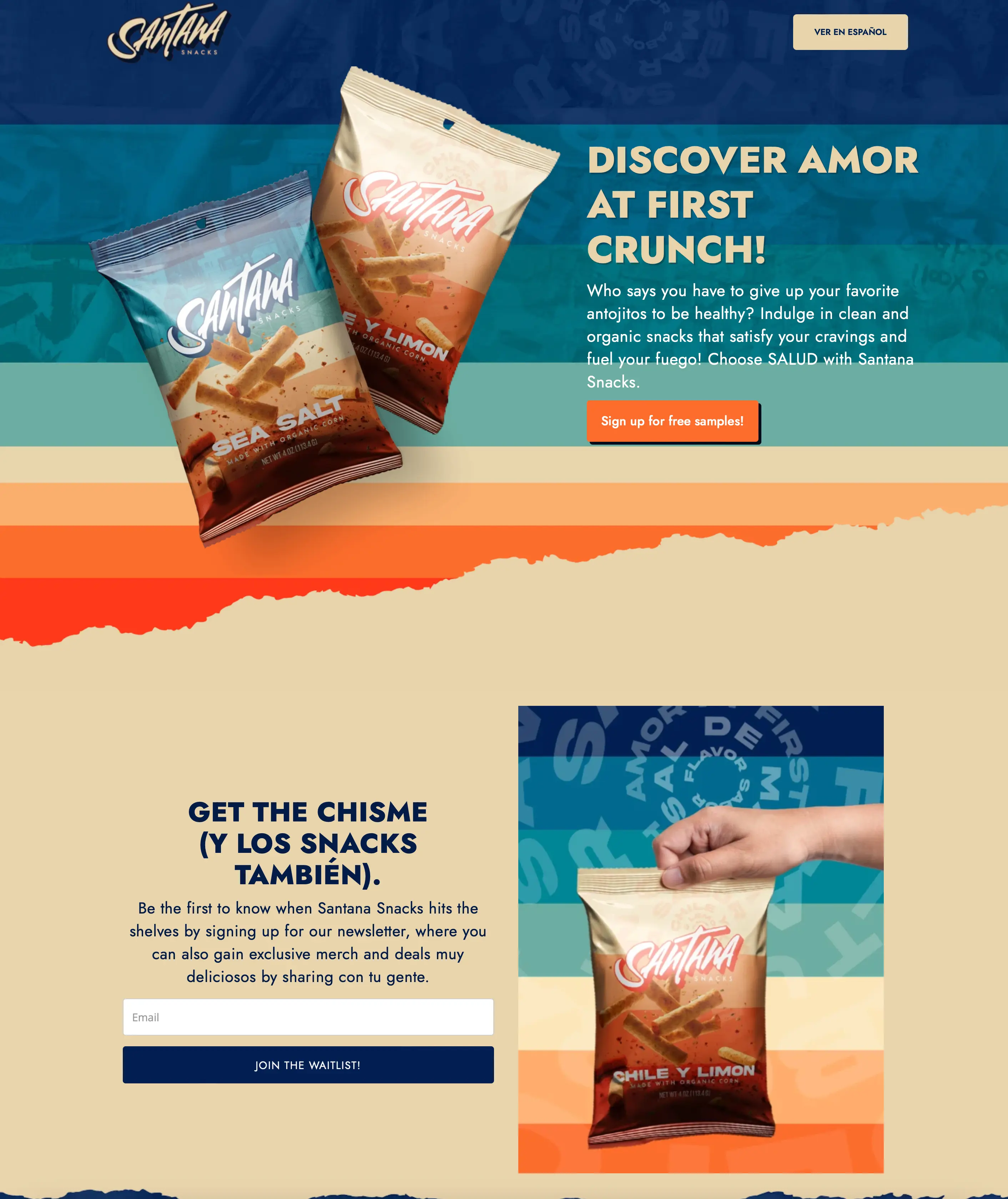 The clear and strategically placed Call to Actions, both above and below the fold, emphasize the brand's all-natural, organic snacks bursting with authentic Mexican flavors. This seamlessly drives visitor sign-ups, fostering potential customer engagement. Additionally, a distinct Call to Action inviting visitors to sign up for free samples serves as an irresistible incentive, demonstrating Santana Snacks confidence in their product and commitment to customer satisfaction.
Tailor the Coming Soon Page Copy to the Product
AnyMaka has mastered the art of creating an enticing pre-launch landing page. With the objective to collect leads for their portable hammock stand before launching a crowdfunding campaign. They've incorporated several best practices to ensure its success.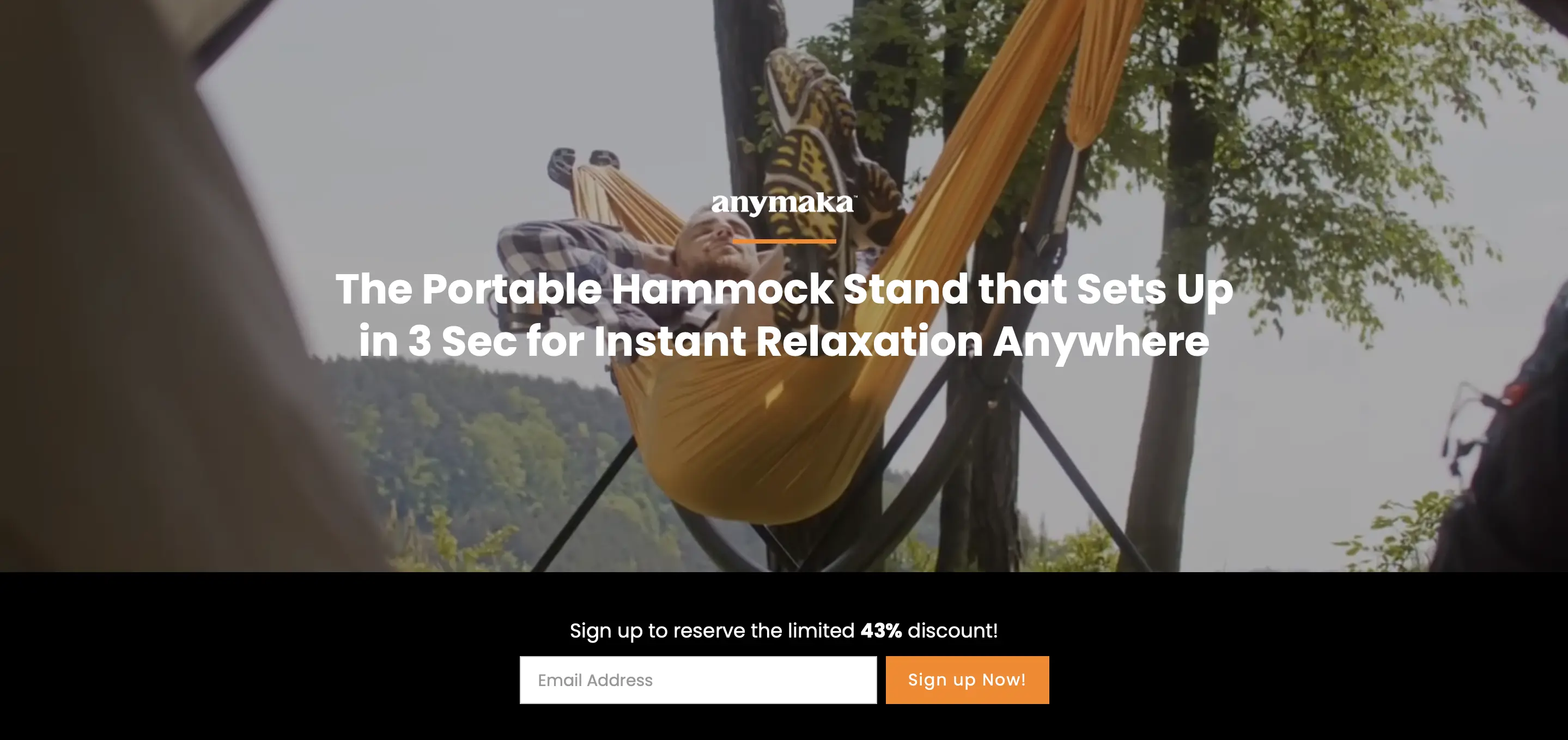 The campaign places a high emphasis on realism, using videos and images of the product prototype to convey its authenticity and functionality. This increases user confidence in the product, which in turn boosts sign-ups and reservations. The landing page uses clear and compelling headlines that immediately highlight the product's unique features - from setting up in three seconds to offering a rotatable canopy with UPF 50 sun protection.
Anymaka also avoids generic language, ensuring every line of content is tailored specifically to the product. The main headline is concise yet descriptive, giving potential customers a snapshot of what the product offers. Meanwhile, the call-to-action is eye-catching and persuasive, offering a unique 43% discount to early birds. By combining these elements, Anymaka has crafted a landing page that not only showcases the product's value but also entices users to become a part of its journey.
Humanize the Product Launch Pages
Maven's prelaunch landing page demonstrates a collection of best practices that have contributed to collecting over 15k waitlist leads.
First, the design is sleek and intuitive, offering a clean visual that immediately directs visitors to the most crucial information. The headline "Introducing proactive pet care" is not only attention-grabbing but also communicates the core value proposition. Maven's commitment to tracking a pet's health 24/7 and the introduction of their expert vet team, further instills trust and credibility. The communication with users is made more personalized and relatable by incorporating conversational chatbot messages, showcasing real-life scenarios between pet owners and the Maven Vet Team. This not only humanizes the brand but also illustrates the product's functionality in a real-world context. Additionally, the "Request Access" call-to-action button is prominently displayed, making it easy for interested users to engage.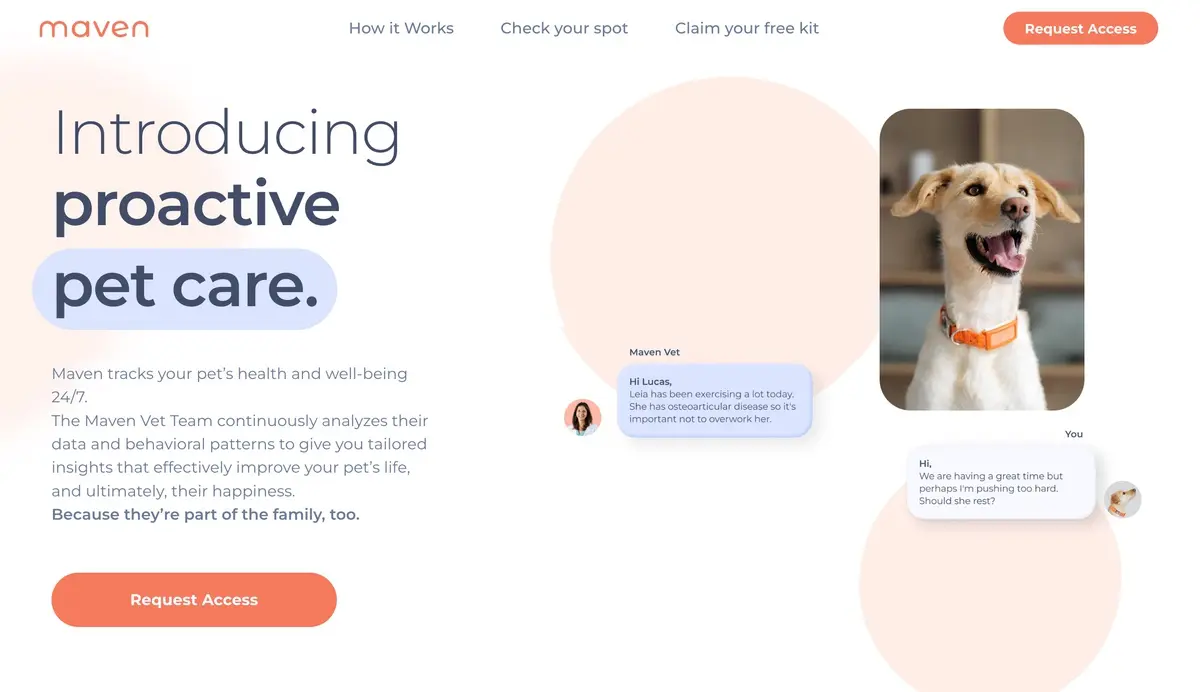 The inclusion of a visually appealing image of a happy dog further gives off positive vibes, encouraging pet owners to consider the well-being of their own pets. Overall, the combination of clear messaging, compelling visuals, and user-friendly design elements makes this landing page a prime example of effective lead generation.
After the lead signs up, they're then redirected to a separate status page where they can view their stats, share with friends, and complete additional actions to receive priority access.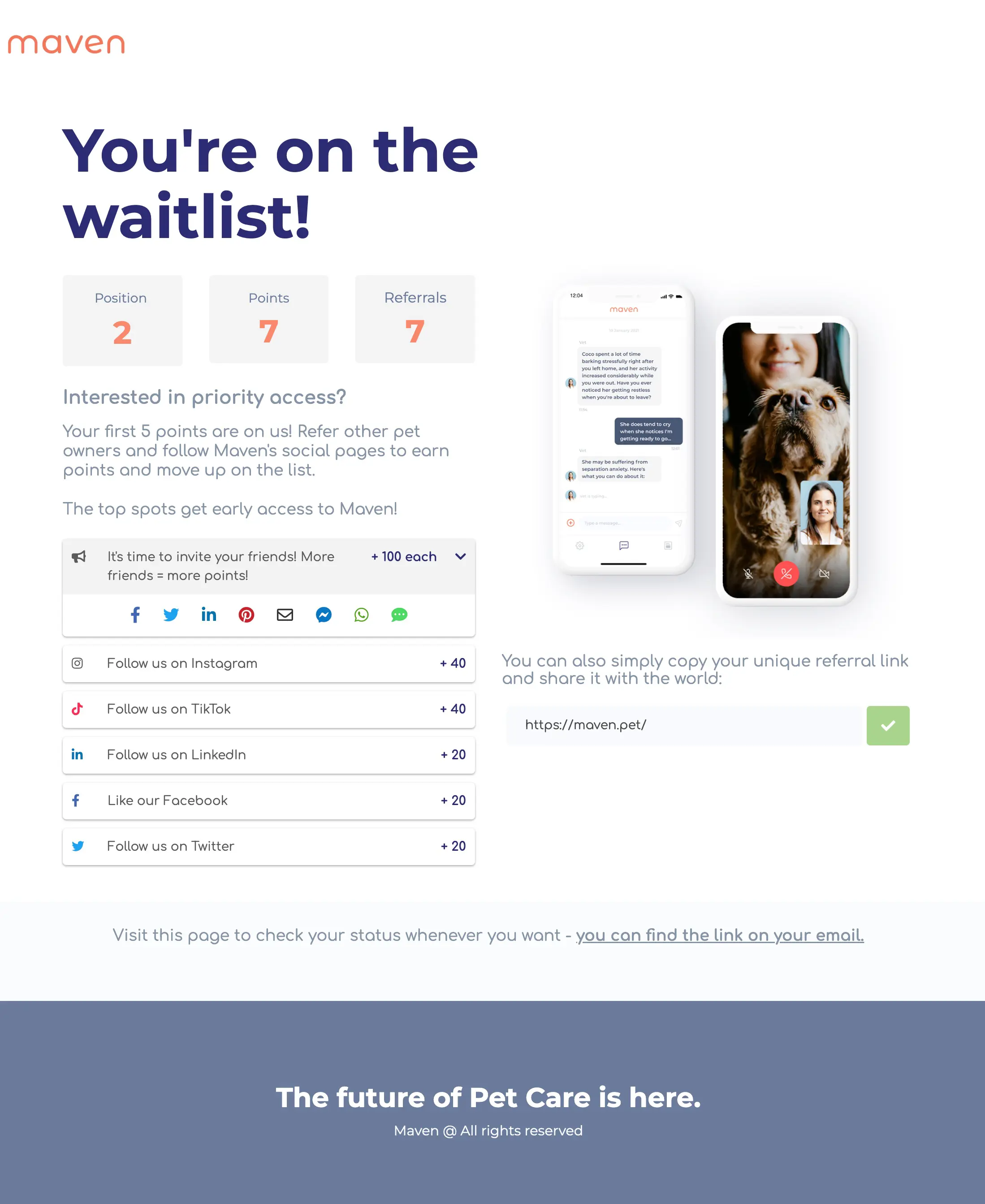 Get more best practices from KickoffLabs
KickoffLabs is dedicated to unlocking the potential of waitlist marketing with referrals, giveaways, and rewards as a potent marketing strategy. Dive into our YouTube channel for a treasure trove of knowledge, including expert advice, campaign critiques, and actionable strategies aimed at crafting captivating and high-performing campaigns.
And there's more! Tune into the KickoffLabs On Growth Podcast to hear firsthand accounts from our top users, sharing their triumphs and insights gained through utilizing KickoffLabs. These stories are rich with wisdom from seasoned industry professionals, showing you exactly how they leveraged our platform to secure outstanding outcomes.
Launch Your Next Product with a Viral Coming Soon Campaign using KickoffLabs
Ready to build anticipation for your upcoming project? Dive in for free with KickoffLabs today and explore our library of coming soon + prelaunch templates to guarantee a successful launch.
With a diverse collection of expert designed templates at your fingertips, setting up an eye-catching landing page that entices your audience becomes a breeze. Whether your taste leans towards a minimalist and sophisticated style or a lively and spirited theme, KickoffLabs offers the ideal template to resonate with your brand's voice and mission.
Take advantage of this invaluable resource and elevate your next coming soon campaign to new heights of engagement and success. Reach out to our support team at support@kickofflabs.com for assistance with getting started!